We open doors to new ideas
Jumpstart your startup business by outsourcing design, development, and digital marketing projects to us!
Law Firm: Real Estate Attorneys Los Angeles, CA
Our client is a real estate attorney who struggled with the online marketing strategy in place. It was very clear that digital marketing was not working for him the way he wanted. He had to do something, so he approached RedBlink Technologies to improve his business online presence.
RedBlink Technologies, is a Digital Growth Agency in San Francisco CA with global internet savvy, growing its clients online presence and market share. After an in-depth study of the Los Angeles Based Real Estate Law Firm, we came up with strategies that we believed could help our clients.
The client is among the leading real estate attorneys in Los Angeles equipped to litigate all types of real estate disputes. The leading law firm focuses on providing result-oriented dispute resolution. With a thorough knowledge of the real estate domain, they have solved real estate cases in California, Los Angeles County, San Diego County, Orange County, San Francisco, and all over the united states. They have expertise in dealing with commercial and residential property disputes.
Law Firm attorneys provide resourceful and practical representation to clients involved in complex litigation matters, including Trusts and Estates. Whether you are an executive, a business leader, or an individual, Law Firm will take the time to understand you in order to win together.
Law firm SEO is a competitive field when it comes to online marketing . There are a lot of sites ranking on the first two page of SERP. However, the client was specific to real estate matters. When we started handling the SEO (Search Engine Optimization) of the project in 2020, we faced several challenges like;
> No Onsite SEO
> No visible keywords on the site
> No prior Internet marketing
> Smaller than an average website
> Heavy competition
> No local SEO
We developed a detailed SEO program and within 6 months we were able to implement changes.
How did we start with Onsite SEO Strategy?
Our first step was to find out the appropriate keywords by researching search engines and looking at competitive websites. The main focus of our SEO efforts is local SEO. We started working page by page. New service pages were added.
We then had the client write additional content defining each service, optimized images, craft new metadata, and perform various other SEO tasks to increase the client's organic visibility in the search engines. We have worked on keywords variation and updated blog posts supporting their service pages which helped them to boost the internal linking and webpages started to rank on multiple keywords.
When we started website traffic was 3151 which has shot up with On-Page SEO to 18,645
Some of the strategies we followed :
Thorough background and business research of Law Firm – This was necessary to understand the very business their clients are involved in and find the best measures to put in place.
Improve website content – ​​maximizing website content to meet the requirements of effective search engine optimization was also essential. They considered the fact that the information should be unique and of high quality if they were to stand out from the crowd of other real estate attorney's sites.
Thorough keyword research – effective keywords to put the website on the map also needed to be considered. RedBlink understood this, which made it easier to design other aspects of SEO strategy.
Eye-Opening SEO Statistics to Prove the Value of Organic Search For Law Firm
Before Onpage SEO
Screenshot 1 – Organic traffic of this real estate law firm was 3,151 visitors monthly when we began this SEO project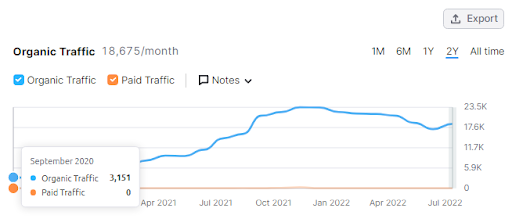 After On-Page SEO
Screenshot 2 – Organic traffic of the website reached 18,675 visitors monthly in August 2022.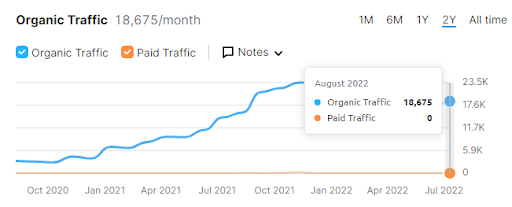 Before Onpage SEO
Screenshot 3 – The organic keyword count was 3,297 when we started this attorney's SEO project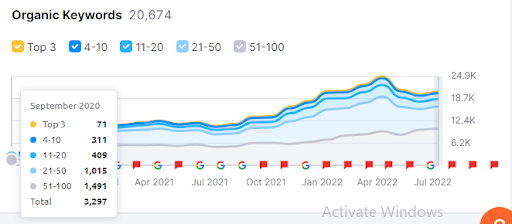 After On-Page SEO
Screenshot 4 – The number of organic keywords on the website rises to 20,683 in August 2022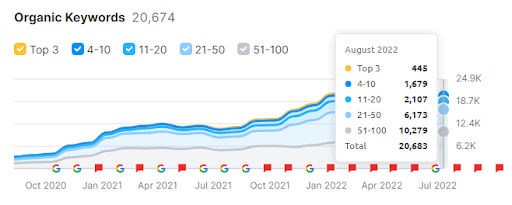 Takeaways
Sincere efforts and consistency in implementing the latest SEO strategies while watching a close eye on market competition are the key factors in winning through SEO. As you can visualize from the reports, a turnaround gain in website organic traffic is our major achievement. The real estate law firm succeeded in getting more litigation clients.
For our clients, we offer an SEO plan with a variety of deliverables, detailed keyword research, website audits, and technical knowledge required for SEO campaigns with an understanding of the legal sector demand. We strive to help businesses rank in the local pack with organic traffic.
In a nutshell, with our proven SEO strategy, the law firm could uncover a big win by generating improved ROI.
Calculate the Expected ROI of Your Project
After the successful execution of the new strategies, there was an increase in the number of visitors per day and consequently an increase in brand awareness. This had the effect of increasing the number of potential customers who were willing to use the services of Law firm. In fact, the number of daily visitors has increased by more than 40%.
Some of the top PAGE 1 keywords are:
Real estate attorney los angeles - 2nd position
Real estate lawyer los angeles - 4th position
types of easements - 1st position
real estate law firm los angeles. - 3rd position
Easement attorney los angeles - 1st position
appurtenant easement, - 1st position
The strategies employed by RedBlink Technologies not only increased the number of visitors per day, they also increased the number of visitors who visited the website. Regular visits could be attributed to the strategically chosen keywords.