A famous quote by David Allen
"If you don't pay appropriate attention to what has your attention, it will take more of your attention than it deserves."
There are more than 137,000 Chrome extensions available, many of which have hundreds of thousands of users.
And since
Google Chrome
has around 71% share of browser usage, it's no surprise that many of the most useful browser extensions out there have been built with Google Chrome in mind.
With the help of Google Chrome extensions, you can improve your browsing experience (and overall productivity!) through distraction blocking and project management.
In simple terms, Chrome extensions are software programs built to provide you with extra functionality in your Chrome browser.
These following handy Chrome extensions add helpful features right in your browser so you can customize your browsing experience. Things like better bookmarks, DIY SEO tools, email schedulers, and more to level up your workflow. Even, these plugins help you optimize web pages, save time on social media, organize tabs, and generally work smarter.
Give them a try to take your Chrome from basic to exceptional! Let us get to know the Top 15 Chrome Extensions for Marketers in 2023.
Top 15 Free Google Chrome Extensions for 2023 [Google Trends Analysis]
Say goodbye to clunky workflows and hello to next-level web efficiency with these must have Chrome extensions for marketers and entrepreneurs. Level up your browser and your business in 2023!
Boost your marketing game with the best google extensions for productivity. Streamline social media, supercharge SEO, dial-in ads reporting, and more. We've rounded up the chrome extensions make you more productive & save time.
1. ChatGPT Chrome Extension
You should definitely try this chrome extension productivity dashboard. Imagine having a virtual assistant that's available 24/7, ready to tackle your business queries and generate creative ideas. With the ChatGPT Chrome Extension, this vision becomes a reality.
Powered by cutting-edge AI, this extension engages in natural, human-like conversations, providing you with valuable insights and solutions. Whether you're brainstorming marketing strategies or seeking quick answers, ChatGPT has your back. Using this  Chrome extension for email productivity can be a game-changer in managing your emails efficiently.
Features
Instant Access: Seamlessly utilize ChatGPT and Claude directly from your Chrome toolbar.
Transcripts & Summaries: Effortlessly obtain transcripts and summaries of YouTube videos with ease.Video
User-Friendly Interface: Enjoy a streamlined interface for enhanced usability and navigation.
Enhance Productivity: Empower yourself with efficient tools for video analysis and content understanding.
Explore and Learn: Engage with video content more effectively by utilizing transcripts and summaries.
2. ClickUp Chrome Extension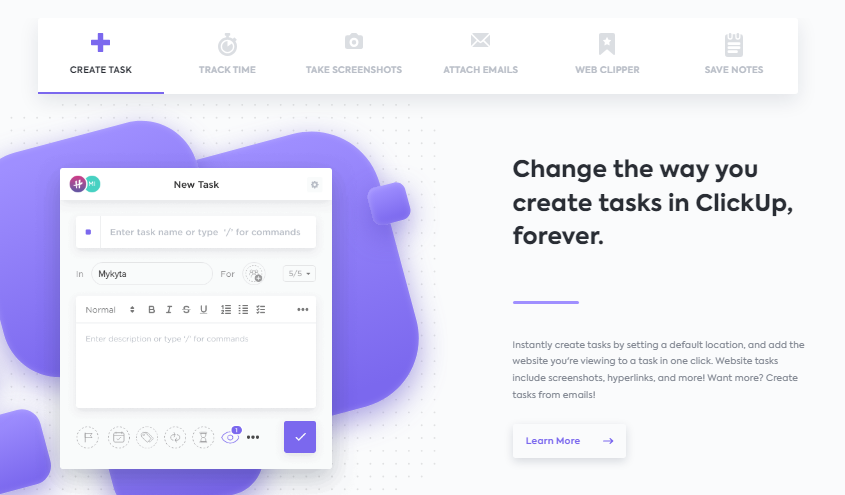 ClickUp is the ultimate productivity platform designed to streamline both your personal and professional endeavors, resulting in enhanced efficiency and valuable time savings. This is a must have chrome extensions for productivity & Project management.
Clickup Chrome Extension is a game-changer, combining the functionalities of multiple applications into one seamless interface. ClickUp has exceptional capabilities with a lasting benefit – it's free forever, offering up to 100MB of file storage. Maximize your productivity potential without worrying about budget constraints.
Transform your workflow, streamline your tasks, and reclaim your time – all within one unified platform.
Features
Task Creation and Website Capture: Seamlessly transition from web browsing to task management. Create tasks effortlessly and save websites directly as tasks, eliminating the need for separate apps.
Effortless Time Tracking: Keep track of your tasks with ease by attaching time directly to ClickUp tasks. Efficient time management has never been more convenient.
Screenshot Mastery: Capture, annotate, and edit screenshots all within ClickUp. Simplify communication and collaboration by visually enhancing your content.
Email Integration: Turn emails into actionable tasks by creating tasks directly from your inbox. Seamlessly attach important emails to tasks for comprehensive context.
Digital Notepad: Embrace digital note-taking with ClickUp's built-in notepad feature, centralizing your ideas and thoughts for easy reference.
Time Tracking: Effortlessly attach time to ClickUp tasks through the extension. Locate a task and initiate time tracking.
Screenshots: Capture, Edit, and Enhance
Email Integration: Task creation & email attachment
Notepad: Access your ClickUp notes from any page via the Notepad tab. Notes sync across devices, supporting Markdown Shortcuts and Rich Text.
Floating Button: The ClickUp button provides swift access to Notepad, Bookmarks, Screenshots, Time Tracking, and task creation from any webpage.
3. Save to Pocket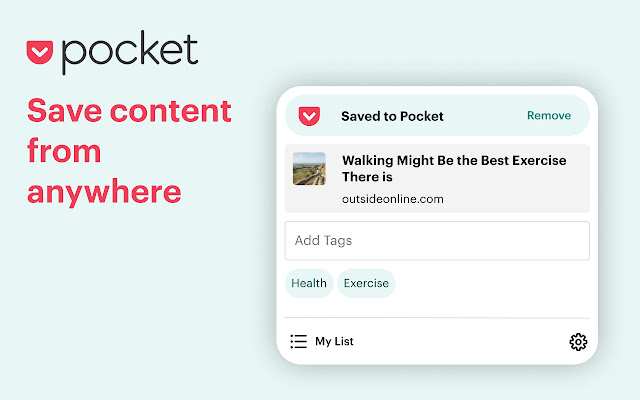 Experience the ultimate convenience with Pocket Chrome extension, your go-to solution for swiftly capturing articles, videos, and online content. In just a click, everything you've gathered seamlessly syncs across your devices, creating a serene and uncluttered environment for your reading pleasure.
Whether you're at home, in the office, or on the move, Pocket transforms into your private, tranquil corner of the internet, offering you the luxury to immerse yourself in the stories that truly resonate with you.
Features
Save Content: Right-click a link and choose "Save to Pocket." Or, use keyboard shortcuts: Ctrl+Shift+P (Windows), Command+Shift+P (Mac).
A Hub for Your Valuable Content: Keep all your interests in one place – articles, images, videos, links – ready to be enjoyed when you're ready. Gather content from various sources: Buzzfeed, The New York Times, Flipboard, Washington Post, Pinterest recipes, Reddit memes, Twitter links, YouTube videos.
Elevate Your Content Experience with Pocket Premium: Experience organized content and enhanced reading with Pocket Premium. Explore custom fonts, a permanent library, unlimited highlighting, and audio articles.
4. Slack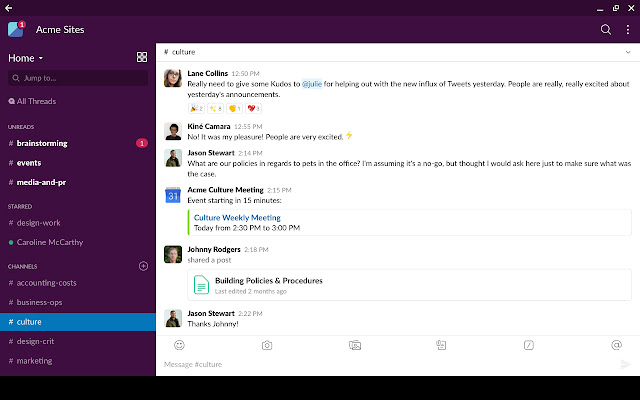 Slack Chrome extension revolutionizes team communication by seamlessly consolidating all interactions into a single, easily accessible hub. With its powerful search capabilities, this platform ensures that every message, file, and piece of information is instantly retrievable, no matter where you are.
By merging open cross-team channels, private groups, and direct 1-to-1 messaging, Slack centralizes team discussions and ensures that nothing gets lost in the shuffle. The inclusion of file-sharing features and integrations with existing tools further streamline workflows.
No more scattered conversations and welcome a future of cohesive and organized teamwork with Slack.
Features:
Free and Unlimited: Embrace seamless communication with Slack's free plan, no restrictions on duration or team size. For added features, premium tiers are at your fingertips.
Elevate File Sharing: In Slack, files are treated as VIPs, complete with comments, previews, and the power to share both internally and externally.
Unite Your Tools: Integrate your favorite tools effortlessly. Whether it's Google Docs, Dropbox, Twitter, Github, or more, Slack pulls all your communication into one centralized hub.
Masterful Search: Locate anything, pronto. Effortlessly search through messages, files, and comments from a single search box. Filter, sort, and refine your search to pinpoint what you need in record time.
On-the-Go Excellence: Stay connected no matter where you are. With fully functional mobile apps, Slack ensures your team communication is at your fingertips, right in the palm of your hand.
5. Scribe Chrome Extension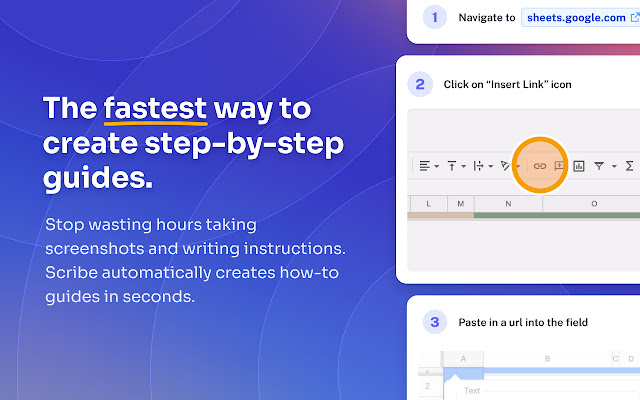 From optimizing SEO to suggesting engaging headlines, Scribe empowers you to create content that captivates your audience and ranks higher in search results.
Put an end to hours spent on tutorials! Scribe Chrome extension, auto-generates step-by-step guides in real time. With AI-driven technology, it captures your actions, creating clear instructions complete with text, links, and annotated screenshots.
Collaborate seamlessly by sharing guides with your team through the Scribe workspace or Chrome extension. Save over 20 hours monthly compared to traditional methods. Make documenting SOPs, onboarding, and tutorials a breeze with Scribe.
Streamline your workflow and eliminate repetitive tasks. Let Scribe revolutionize the way you document and share knowledge.
Features
Automated Step-by-Step Guides: Generate guides by simply clicking "record," saving your team over 20 hours/month compared to traditional tutorials.
Scribe Chrome Extension: Transforms any process into comprehensive guides, enriched with text, links, and annotated screenshots.
AI-Powered Documentation: Scribe's AI automatically creates how-to documentation with text and screenshots as you work.
Seamless Collaboration: Add team members to the Scribe workspace for instant access or share within workflow using the Chrome extension..
Efficiency in Communication: Eliminate the need for piecing together documentation and answering repetitive questions.
Versatile Tool: Utilize Scribe for automatic documentation and SOPs, onboarding, training materials, and much more.
Proven Success: Trusted by companies like LinkedIn, Northern Trust, and Gong for daily use.
Save Time: Document processes 15x faster, without the need for step writing or screenshot copy/pasting.
Enhance Focus: Find answers to questions 67% faster.
Boost Productivity: Elevate your team's efficiency by 25%.
6. Grammarly For Chrome Extension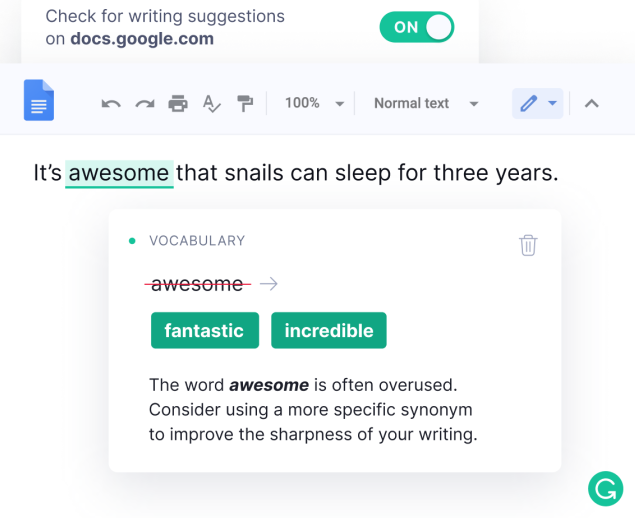 Grammarly for Chrome is your ultimate writing companion, offering a suite of tools to enhance your online communication. Say goodbye to spelling mistakes, grammatical blunders, and punctuation errors. Grammarly's real-time suggestions empower you to create impeccable content effortlessly, no matter the task at hand.
Receive instant feedback on spelling, grammar, punctuation, clarity, and writing style. Beyond mere proofreading, Grammarly guides you towards refined expression, helping you choose the perfect words and convey your ideas with clarity.
Harness the power of Grammarly's generative AI to effortlessly generate contextually relevant content, replies, and ideas on demand.
Features
Real-Time Writing Assistance: Grammarly offers instant suggestions to enhance your writing, ensuring grammatical accuracy and clarity.
Vocabulary Enhancement: Expand your vocabulary and communicate more effectively by receiving synonym suggestions and word usage tips.
Writing Effortlessly: Offer fundamental writing assistance to refine your content seamlessly like Grammar checker, Spelling checker, Punctuation checker, Tone detector, and Auto-citations
Premium Features: Clarity-focused sentence rewrites, Tone adjustments, Vocabulary improvements (word choice, formality level), Fluency suggestions, Generative AI features, and additional advanced suggestions.
Seamless Integration: Experience Grammarly's convenience without the hassle of copying and pasting. Grammarly for Chrome seamlessly operates in various platforms Google Docs, Gmail, Linkedin, and more!
7. Windscribe Extension
In an era of increasing cyber threats, protecting your online activities is non-negotiable. The Windscribe Free Proxy and Ad Blocker Chrome Extension offers a robust solution for safeguarding your digital presence.
With its secure VPN capabilities, this extension encrypts your internet connection, ensuring that your sensitive information remains private.
Browse, work, and communicate with confidence, knowing that your online interactions are shielded from prying eyes.
Features
Ad + Tracker Blocking: Stop intrusive ads and trackers from following you around.
Malware Blocking: Prevent accessing websites distributing malware.
Location API Spoofing: Keep your real GPS location hidden from websites.
Timezone Spoofing: Conceal your browser's time zone to match your IP.
Notification Blocking: Never be bothered by annoying notification requests again.
Cookie Monitoring: Automatically delete cookies upon tab closure.
Browse Privately: Governments and corporations can't restrict your content access or sell your personal data anymore. Regain control of your online privacy by adding Windscribe to your browser.
Unlock Content: Windscribe VPN conceals your IP address, granting you private and unrestricted access to entertainment, news, and blocked content across 62+ countries.
Go Beyond Basic Protection: Extend privacy beyond your browser with our free desktop VPN applications. Available for Windows, Mac, Linux, and mobile devices. Comprehensive protection that ensures your privacy is safeguarded across all platforms.
8. Cookie Editor Extension
As businesses continue to navigate the digital landscape, the importance of data privacy cannot be understated. Enter the Cookie Editor Extension – a powerful extension that empowers you to take control of your online privacy settings.
The Cookie editor extension lets you manage and edit cookies, giving you the ability to customize your browsing experience and enhance your online security.
Features
Effortless Cookie Control: Manage cookies right within your tab – create, edit, and delete them quickly, without needing to switch screens.
User-Friendly Interface: Designed with simplicity in mind, Cookie-Editor offers an easy-to-use interface for standard cookie tasks. Perfect for web development, testing, and manual cookie management to protect your privacy.
Intuitive Actions: With our intuitive interface, you can seamlessly create, edit, and delete cookies for the current webpage.
Search Functionality: Use the search bar to locate specific cookies by their names, making your cookie management even more efficient.
Import and Export Ease: Share and backup cookies effortlessly with our import and export features, ensuring you have full control over your cookie data.
9. Screen Share Chrome Extension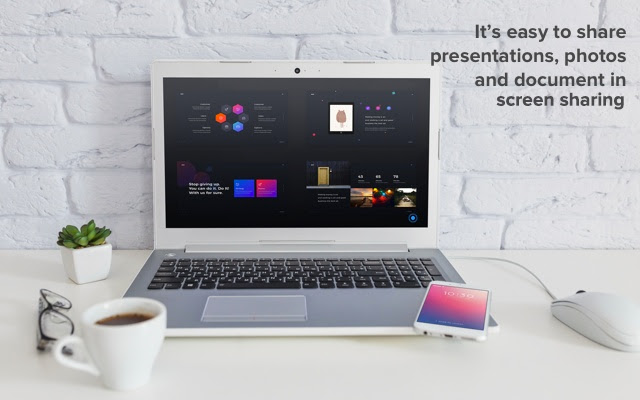 Have you ever wished for a quicker and smoother way to share your screen during virtual meetings? The Screen Share Chrome Extension is here to revolutionize the way you present and collaborate.
Whether you're hosting a team meeting, a client presentation, or a training session, this extension allows you to share your screen with crystal-clear clarity. That cumbersome process of navigating through menus and options is over. With a simple click, you can instantly share your screen, making remote collaborations more engaging and efficient than ever.
Features
Share Window/Application: Easily choose the window, application, or even a specific Chrome tab that you want to share with others from your computer.
Effortlessly Manage Multiple Screens/Monitors: Efficiently handle multiple screens or monitors while sharing your content, ensuring a smooth and seamless experience for all participants.
Instant Fullscreen Viewing with a Double-Click: Participants can enjoy an instant fullscreen view of your shared screen by simply double-clicking, enhancing their visibility and engagement.
10. Screen Reader Chrome Extension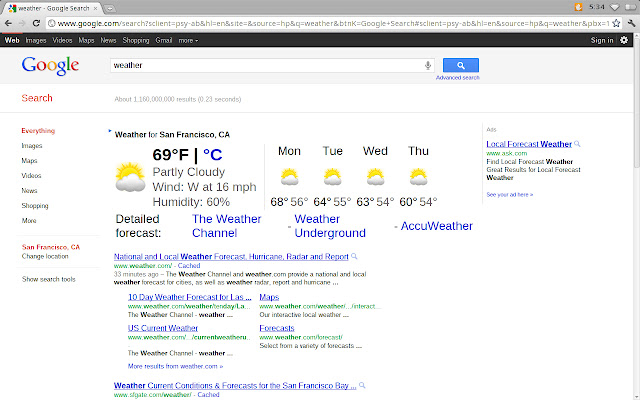 Step into the realm of accessible web browsing with the Chrome Screen reader extension. While it's important to note that this extension is now in maintenance mode and won't receive new updates, it remains a testament to the capabilities of web technologies like HTML and JavaScript.
As you navigate the online world, this extension will faithfully read out content, providing an enhanced browsing encounter for those who rely on auditory support.
However, for a more comprehensive and robust solution, you can explore full system screen readers such as ChromeVox on Chrome OS, VoiceOver on Mac, JAWS, NVDA, or Narrator on Windows. These powerful tools offer a broader range of features and functionality to ensure an inclusive and seamless experience across various platforms.
Features
Discover Accessible Browsing: Introducing the Chrome Screen reader extension, an exploration into accessible web interaction.
Web-Powered Technology: Experience a fully functional screen reader solely crafted using web technologies like HTML and JavaScript.
Chrome Browser Compatibility: Designed to seamlessly operate within the Chrome browser, reading web content aloud.
Enhance Accessibility: Catering to auditory support needs, this extension enriches the browsing experience for users who require it.
11. Keepa Extension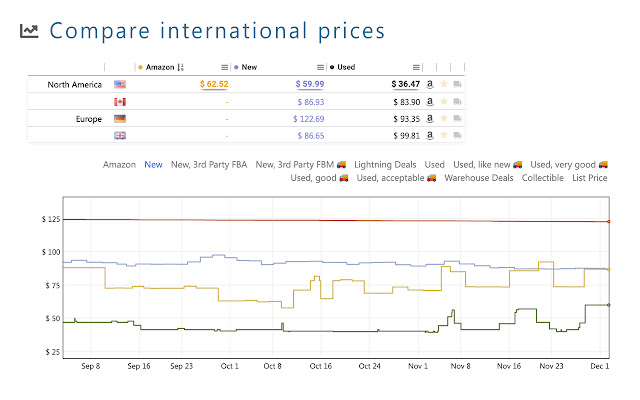 In the world of e-commerce, staying informed about product prices and trends is crucial.
The Keepa Amazon Price Tracker Extension empowers business owners and marketers with real-time insights into the price history and trends of Amazon Products. Make informed pricing decisions, monitor competitors' strategies, and optimize your product offerings based on data-driven insights.
This extension transforms your browsing experience into a powerful tool for e-commerce success.
Features
Comprehensive Price History Charts: Delve into detailed price history charts encompassing over 3 billion Amazon products. Uncover trends and locate unbeatable deals effortlessly.
Smart Price Drop & Availability Alerts: Set up price watches with ease on any product page. Our vigilant monitoring system will notify you when prices dip below your chosen threshold, including lightning deals tracking!
International Amazon Price Comparison & Tracking: Seamlessly compare and track prices across all Amazon locales, ensuring you find the most competitive offers wherever you are.
Daily Deals: Curated Selection of Recent Price Drops: Explore Keepa's daily deals, carefully curated to showcase products with the most significant price reductions across your favorite categories.
Customizable Extension Experience: Tailor the extension's behavior to suit your preferences, ensuring your shopping journey is uniquely yours.
Amazon Locale & Language Support: Access Amazon Locales spanning [ .com | .co.uk | .de | .co.jp | .fr | .ca | .it | .es | .in | .com.mx ] for a truly global shopping experience.
12. Ringcentral Extension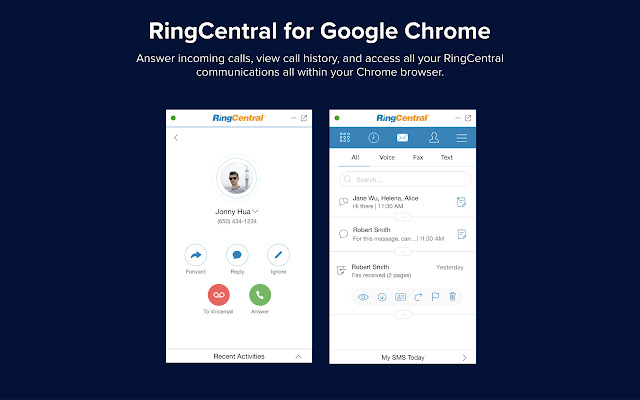 Efficient communication lies at the heart of successful business operations. The RingCentral for Google is designed to streamline your communication efforts by integrating seamlessly with your browser.
With features ranging from instant messaging to video conferencing and voice calls, this extension consolidates your communication channels into one convenient platform. Bring your team, clients, and partners closer together without fumbling between multiple applications.
Features
Schedule and Participate in RingCentral Video Meetings – Easily plan and take part in RingCentral Video meetings with this feature.
Seamlessly Enter Waiting Rooms – Effortlessly join waiting rooms, ensuring a smooth and organized meeting experience.
Utilize Global Dial-In Numbers – Make use of global dial-in numbers for convenient access to meetings from various locations around the world.
13. Ublock Origin Chrome Extension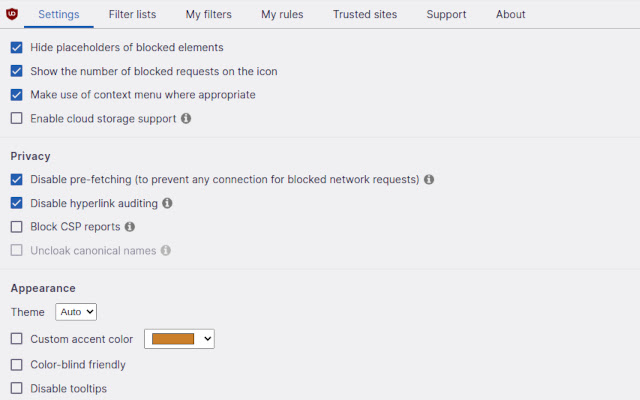 Say hello to Ublock origin ad blocker chrome extension, your ultimate solution for a seamless browsing experience. Unlike other tools, uBlock Origin stands out with its exceptional efficiency – it won't burden your CPU or memory.
If you're searching for a potent Chrome extension to enhance your productivity and block distracting websites, be sure not to overlook the 'Ublock Origin Chrome Extension' – it's a game-changer for those seeking to improve 'chrome extension productivity block websites.
With Ublock Origin, you can bid farewell to those unwanted distractions and focus on what truly matters – growing your business. It's a versatile content blocker designed to enhance your browsing by efficiently filtering a wide range of content. Keeping your CPU and memory usage in check while providing optimal performance.
This extension not only blocks ads but also improves page load times, optimizing your browsing experience while safeguarding your privacy.
Features
EasyList (ads): Block pesky ads cluttering your screen.
EasyPrivacy (tracking): Safeguard your privacy by thwarting tracking attempts.
Peter Lowe's Ad server list (ads and tracking): Double protection against intrusive ads and tracking.
Online Malicious URL Blocklist: Stay secure by steering clear of harmful websites.
Annoyances (cookie warnings, overlays, etc.): Bid farewell to bothersome pop-ups.
JavaScript Blocking: Stop JavaScript in its tracks, either locally or globally.
Advanced Tools: Dive into a realm of advanced features to fine-tune your protection.
Free Extension: uBlock Origin is free, open source, and operates under the public GPLv3 license.
14. IE Tab Extension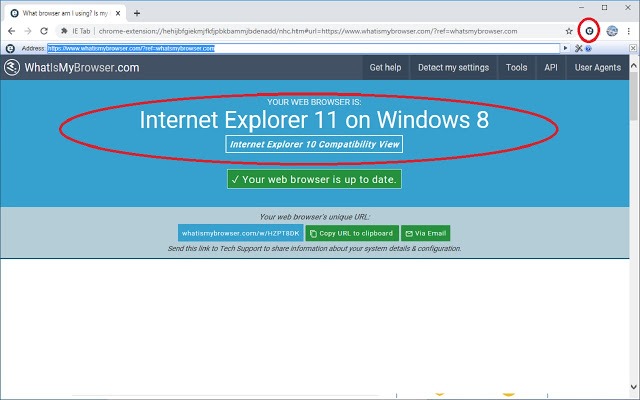 Despite the ubiquity of modern browsers, there are instances when compatibility issues arise. The IE Tab Extension comes to the rescue by enabling you to render websites using Internet Explorer directly within your Chrome browser.
This extension is particularly useful for businesses that rely on legacy web applications that might not work optimally on modern browsers. With a click, you can seamlessly switch to the IE rendering engine, ensuring that your browsing experience remains consistent and efficient.
Features
1IE Tab URL List: Compile a roster of website links that trigger automatic opening within IE Tab.
Enterprise-Grade Deployment: Implement Group Policy assistance tailored for enterprise rollouts.
Compatibility Assurance: Render websites using Internet Explorer within your Chrome browser for enhanced compatibility.
Legacy Support: Ideal for accessing legacy web applications that may not work optimally on modern browsers.
Consistent Browsing: Switch seamlessly between rendering engines for a consistent browsing experience.
15. Travel Arrow Chrome Extension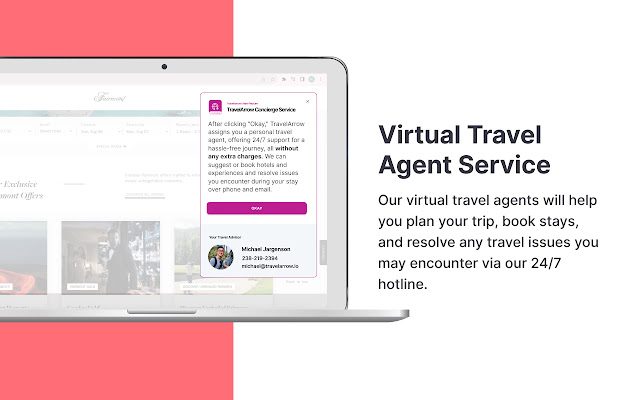 For businesses with a global footprint, keeping track of time zones and scheduling meetings across different regions can be a challenge. The Travel Arrow Chrome Extension simplifies this task by providing you with real-time global time zone information.
Easily visualize time differences, plan meetings, and coordinate with international clients and partners without the confusion of time zone conversions. This extension is your go-to companion for effective cross-border collaboration.
Features
Complimentary 24/7 Travel Concierge: Seamlessly plan trips, book hotels, and activities with our virtual assistants, available around the clock.
Google Flights Missing Fares: Easily uncover the cheapest flight deals by converting your Google Flights route to Kayak and Skyscanner.
Earn Airline Miles While You Shop Online: Earn rewards for purchases you're already making at your favorite online stores.
Real-Time Travel Promo Codes: Discover active promo codes and discounts for top airlines, hotels, and travel sites.
Lowest Rate Hotel Finder: Compare over 50 hotel and booking sites, guaranteeing you the lowest rate for your desired accommodation.
Key Takeaways
And there you have – the best Chrome extensions to boost your marketing game in 2023! From simplified social scheduling to SEO audits at the click of a button, these Chrome extensions will help any busy entrepreneur or marketer save time and streamline workflows.
Put an end to juggling tons of tabs and browsers. With these powerful yet easy-to-use extensions added to your toolkit, you can get more done directly in Chrome.
RedBlink: Your Partner for Streamlined Web Workflows
Want to take your web productivity to the next level? The SEO experts at RedBlink can help! Our team is highly familiar with all kinds of Chrome extensions that can boost your efficiency. Whether you need help managing social media, creating better content strategy, improving website performance, organizing research, or anything else – we've likely got a Chrome extension recommendation for that!
Reach out to our knowledgeable marketing pros at RedBlink to learn about the top Chrome extensions tailored to your specific business needs and goals. We're happy to provide personalized tips and suggestions to enhance your workflows.
Take advantage of our expertise to start working smarter today!