Coronavirus – COVID-19 is a global health crisis whose scale and speed have been unprecedented in mankind's history. Like other tech companies, we at RedBlink Technologies, are striving hard and taking well-planned actions to protect our people and ensure business continuity.
Our inner strength, strategies, and most importantly our teamwork acted as the silver line from the beginning of the crises. When the lockdown started, we were already ready to deal with the situation.
In these critical times, the primary responsibility was to manage the business and keep the workflow system intact even during the lockdown period. Our top management figured three core areas that required immediate attention.
They included Product Development, Client Management, and Work Management.
Our managers, team leaders, and HR department started creating close group networks and communication channels to solidify our foundation as we started working in a virtual environment.
The preparations for arranging Laptops, ensuring the infrastructure demands, and developing a monitoring system to establish " Work from home "  were completed immediately. The entire RedBlink Family came together to support each other to manage the project deadlines. It was the main objective that the client's projects are completed on the promised date. The teams dedicatedly and sincerely worked from home to achieve this tough target by working at odd hours.
Our teams have enhanced their work capabilities by individually improving their skills. We all have done a tremendous job and are now set to take head-on challenges to fight against this pandemic.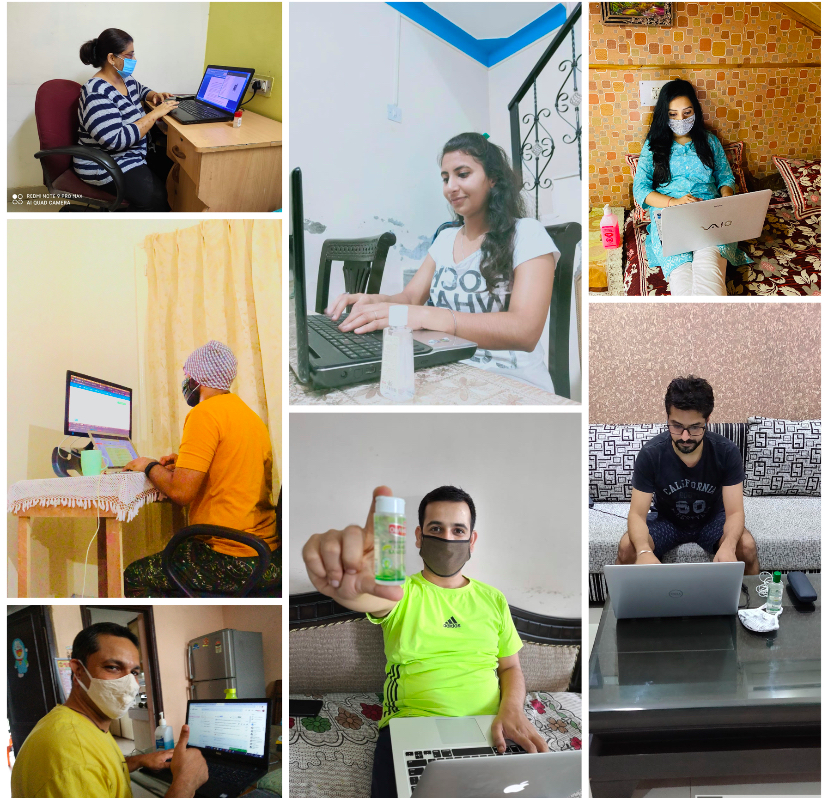 We are well-positioned to ride out the crisis: Challenges and Actions
The first and foremost area of focus was to manage the safety, stability, and security of employees in the situation of kiosks. We motivated our employees to take precautionary measures by wearing a mask, taking care of personal hygiene, keeping themselves disinfected, using sanitizer to maintain cleanliness. and other precautionary trials. Health care sessions by experts were conducted for self-health awareness.

Building a new working model to manage employee efficiency remotely with positive, effective, and flexible employee engagement was the next challenge.  Adapting a work culture with a stronger sense of well-being was our target in the first month

The economic recession was banging at the door. We all started to work with a winning approach as organizations entered the phase of " Complete Work From Home" stage.

The shift to working from home with the help of digital collaboration tools helped us to maintain the growing business demands. We are continuously evolving new and creative ideas to minimize the effect of COVID 19. We managed to restore and rejuvenate from the effects by putting our efforts to reach clients. This action plan acted as a cushion to the company's resources and we could retain our clients as well as our employees.

The next pressing need was to expand our capabilities by managing product development. To navigate the viability of the business, wise decisions were taken. The product development process was reoriented to navigate the disruption and plan for the recovery. As a result, we could maintain consistency by achieving the usual growth in business. Initially, the revenue generation was badly hit but things are coming to a normal pace.

Now, we are working towards repositioning our business for the next normal after the crisis. We are on our way to building sustainable strategies that can result in profitable growth.
The goal: Establish our business, re-skill employees, and respond efficiently on the heels of the COVID-19 pandemic by introducing health management programs.
Major Actions: Global innovation and mental health is the key to limit the damage of the pandemic. To do so, we continue to motivate our employees by arranging fun activities, well- being sessions, and one-on-one encouragement by using video calls and chat sessions.
Acting Fast in a Crisis
One of the effective plans is to prepare for future challenges by developing a Remote Digital Workforce, an extendable workplace environment that will allow to quickly scale and adapt to changing business needs.
Adopting Technology by Choosing the Right Tools
At RedBlink Technologies, we say," Technological Empowerment = Revenue Generation". If the right tools for remote work are not already in place, and the employees are not trained to use them, the business continuity can't be achieved. Also, one shouldn't ignore the importance of mutual growth and long-term planning by creating a pool of resources. Many technical skill development programs and adventuring new businesses will be one of our key areas of focus in the coming times.
Mind Fitness Session During Covid-19
Moving from busy schedules to lockdown, restricting ourselves within a limited space, no outside movement was nothing less than a big transformation in everybody's life.  We knew it's not going to be easy after a few days.
As the lockdown period was extending, we addressed this issue by arranging a session from an expert  Mr. IL GUN HAN, International Mind Education Specialist(I M E I), who taught various creative ways to align our minds and bring back the focus on work. He emphasized on "Power of Heart and How we can learn to use it for a happy, healthy, and successful life." An inspiring story was also shared with all.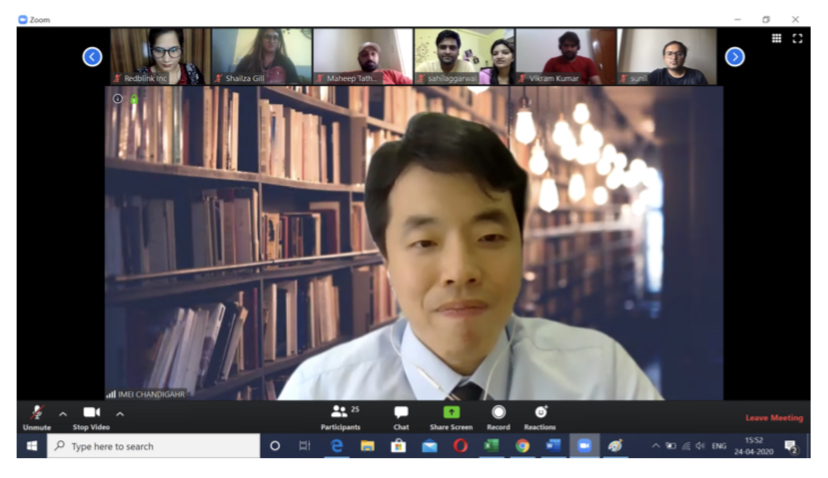 Building a Rich Culture
Powered by a strong culture, we saw a vital opportunity to use our software background, to create a new resource to help our employees in improving their skills. The hangout messages helped each other to act as support. Todaaayyy, we are proud to build trustworthy relations with our employees. This initiative not only leverages our core strengths but will empower our organization to solidify our foundation.
Extending Our Contribution to Society
In this critical lockdown situation, it was crucial to maintain personal health and to take initiative to help the local authorities in reaching out to the people who required genuine help. We stood by local authorities to prevent the spread, educate, warn, and empower people to be aware of the situation.
Keeping Our Employees and Partners Safe During Coronavirus
During this time, maintaining personal health and helping others to do so is a great challenge as it is difficult to detect who is infected.  The social distancing guidelines and other health precautions are shared with employees and business partners.
To spread more awareness, we arranged a webinar. A health expert Dr. Shilpi Sharma, B.A.M.S who is a Panch karma specialist, Ayurvedic counselor, Diet and lifestyle consultant took an interactive and knowledgeable webinar. for employees.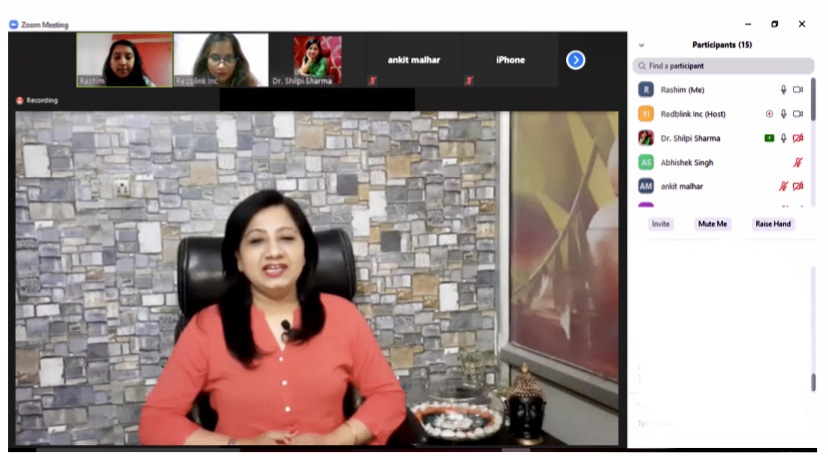 Industry Predictions During COVID 19
Here are some industry predictions in various tech industry domains.
IoT (Internet of Things) — The existing projects are under development. But the new pipelined projects are put on halt due to lack of infrastructural arrangement required for the development.
SaaS Products — A rapid growth in Saas development is witnessed as remote work culture is the only way left out to meet the tech industry demands.
Enterprise Software — The demand for specific product development to manage workflow and manpower management has also increased.
Data Analytics Products — The software that masters in data analytics capabilities is also witnessing a surge in demand especially when it comes to healthcare sectors.
Security Products —During this time secure remote work solutions are in high demand as the security breaches have increased due to extensive usage of internet resources.
e-Learning Products — The demand is sky-high as online courses have been facilitated for students.
Cloud Infrastructure Services — A magnifying increase to set up a cloud-based infrastructure is noticed as companies move for virtual workspaces.
On-Demand Products — The requirement for these apps has seen a boost too. However, this is only true for vital items such as medicines and groceries. Thus, the main focus of eCommerce businesses has now shifted to essential-delivery service models to stay afloat.
Video-Streaming Products — The video streaming apps are in high demand as more and more people are using them to spend leisure hours.
New Innovations and Work Culture
Numerous tech companies expect smooth sailing afterward but a thunderstorm of economic recession can be an outcome as well. So, to be on a safer side, we are preparing ourselves by evolving unique innovations and virtual work culture ideas.
Cyber Security has become a prime area due to an increase in virtual data sharing. As a precautionary measure, we have adopted new security techniques to deal with this haunting situation. We are fully aware of the fact that the threat to security can push back our growth to zero. We not only implement security solutions ourselves but our expert team provides complete Website security & Malware Removal services to our clients.
We also provide Security Plugin for WordPress websites to maintain a secure website.
In the software development industry, one adverse event can trigger another which may lead to a dead end. A lot of companies have gone downhill during the pandemic. But on the other hand, we have started implementing a  cost-effective model to maximize resources and reduce expenditure.

During this time, a need to adopt an agile methodology has become prevalent. The innovation in product development that will reduce product development time is already in use that replaces traditional  Product Development Methodologies.

Changes are hitting the product development cycle in widely diverging ways. Some mid-size tech companies are struggling, and some are thriving. We have shaped a solution with a combination of technology and manpower. We have come up with employee benefit schemes with tailor interventions to support them in personalized and meaningful ways.
Learning Curve
In the last 4-5 months, we have managed to stay unaffected while dodging the effects of this crisis.  With our result-driven and firm actions, we are on our way to execute a business continuity plan. Minimal resources will be used in product development in the future with a novel mindset. The adoption of a distributed team setup with a multilingual approach will be the next change in our working environment.
In the end, RedBlink Technologies Team would like to ensure you all that perseverance is the key to success. Thoughtful and concrete actions will help in recovering from COVID 19 and retain normal times.
For more insight please visit our Facebook Page, Twitter Handle, or YouTube Channel.
Also Read –