Getting 10X higher traction on LinkedIn, all comes down to being a good guest!
Imagine you were invited to a business function — for free — and all your ideal clients were also in the room. ​(Hint: this is LinkedIn).
Imagine if every time you spoke to a fellow guest, you tried to recruit them away from the event to your office. (​Hint: this is like linking off to your own website from LinkedIn).

The host (aka LinkedIn) probably wouldn't be that pleased, and they wouldn't be in a rush to introduce you to other people. ​(What happens: LinkedIn will restrict the visibility of your post).

LinkedIn 10X Guide for Being Good Guest 

However, if you stay at the function and start good conversations, add value and connect with new people, your fellow guests will have a good experience, stay longer and enjoy it, which of course the host loves!
(Encourage interaction in the comments and start conversations in direct messages DMs which keeps people on the LinkedIn platform).

The host will love you, invite you back and be delighted to introduce you to everyone else.
(Impact: LinkedIn will give your post lots more visibility, even to people in your 2nd and 3rd degree network.)

In this guide, I'll show you exactly how to do it, step-by-step.
10X Results

This approach has seen my videos go from 1,000 views with a dozen comments to videos that consistently get 10k, 20k, 50k and sometimes 100k+ views — with 1,000s of comments from ideal clients.
#1. Share insightful and useful posts

Whilst video is certainly the format that gets the most traction, text and image posts will still get significantly more traction when you follow this process.
Tip:​Offer useful insights in the text part of your post, and in the video if that's the format you choose. Post videos natively, rather than post a link to YouTube. Ensure the text marries up to the message in the video, so if people don't watch the entire video they still understand your point.
Most people stop here, but the magic happens when you do the following.
#2. Offer a companion PDF as a bonus

Create a companion PDF that complements the post, and offer to send it to people who leave a comment.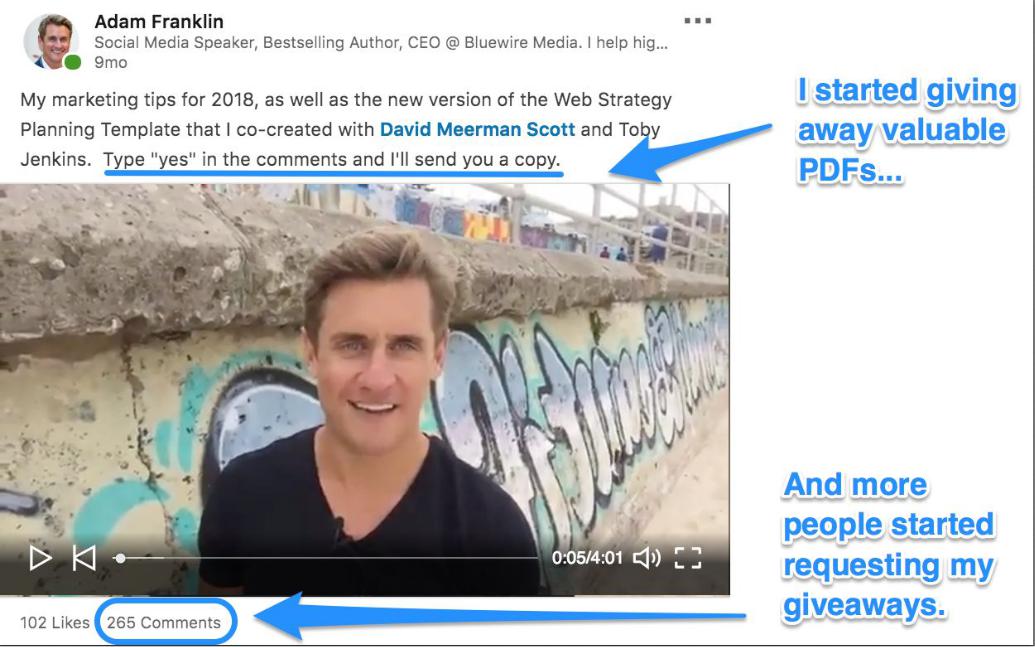 eg.​When I talked about my marketing tips at the start of the year, I offered our Web Strategy Planning Template as a companion PDF.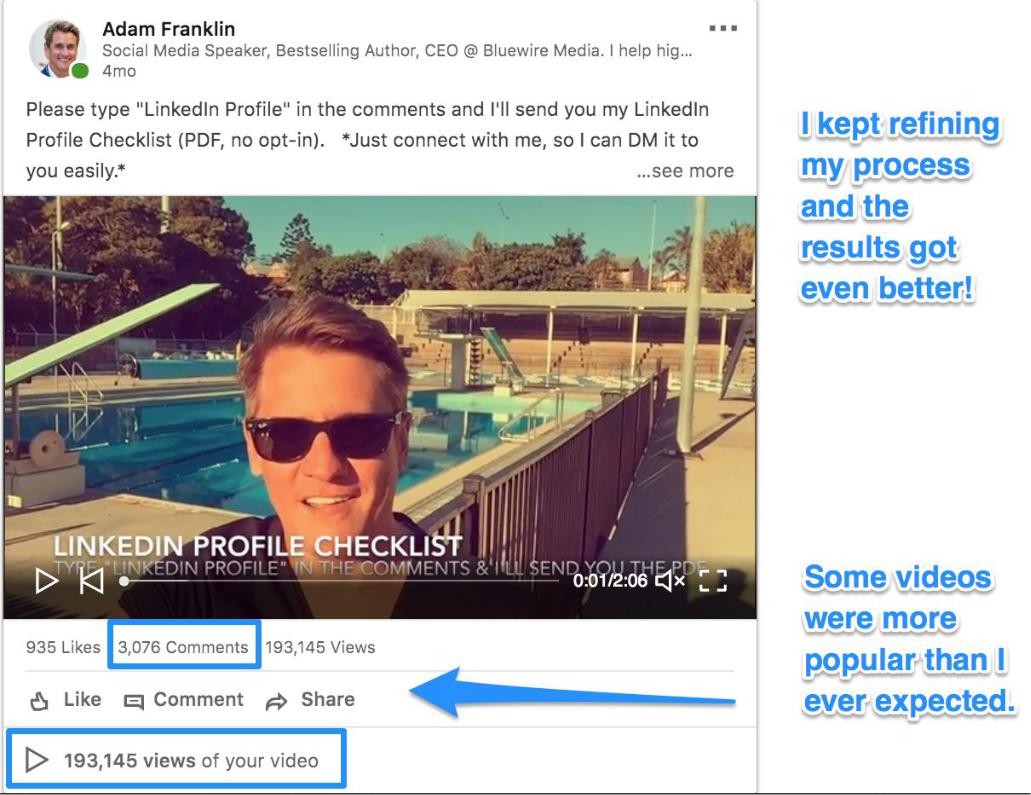 eg.​When I talked about tips for your LinkedIn Profile, I offered a LinkedIn Profile Checklist as a companion PDF.
#3. Open up a direct message (DM) with the people who comment

As people leave comments, hover over their name so you can open up a direct message conversation.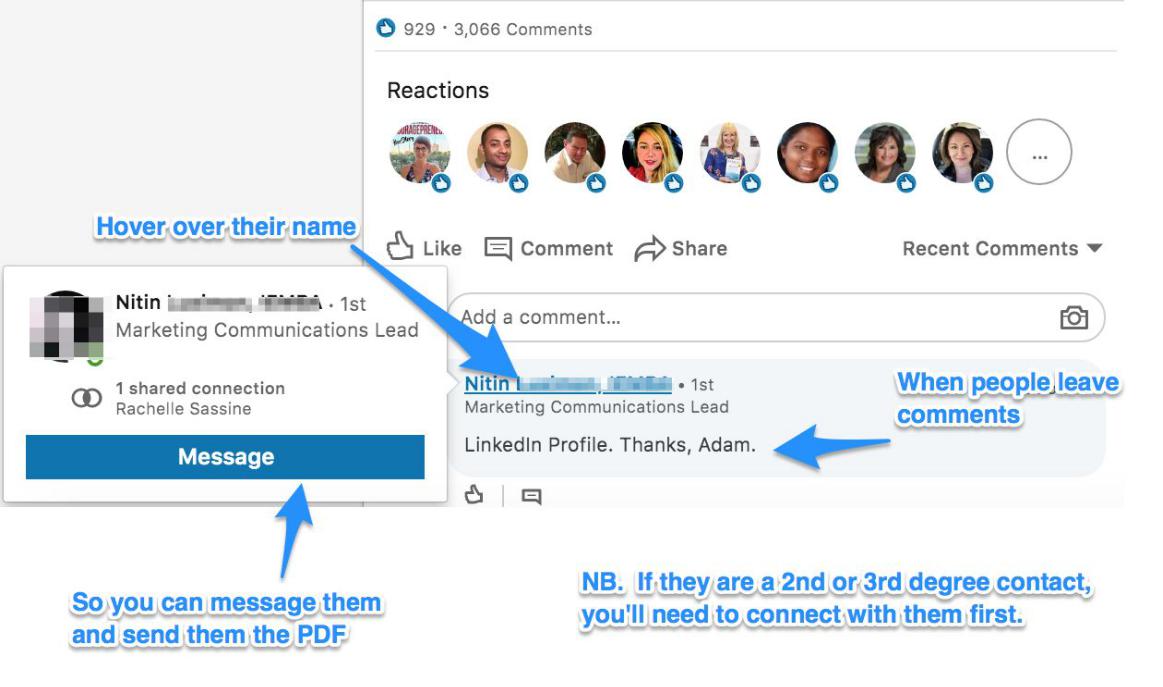 *NB. If they are a 2nd or 3rd degree contact you'll need to connect with them first.
#4. Send the PDF via direct message
Simply attach the PDF to your direct message.
After you do this, you can follow up and continue the conversation however you see fit.
#5. Close the loop and reply to their original comment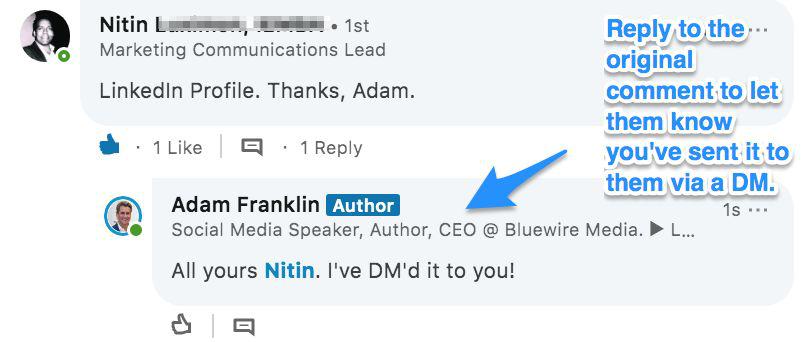 That's it.
You don't need to be in a rush to drag people back to your website or make them opt-in to something. It's way better to be a good 'party guest' instead. It's not only 'good etiquette' but ultimately will result in better results for you too.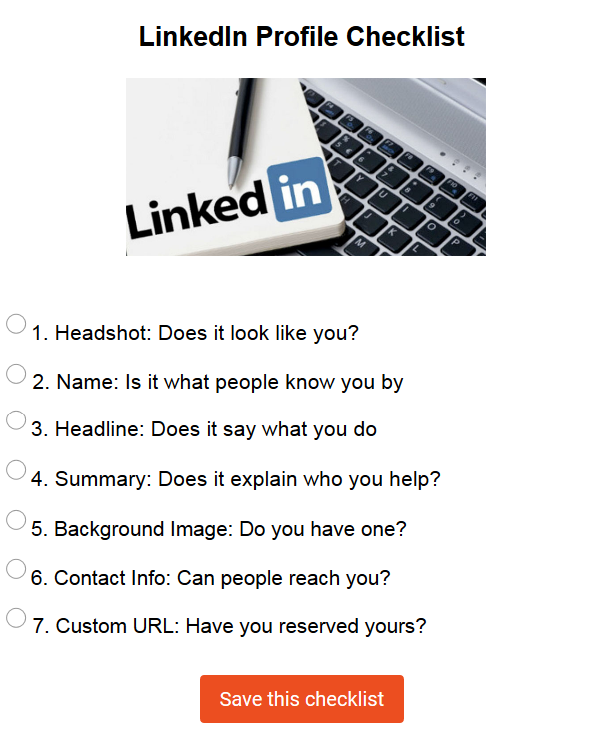 Lead Nurturing Template

>>​Marketing Funnel 1: (Autoresponder Sequence) Welcome series to sales appointment

| | | |
| --- | --- | --- |
| TIME | TRIGGER | CONTENT |
| Immediately | Someone downloads a lead magnet | Deliver the lead magnet |
| | | |
| At 1 day | | Welcome email |
| | | |
| At 3 days | | Popular resources |
| | | |
| At 5 days | | Popular resources |
| | | |
| At 7 days | | A call to action to make a purchase, schedule a call, book a meeting or fill out an |
| | | application |
| | | |
| At 9 days | | Add the lead onto your regular email marketing list |
| | | |
>>​Marketing Funnel 2: (Autoresponder Sequence) Webinar or event
| | | |
| --- | --- | --- |
| TIME | TRIGGER | CONTENT |
| Immediately | Someone registers for a webinar | Thank you confirmation email with a date saver for the calendar |
| | | |
| 3 days before | | Worksheets and pre-reading for the webinar or event |
| | | |
| 1 day before | | Details and reminder that the webinar or event is on tomorrow |
| | | |
| 1 hour before | | Webinar or event starts in 60 mins |
| | | |
| 1 day after | | Thank you, special offer, replay or any other follow up material |
| | | |
>>​Your Marketing Funnel (Autoresponder Sequence):
Also Read –