With time, Artificial intelligence (AI) has become a big buzzword in marketing. The marketing industries that have started using AI aren't only able to make better decisions but also see a great improvement in their leads and sales. Even with the development of new innovative marketing tools, it becomes easy to provide personalized customer experiences and perform accurate marketing ROI optimization. Some stats prove the importance of AI tools for marketing.
Take a look:
A study states that

80% of business and tech leaders

agree that artificial intelligence (AI) increases productivity.

Nearly

61% of marketers

state that AI is the most significant aspect of their data strategy. 

And it has been predicted that

the global artificial intelligence market size is projected to expand at a compound annual growth rate (CAGR) of

38.1% from 2022 to 2030

. 
Hence, taking advantage of AI-powered marketing tools helps in building an effective digital marketing strategy that would allow you to hit your goals faster. Nowadays, the market is fully-fledged with a number of artificial intelligence marketing tools. Usage of such AI-powered tools won't only save a lot of time on manual work, but provide accuracy on actionable insights while avoiding human error and enhancing learning ability. So, to stay in the competition, it's time to leverage the benefits of AI marketing tools.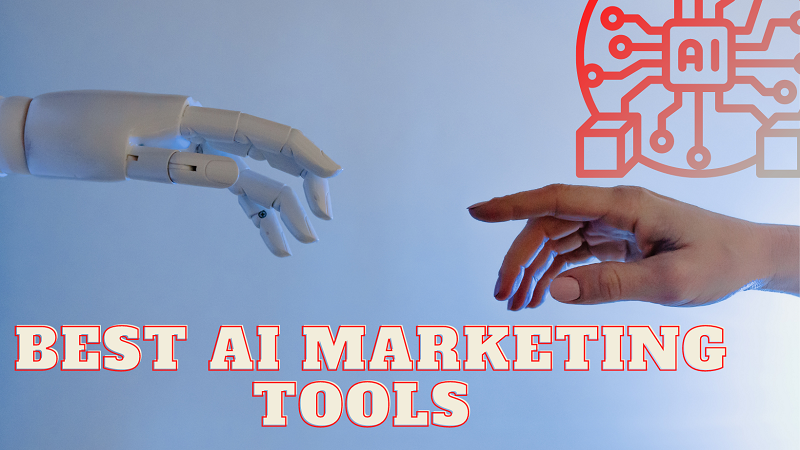 Here is a list of AI marketing tools that assist you in a wide variety of functions, including content marketing, PPC, email marketing, creative design, B2B, and more. Let's take a look!
Effective AI Marketing Tools For Grow Your Business
Do you know what an AI marketing tool is? An AI marketing tool is software or website that uses artificial intelligence to automate data collection, analysis, decision-making, watching potential audiences, economic trends, and the impact of marketing campaigns. Generally, artificial intelligence helps marketers accelerate their campaigns.
Using AI tools, you can analyze prospect data. Your company can learn the best strategies to interact with clients and reach out to them at the optimal time to maximize marketing goals. AI marketing applications include real-time personalization, content generation, data analysis, automated decision-making, as well as many others. 
Well, there are lots of AI marketing tools and software. This blog will give a detailed look at them. 
1. Humaaans
Humaaans is an online platform where people can get free access to beautiful mix-&-match illustrations of people. This means you can now create different characters by customizing their positions, clothing, colors, and hairstyle to create some cool scenes. Additionally, you can add life to your illustrations through facial expressions to scenes however you like.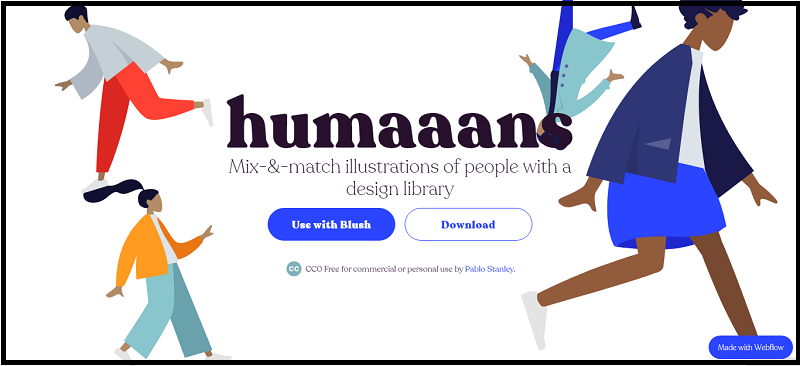 Humaaans is an amazingly useful tool for creating illustrations of idealized human beings. These creative designs are crafted using simple vectors and they're mainly crafted in Adobe Illustrator. The best part is there are a whopping 500 different poses available to choose from. 
Website URL: 

https://www.humaaans.com


Paid/Free: Freemium
2. Whatruns.com
Ever wondered what technologies a website uses? With WhatRuns, you can see pretty much everything that runs a website. Web apps they pay for, CDNs they use, how they track their visitors, WordPress plugins, fonts – you'll find it here!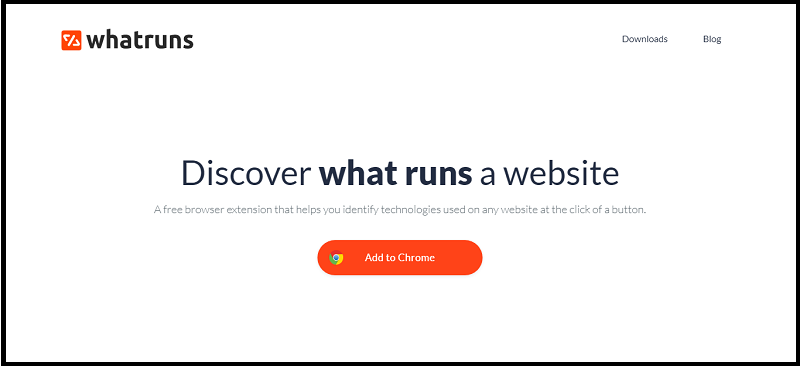 Whatruns is an advanced browser extension that detects even the latest web technologies and plugins the website use. You can use this extension to analyze competitors, gather sales intelligence, and profile websites.
Website URL: 

https://www.whatruns.com/


Paid/Free: Free
Also Read: Top 10 AI Based SEO & Content Generator Tools List In 2023
3. Mockup Generator By AppLaunchpad 
Mockup Generator is a free online tool that enables you to create layer-based digital images of products without the need for a complex graphic design program. It's an intuitive multi-purpose one-page WYSIWYG editor that allows users to select a predesigned template, upload appropriate pictures, add text captions, change the color scheme and download finished images in all required resolutions.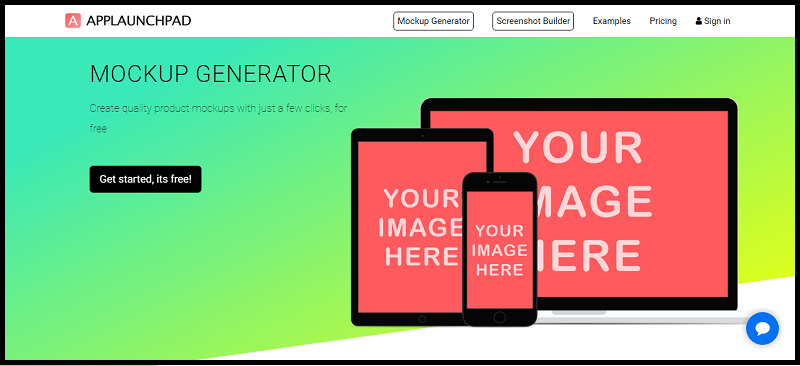 This tool will improve your workflow dramatically due to its speed and ease of use. This will result in increased productivity and profitability.
Website URL: 

https://theapplaunchpad.com/mockup-generator/

 


Paid/Free: Freemium
4. AutoDraw – Autocorrect For Drawing by Google
AutoDraw is a program that uses a combination of Machine Learning and artistic talent to create beautiful pieces of art. AutoDraw is an AI-built-in tool that recognizes the structure of hand-drawn sketches (doodles) and then suggests a number of clip art to replace with your drawing.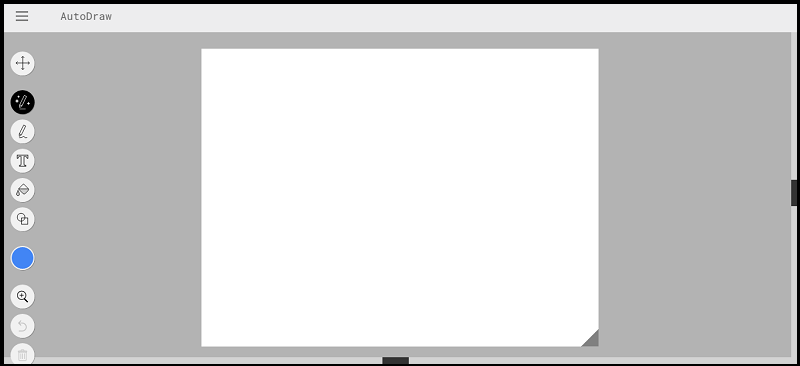 AutoDraw is a browser-based experiment that functions much like auto-correct. But, it fixes your drawings instead of correcting your spellings. This tool takes advantage of machine learning and creativity to produce drawings in less time than it would take a human.
Website URL: 

https://www.autodraw.com/




Paid/Free: Free
5. Google Duplex
Google Duplex is an AI-powered technology that can carry out specific verbal tasks, such as making calls, appointments, bookings, and reservations for you, but with a natural-sounding human voice rather than a robotic one. The program can understand complex sentences, fast speech, and even lengthy remarks. 

Source: https://ai.googleblog.com/
When one utilizes this new technology, they can rest assured they will not make mistakes and will complete the tasks without error. Currently, Duplex is geared toward online restaurant reservations, movie ticket purchases, haircut scheduling, or data breach issues. Currently, the AI-enabled calling service of Google Duplex is only available across the majority of cities in the USA.
6. PFPMaker
PFPMaker is a special tool that makes the creation of profile photos fun, quick, and easy for any purpose – personal and business accounts, messengers, gaming accounts, etc. In less than a minute, you can create a professional-looking profile picture from any photo.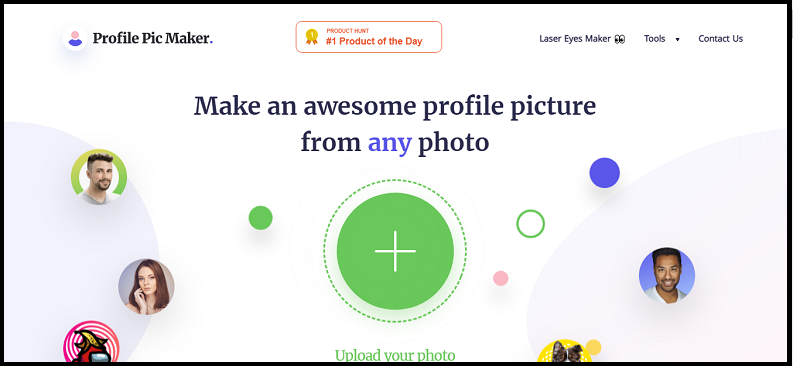 PFPMaker utilizes artificial intelligence to remove and replace unwanted backgrounds. Afterward, the tool generates dozens of profile pictures that you can pick from and gives you the option to customize as per your choices. PFPMaker is also free, so anyone can use it. For example, you could simply change your color cast or add a shadow under your chin if you'd like!
Website URL: 

https://pfpmaker.com/




Paid/Free : Free
7. Krisp.ai
Krisp's stand-alone AI-driven noise-canceling app makes it possible to have more effective video and voice calls online. Basically, it produces crystal-clear calls and mutes background noises in real-time calls. While conducting video conferencing, the software also eliminates the background visual directions.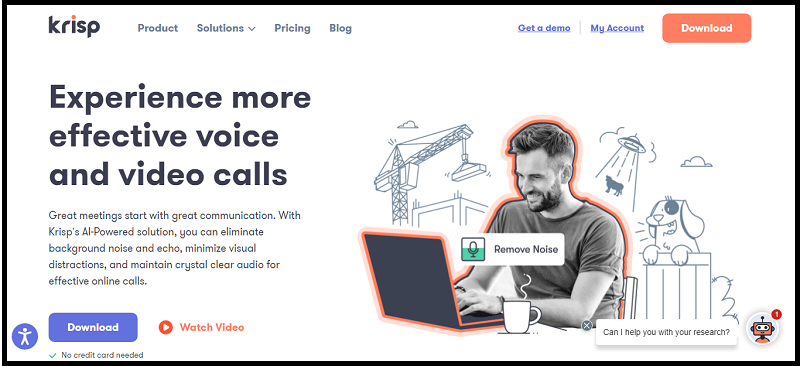 In conjunction with its helpful feature Activation Code, it retains these effects even if ReConnect is turned off. Krisp helps your team have clearer, more productive online conversations, whether you are resolving customer complaints, pitching a new prospect, or meeting with colleagues. You can download Krisp on computers running Windows 10, MacOSX Yosemite, and iOS 8 beta on iPhone 6/6 Plus & iPad Air 2.
Website: 

https://krisp.ai/




Paid/Free : Freemium
Also Read:  56 Marketing Tools + Resources To Increase Your Productivity
8. Beautiful.AI
Beautiful.AI is AI-powered presentation software that allows users to create beautiful presentations remotely using smart templates, with minimal effort. These templates range from simple designs to animations (and even games). So, users can choose the appropriate template and focus on revising their speech instead of fixing the image size, number of charts, etc.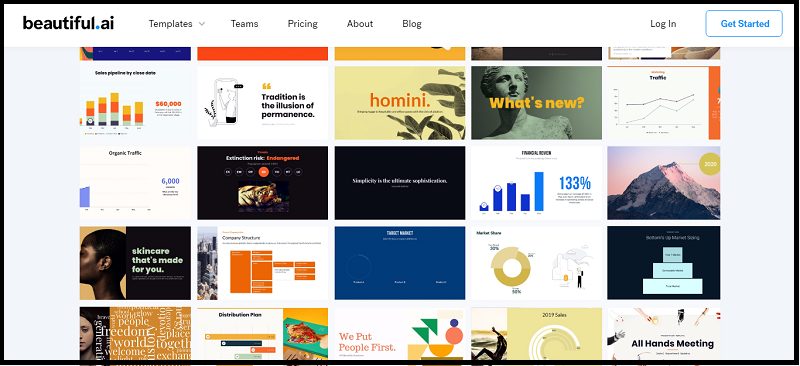 People who create or edit presentations on a regular basis and want to reduce the amount of time they spend doing that while maintaining a high level of quality are the best users for this presentation software. 
Website: 

https://www.beautiful.ai/




Paid/Free : Paid
9. Unscreen.com  
Unscreen is an AI-based web application that enables users to remove the background in a video, such as green screens and chroma keying. With this software, users can record video anywhere and easily remove all that messy clutter in the background with ease. The software support MOV, MP4, WEBM, GIF, or OGG video file formats.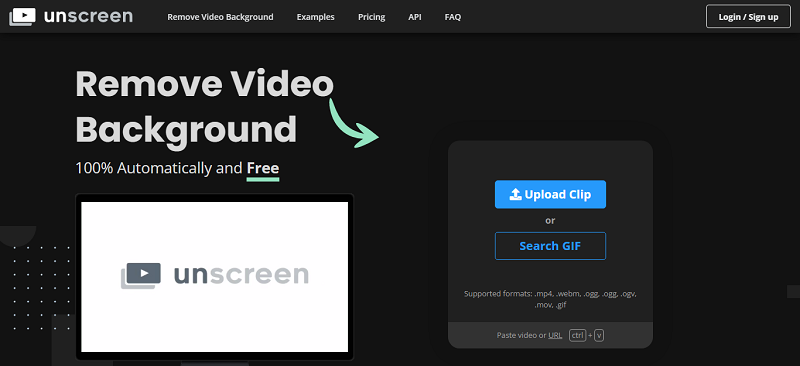 With Unscreen, you don't need to select pixels, choose colors, paint masks or move paths: The software analyzes all your video data 100% automatically and produces a high-quality image. 
Website: 

https://www.unscreen.com/




Paid/Free : Free
10. Bardeen.ai
Bardeen is an AI-powered automation app that replaces your mundane daily tasks with a single shortcut and controls your web apps from anywhere.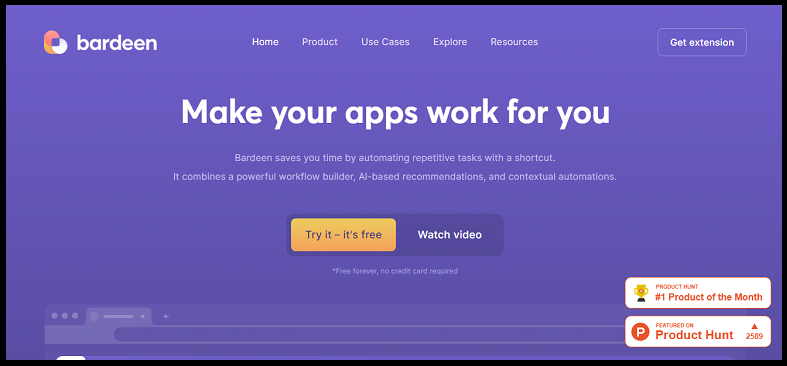 Every day, you have to perform multiple tasks in order to stay productive. This can be anything from sending out a few tweets or posting on Instagram, liking and sharing your friends' photos, trying out new apps and websites, or messaging with colleagues. You might do this all manually, but there is a better way. Bardeen lets you replace your repetitive tasks with a single shortcut. So, you can control your web apps from anywhere across all of your devices.
Website: 

https://www.bardeen.ai/




Free/Paid:  Free
11. Podcastle.ai
Podcastle AI is an online AI-based podcast creation tool that helps you design, create, edit, publish and distribute audio content to your most relevant audience. It combines user-generated content with publishers' journalistic voices.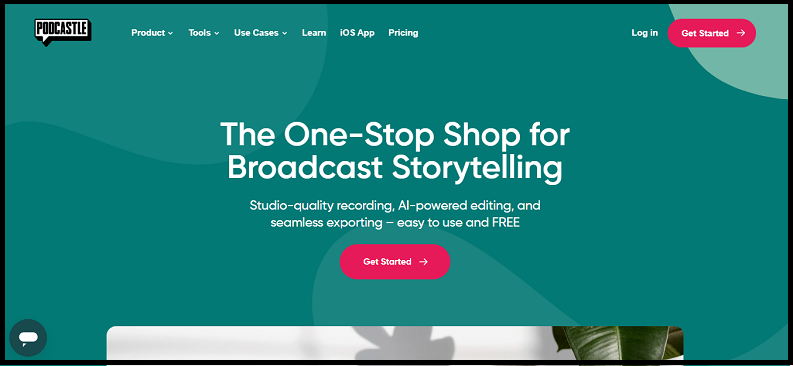 Its core offering includes automated transcription, audio outsourcing, and automatic synthesis of primary human voices through artificial emulations of human phonetic properties including accent, dialect, and gender.
Website:  

https://podcastle.ai/




Free/Paid: Free
12. Looka 
Looka is an AI-powered platform to create logos, business cards, websites, and more with ease. It offers a range of innovative technology solutions to help business people bring their brands to life.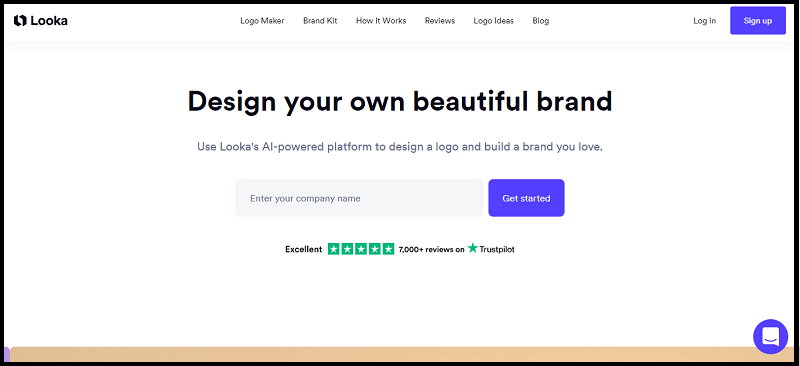 Website:  

https://looka.com/

 


Free/Paid: Free
13. Boomerang for Gmail
Boomerang provides artificial intelligence to its users that can help you write better emails, and schedule them to send automatically at the right time. It also lets you track if someone replies to an email and set reminders on important messages.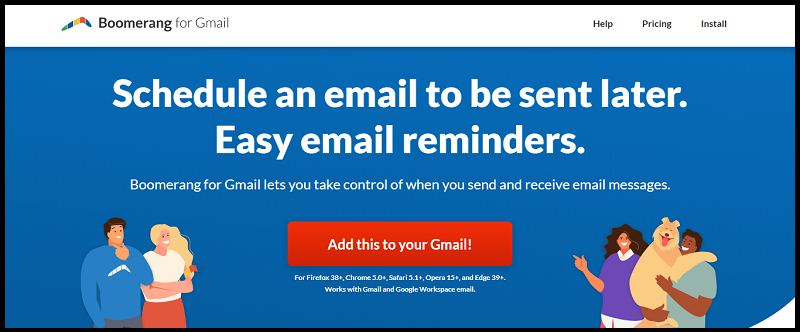 Boomerang helps its customers to manage their email inboxes more efficiently. So, you can concentrate on other aspects of running their business. This tool allows users to categorize and prioritize messages based on importance and urgency.
Website: 

 

https://www.boomeranggmail.com/




Free/Paid: Free
Also Read: Linkedin Marketing Tips For Getting 10X higher traction
14. Generated Photos
Generated Photos is an online resource of 100k free AI-generated faces of any age, gender, and ethnicity for your designs. Now, it's become easy to add creativity to your photography with this software.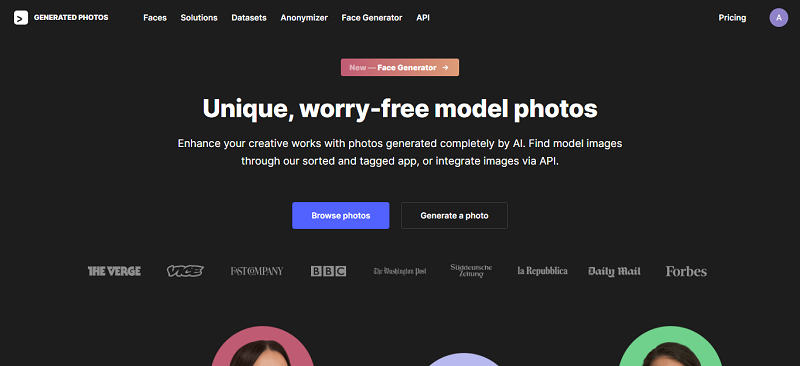 Through this tool, you can enhance your graphics with realistic images generated by artificial intelligence. So, find model photos that are sorted and tagged via our graphical app, or integrate photos through our easy-to-use API.
Website:

 

https://generated.photos/




Free/Paid: Free
15. Synthesia.io
Synthesia is an AI Video Generation platform that helps in creating professional videos from text in different languages. Through this video communication system, the company replaces cameras with code and uses AI algorithms to translate into any language.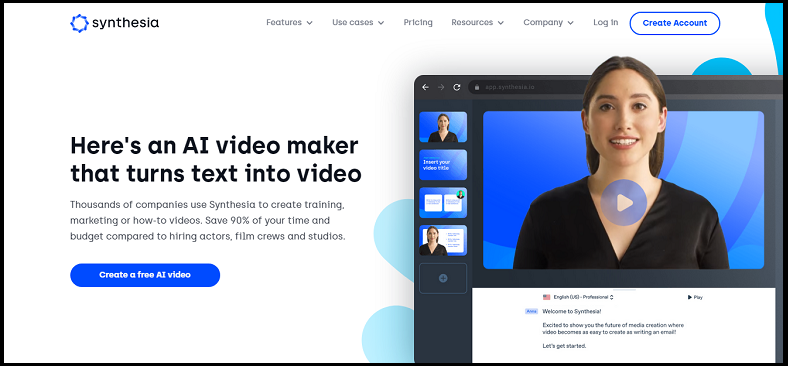 It also creates personalized and localized videos instead of text and images if you don't have any camera equipment. Through artificial intelligence and machine learning techniques, this tool brings quality audiovisuals to the hands of non-skilled individuals.
Website: 

https://www.synthesia.io




Free/Paid: Freemium
16. Fluently Beta
Fluently is a web-based text editor software with built-in features, such as a multilingual translator, dictionary, and thesaurus. It allows writers to edit and translate any language of their choice. Fluently Beta is a fantastic and innovative tool that can help anyone to write in any language easily.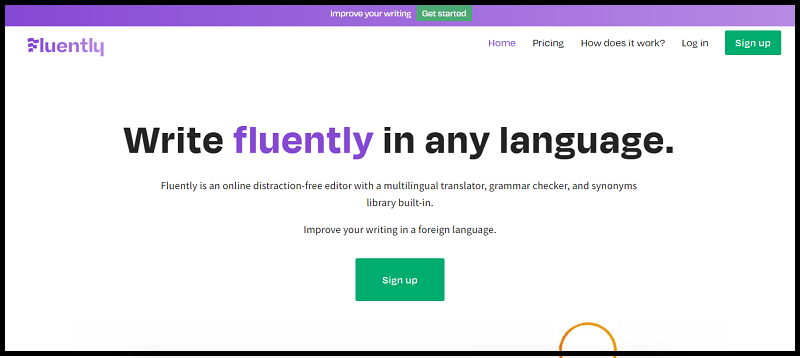 It's available as a browser extension, which is available on Google Chrome and Mozilla Firefox browsers and provides many benefits over other literary software.
Website: 

https://fluently.so




Free/Paid: Paid
Conclusion
The combination of marketing automation and AI has paved the way for marketing. And due to this, many large and small sizes of businesses started stepping into AI marketing tools. Working with AI tools means getting better insights into customer behavior – how they feel about your products, offering more intelligent bidding strategies, and increasing business sales and leads.
Unlock the true potential of your marketing campaigns with RedBlink. As a trusted artificial intelligence consultant, we offer cutting-edge solutions that revolutionize your marketing strategies. Our expertise in Generative AI and related niches ensures unparalleled results. Experience the power of AI in marketing today.