Are you having trouble getting your brand to show up in the top search engine results? Are you struggling to compete with bigger brands and reach your target audience? Are you looking to boost your sales in 2023?
Yes, you can reboot your brand and boost sales through your website by rebranding your business using best practices. 
A one-size-fits-all brand strategy won't work for every business, especially in an ever-growing  competitive market. By understanding the unique nature of your business, you need to position a successful branding identity to establish your brand.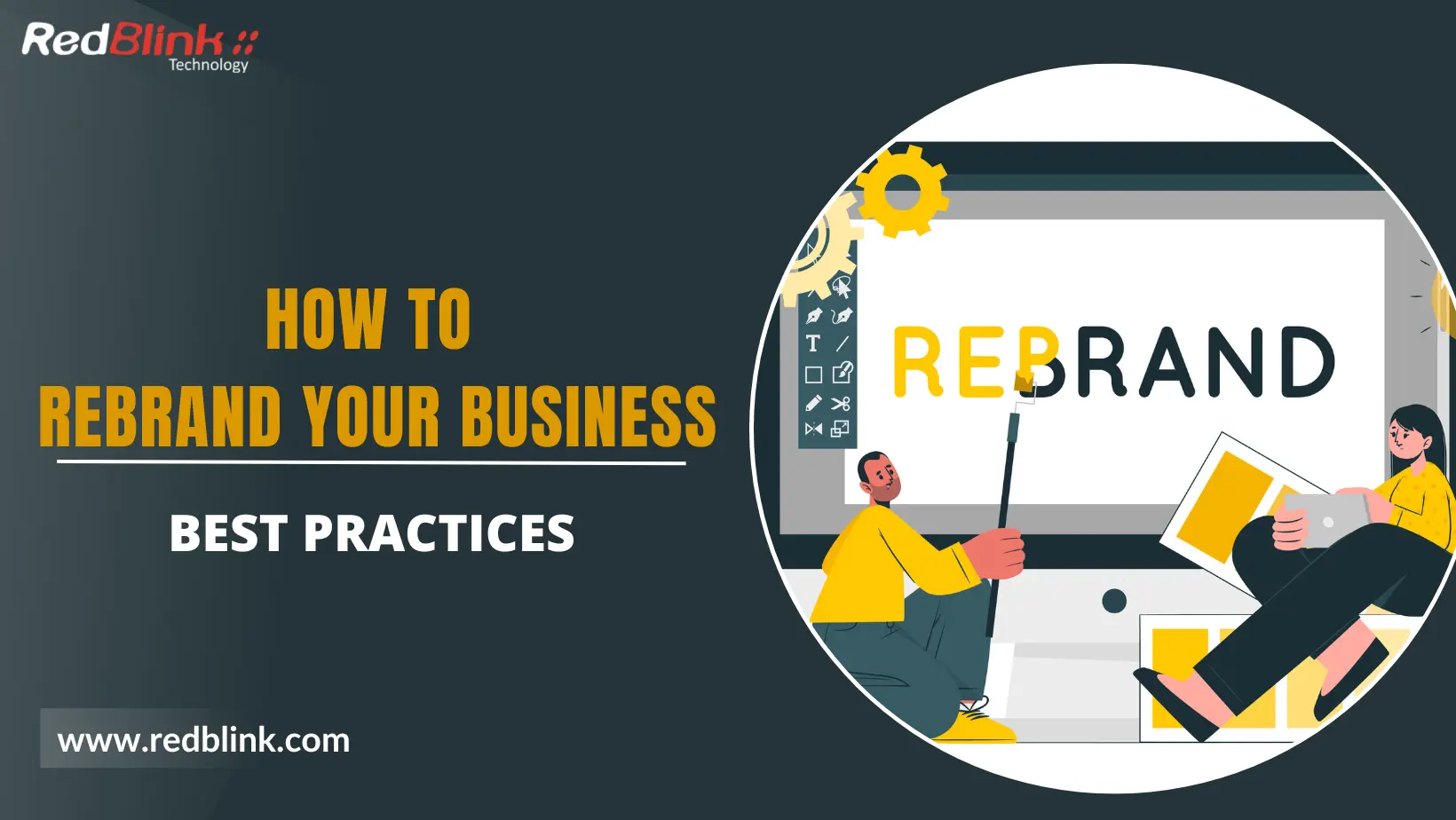 It is possible to turn things around by rebranding, even if your current strategy isn't working. This blog post will explain the basics of rebranding, and the best practices for a successful rebrand.
Let's start First, let's answer an essential question: what is Rebranding and why is it important?
What is Rebranding?
Rebranding is the process of changing the corporate image of a company or organization. Rebranding includes changes to the name, logo, slogans, and overall visual and messaging strategy. 
Rebranding for companies can be done for a variety of reasons, including:
Refreshing brand image, 

Aligning with Brand Identity

Bridging the gap between brand and the target market,

Repositioning a brand in the market by removing negative associations

Brand collaboration or merging or acquiring of brands.
The ultimate goal of rebranding is to create a new, more favorable brand identity. A refreshing brand strategy will change the perception of the company in the minds of customers and stakeholders. Recreation will help you improve brand personality as per the company's bottom line.

Also read: What is Brand Storytelling – How to Tell a Brand Story [Examples]
Rebranding is a brand promise and a big decision. To create a brand , it takes years, so you should rush into rebranding for simple business failures. A brand should have consistency going with your business aesthetics, typography and product line.
When your potential customers are satisfied with the brand then only you will have a higher conversion rate. A logo design and a website must go with your business for a higher conversion rate.
Conducting a Brand Audit
Before you opt for a new brand identity, it is vital to understand branding needs. Conducting a brand audit by a professional company will help you understand the areas where your brand is lacking. A brand audit will:
Identify your brand's strengths and weaknesses

Understand your target market

Identify your brand's position in the market

Evaluate your brand's performance

Understand your brand's value (both internally and externally

)

Evaluating your website and look for mistakes in Ui UX that are declining progress
Importance of Rebranding
Measuring the existing brand value is the first concept of rebranding. To meet the target audience's perception, a perfect business strategy is required. From logo design to choosing color and font of the website to advertisement of the brand, everything matters. 
To design a website having maximum usability and greater brand value , brand awareness among potential clients is a must.. Simply put, branding creates a positive impression of your business—this can help attract talent for hiring or partnerships for future projects.
Get to know more on UI UX design- Measure User Experience: Know When to Update Your UX/UI
Assessing the current brand
Why do you want to rebrand? There are a lot of reasons why you might want to rebrand your business.
Here are some common ones:
To change your image, improve brand awareness or better position yourself in the market.

To freshen up your brand, increase sales and increase customer loyalty.

Know the target audience while Rebranding
Understanding your audience is key to successfully communicating with them. If you are not having recurring customers then somewhere the customers are not satisfied. Look out for demographic reports and identify the missing link.
Customer-centric websites always focus on every aspect of your business- logo design, color scheme, design of website, tagline – all are important.
Customers feedback is the most pressing source that can help you in rebranding. While rebranding you must consider the following:
What is the expectation and need of my target customers?

What your customers like about the product/service you are providing?

What pain points does my product or service solve for them? How can I articulate those pain points in a way that will resonate with them and provide value for their lives?
More knowledge on the customer's choice will help you design better rebranding campaigns.
Defining the Rebranding Goals
The ultimate goal of rebranding is to create a new, more favorable perception of the company in the minds of customers and stakeholders, and to improve the company's bottom line.
Defining the rebranding goals is an important step in the process of rebranding a business. It helps to ensure that the rebranding efforts are focused and aligned with the overall business objectives. The goals should be specific, measurable, attainable, relevant and time-bound (SMART). 
Who are your competitors? 
If your business is declining and you are unable to meet your competitors brand, you need to consider rebranding your website product. The purpose of rebranding is focused on – how you can stand out from the crowd. 
Your goal is not to copy your competitors rather focusing on the strengths of your product/service. Here are some ways to improve your brand value in comparison with your competitors.
Look at the top competitor's websites and social media content. Take pointers to consider while rebranding.

Consider every negative aspect and try to change or modify it during rebranding

You can consider a strong brand story to recreate your brand value. Always aim to create a memorable brand.
The key point is to focus on the uniqueness of your business rather than just copying the competitors. 
What is your market position?
Rebranding can be a daunting task, but it doesn't have to be! The first step is to identify your market position.
What is your brand's current market position?

How does it fit within the industry? 

What does it offer that other brands do not? 
Next, ask yourself these questions:
What strengths and weaknesses does my brand have?

What are my competitors doing that I'm not? Do they use this technique or feature in their marketing campaigns or product packaging.
Now look for the answers before you plan a rebranding campaign.
The Rebranding Process – How To Reboot your Brand Value
The rebranding process is a complex and multi-faceted undertaking that requires careful planning and execution. It typically includes several stages such as research and planning, design and development, and implementation and launch.
Research and planning is the first step in the rebranding process. This stage involves conducting a thorough analysis of the current brand, the target audience, and the competitive landscape. This research can include conducting surveys, focus groups, and interviews with customers, employees, and industry experts. We should also consider the psychological impact of UI/UX and branding. 
The information gathered during this stage is used to inform the development of a new brand strategy and messaging that aligns with the business objectives.
Design and development is the next step in the rebranding process. This stage involves creating a new visually appealing interface for apps and website , including a new logo, color palette, and typography. This stage also includes the development of a new website, packaging, and other marketing materials. We should fix all the mistakes in UI UX that were identified in the brand audit. User-friendly pop-ups can also added to increase the ROI.
Also Read:  Cost of Mobile App Development in 2023 
The design should be consistent with the new brand strategy and messaging developed during the research and planning stage. As rebranding process requires consistent efforts to improve brand value. If the brand value is going down , project managers must consider on website redesigning and website refreshing.
Implementation and launch
Implementation and launch is the final stage in the rebranding process. This stage involves rolling out the new brand across all touchpoints, including online and offline channels. This can include updating the website, social media profiles, packaging, and other marketing materials. 
The launch of the new brand should be communicated effectively to customers, employees, and other stakeholders through a comprehensive launch plan. Also, you look to create a hype for rebranding to create  excitement among customers.
Best practices for rebranding
Consistent brand experience can bring numerous benefits. Rebranding is not redesigning but includes a branding process with the long term vision of the brand. Let's see some of he best practices to follow while rebranding your product/service:
Involve key stakeholders and employee feedback
Involve key stakeholders such as employees, customers, and industry experts in the rebranding process. The people associated with the brand can provide valuable insights and feedback. People's feedback will act as the main ingredient in the development of the new brand strategy and messaging. 
Additionally, involving key stakeholders in the goal-setting process can help to ensure buy-in and support for the rebranding efforts.
Communicate the rebranding effectively
A comprehensive launch plan will explain the reasons for the rebrand, the new brand strategy and messaging. Communication with potential customers will improve design and branding strategy.  Also, you will ensure that designers, developers and marketers have understood the reasons for rebranding.
Create Social Media Hype for Rebranding
Sometimes, the logo, design, website, content strategy all are in place but still the brand value is low. Might be your brand visibility is low on social media.

Notice anything different around here? Twitter Media is now Twitter Create. Same great content, with a brand new look. pic.twitter.com/elwXkijn3s

— Twitter Create (@TwitterCreate) May 24, 2022
In such a case, increasing social engagement on platforms like Facebook, Twitter, Instagram , Linkedin and other social media platforms can help in creating brand awareness.
 Be consistent across all platforms
Be consistent across all platforms, including online and offline channels. For powerful branding, you need to update the official business website, social media profiles, packaging, and other marketing materials. Also, looking for new branding channels can be considered.
Continuously measure and evaluate the success of the brand
Continuously measure and evaluate the success of the rebrand to determine if the new brand is resonating with customers and achieving goals. 
Also Read: 10 ChatGPT AI Tools & Products Built Using OpenAI ChatGPT
As a business owner,your brand tracking strategy must include tracking key performance indicators such as website traffic, sales, and customer engagement. Use this information to make any necessary adjustments to the rebranding efforts. New tracking tools can also be considered.
Some Successful Rebranding case studies in recent past

Case Study 1 : Rebranding of Intel
Intel rebranded their logo with an elevated "I"  and they have become an iconic brand. The easy yet effective design has met their business expectations.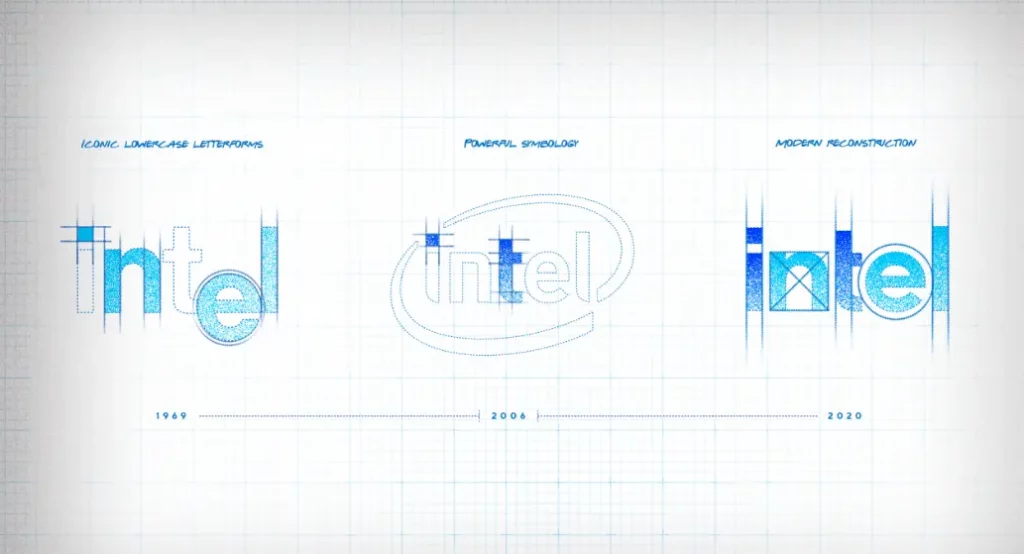 [image source: https://www.intel.com/]
Background:
In 2006, Intel, the world's largest computer chip maker, embarked on a rebranding campaign to distance itself from its reputation as a "component supplier" and position itself as a "technology leader." The campaign, which included a new logo and the tagline "Sponsors of Tomorrow," was intended to convey Intel's focus on innovation and its role in shaping the future.
Challenges:
Intel understood the importance of revamping the design for the modern day and hopes the redesign bridges the gap between the past and present day.

The swirl-less design is reminiscent of the original logo, which was in use between 1968 and 2006.

Intel had to face the critics of competitors saying that they will lose their existing brand value.
Objectives:
During the rebranding phase, the company wanted to design a simple yet effective logo. Intel wanted to reposition itself as a tech-giant. Also, they were not willing to take a risk by doing abstract changes in their business strategy.
Solution
Despite these challenges, the company decided on a new logo for the rebranding campaign. Intel's rebranding campaign helped to establish the company as a leader in the technology industry and set the stage for future growth. The simplicity of the new design makes it look exciting across various products including packaging, t-shirts, and mugs.

Results:
The finish is a strong, bold, and clean aesthetic. By keeping the color blue, the logo remains recognizable and still speaks to a mass audience. It's bright, eye-catching, and relevant with the square above the 'i' representing a processor. Repositioning brand value with the change "I" helped them project intel as the top-level company.
Case Study 2: Rebranding of RedBlink.
Yes, we are also part of rebranding. We have revamped official website last year and the new website with new brand identity have helped RedBlink to increase website traffic and conversions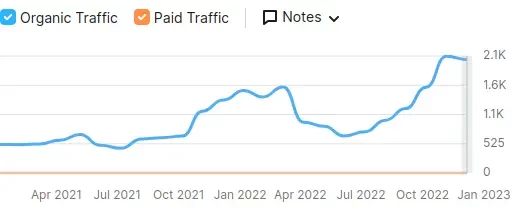 Background:
RedBlink is a full-service software development and digital marketing company.The company had been in business for several years and had a solid reputation in the industry. The company's website and branding had become outdated and did not reflect the company's current offerings or values.
Challenges:
The company's website was outdated and not mobile-friendly, which was causing a decrease in website traffic and conversions.

The company's branding was inconsistent and did not reflect the company's current offerings or values.

The company's social media presence was minimal and not effectively promoting the company's services.
Objectives:
To create a modern, mobile-friendly website that accurately reflects the company's current offerings and values.

To develop a consistent and cohesive brand identity that effectively communicates the company's message and values to customers.

To increase website traffic and conversions through an improved user experience and search engine optimization.

To increase the company's social media presence and effectively promote the company's services.
Solution:
The company decided to revamp the website. The new website is designed with a modern, mobile-first approach and includes improved navigation, user experience, and search engine optimization.
The company focused on the client's requirements and with the existing client inputs, RedBlink is able to rebrand itself within a short duration.
Also, social media engagement helped in increasing website traffic. The social media platforms helped end users know more about the company's services, work culture, technical strengths and so much more.
Results:
The new website has seen a significant increase in website traffic and conversions, with a 50% increase in website visits and a 30% increase in conversions.

The new brand identity has been well-received by customers, with an increase in brand recognition and customer loyalty.

The company's social media presence has grown significantly, with a 40% increase in followers on social media platforms.

Conclusion- Is rebranding right for you?
Rebranding is not a simple task. Know your brand before you develop a brand development strategy. The business owners , marketing team, design team and development team work tirelessly to create a consistent brand experience. But sometimes, end users and search engines fail to recognize efforts. In such cases, rebranding is done.
Rebranding creates a cohesive and consistent brand image.The brands that are not performing so well should look out for  ways to boost business's profile and attract new customers. However, it's important to consider the potential impacts of rebranding on your company before making any decisions about how or if to proceed with the process.
If there are major shifts occurring within your industry or environment at large then rebranding could allow companies with similar offerings distinguish themselves from competitors. Now, how to reach this conclusion. A professional company who has expertise in branding can help you.
A rebranding experience can be made exciting and memorable by hiring a professional branding agency. Once you have decided on a brand identity and selected the right design agency like RedBlink, you are on the right path to create your new brand image. This will surely work smoothly to bring your vision to life. Book an appointment to consult our experts today!