Growing your business with a proper brand identity requires continuous churning of different and unique marketing ideas. Creating a successful brand like Apple, Starbucks, Amazon, and Google requires innovative and well thought design practices.
More than just a brand logo, a brand identity is made up of what your brand says, what your values are, how you communicate your product, and what you want people to feel when they interact with your company. Branding is essentially a promise to your customers.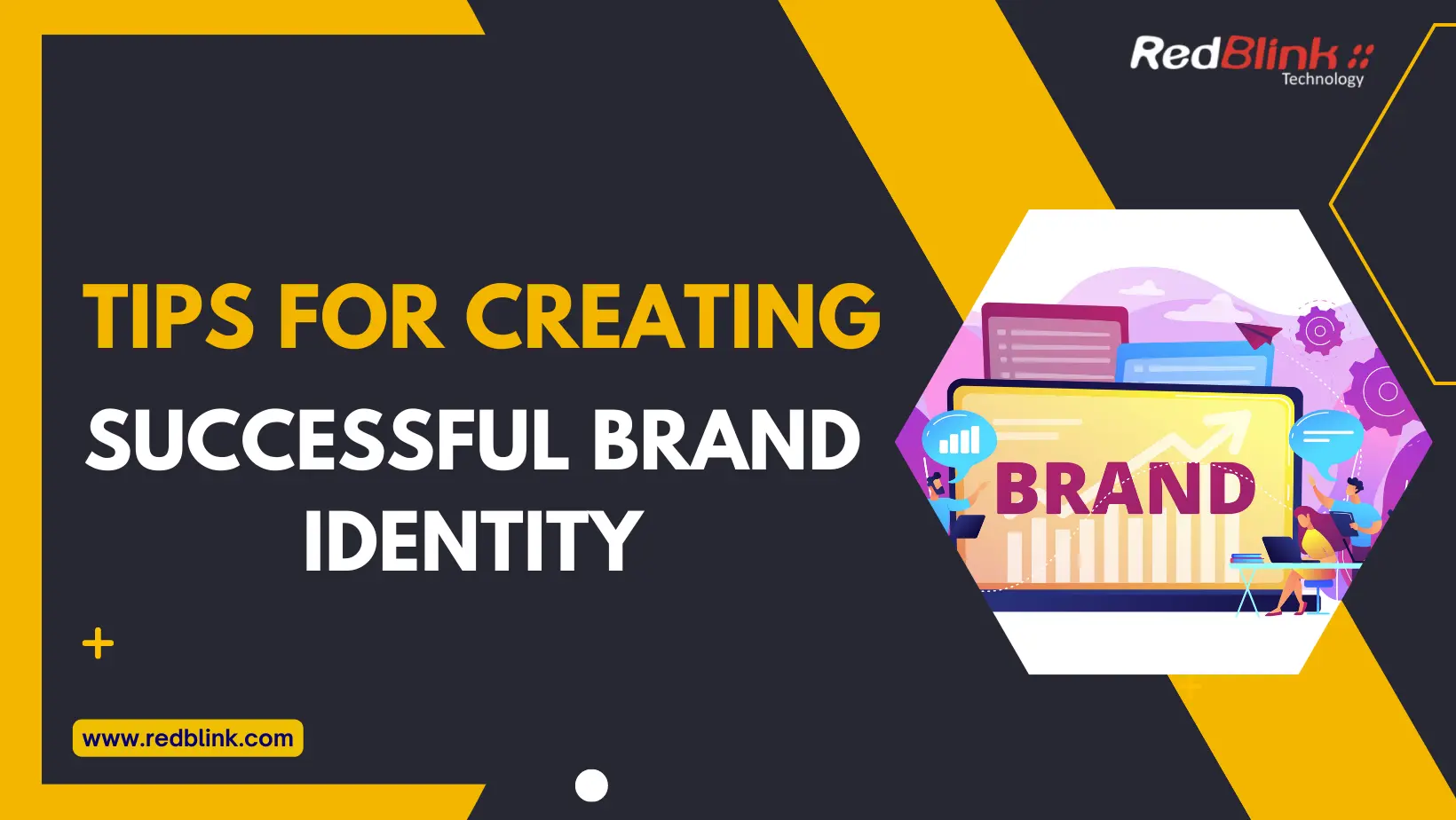 A strong brand identity helps to distinguish your business from competitors. A brand will communicate the values and nature of your business. A successful branding strategy will disseminate a consistent message across all online marketing platforms. In this article, we will provide tips for building a successful brand identity.
What is Brand Identity?
Successful brand identity is the popularity of the brand among people. It takes time and effort to build a good brand image. Small businesses need a brand image to establish themselves, but poor branding strategy can hurt their brand identity. Here are the essential ingredients to build your brand:
Understanding target audience

Defining Brand Identity Goals

Creating Unique Visual Identity

Make a powerful brand voice with continuous testing and iterations

Consistency bridges the gap between brand and end users
A brand identity consists of the following-  Logo, Typography, Style Guide, Key brand Colors, Color Palette, Tone of voice, and Textures.
Also Read:  Popup UX Design: Key Factors, Best Practices, Tips in 2023
Tips for creating a successful brand identity
The fast-paced global market where you have established brands for every business category makes it difficult to establish a strong, definitive brand identity.
To make it more understandable, here are the tips that will make you understand more about the value of building brands.
Defining your brand's purpose and values
An authentic brand-building from the inception of the company can help a business in defining its unique value. Brand Image is the result of all of your marketing and communication efforts, and it serves as a compass for decision-making.
Here are a few key points to consider when defining your brand's purpose and values:
Clearly sum up the unique benefit your business provides 

Identify the core beliefs and principles to drive a brand

Communicate your brand's purpose and values to employees, partners, and customers

Use your brand's purpose and values to guide all business decisions, big or small

Brand storytelling will help you create a better understanding of brand to common users.
Make sure that your brand's purpose and values are communicated in all branding materials, including your website, social media, and advertising.

Understanding your target audience
Understanding your target audience is crucial for creating effective marketing strategies and building a successful brand. It helps you to tailor your messaging, products, and services to the specific needs and preferences of your audience.
Here are a few key points to consider when understanding your target audience:
Identify the demographics of your target audience, such as age, gender, income, education, and location

Understand their psychographics, such as interests, hobbies, values, and lifestyle

Research their pain points and what problems they are trying to solve

Understand their buying habits, such as where they shop, how they research products, and what influences their purchasing decisions
For branding, create customer personas that represent your target audience, and tailor your marketing and communication efforts to address their specific needs and preferences.

Continuously monitor and research your audience through surveys, focus groups, and analytics to ensure you keep up with their ever-changing needs and preferences.

Also Read: 10 Most Common UI UX Design Mistakes, Examples & Fixes
Researching your competition
To create a successful brand identity, it's important to research your competition. The mission statement of the brand creates a direct impact on the brand equity. This will give you a better understanding of how your brand differs from other competitors in the market. A strong tagline with a simple logo will make the difference. A famous logo and tagline become the brand voice.
Researching your competition can help you identify gaps in the market and areas where your brand can stand out. Look at the messaging, visual identity, and overall positioning of your competitors to help you develop a unique brand identity.
Creating a visual identity:
A strong visual identity is essential for creating a successful brand. Your visually appealing UI UX should include elements such as a logo, color palette, typography, and imagery.
These elements should be consistent across all of your branding materials, including your website, social media, and marketing materials. A well-designed visual identity can help your brand stand out and be easily recognizable.
Developing a consistent voice and tone
Your brand's voice and tone should be consistent across all of your communications, from your website and social media to your customer service interactions. It should reflect the personality of your brand and be in line with your target audience.
Also your tone should be appropriate for the context and message you are trying to convey. Consistency in your voice and tone will help to build trust and credibility with your audience.
Implementing your brand identity consistently
Brand consistency is important to build brand personality. The consistency of a brand acts like a touchpoint for all your business communication. This includes your website, social media, advertising, and any other marketing materials.

Consistency in your branding will help your audience recognize and remember your brand. It's also important to regularly review and update your branding to ensure that it stays relevant and in line with your business goals.

Also Read: The Psychological Impact of UI/UX
Continuously evolving and adapting
A successful brand promise is not a one-time thing, but rather an ongoing process. Brand positioning requires continuous adaptation of  your brand as your business and the market evolves. This may involve updating your visual identity, messaging, or overall positioning. 
By keeping an eye on industry trends, you can stay ahead of competitors for better brand development. Regularly conducting market research and gathering customer feedback can also provide valuable insights into what changes may be necessary for your brand. It's important to be flexible and open to change so that you can make adjustments as needed to stay ahead of the curve.
Brand differentiation is a must. You must inform your loyal customers regarding new products and services.

For greater brand positioning, try to adapt changes to make  adjustments as needed to better align with your target audience.

Continuously measure the effectiveness of your branding and make data-driven decisions on changes to be made.

Actively try to stay ahead of the curve and anticipate future changes in your industry and market.
Conclusion
With increasing brand awareness, the marketing niche demands a strong strategy to build a brand. The success of brand identity requires careful planning and consideration and a solid marketing strategy. A brand identity is more than just logos and designs. To brand a startup , you need to engage with your audience, stand out from the crowd, and create an experience that makes people choose your brand over others.
Finally, creating an engaging brand identity is a great way to ensure customers are attracted to your business. However, a regular review and evaluation always help in improving brand value. Strong brand experiences are built through content marketing, strong brand building through social media, SEO, and other digital-marketing methods.
Never forget, a great brand tells a success story. By following brand guidelines , you can improve your online business presence. The greater the brand identity, the larger is the marketplace.
An effective brand identity is key to building a strong brand, and hiring a company to build brands will help you achieve your branding goals.