Today, SEO is no more a cost-free acquisition channel that will automatically work to rank your business on Google Search. Strategic planning and goal-oriented action plans are required.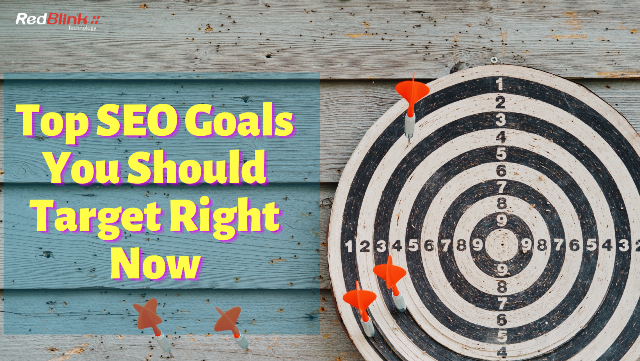 It is a challenge to determine the full impact of one's SEO efforts, therefore every business needs individual attention and method of optimization. Applying SMART SEO to achieve the business goals is the set target.
Now you might think- What SEO trends do you need to keep on your radar to future-proof your strategy? Which SEO trends will work for your website? What is the latest trend that you should target in 2023? How are the latest SEO trends affect traditional methods?
The below post is providing the answers to these questions : 10 SEO goals for 2023 that need your attention to attain favorable results through SEO are discussed below.
10. Use optimized internal links
With the right data, tools, and planning, you can intuitively roll out a solid internal linking strategy that can help your content rank higher on Google.
Rather than having a complex approach, create internal links linking one page to another on the website. Unlike, external links created to link pages from authority website, internal links creation is done using proper content planning.
Let's pay attention to internal linking to get effective results.
Here are some points that we should understand before creating internal links;
Understand the importance of internal links for SEO
Understand the difference between internal and external links
Audit Site's Existing Internal Links
Build an Internal Linking Strategy
First of all, internal linking matters for the following reasons:
Internal Links Help Search Engines Understand Your Site's Structure
Internal Links Pass Authority
Internal Links Help Users to Navigate Between Relevant Pages
Based on the above points, internal; links are created in two different ways:
Navigational Internal Links
Contextual Internal Links
From the experts' views, a well-linked site can access any page within three clicks. It is called page depth. To achieve this internal link distribution is done. It will identify weak links here so you can find out the issues.
Some of the issues arising in internal linking are due to
Too much linking (On-page Internal Linking)
No, follow Attributes in Outgoing Internal Links
Now keeping all these points in mind, let's see – How to Build Your Internal Linking Strategy?
Identifying Site's HubPages
Create Topic Clusters Using Internal Links
Choose the Right Anchor Text
Identify Site's Authority Pages.
Use Internal Links to Increase the Ranking of Target Pages
Learn more at: https://www.semrush.com/blog/internal-links-guide-to-building-strategy-that-works/
9. Focus on improving conversion rate
Increasing organic traffic remains the core aim of SEO campaigns in 2023. It offers businesses a free alternative to investing in PPC (Pay Per Click) advertising and driving new business to a website.
There is a myth that people think that organic traffic means direct sales but it doesn't always work like that.
If your boost in organic traffic isn't leading to an increase in conversions, it's time to examine the following factors:
Content quality
User journey
Keyword accuracy
Improving your conversion rate
The challenge is that SEO can cast a wide net. That's why it's important to focus on conversion rates. To do this, keep a check on the following:
Match Content to User Intent
Optimize for Branded Search Terms
Nurture content and use the methods like segmentation, optimization, entities.
Make Double Opt-Ins super simple to keep your email database free of bots and bad actors.
Keep the focus on optimizing the content over and over again
Learn more at: https://www.link-assistant.com/news/conversion-rate-optimization-guide.html
8. Consider Visitor's Time on Page as an important factor to boost sales
Often the SEO persons misunderstand and do not differentiate between visitor time on the website and time-on-page.
The number of pages visited can be often high, but that doesn't necessarily mean the readers are paying attention to your content. The time spent combined with the number of pages visited can give you the right reader engagement overview.
To increase traffic, it is important to increase the time on the page. Some of the tips to do this are:
Improve UX for user retention
Create V.I.P Content- Visualizing, Interactive and Personalized.
Spark the Interest till the last.
Target the Leaving Customers
Beware of Unwanted Ads
Analyze and See What Works Best for You
Higher average time spent on the page leads to higher conversion rates as well as higher ad revenues. So, keep a track of the above-mentioned tips while handling the website for SEO purposes.
Learn More at: https://themeisle.com/blog/increase-time-on-site/
7. Try to minimize the  Bounce Rate
A higher bounce rate indicates that something somewhere is not working fine on the website. So if the Google Analytics of the website is showing a higher bounce rate, you need to do the following;
Optimization of Page Load Time
Optimize the website content as per the keywords
Use Sidebar Widgets and Promotions Sparingly
Cross-Reference Bounce Rate with Time on Site
Ruthlessly Optimize for Relevance
Include a Single, Clear Call to Action
Use a Logical and USEFUL Internal Linking Structure
Rework on Product Pages
Make Site Easy to Search
Optimize for Mobile
Make Your Site's Navigation Effortless
Learn more at: https://www.searchenginejournal.com/reduce-bounce-rate/258613/
6. Higher the page speed, the greater is the visibility 
Page speed is a measurement of how fast the content on your page loads. Evaluate page speed with Google's PageSpeed Insights. PageSpeed Insights Speed Score incorporates data from CrUX (Chrome User Experience Report) and reports on two important speed metrics: First Contentful Paint (FCP) and DOM Content Loaded (DCL).
Page load time is an important factor for ranking including the mobile page load speed. Here are some of the many ways to reduce your page speed and load time:
Enable compression by reducing the code.
Reduce redirects
Leverage browser caching
Improve server response time
Optimize images
Learn more at: https://moz.com/learn/seo/page-speed
5. Create Higher Domain Authority for effective SEO
SEO efforts are fruitful if you are having higher domain authority. Domain authority (DA) refers to the number of relevant backlinks that are linked from other websites to your site. The relevance of those backlinks is an add-on to the ranking score.
Simply put, higher domain authority ensures that your website has more score to achieve a higher search engine rank. There are no magical secrets to improving the factors that drive DA, but here are the main points:
Choose a relevant domain name
Optimize on-page content
Create linkable content
Get more high-authority links
Avoid spammy links
Get more traffic-driving links
Remove bad and toxic links
Make sure that your website is mobile-friendly
Promote content via social media smartly
Learn more at: https://neilpatel.com/blog/boost-your-domain-authority/
4. Create high authority Backlink/ Backlink Profile
If you want to drive organic traffic to your website, you must understand two critical aspects of SEO strategy:
To do result-based SEO, you will like to build links that are :
Authoritative – The site has an authoritative backlink profile (many votes of confidence), generates a lot of traffic, and even ranks well in the SERPs itself. In addition, .gov and .edu sites tend to carry more weight, as do industry-leading sites.
Relevant – The referring page tackles a similar topic or niche. e.g. If your technology company's homepage gets a backlink from a blog post on "how to golf," this would not be seen as a relevant or quality backlink.
Unique – You will get an edge if the site refers to you but does not refer to your competitors. Otherwise, the backlink may be good to have, but it's table stakes.
Natural – The link is not sponsored, the anchor text is not branded or spammy, and the referring page has a natural number of links on it.
With this goal in mind, here are five strategies for building a strong backlink strategy.
Develop linkable content.
Turn mentions into links.
Guest blog for relevant sites.
Connect with your community
Optimize anchor text (naturally)
Learn more at: https://backlinko.com/high-quality-backlinks
3. Higher Organic traffic for Search Engine Ranking
Organic traffic refers to the people who find and visit your site through a search engine, such as Google and Bing. Usually, they are drawn to a page on your website that answers a search query or matches a keyword or phrase that they have searched for. The process of making content that is more likely to be found on the search is called search engine optimization, or SEO. To do this, you need to do take the following steps:
Optimize for your readers, not search engines
Blog regularly displaying useful information
Plug into the blogosphere
Use long-tail keywords
Get your meta down
Consistently create quality content
Encourage incoming links
Use social media to create awareness of products /services
Use data and metrics to optimize results
Learn more at: https://www.nexcess.net/blog/how-to-drive-traffic-to-your-website/
2. Capturing More Featured Snippets to increase eCommerce Sales
A featured snippet is the first thing people will see on many search engine results pages. Getting your site into this highly valuable space as part of your SEO efforts can really help to improve your visibility.
Instead of just a title tag and a meta description as a result, a featured snippet typically includes an image, an ordered or numbered list, a table, or an answer to a searcher's question. They're especially good at answering the 5 "W questions," Who, What, When, Where, Why, and How.
The result will also include a link to the page the information was found, and the URL. Featured snippets are especially beneficial to people using a mobile device to find an answer, since mobile search traffic has surpassed desktop traffic.
Optimize Content For featured snippets
Although featured snippets share the common thread of being located above normal search results, there are many different kinds of featured snippets that accomplish different things. Let's take a look at the different kinds of featured snippets.
Paragraph snippets
List snippets
Table snippets
Video snippet
So, after understanding and including featured snippets, you need to ask the SEO company that you hired –
"Is my website configured to have a featured snippet? The question will answer the quality of work that an SEO agency that you choose for your website.
To include featured snippets, some of the tips are:
Capture and analyze featured snippets from competitors
Look at Page 1 Rankings pages content
Analyze & Identify opportunities
Grammar and formatting Matters
Look at the 'People Also Search' Box
Learn more at: https://ahrefs.com/blog/find-featured-snippets/
⭐ 1. Utilize Natural Language Processing & Machine Learning
Search engine optimization (SEO) is a combination of mathematics and semantics. For a while, natural language processing in SEO has been latest revolution for many SEO influencers. NLP is used for digital assistants, processing our requests, indexing websites, and finding relevant content on the Web.
From voice search to featured snippets, from interactive widgets like the news carousel to zero-results SERP, Artificial Intelligence, and Machine Learning tools are used now.
The future of NLP in SEO is on the rise, as technology has progressed. It has now become possible to understand how people behave, think and react. This has made it easier for marketers to create content that will engage their audience.
SEO-friendly functioning of websites will rely on the incorporation of natural language in websites in 2023. As for search engines, they will continue to use artificial intelligence and machine learning to determine what people are searching for online.
The AI and Ml will be majorly used for:
Recognize voice and bot search
Using communicative queries
Search in the right direction
Quick and Semantic Search
Internal Linking using NLP
Learn more at: https://www.webfx.com/blog/seo/what-is-natural-language-processing/
Forward Path:
SEO Goals to improve Business in 2023 should majorly focus on optimizing the website with AI-powered content and UX design having internal and external linking in place.
When you hire an SEO company, the objective and goals must be clear. However, you can't ignore the specific need of your business and the things like local SEO, keyword search, etc.
All we can summarize from the above discussion is, to choose an SEO company that is providing the services as per the latest 2023 goals and making your business more sellable. Apart from this, the SEO agency should understand the needs of your business, considering its size, space, vertical and geographic location.
An SEO technique should include specific keyword optimization by checking on competitors. Above all, it should provide a cost-effective, higher search engine ranking.
To acquire such effective and result-oriented SEO services, you need to trust the best SEO agency like RedBlink Technologies. 
We have been selected among the Best SEO Companies In California by Designrush that is known for delivering  out of the box,  ROI- based SEO campaigns!