For digital success, SEO (Search Engine Optimization) is a necessity. But things can get a little complex if you don't partner with the right SEO company.
To set the record straight as to what, exactly, an SEO company is and how to choose the best SEO company for the growth of your business, we are going to discuss in this post.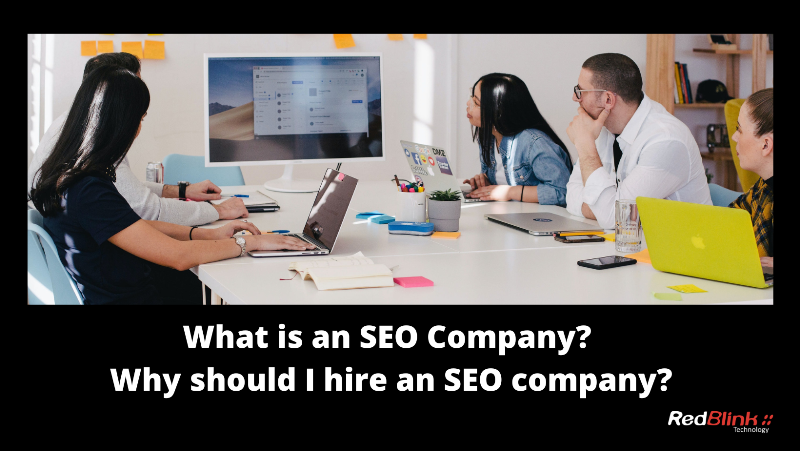 If you are searching online for an SEO company, you might have come across a few different SEO companies. Though they mention all their services on the website, it may still be difficult to pick the service which you should opt to make an ROI-driven deal.
As SEO has become far and wide, it's important to start with the analysis and go step by step. One of the hard core facts is that many SEO companies offer vast services and make big promises but in reality, SEO strategies take time to show results.
Keeping the fact in mind, let's explore all about SEO so that you can make a wise decision in choosing an SEO agency.
What is an SEO company?
In simple words, SEO Company is an organization that involves online practices of creating, editing, and reworking unique searchable content and coding that ranks higher on search engines. Its main aim is to rank your website in the first 10 searches. Furthermore, for a higher website ranking on Google, an SEO Company make sure your website is secure, fast, crawlable, and just as mobile friendly as it is on a desktop. In short, SEO Company works on the latest SEO tactics to increase online visibility that can ultimately drive organic traffic to your website thus increasing your sales.
SEO also includes the process of gaining references from other major websites. This process is called backlinking.
Majorly, there are two techniques of optimization to rank on search engines.
White-hat SEO is the kind of website optimizations that is done by following all SEO algorithms and without violating any.
Black-hat SEO can also get you to the top of the SERP (search engine results page), but you won't stay there for long. These are illegal tactics that can lead to tarnishing your overall online presence in the end.
Pro Tip: If you are looking for long-term benefits out of SEO, ensure to pick an agency that only works with white hat (organic search) techniques.
All in all, an SEO agency is a group of SEO experts that have knowledge and practice in creating greater visibility and higher search engine ranking. The aim is to get direct quality leads.
Building a website is only one step in the long journey of maintaining a successful, high-impact website. Hiring a top SEO firm can help your business continue to grow and earn more revenue.
What does SEO Services Include?
When deciding which SEO company to entrust your website with you're going to want to make sure that they specialize in the areas that are most important for your business. Carrying out research beforehand will help you figure out which individuals or agencies are most suited to improving your online visibility. Some factors that need to be considered when doing so include:
# Research and analyze your website and target market
It is important to do focused SEO rather than applying the general strategy to do so, you need to check with the company for the following :
How much attention do they give to analyzing the existing website?
Are they comparing the website with competitors?
What are the techniques they adopt to research target keywords?
Do they provide cost-effective SEO or exceed your budget?
# On-page SEO changes
On-page SEO requires content optimization and continuous changes in the current website. Some of the key areas where the top SEO companies focus are:
Page titles and meta descriptions optimization
Website content, and SEO-friendly Optimized Design
Services covered under the general SEO budget
Keyword Research and target position on search engine
# Technical SEO Changes
Search engines give preferential treatment in search results to websites that display certain technical characteristics. A technically sound SEO Team will work on the following points:
Internal and external linking
Optimized server configuration in an SEO-friendly manner
Maintain the loading speed of the website
Secure and UX-friendly website maintenance
# Off-page SEO changes
Off-page SEO is the groundwork for a successful website. The best SEO agencies that have added ranking websites to their credits follow the following tips:
# Provide clear communication and frequent updates
As a website owner, you would like to keep a track of the SEO activity so ensuring good communication with an SEO agency is one of the important points to consider before you finalize an agency. However, keeping a check on SEO agency is not that easy, However, you can notice the following things:
How often will you get SEO reports?
What is included in SEO reports?
What are your agreed-upon campaign goals?
How is your SEO company regularly keeping up to date with business changes?
# Take calculated risks and conduct experiments
SEO is all about taking on challenges every time you like to plan great results. So, partnering with a company that is ready to take on challenges will always be a better decision.  For that, the combination of experience and facilities (in terms of manpower and machines) is a necessity. To check this :
Hire a decision-making agency
Aware of the latest trends and techniques
Knows to reach the target goals
How much do they focus on designing, testing, and maintaining of website
Benefits of Hiring an SEO company
More qualified website traffic, leads, and revenue, along with a comprehensive website analytics strategy to track and adjust your marketing efforts are some of the expected outcomes of the SEO campaign.
There are plenty of other tangible benefits of working with an SEO company. Some of them are listed as:
Quality and optimized content to improve the ranking
Pages are well linked internally and externally
Loading Speed improvement
Excellent technical optimization is achieved that makes the site easy to crawl and navigate
Up-to-date sitemaps, robots.txt, and use of the latest code, like schema markup
Elimination site errors, especially 404, page not found
Complete and accurate local and Google Business Profile information improves the local visibility of a website
Regular monitoring of website performance and tracking of website traffic.
Why should you hire an SEO Company?
If you are having a running website then you must be aware of the SEO practices. You might have tried a freelancer or an SEO agency but despite their hard work, you must not be able to gain a search engine ranking.
If you are about to select an SEO agency then make sure that they are adding value to your ongoing website. An efficient group of SEO experts will focus on :
Cost and time-saving techniques
Help you stay ahead in competing with SEO expertise
Provide secure SEO solutions
You can expect valuable data & analytics to boost your business even more
Above all, you can maintain a secure and user-friendly website that has higher chances to rank on search engines.
When should you hire an SEO company?
For now, you must have understood that creating an online presence of small or big businesses on the digital platform is in no way an easy way. It is tough competition. Therefore, it becomes even more significant to recognize when you need to hire an SEO agency.
While you might have your budget and strategies but as per SEO experts, the few reasons to consider before hiring an SEO company are:
First and foremost the website must be complete and running
The service or business goals must be clearly communicated.
You are ready for the expansion of your business
You are aware of your local business market and target audience.
You understand the importance of ranking on search engines and are prepared for website changes.
You have a budget to spend on SEO.
If the above criteria are fulfilled then the next question comes how to choose the right SEO agency?
Tips for finding the best SEO company
So if you're trying to hire the best SEO company for local SEO or international SEO, you have to ask yourself—how do I want to appear on the web? Do I want people to think of my company as a big brand or just another retail store? Or do I want my site to be a reflection of my business? If you're interested in the latter, you need to contact a leading SEO agency like RedBlink Technologies. You should take a consultation with the experts and discuss your project.
Here are some of the tips to consider before you finalize a company:
Whether the SEO company has a global footprint?
Do they have a managed and experienced SEO team?
Do they focus on providing the best customer services?
Does Company have a proven track record of doing result-driven SEO?
How often do you communicate with your clients? Will you know where your money is being spent? Will you have access to reports?
Will you have complete access to your website and my analytics account, at all times?
Above all SEO delivers intangible outputs. No one can guarantee the results. If any company is giving such assurances, immediately take a back step.
Conclusion
SEO companies like RedBlink Technologies can help you innovate the fastest way to stand out in search engine ranking. You can always stay ahead in comparison with your competitors.
The need for dynamic SEO strategies, and a comprehensive SEO technology to manage it and refine content into meaningful marketing action, is clear.
Cities We Serve Now:
Google and other important search engines update their algorithms hundreds of times per year with large and small impacts. We keep track of that and bring changes in building a strategy.
For an SEO agency regular search engine algorithm changes, testing old methods, and content optimization are the important factors. Moreover, the use of AI marketing technologies has taken SEO techniques to a new level.
Marketing within a smart framework, enabling them to stay current with the latest best practices in search optimization is the expected result after hiring a top-notch SEO agency.
Finally, if you plan to improve your online business performance, work with an SEO Company to grow your business by applying the best organic SEO techniques!