How to Identify Black Hat SEO
Is your website not showing up in SERPs? This could be because of Black Hat SEO technique and maybe your website has been penalized. So, what exactly is Black Hat SEO and how is it affecting the website rankings. Let's unfold in detail about it and its illegal tactics.
Using black hat SEO means going against Google's algorithm. Many SEO companies often prefer this method because it is much easier to get rankings. But, in this way, the ranking only lasts for a short period of time. And, over the years, we've learned that building quality over time is well worth the effort because your every turn comes back to haunt you.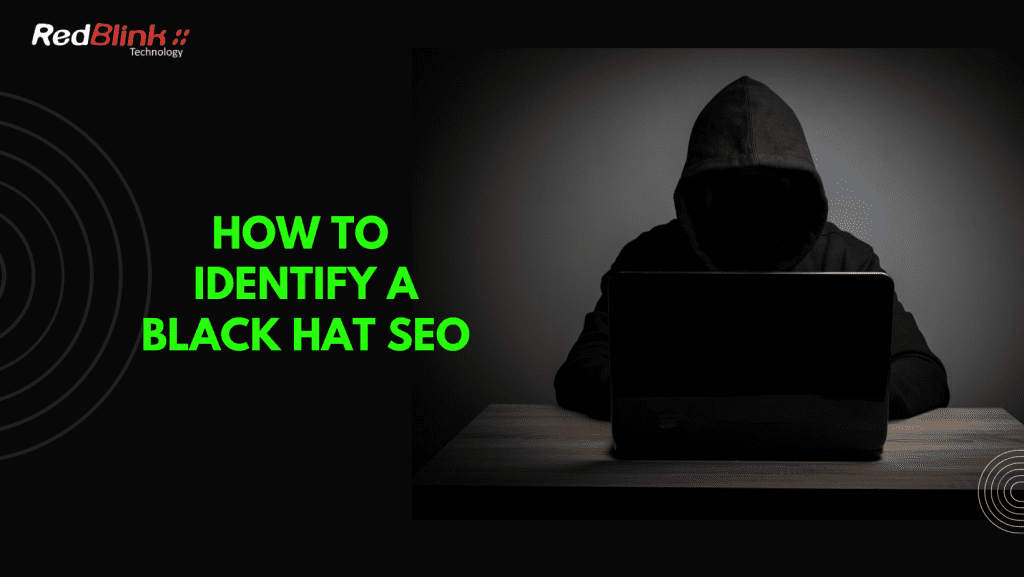 The line of success is clear, if you compare those who have been doing quality white hat SEO since the beginning versus those who have been doing black hat SEO.
However, how will you identify if you're outsourcing SEO services to an agency using black hat SEO?
Don't worry! We'll help you with this. Our following guide will explain what is black hat SEO, how to avoid it, what are its signs, and why is it not good for your organization.
Let's take a look!
What is Black Hat SEO? 
Before determining whether your SEO company is black hat or not, you must first know what is black hat SEO. 
So, what does mean of black hat SEO?
Black Hat SEO is an illegal website positioning technique that results in reduced search engine visibility as a result of filter penalties or bans. Black hat SEO is a method of using different strategies for website promotion and ranking that are completely against Google search engine. They can fall out of your website ranking from the SERPs. 
In other words, Black Hat SEO is a set of unethical and usually spammy tricks to increase the ranking of a website. These methods can quickly get you to the top of the search results, but search engines are likely to penalize and block the site sooner or later.
This unethical tactic doesn't solve the problem for search engines and often ends up being penalized by search engines. Black hats strategies include content spinning or duplicate content, content automation, keyword stuffing and creating pages with thin content to manipulate rankings and position low-quality content in search results. They will also create links and mask links, create doorway pages, and use Tiered link building.
Here are several common examples of black hat SEO techniques:
Creating backlinks from and to low-quality websites in order to generate more traffic

Hiding text on webpages, known as cloaking.

After landing on a page, redirect users to a new page

Creating misleading or irrelevant content in an attempt to capture traffic from large search terms

Ignoring local SEO Optimization rather creating a lot of citations for local businesses.
Showing up in search results is vital to business growth, but there is a right way and a wrong way to optimize your website. The dark art of black hat SEO is the wrong way to go that aims to use search engine algorithms for ranking high rather than working on user intent.
Instead of earning the right to rank highly on the search results pages, black hat SEO uses dubious tactics to get you there. The constant use of black hat SEO techniques is more likely to hurt your search engine presence than improve it.
Search engine algorithms have become more complex over time, so you should avoid black hat SEO at all costs. White hat SEO is always a much better search engine optimization technique. This is a more ethical approach that follows the terms and guidelines set out by search engines. White hat SEO consists of quality content creation and improving the overall user experience for people visiting your site.
Why You Should Avoid Black Hat SEO? 
Despite not being illegal, black hat SEO violates search engine guidelines. That is to say, it is still against the rules. The consequences of black hat SEO include getting hit with a stormy penalty. Your website will drop in the search results if you receive a penalty from search engines, or it might be removed entirely. In other words, you'll get fewer visitors to your website, which ultimately means fewer sales for your business.
Search engines have become better and better at detecting black hat SEO techniques over the years. There is almost no way to avoid getting caught practicing black hat SEO nowadays. A black hat SEO strategy neither solves the searcher's problem nor does it solve the search engine's problem. In the short term, black hat SEO may lead to short-term gains, but over time your presence in search engines will be damaged due to your black hat tactics.
What Risks Are Associated With Black Hat SEO?
The search engine will penalize your website if it detects that you are using black hat SEO. If you receive a penalty from Google, it will update its algorithm, resulting in your website's ranking being downgraded or, in the worst case, permanently banned. The result will be that your website will not appear on search results when your target audience is searching for you, causing your business to fail.
Additionally, black hat SEO creates a poor user experience for your audience. Due to the poor experience, most visitors will abandon your website because of the spammy content on your pages. To ensure visitors have a good time online, search engines will remove your website from SERPs if you receive such negative hits. To build trust with users, work with a search engine optimization specialist to implement ethical and sustainable SEO practices.
Why Search Engines Don't Like Black Hat SEO?
Everything is very simple here. The main goal of search engines is to give the most useful answer to the visitor and provide the so-called most relevant pages in SERPs. And thus, users benefit from this and get the best response to their requests. Hence, the constant struggle between search engines and every reader matters.
What is the purpose of black hat optimizers – Push a page to the very top of the search results. And doesn't matter whether the page has the answer to the questions, but a user will go to the site. And as a result, the business will earn benefits, but not for the long term. Because users won't stay for long and leave the websites. And, search engines don't give priority to such websites in long run. 
In white hat SEO optimization, the interests of the visitors always come first. They'll get an answer to their question, and get satisfied because they stay on the page for a longer time.
Is Your SEO Agency Hurting You? Signs To Find Out
Maybe you hired an SEO agency for ranking your business in SERPs. But, is your hiring company working according to search engine guidelines? 
The right way to find out what exactly they're doing, especially during the starting month of the contract. The earlier you'll able to identify what they're doing, the more likely you'll determine whether they're ranking your website or harming it.
Here are the following ways to identify signs of black hat SEO on your website.
Are your web pages stuffed with keywords? The sign of an overused keyword is if it's containing keywords of more than 2% of a webpage's total written content. 
Keyword stuffing refers to the practice of stuffing your content with irrelevant keywords in an attempt to manipulate where a page ranks on search results pages. Adding multiple keyword variations where they don't add any value creates a bad user experience. It can also cause your page to rank for irrelevant queries.
Google explains keyword stuffing like this:
Lists of phone numbers with no significant added value.

Blocks of text listing cities and states for which the web page is trying to rank

Repeating the same words or phrases so often that it sounds unnatural.
You can do keyword research to find out what people are searching for, but overusing these keywords in your content is not a good idea. Instead of filling your content with irrelevant keywords, focus on creating useful content that focuses on topics rather than keywords.
If you're discovering hidden links or a lack of useful content on certain pages, these are clear signs of black hat SEO. It means ignoring proper content marketing practices and manipulating information to take advantage of high-volume search terms is an unethical strategy.
Poor quality content isn't valuable to the searcher. This is also an SEO black hat practice. This includes content scraped from another website, either by a bot or a human. Previously, search engines weren't good at recognizing content copied from other websites.
But, the Google Panda update in 2011 solved this problem. Many sites with duplicate content instantly hit the search rankings. Since then, Google has gotten much better at recognizing duplicate and low-quality content.
Are your links coming from poor-quality sites? A high number of backlinks from suspicious, confusing, or malicious sites indicates black hat SEO. Black Hat SEO method, the essence of which is that the anchor of the link doesn't correspond to the theme of the site/page. For example, a site sells pet food, but the link is wired to the phrase "download Windows 11 for free." This is done to simply drive traffic to the site due to a popular request. This is punishable.
There are many ways to hide text and links from the user, but leave it visible to search engines:
The text matches the color of the background.

The text is hidden with CSS.

The text is hidden behind the image.

Text in the zero-size font.

Invisible links hidden in transparent 1 px images.
If you bought a ready-made site, or you have a suspicion that you could be infected, then it is advisable to check all outgoing links from the site. And if this is an "extra" link, then delete them.
Traffic Changes Out Of Nowhere
If there is a sudden, drastic change in traffic that can't be attributed to a properly written article, strong backlink, or PR campaign, this is another classic sign of black hat SEO. These are most likely driven by a webpage or series of links that are irrelevant to your business niche.
Now, you know some of the most common signs of black hat SEO.
What To Know While Working With SEO Agency
So, before hiring an SEO agency, you need to do a little research to pick the right company. Here are some tips to move in the correct direction.
See what services each agency offers. Which ones suit your SEO goals? This will help narrow down your search and highlight the best SEO agencies for your needs.
Determine which areas of your online presence need improvement. So, start by analyzing your situation. Do you need a new website or will you just change your current SEO tactics?
For example, if a company decides they need a new website, they need to know how it will be done. Currently, a good site for promotion should have the following characteristics:
Fast download speed.

Compatible with all devices.

Compatible with all browsers.

Plugin integration available.

SEO friendly.

Ease of customization and refinement.

Availability of scheduled updates.
But just building a website is not enough to make your brand profitable. You will need additional help from an SEO agency.
Gather All The Necessary Information
Can the company back up its success with facts?
To do this, you need an unbiased opinion of an SEO agency. You need to explore a lot of data like reviews, case studies, and customer testimonials. And you should read them all, starting with the most recent ones. This is an important indicator of how up-to-date a company is with current SEO trends.
Start by looking for reviews on Google and directories. And since each industry has unique features (for example, in complex topics, the promotion period is usually from a year), as well as different customer expectations, you should carefully study all the nuances. A reputable agency will be more than willing to provide you with all the information you need.
Determine The SEO Methods The Agency Uses
To see how effective the agency is, ask for SEO promotion KPIs.
Even if they can't provide all the details due to client privacy regulations, they may be able to show some evidence of how good they are at their job. After all, professional SEO firms usually track and measure promotion results. This allows them to refine strategies until optimal results are obtained.
Top SEO metrics to track:
Site Visibility

Leads and Sales

Keyword ranking

Backlinks

Pages per session

Average page load time
Visit an SEO Company Face to Face
To find out the degree of involvement of people, it's one thing to talk to them on the phone, but quite another to meet the team face to face. This way you get a feel for the people involved.
This is your opportunity to connect with the entire team. Both of you should be able to communicate and understand each other from the very beginning. Moreover, at the meeting, the agency will explain some of its SEO tactics to you. This not only demonstrates their passion for work and creativity but also shows their attitude toward you and your business.
Before investing in an SEO agency, think about your budget. How much can you afford to spend?
A non-competitive local promotion campaign can cost a couple of hundred dollars a month, while a more aggressive competitive national product can cost thousands. Do you have funds to support your SEO campaign long-term? We can all agree that budget is an important factor when choosing an SEO agency.
You need to learn about the SEO packages that fall within your budget. But remember that there are risks associated with low-cost SEO agencies. If they don't follow proper Google guidelines, they can damage your brand and domain reputation. Or, even worse, your site may get banned by Google.
Watch Out For SEO Guarantees
It's one thing to show a positive result, and quite another to guarantee a specific result. Be careful if the SEO company guarantees the result because there is no way to accurately predict the results of website promotion.
While SEO agencies are well aware of how to achieve optimal results, Google's algorithms are constantly changing. Therefore, experience and the number of years an agency has been in business are determining factors in how effective agency strategies are.
It's great that you're serious about SEO. But think about the bigger picture. What else does your site need to get ahead of the competition? More importantly, focus on how to increase revenue through real sales and conversions.
Many SEO agencies offer effective promotion methods. You need to choose someone who has the knowledge and experience to take your site to the next level.
Bottom Line – Understand The Importance of SEO!
We agree that some elements of black hat SEO still work. But, it doesn't mean that if these methods work today, it doesn't mean that they will work tomorrow too. And using black methods of promotion, you risk getting banned at any moment.
A white hat SEO strategy is a much better approach to SEO. It will pay dividends in the long run and you'll be able to sleep at night knowing that you will never see your ratings drop due to penalty. So for the love of search engines, never do black hat SEO. After all, they are what keep your business at top. 
So, get rid of black-hat SEO approaches and apply white-hat SEO techniques to keeping yourself a leader in the competition in the market for the long run. We, RedBlink, have a team of SEO experts and professionals who provide high-quality ranking in terms of organic traffic.
Reach us today and schedule a free consultation regarding SEO services.