Local SEO is the process of optimizing a website to rank higher in local search results. This happens when a business focuses on targeting specific locations and selecting the best keywords for their business. Local SEO can be done by marketing professionals or by you, the business owner.
Local SEO is focused on local businesses as opposed to national businesses. It's important to note that there are many similarities between local and national SEO. Local SEO has two main goals:
1) Optimize content on your website so that it ranks higher in local searches
2) Identify the best keywords for your business
Local search results usually include searches with Keyword qualifiers such as "near me" or "in San Francisco". Google is also smart enough to determine if there are geographic restraints to a search query. For example, if someone is searching for "pizza shops", Google infers that the searcher is looking for pizza shops near them.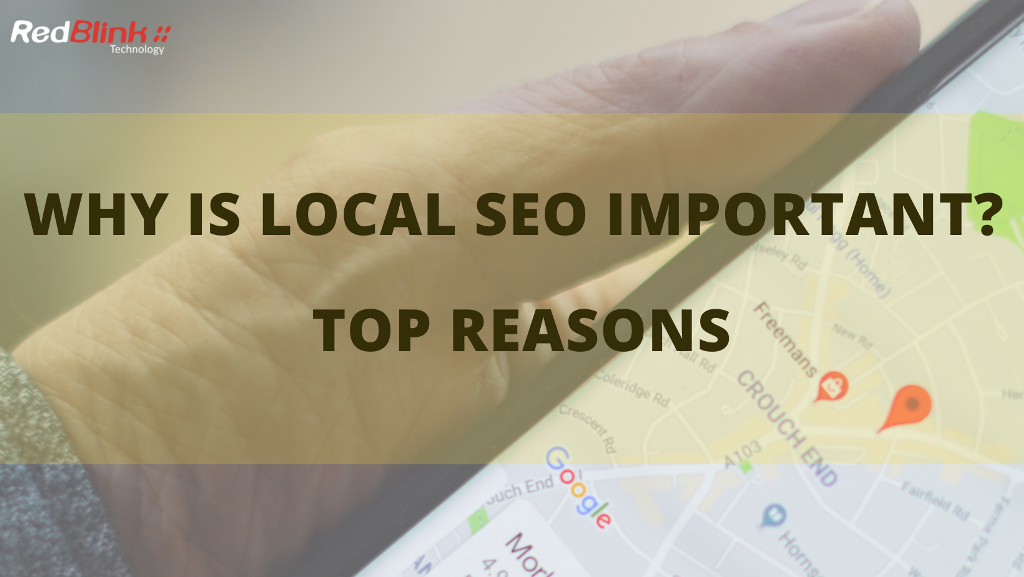 Local Search Engine Optimisation is becoming more and more important as searchers are changing the way they use search engines. There has been a steady increase in searches that include "near me" and are done on mobile since the early 2010s and this trend doesn't look to be slowing any time soon.
With more searches occurring on mobile devices, users are often not looking to have to click through to a website to find basic information. With local SEO they are able to see a business name, contact information, hours, reviews, and more right on the results page.
Why Small Businesses Need Local SEO ?
Here are a few stats that prove how important local search continues to be for businesses:
(Source: BrightLocal): 
78% of location-based mobile searches result in an offline purchase. 

75% of searches for local businesses are done on Google Search, with the remaining 25% on Google Maps. 
34% of local businesses are seen in more than 1,000 discovery searches per month through their Google Business Profile Page. 

On average, 56% of actions on Google Business Profile listings are website visits. 

16% of businesses receive more than 100 calls per month through Google Business Profile. 

83% of searchers use Google Search to learn more about nearby businesses; 55% use Google Maps, 44% Apple Maps, 39% turn to Yahoo, and 31% choose Bing Maps.  

Yelp appears in the top five search results for SMB searches 92% of the time. 
 (Source: Think with Google) :
According to Google, 76% of people who conduct a local search on their smartphone visit a business within 24 hours, and 28% of those searches result in a purchase. 

By 2021, mobile devices will influence over $1.4 trillion in local sales. 

18% of local smartphone searches resulted in a purchase within the day, while only 7% of non-local searches resulted in a sale.

A recent local SEO survey found that 82% of consumers read online reviews for businesses during a local search and spend close to 14 minutes doing so before making a decision.

86% of people rely on Google Maps to find the location of a business.

More than half of Internet users worldwide use a mobile device for their local searches.
Learn how to choose Local SEO services for small businesses to make them more efficient by bringing local attention to the world. For a local business, this increases its exposure to relevant customers.
Top Reasons Why Local SEO is so important in 2023
More and More People Are Looking for You on Their Mobile
More and more people are searching through mobile devices. This keeps those looking for local businesses on the go. Someone who today is in New York looking for a nearby cafeteria, tomorrow may be in California.
Therefore, if you are well located in your area, it does not matter that the person who is looking for you at that moment does not live in your city, because if he is visiting, he will find you.
Not All Companies Work With Local SEO
Although Local SEO is a fundamental element that every company should take into account when developing a marketing strategy, it is not.
Many companies are still unaware of the benefits of proposing a good strategy in this regard. In fact, although Google Business Profiles (previously known as Google My Business) is a free way to advertise on the Internet, there are many companies that have not opened their Company profile on this platform.
This offers you a golden opportunity. The fact that not all companies are working on their local web positioning means that you have many more possibilities of being the best-positioned business against your competition.
Without a doubt, it is a great business opportunity and, as with everything, the fact of arriving before others can give you a certain advantage.
Your Own Clients Also Look for You on the Internet
Does your company already know all the people in your city? It is possible that yes. You may not even need to have more clients.
However, even so, Local SEO should be important to you. Did you know that many times, those "regular" clients of a company look for information about it on the Internet?
They may need to know what time you'll be open, what your phone number is, or even share your location with someone who asks them where to find your services.
Users Trust the Opinions of Your Customers
Listing your business on Google Business Profiles allows people who don't know you to see the comments of those who have already been your customers.
This, which may seem insignificant, is very important for the user experience. Your potential customers will be able to see if your former customers are happy with your products and services.
If so, they will most likely decide to come to your company. However, if even searching for you directly by your company name, they don't even find a Google Business profile, they won't be able to trust you.
Conclusion – Importance of Local SEO for your business
Understanding why local SEO is important is the first step toward improving your own local SEO. If you want to grow your local customer base, connect with your local community, build brand awareness, and gain a better reputation in your region, taking advantage of the local SEO benefits is the way to go.
We want to help you achieve those benefits.
Find Local SEO services near you – Local SEO Company in Sacramento, CA , Local SEO Services in Henderson NV,  Local SEO Services in Reno NV , SEO Services in Anaheim, CA