Affordable Vs Cheap SEO Services – Comparison 2023
When you are in the process of hiring an SEO agency for your website, you come across a few terms. These terms are similar but the appropriate use of them in SEO creates a difference in results.
Cheap and Affordable are two terms used when choosing an SEO agency. Both have similarities then why and how does it make a big difference?
Affordable sounds like a better word for Cheap meaning low-cost SEO. Then Should we consider only cost while hiring an SEO agency?
No, the cost is not the only criteria. A good SEO is the result of many factors like backlink creation, keyword research, content optimization and so many other things to boost the search engine ranking.
Moreover, as an owner, you need to think about long-term payouts over short-term savings. Let's take an insight into choosing a number #1 SEO service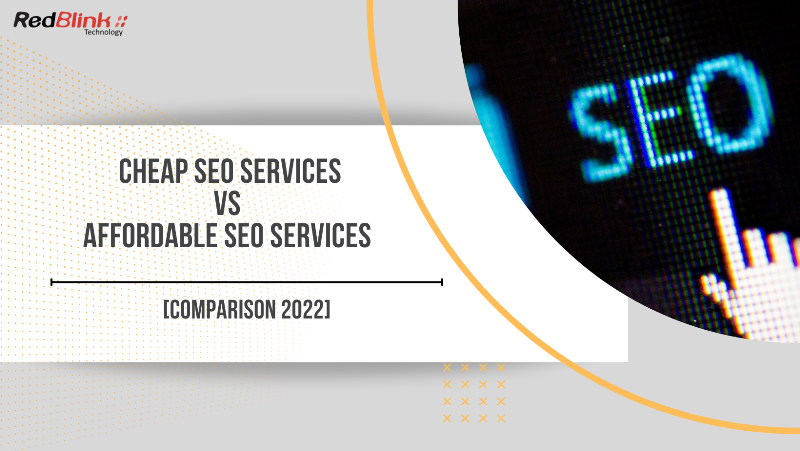 Before you further get into the confusion of choosing cheap or affordable SEO, we are discussing the topic in detail, in this post. Also, some tips to choose the best SEO company for your website are discussed.
What is Cheap SEO?
As the name goes, Cheap SEO means low-cost SEO. At first go, it appeals to you as it is talking about the lesser SEO package. Looking at the cost-benefit, the company owners often forget to check the quality of work.
That's where one gets stuck. We agree the SEO packages can cost low to high depending on the services. There is a trend that some SEO companies claim to provide high-client volume, better ROI, greater CTR, and better SERP results at low cost. But they might end up delivering an unsatisfactory service that can harm your brand value.
Here is the difference. If you are looking for an SEO company for the first time, you must know the criteria to choose the best and most value-added SEO package.
A cheap SEO might result in producing spammy and untrustworthy SEO results that can damage your brand value. If we talk about the cost only then any package costing below $ 250 is considered a cheap SEO. Here as the price is low, you compromise on the services. A good SEO starts at $500 and goes up to 1 million per month depending on the project size and services.
Here are some of the consequences of a cheap SEO that you might have to face:
Low-Quality linking might degrade your brand value

Black Hat Techniques might show immediate results but they are short-term and not advisable
Google Penalties or manual actions will be there because of poor quality SEO work

There will be cookie clutter as one strategy fits all SEO strategy doesn't work for all websites

Cheap SEO services might initially commit grandiose promises but the actual results are different

Easy SEO methods are short-lived and show immediate results but actually, you lose your loyalty.
What is Affordable SEO?
Affordable SEO means getting search engine optimization done at a reasonable price. Creating an excellent result out of an SEO campaign could help your website gain organic traffic without breaking the budget limit. The quality service need not come at a heavy price, it's a myth. However, consistent and well-strategized methods help you boost your website visibility. To achieve this, you need to contact affordable SEO companies focusing on creating comprehensive campaigns without cutting any corners. Best SEO practices involve the following activities;
White Hat Methods help you gain genuine traffic

Bespoke Campaigns help you do effective local SEO

Realistic SEO Goals help you plan better

Long-Term Strategies bring brand visibility

Actual results with improved SERP results
What are the differences between Cheap and Affordable SEO?
SEO is an effective way of digital marketing that can not show results compromising on any factor. A good SEO campaign is based on nominal cost promising brand visibility and higher search engine ranking along with the content and other optimizations required to build a good website.
As far as affordable and cheap SEO is concerned, the differences are listed here:
| | | |
| --- | --- | --- |
|   | Affordable SEO | Cheap SEO |
| Service | High-quality | Poor- Quality |
| Tactics | White Hat SEO | White and Black Hat SEO |
| Cost | $500- $ 30000 per month | Less than $500 per month |
| Duration | 2-6 months to show results | 65-90 days to show results |
| Communication Method | Weekly/monthly | It depends on the company you hire, normally poor |
| Results | Long-term, ROI based | Short-term, |
| Goals | Realistic | One size fits all |
| Strategy | Tailored campaign | Google Penalties |
Apart from these differences, various other factors will indicate that you should always opt to choose affordable SEO. However, how will you judge the difference, that is still a big question? As we have discussed above, there is a minute difference between the terms used in both types of SEO. So, the difference lies in hiring the right SEO company.
Tips to Choose the best SEO agency
It's always difficult to choose the right SEO company suiting your needs. The most important part is to recognize what kind of service is best for your brand and what you want to achieve out of SEO campaigns
Don't worry, here are some tips mentioned below that will help you choose the best SEO company as per your requirements:
The first step is to start researching, comparing, and reading the reviews of the SEO agencies

Referrals to competitors and some businesses can serve as a great help

You should find the appropriate way of communicating your goals to the SEO company

Decide on your budget in advance to have a clear mind while negotiating with a company

Ensure the SEO agency has a good track record of results – ask for case studies or examples of work they've done.

Get a contract in writing, detailing exactly what services will be provided, how much it will cost, and when payments are due.

Communicate regularly with the company to ensure that your goals are being met and that you're happy with the results
Bonus tip for hiring the best SEO agency
Look for a company that has a plan to do local SEO, mobile-friendly SEO, and SEO that will ensure long-term goals. Maximizing revenue is the ultimate target expected from the SEO project.
Best SEO service in CA- Final Thoughts
A small business is working with a small SEO budget therefore their preference is the local and effective SEO. When we know the difference between affordable and cheap SEO, the company should take a wise step of evaluating the service before finalizing the SEO project.
Remember bad SEO will have consequences on your business. However, a late start will not hamper your business. It is better to start late rather than choosing a cheap or bad SEO agency.
If you're considering a trustworthy SEO company in Los Angeles, San Francisco or other areas near California for your small business, you can choose a company like RedBlink that will help you provide a quality service.
In a nutshell ,high-quality SEO services are an investment in the future success of your business therefore, don't compromise in choosing a company that is best for you. Get in touch with our marketing team to know more about SEO services.