The journey to becoming an SEO expert is unconventional. An SEO expert is a professional that optimizes websites to achieve higher search engine rankings. To put it in a simple manner, an SEO expert takes the responsibility to improve website traffic thereby generating leads to improve ROI
As the job responsibilities are highly demanding the competition to get into a leading agency is even tougher.  As far as the basic requirements to become an SEO specialist are concerned, a 4-year degree program is not enough.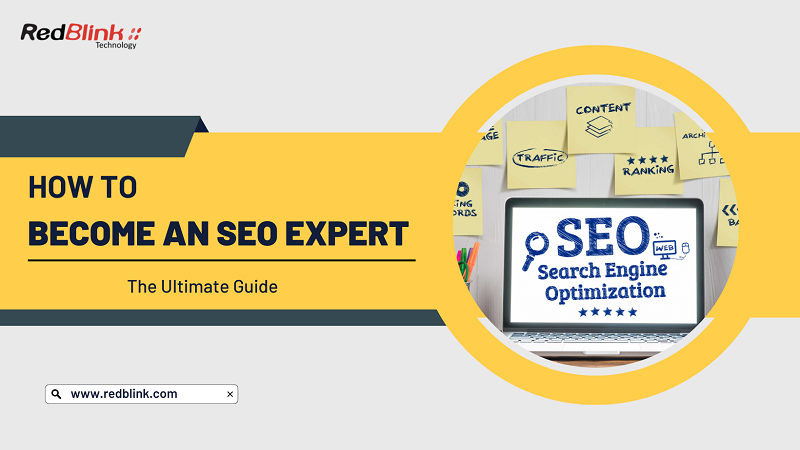 One has to learn the traits of SEO by practicing and learning from experts. Working on real projects provides an experience in the field.
After putting in dedicated efforts and incorporating technical and content writing skills, one becomes an SEO master. An SEO expert can draw a handsome salary and is hired by top-rated SEO companies in the US.
Interested in learning how to become an SEO expert drawing a higher salary? Take an insight into the blog.
What is an SEO Specialist?
If your website is not in the top 10 searches on Google, you may need to start with a search engine optimization (SEO) campaign. Don't know how to do it? Don't worry, That is what an SEO specialist does.
Professional SEO people help generate organic traffic to your website using SEO Techniques such as on-page SEO or off-page SEO.
The main role of an SEO executive is to produce relevant search results and a positive user experience, growing site traffic, lead volume, and brand awareness.
The job responsibility of An SEO expert is quite different from other marketing guys. It requires skill development, understanding, and above all practice to manage the website as per the SERPs.
Developing a skill set to optimize keywords, generation of reports and analytics, internal linking, backlinking, site audits, and generating methods to improve CTR are some of the traits to get a good SEO job.
Other duties include implementing and maintaining title and meta tags, URL redirects, analyzing competitors' web presence; monitoring Google Search Console; and negotiating contracts with agencies and vendors.
An SEO executive closely works with another marketing team including content writers to develop quality content by taking new initiatives to increase user engagement.
How Do I Become an SEO Expert With No Experience?
Acquiring the core competencies to develop SEO and SEM strategies will help you start with SEO. Entering and shining into the SEO field is more about practicing than learning.
HTML and CSS, analytics, link building, as well as related expertise like content marketing and raising brand awareness using various marketing tools are some of the required skills.
If you want to make a full-time career in this field, it is better to opt for a professional course.
Some of the skills which you need to learn with time include content development, on-page SEO, technical SEO, and JavaScript. Alongside these skills, you'll also need to find ways to demonstrate your skills such as a feel for the online landscape, strategic and critical thinking skills, communication and interpersonal skills, organization, and attention to detail.
What kind of training and certifications do I need to become an SEO Expert?
With the increasing market needs, SEO has become a prized profession. To develop SEO skills, hands-on practice is the best way.
The online training platforms offer a variety of SEO courses including 4-6 weeks of training. The search engine giant also offers certifications to become an SEO expert.
However, the best option is to start a career as an SEO intern in a digital marketing company offering SEO services. The experience which you get by working on live projects will help you build your career in the SEO field.
Working experience in analytics, reporting and audit tools increases the chances of getting hired by a leading SEO company with a handsome package.
The best SEO companies in US with high credentials offer the following courses for the SEOs
This SEO course contains six video modules, each having a one-hour duration. To earn a certification, you need to pay a $595 registration fee. With just six hours of course content, you will get to know the SEO traits.
SEMrush is one of the leaders in the SEO market. They have developed several SEO tools offering more than 25 professional courses to enhance your SEO knowledge in various SEO areas.
There is no fee for the certification. The courses are for beginners and provide basic SEO knowledge.
The course focuses on providing information to business owners, students, SEO agencies, in-house marketers, and freelancers looking to expand their online marketing skillset. SEO, PPC, Data Analytics & Optimization are various courses starting with a fee of $99.
Ongoing access to tools and templates, and interactive quizzes, make the course one of the best-value SEO courses available. You can get the chance to attend 4 free lessons by registering on the site.
When it comes to Google courses-  a certification program in "Fundamentals of Digital Marketing" with 26 modules and over 40 hours of course content. Is quite famous to get started with your SEO career. This course is available completely for free! Digital Garage offers great value and high-quality information for beginners, but to learn advanced level SEO, you have to enroll yourself in professional level courses.
Yoast is known for making the most famous SEO plugin for the WordPress platform. The SEO course is designed by the company to improve SEO skills. Individual SEO courses from Yoast cost $299 for a one-year subscription, but there's usually just 8-16 hours of content per course (not the best value).  You can browse the website and can choose the best SEO course for yourself.
The course teaches you to develop a strategy for SEO campaigns that convert into higher web traffic. Through seven lessons, 34 videos, and eight quizzes, the duration of the course is about 4.5 hours The course also helps you understand content requirements with keyword optimization and social promotion techniques.
Apart from these courses online academies such as Udemy and Coursera also offer SEO courses. Digital marketing agencies are also offering online courses. If you are a beginner, check out the top 10 SEO companies and their online training courses.
What does an SEO Specialist do?
Before you start, it is important to identify the informative and best-value SEO training course for enhancing your SEO skills.
Above that a million-dollar question arises is " Is SEO a good Career in 2023? Is SEO a high-paying job?"
It is a myth that SEO jobs don't pay big salaries as the coders and developers get. Entry-level jobs might not pay you well but with experience, you can get a higher salary. You can become the director of a digital marketing department or a senior-level SEO manager in the best SEO company.
The fact to accept is that SEO is highly lucrative and demanding. Every year, you need to improve your skills and learn new tactics with a  proven process for acquiring new skills. Also, communication skills are important for an SEO specialist as he has to communicate with the clients.
The final way to expand your income in the SEO industry is to build personal skills by working on client websites with set targets to grow organic traffic.
SEO is a GREAT Career in 2022! There are various challenges for an SEO specialist as the market competition is increasing and every company likes to attract the maximum number of traffic to their website.
A professional who can live up to this expectation has no looking back. However, as per Indeed.com the average salary of an SEO Specialist is $52,590. This rises to an average of $87,267 per year for the more senior SEO Manager.
Top 10 SEO Agencies Hiring SEO Experts
With the rapid growth of online marketing, SEO is once again on the boom. But now is the time when you need to develop expert-level skills to build a stable career. There are many US companies giving highest salaries to various SEO profiles.
Here, we are providing a list of the top 10 US agencies hiring SEO experts that allows to learn White hat SEO techniques.
By browsing the SEO company's website, you can get an idea to start your journey as an SEO executive. Also, you can check the latest trends by going through the blog section which will enhance your knowledge. With the advanced level of expertise, you can grab an opportunity in any of these top SEO agencies with a higher salary package.
FAQs – Roadmap to Become SEO Expert 
1. What is the qualification to start a career as an SEO executive?
The best part of starting a career as an SEO executive is that it does not require any particular degree or diploma. However, the basic knowledge of working with internet technologies and digital marketing techniques is desired. The person must be familiar with the common terms used like SERPs, White Hat SEO, Black Hat SEO, ranking on Google, and so on. A professional course from an IT company like RedBlink technologies will be an added advantage to starting your career as an SEO executive.
2. Is SEO a Good Career?
Many young people who're looking for a job in the SEO field wonder if an SEO career is a good choice. The constant talk such as  SEO is dead and it might not be the right career path for a beginner will dishearten you. But the top-level SEO experts working in companies like Google, Bing, and so on clarify saying SEO is most required for every site and can make good money by working in this field.
However, to succeed in SEO, you should be agile, creative, analytical, and a bit scientific. If you develop these skills, the doors to getting hired by the best SEO agencies are open for you.
3. In what industries do SEO Experts work?
SEO professionals are in high demand, for all companies whether retail or healthcare, tech, and others. To create digital impact is the need. Search engine ranking is achieved only through sincere SEO efforts. An SEO career is no doubt a promising field with potential growth. The huge influx of jobs in the SEO field includes the following positions:
Digital Marketing Director/ Manager
Search Engine Marketer/ Specialist
SEO Consultant/ Analyst
Content Marketer strategist
SEO Freelancer
4. What is the highest salary of an SEO in the US?
SEO is a technical and result-oriented field. The more you work and show results, the better you get. However, the average salary of an SEO specialist is $54,534 per year which can go up to $206,668 per year. However, the salary structure varies from state to state and agency to agency.
Final Takeaways
If you're trying to pick up experience in SEO and SEM strategies with a higher salary package, you need to develop skills. Moreover, it is going to be a long journey requiring a lot of patience and a keen eye for the latest developments in the SEO field. To add on, you need to do the following :
Whether you can have a rocking growth in the SEO field depends on many subjective questions. So, before you decide on moving ahead, ask these questions yourself. If the answer is YES, go forward:
Are you adaptable to update yourself with the changing trends every six months?
Are you competitive to bring top ranking to your clients?
Do you like working with data and using tools?
Do you like working with a team?
Can you stand with criticism and face challenges?
One of the truths about this field is- Entry is easy, no professional experience or hi-fi degree is required to enter into the SEO field but as you grow survival requires churning of skills and hands-on practice on a daily basis. That's what makes you a champion.
To do so, you can undergo an initial training in a prestigious company like RedBlink and start your career.