(Estimated reading time: 7 min)
How SEO Copywriting Can Improve Website Rankings
In the success of SEO campaigns, content marketing plays a vital role. Among the two branches of content creation, SEO copywriting and SEO content writing are more prevalent.
These content generation methods have revolutionized the way marketers reach, engage, and convert their leads into customers.
For an SEO strategist, knowing the difference between copywriting and SEO writing will help to create profitable SEO campaigns.
We have already discussed about SEO Content Writing vs Creative Content Writing in the previous posts. In this post, we will  discuss more about SEO copywriting, its benefits and how it can maximize SEO marketing strategies.
What is SEO copywriting?
SEO copywriting is a practice of producing keyword-optimized content designed to appeal to end users and search engine algorithms.
The optimized content should be readable, linkable, and sharable among the various online platforms. Writing only from the Search engine's point of view might look robotic therefore copywriting focuses on the authenticity and relevancy of the content.
To put it simply, it is the art of creating helpful, captivating, and valuable content that targets keywords as per SEO requirements.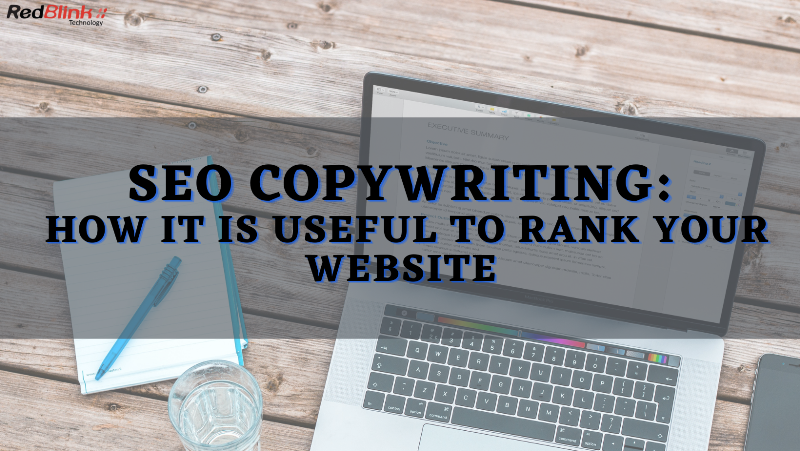 The practice of creating content must incorporate unique and valuable concepts that can encourage the viewers to make a visit to the website and make a purchase.
One more concern is to meet the competitive landscape to create a marketplace. Creating a brand value and a good reputation among competitors and users is the main motive of copywriting. The core skills of a copywriter are:
SEO copywriting Vs SEO content writing 
Copywriting and SEO writing are the two different disciplines of content marketing. They have certain similarities among them with the same objective. The main goal is to create content that can help in improving the search engine ranking and thus improve website traffic. But both apply different methods to achieve the same goal. Now let's get to know in detail.
SEO Copywriting
Copywriting focuses on SEO- friendly writing strategically aiming at producing brand awareness. It is defined as persuasive writing for business promotion. It covers a multitude of projects such as:
Email
Web pages
Landing pages
Print advertisements
Video and audio scripts
A copywriter incorporates different elements to drive SEO campaigns:
Aim to target audiences
Ability to touch the reader's emotions
Applying innovative techniques to develop keyword-optimized, eye-catching content
SEO Content writing
SEO content-writing is the creation of creative content as per the SEO requirement. The content thus created will help to gain a high ranking on search engines like Google, Bing, DuckDuckGo and others.
SEO content writing mainly focuses on on-page SEO activities considering the working of search engine algorithms and end users' expectations. An SEO- friendly content involves writing content with the user in mind. Some of the key components of SEO content writing are:
Content as per the latest algorithm changes
Main Differences between SEO Content Writing and SEO Copywriting
Various kinds of websites use different writing styles to address the needs of clients. Since copywriting and content writing, both are strong SEO writing styles, let's get to know the differences between the two:
Both types of writing are optimized to meet different goals. For website pages, we, write SEO content while for TV commercials, print ads, or product labeling, we use copywriting style.
The online content is categorized as informative and promotional content. SEO writing is more comprehensive. It is used for longer-form content like articles and blog posts whereas copywriting is a promotional content creation used to create a brand value of a product or service.
Approach to answer the queries of target audiences makes a big difference. SEO writing is mainly about writing the content to introduce the product. Copywriting, on the other hand, considers that the target audiences already know about the product and leaning toward buying it. For example landing pages for paid campaigns.
The main motive of SEO copywriting is its purpose, mainly calling people to action and boosting SERP rankings of the content.
For good SEO practices, the content writers must use both styles in combination. It is required as per the latest SEO guidelines.
SEO Copywriting Tips and Best Practices
If you have got a fantastic product or service, then writing content for the same is tough. The market competition will be more. For example, if you are performing a search like "top SEO agencies", only the leading companies will appear on the first page. If you add a location to this search like "top SEO agencies, Danville CA", the chances to appear will increase to capture the data from "Danville, CA "( local search).
Many startup companies face this business challenge and opt to choose content optimizing techniques. If you hire a professional company that provides optimized SEO -friendly content might suggest many innovative ideas. You can receive SEO benefits and can rank better on search engines.
It is always better to outsource copywriting tasks to professional agencies providing SEO services. Here are a few tips to help you produce optimized copywriting content:
Check grammar and spelling by writing short sentences.
Know the need and expectations of your audiences to create informative content.
Consider the formatting of the text. Sometimes, too much information and selection of words become hostile.
Make use of optimized keywords in the appropriate places. Including too many keywords in a single phrase is ineffective from an SEO point of view.
Using long tails keywords is a good practice even for copywriters. The search engines can understand the context and would penalize it accordingly.
How to become an SEO copywriter? 
SEO copywriting for beginners starts by developing an in-depth understanding the SEO practices. Competitive SEO campaigns require SEO copywriters to create useful, interesting, persuasive, and well-optimized content to have a high search engine ranking.
It is all about targeting specific keywords and nailing the user experience by promoting products and services.
As a beginner in the SEO content writing field, you can excel only when you have a flair for writing website content. Your content samples will act as the gateway to the get job in a reputed SEO agency.
Here is a step-by-step process that will help you become a successful copywriter:
Take the help of online tutorials and note down the important points to start with
Start writing content for social media marketing (email, Facebook, etc.)
Take an online course to learn the tricks and tactics of SEO copywriting.
If you are looking for a high-salaried copywriter job then you must enroll yourself in a copywriting course from one of the reputed SEO agencies. Many institutes like Udemy or Coursera offer online courses. The fee structure depends upon the type and duration of the course.
Tools Used for SEO Copywriting
SEO Copywriting is done using AI-powered tools. These tools provide suggestions to improve the quality of the content without compromising user readability. Most of the tools are available for free, So, if you want to bring copywriting practice while creating SEO content, you can start using these tools:
Here we have mentioned some of the AI tools that help you create engaging content. There are many other AI tools to help copywriters. There is no denying the fact, these tools will help you bring change in your writing style and create optimized content that can improve SEO ranking.
How Does Copywriting Help With SEO?
SEO copywriting meets the specific SEO goals and encourages readers to take an action. The ingredient of copywriting is to include catchy content. Some of the add-on features to include are:
Include phrases and keywords that search engines can understand
A copywriter answers the user's inquiry and turns a user into a buyer by providing relevant information
Writing engaging and quality content to improve the value of content
Analyzing the competition and writing outranking content
There is no doubt that for a successful SEO campaign, the copywriter can help you create quality content that will never penalize your website in Google ranking.
Last but not least, you should understand the market niche to generate strong content for SEO.
Copywriting ensures and justifies the right purpose of SEO content.  To fully optimize your content, you need to hire a professional SEO agency like RedBlink technologies that can help you create quality content. Use this below button to schedule a meeting with us and discuss your content requirements.
Once you do so, you will be able to see the best results by yourself. To summarize, copywriting will be a profitable investment for your brand building!
Also Read –