In the millennium age where the demand for software is exponentially exceeding the coding supply available, no code development is emerging as a new coding technique in organizations.
Here in this post we have covered a curated list of top no-code tools and development platforms.  These are the popular no code platforms & tools that can help you build and automate your next startup without writing a single line of code.
Forrester expects the market for no code development platforms to increase to $21.2 billion by 2023, up from $3.8 billion in 2017, a CAGR of 41%. 2023 is considered as a growth year of more than 50%.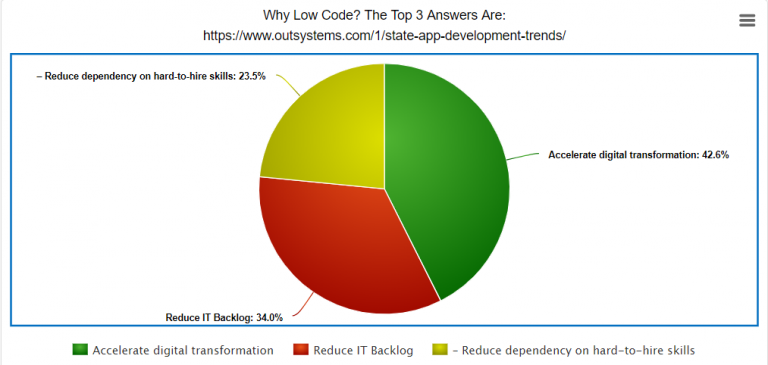 Looking at the data and after hearing the success stories with the rapidly increasing demand of no code development the question is likely to arise in mind that why to opt for no code when we have such power-packed programming languages? What are the benefits of no code? Why do startups prefer no code?
To know the answers. Let's dive in:
Table of contents:
What Is No Code Development?
How No Code is Beneficial for Web and Mobile App Development?
Why Startups Opt for No Code Platforms?
No Code Platforms to Help Build Your Next Startup
20 Best No Code Tools You Need to Try in 2023
Be a Creator without Knowing Coding
What Is No Code Development?
No Code development is an upcoming coding platform that uses a visual development environment allowing a layman to create web and mobile apps. The methods used are drag-and-drop, adding ready–to–use application components, and so on.
"No development Knowledge required for coding" sounds magical. Non-technical business users have the leverage to create full-fledged applications! Nice marketing, but it doesn't work in reality, so easily? You need experienced coders to create realistic applications.
But in a reverse way, No Code can build exemplified apps without considering the coding methods. It's real and happening. The entire software industry is paying attention to it and yes, it's possible.
Are there any benefits? Is it worth the investment? Do you require arduous hours of training in other departments? Will it help you and your organization?
When investigated, the top three answers found were:
69% – Accelerate digital transformation
55% – Reduce IT backlog
38% – Reduce dependency on hard-to-hire skills
How No Code is Beneficial for Web and Mobile App Development?
No code development offers IT with complete governance over data, systems, and functionality. The concept of rapid application development helps businesses achieving their goals with minimum resources. Below, some of the benefits of No Code Application Development (NCAD) are listed as:
Since the coding is done using pre-built modules, it's faster to build apps and provides better Agility.
Talent is expensive. No code solutions give you a way to bypass developers and hence you can build applications with Reduced Cost
Today the businesses are growing rapidly. The launching of a new brand doesn't take much time. What used to take months or even years, is done in a matter of hours and days. No code programming is one of the forward-going processes to minimize the cost.
The functionality keeps changing, no code makes it more convenient. It works fantastically especially for mobile apps.
No coding language is perfect. Where no code offers many benefits, it has to face criticism also. Some of the pointed issues of the language are:
Users must have a clear understanding of their requirements.
Rigid templates limit what you can build.
Security issues arise from a lack of control.
You don't own your source code.
Why Startups Opt for No Code Platforms?
It's not advisable to argue against the value proposition of no code development platforms, specifically in building innovative mobile apps for business promotion.
The startups work at a low cost and basic infrastructure. For them, it proves to be an edged technology. They get the ease to modify their apps regularly without taking the pain of the development cost.
The new no coding development is simple, out-of-the-box solutions with minimal resources( hardware and software). The launching of websites, automation of workflow applications, web, and mobile app development, no-code platforms are presenting a way for startups to compete with established brands.
As we have now got the overview of no code and agree to the fact that it is indeed an innovation in the field of programming. Now let's have a closer look at the platforms and tools used.
No Code Platforms to Help Build Your Next Startup
So far, as we understand now, we can visualize that building UI and getting no code apps with other apps require standard tools and platforms. The coding methodology is based on using the preexisting reuse of components . This reduces the development time and cost.
One of the purposes of using separate platforms is to have the ease to switch over and deploy the code on other platforms. So at any point, if it becomes hard to go further with no code, you can change the platform.
 Some of the most common platforms adopted are:
Well, in this post we are focusing more on the tools. For more tools on the no code, keep browsing https://redblink.com/blog/
20 Best No Code Tools You Need to Try in 2023
To meet the challenges of complex applications, you must choose the right tools. Here is the curated list of top 20 no-code tools to help build your next startup.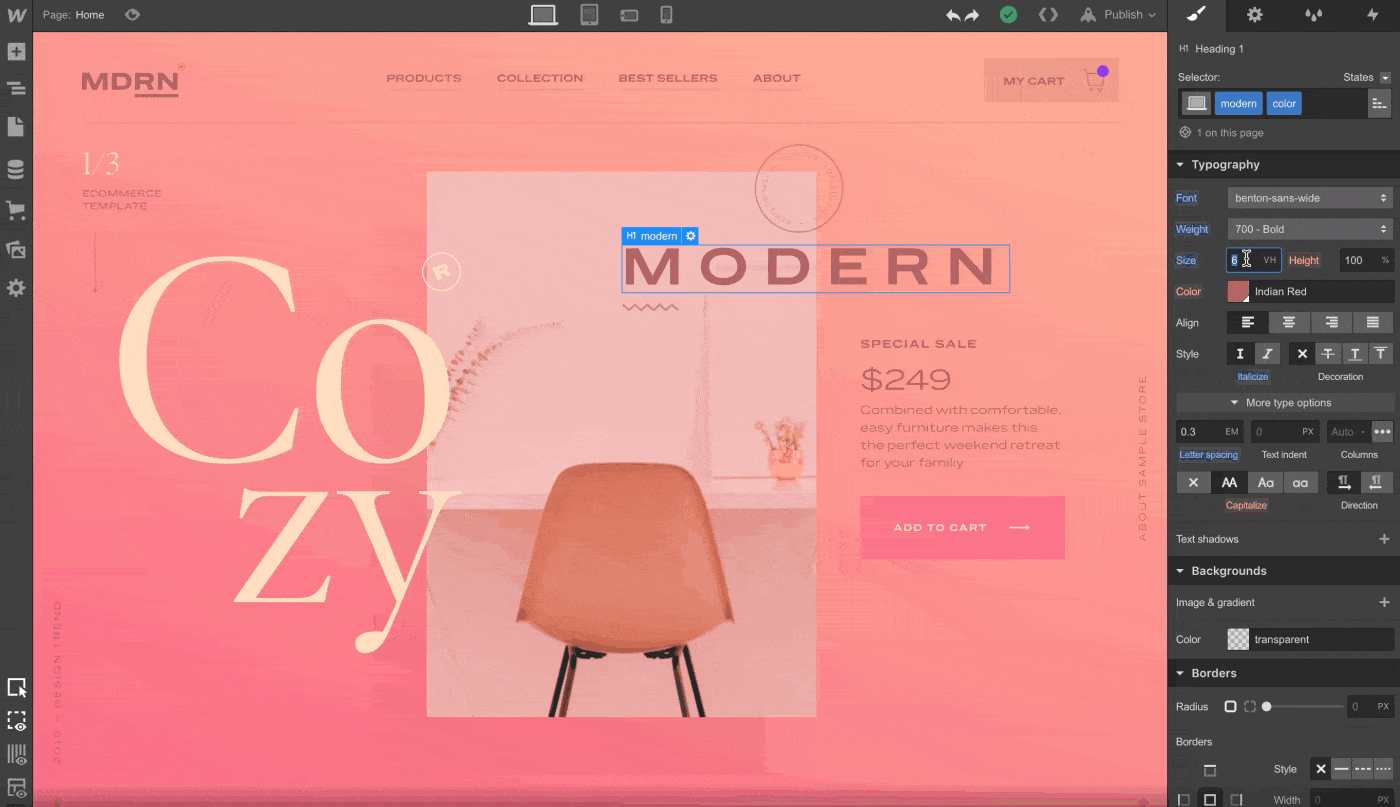 For the developers, developing websites using programming languages like WordPress was quite easy. However, Webflow is a complete tool to create, test, and launch websites without entering any code.
You can create a responsive web or mobile app with a simple yet attractive design Webflow is recommended as it possesses:
The intuitive drag-and-drop user interface Easy interface
Cost-efficient
Simple and responsive tool
Visual coding and development process
Step wise tutorial Available
Extensive templates library to speed up the process of development
With these features, Webflow gives startups a way to build a high-quality website that is customizable.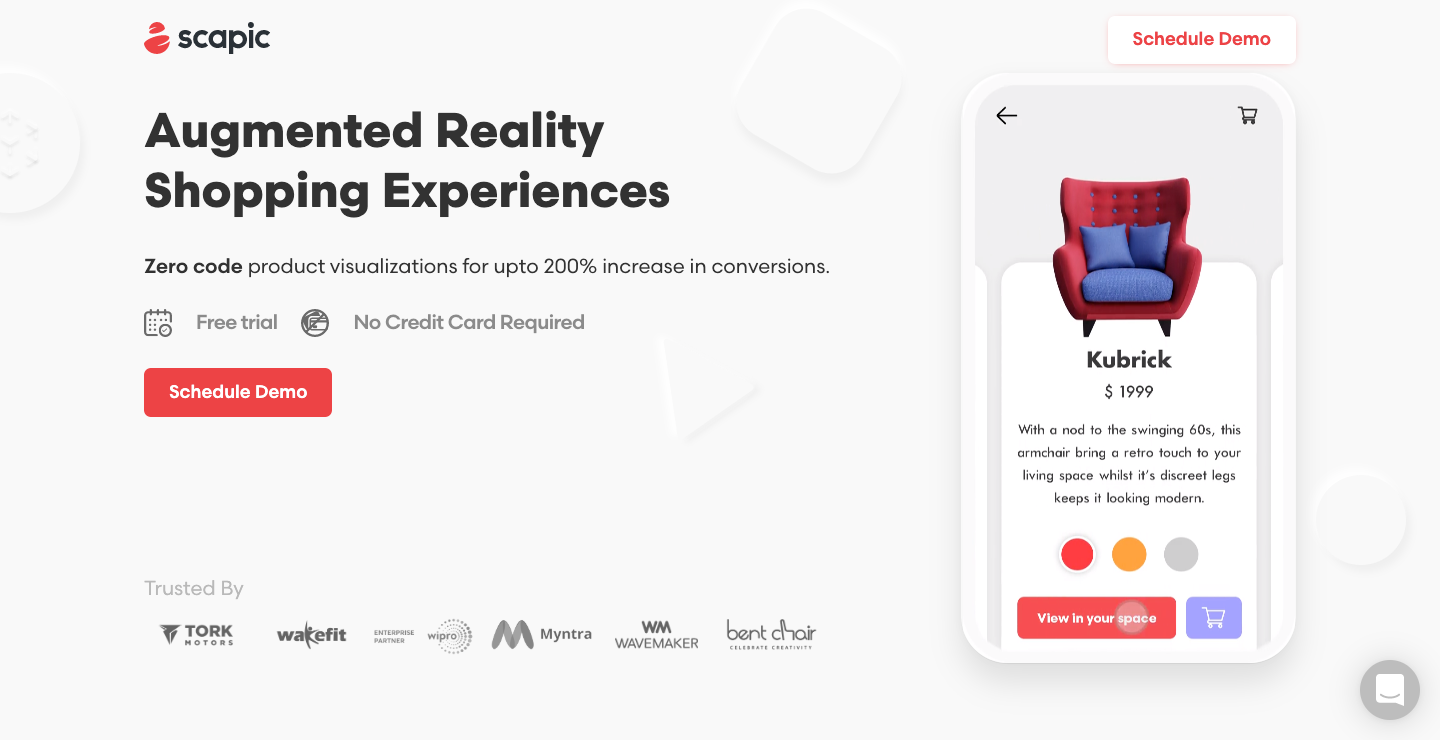 Planning to open an online store. Then check out this cool no code tool that will put the power of augmented reality into product display.
The visitors will be impressed to view the product from all angles The real picturization will improve the customer's visualization.
Now, this is a very cool tool you need to check out, especially if you're in eCommerce.
We recommend Scapic for a startup as:
AR Designs are easy to create for customers attention
Creative templates help in attracting users
No code at all with easy to manage pages
Better CX for users and a great way to increase conversions
Having this flashy AR feature makes  Scapic a value-added tool for the eCommerce store and to start a new business venture.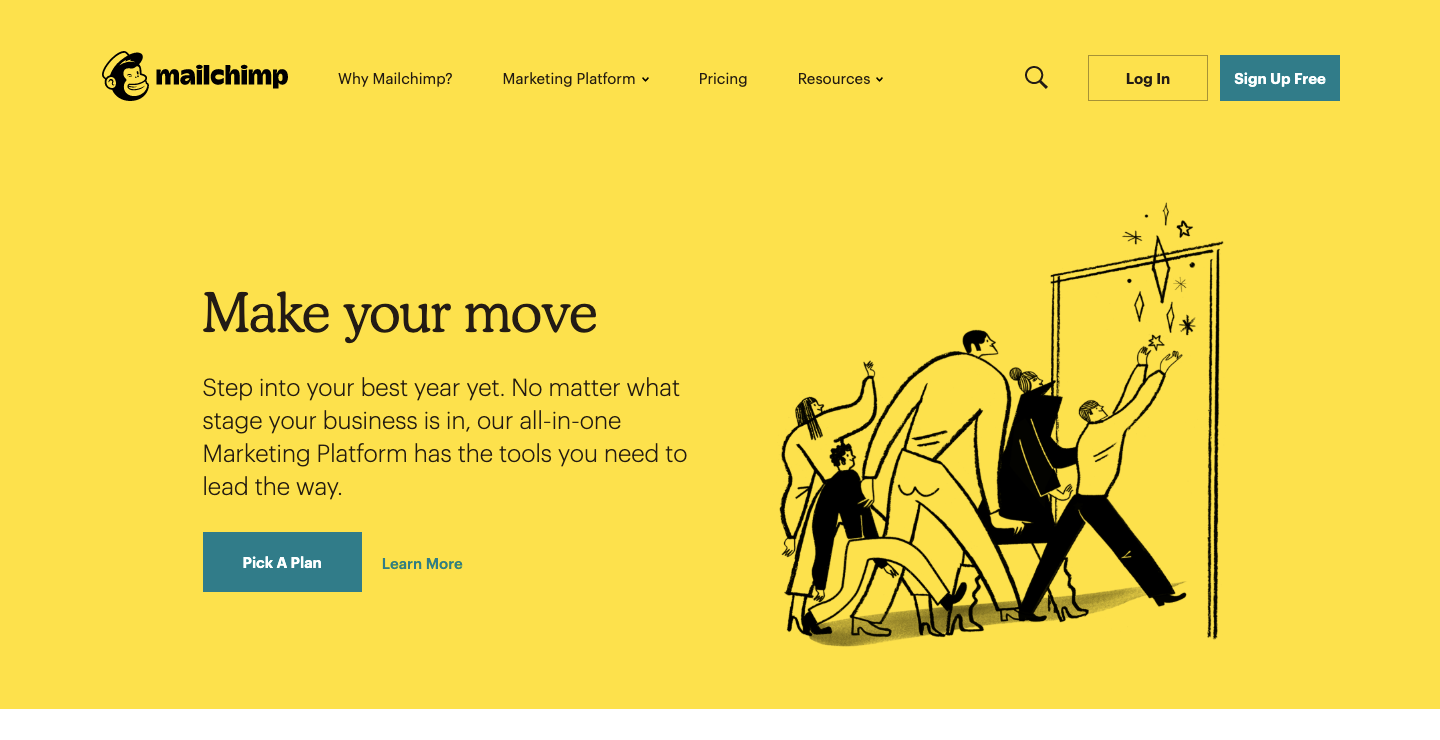 Mailchimp is a marketing platform that allows businesses to collect customer information, conduct surveys, launch social media campaigns, and categorize your customer databases. No code is used and integrations with software like Square and LiveChat, allow you to reach customers more effectively.
Mailchimp is also used for launching landing pages. It's a good email marketing platform that is offering quick responses. Some of the unique features of Mailchimp are :
Easy integration with other platforms
Faster processing
Secure network
Parabola is a new no code tool that is discovered to automate the apps between two or more platforms. The integration with APIs external databases, third-party payment gateways is easier. The data-driven tasks can be managed with a visually driven user experience.
It has drag-and-drop tools to create a workflow. Whether your data is in Salesforce, Mailchimp, Shopify, or one of the other multitudes of platforms they support. A decent data management tool for your organization.
Parabola is developed to use for applications like CRM workflows, eCommerce tasks, send metrics reports, automate email marketing.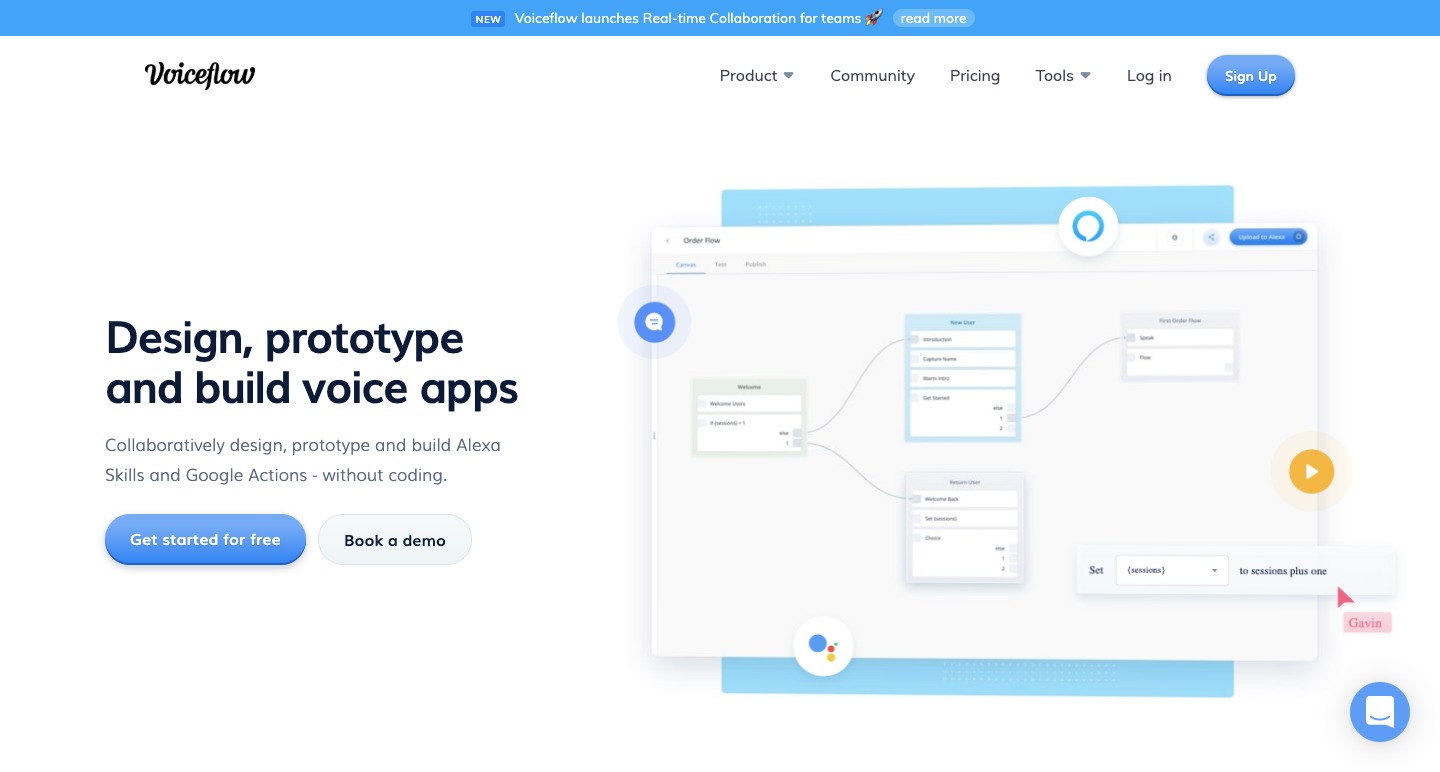 With the increasing use of Amazon Alexa and Google Voice Assistant, voice applications are becoming part of business applications. In the future, they will become a common and primary requirement.
Voiceflow has a drag and drop component workflow that caters to the need for voice applications. Voice flow is becoming as popular as :
Offering advanced video editing features
The simple yet effective voice modulation system
Great for beginners working with voice applications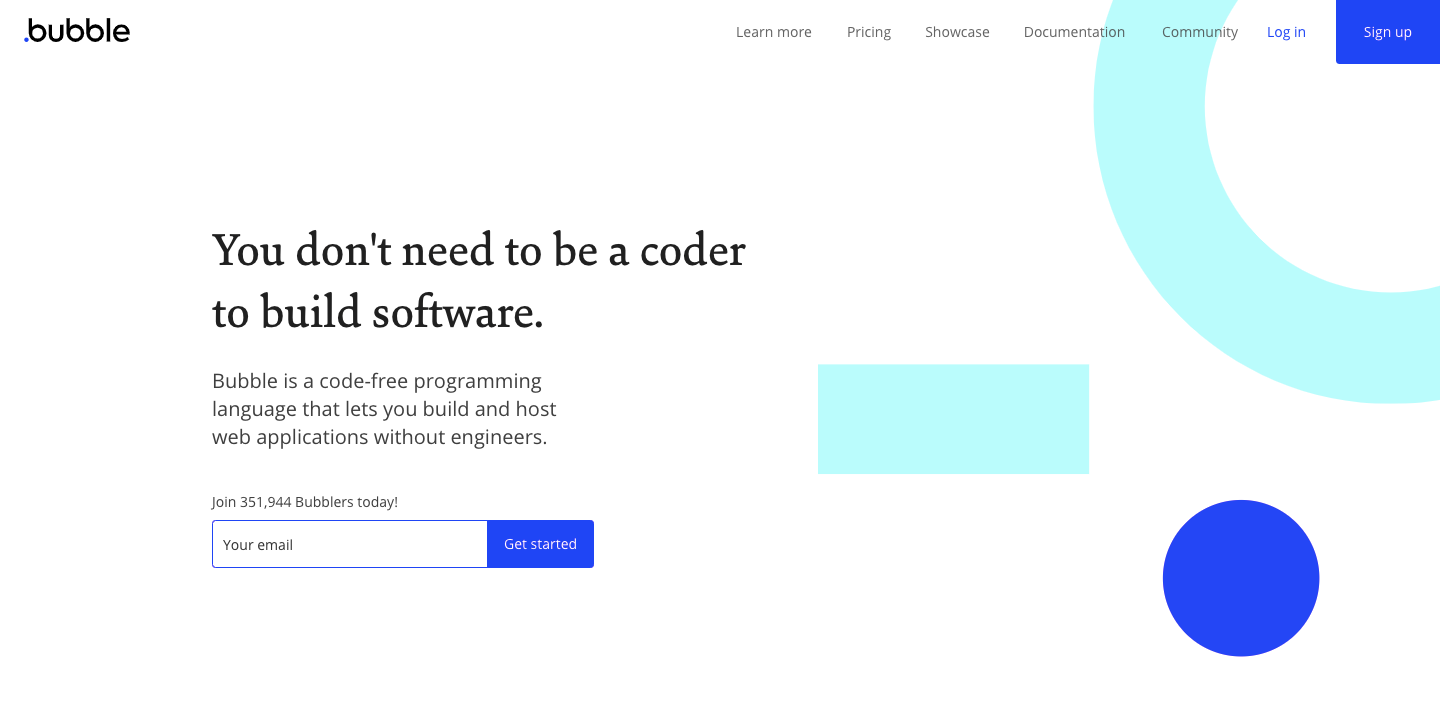 Bubble is one of the early designed no code tools that let you build your apps without knowing much about coding. You can build complex featured applications without writing a single line of code or script.
By dragging and dropping various components, you can build the entire app. You would like to work with this tool because:
It is a powerful & intuitive tool
It has  many  custom components to add functionality to the app
Available at a low-cost option keeping startups in mind
The template library is amazing
Assembling and adding components for web and mobile is a newly added feature
Creating backend logic is much easier.
Try it by yourself!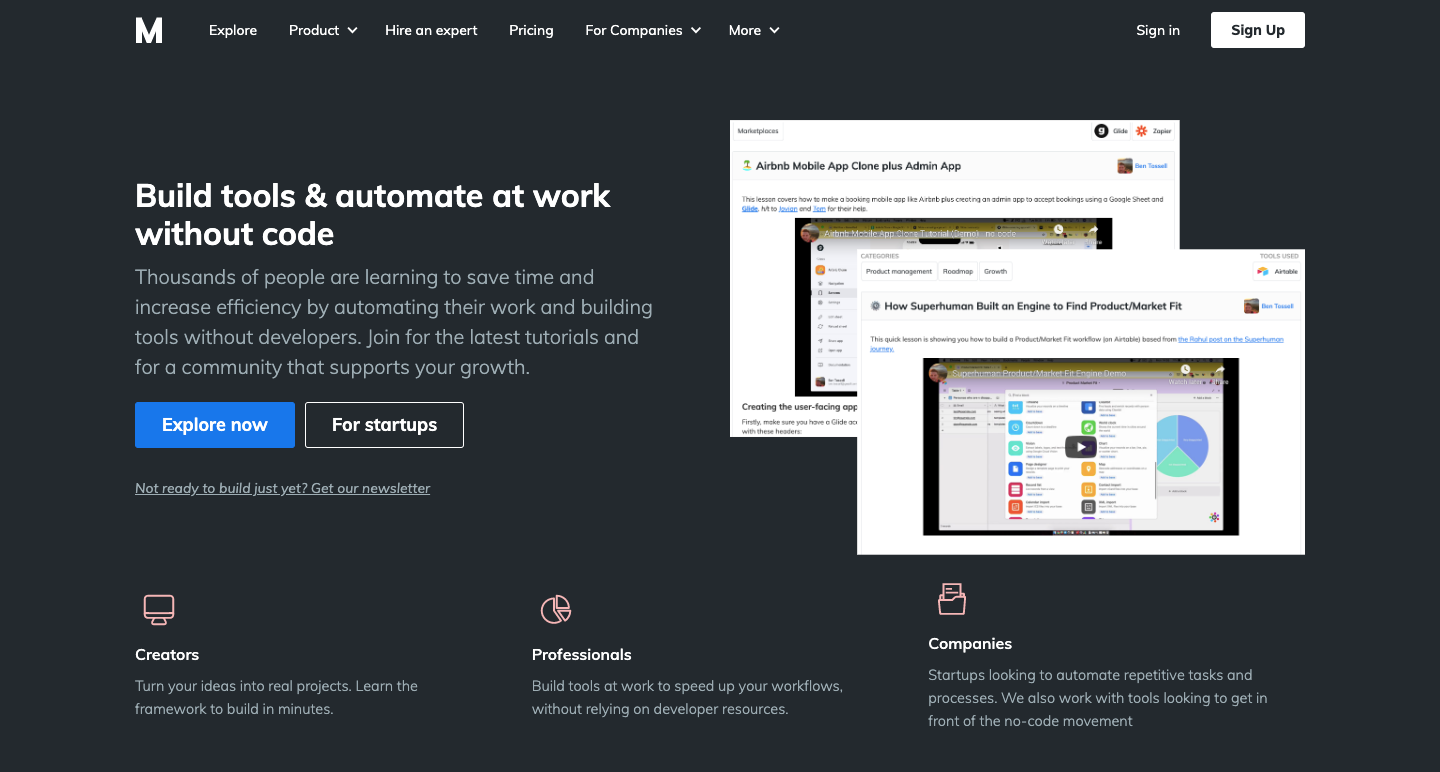 Animation and dynamic things like flashing images, buttons, and so on are an attraction for the users in a web and mobile app.
Makepad allows you to add animation by just picking up the elements from a basket and adding on, You can play with colors too. Look for the extensive options, the no-code tool is offering you. You would like to work with it as:
It allows design interactions and animations without code
Allows developing complex interactions and animations without even looking at code.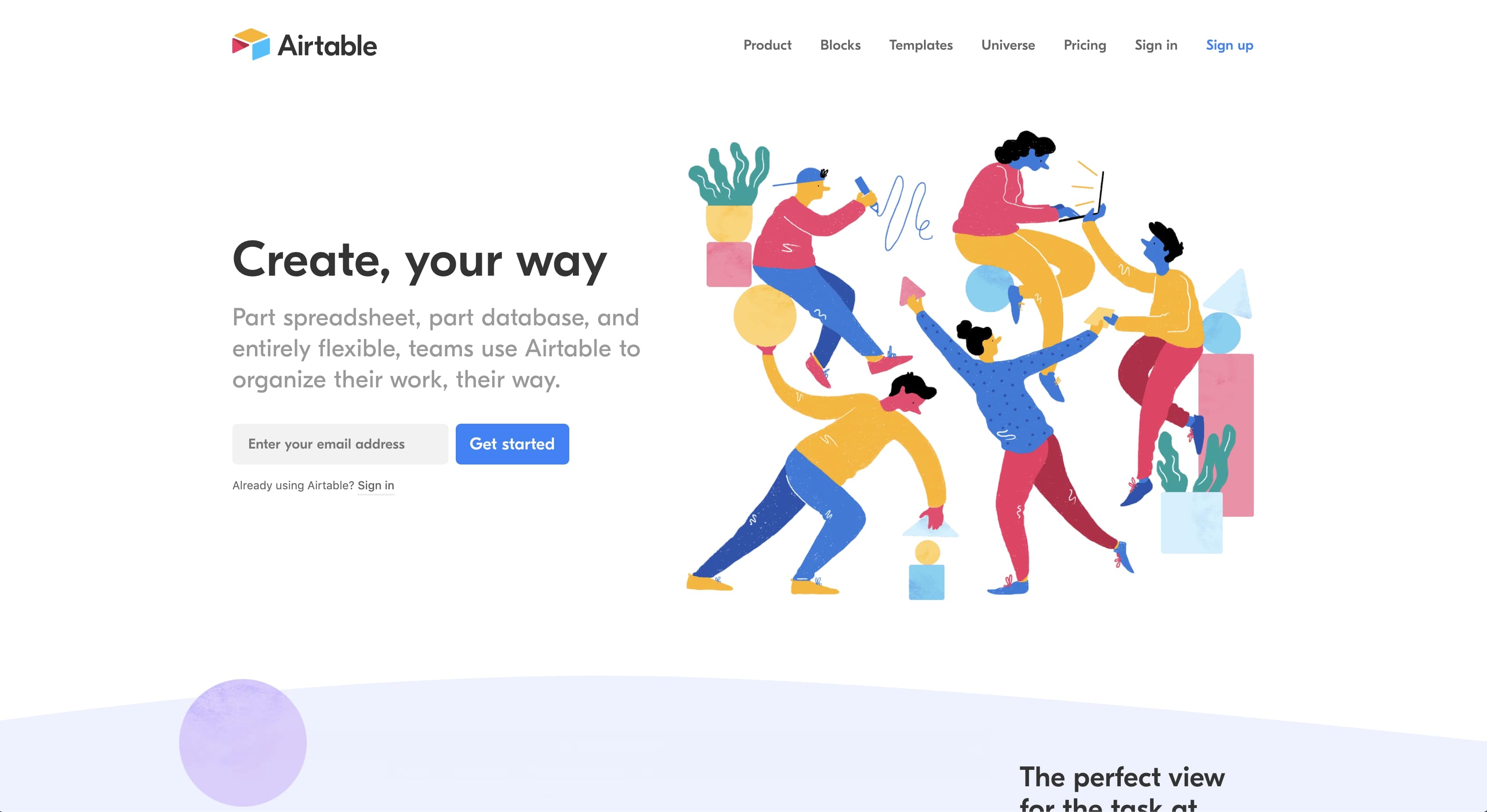 Can you imagine a tool offering the combination of spreadsheets and database software in one place? Yes, Airtable has made it possible for you.
It allows you to work with a well designed CMs where you don't have to use coding or adding formula but you can get the database ready just like a spreadsheet.
Why you would like to work on Airtable:
Simple and easy to use complex functions
Great freemium option + affordable premium option
Customizable – can use for essentially anything you desire
Can use a database for a custom website or app you build
Whether you need to organize a calendar of project deliverables, compile a customer list, or organize any other type of information, Airtable makes it possible for you.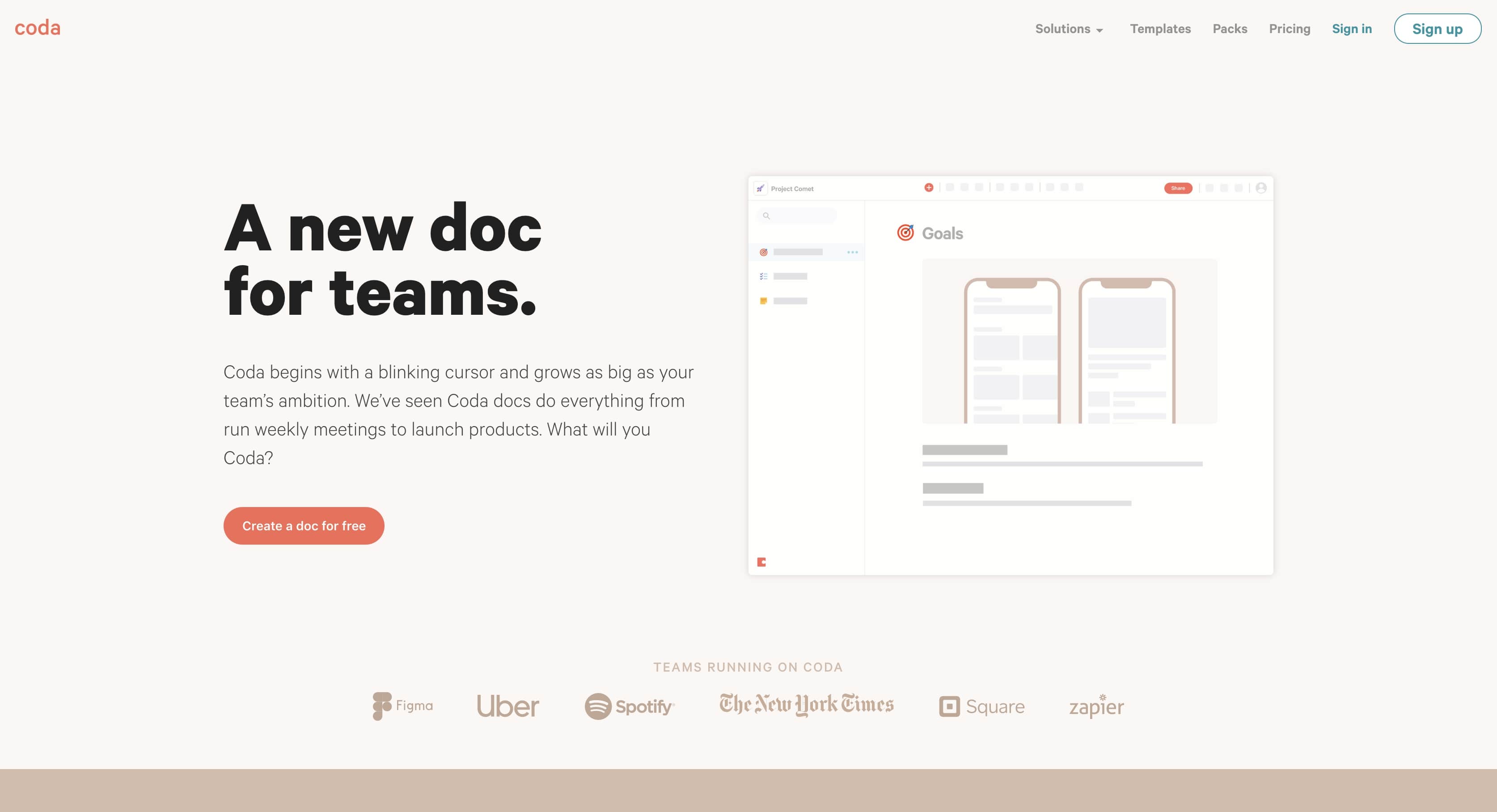 Coda is a no code tool used for collaborating the designing of various elements in an app. It brings everything in unity to create a better user experience.
The tool is used to combine the data from the docs like Slack, Google Calendar, and Jira. As a startup, Coda will help you in:
Doing daily scheduling and reporting
Combining data in a single Coda.doc
Managing the intricacies simple by effective communication with team members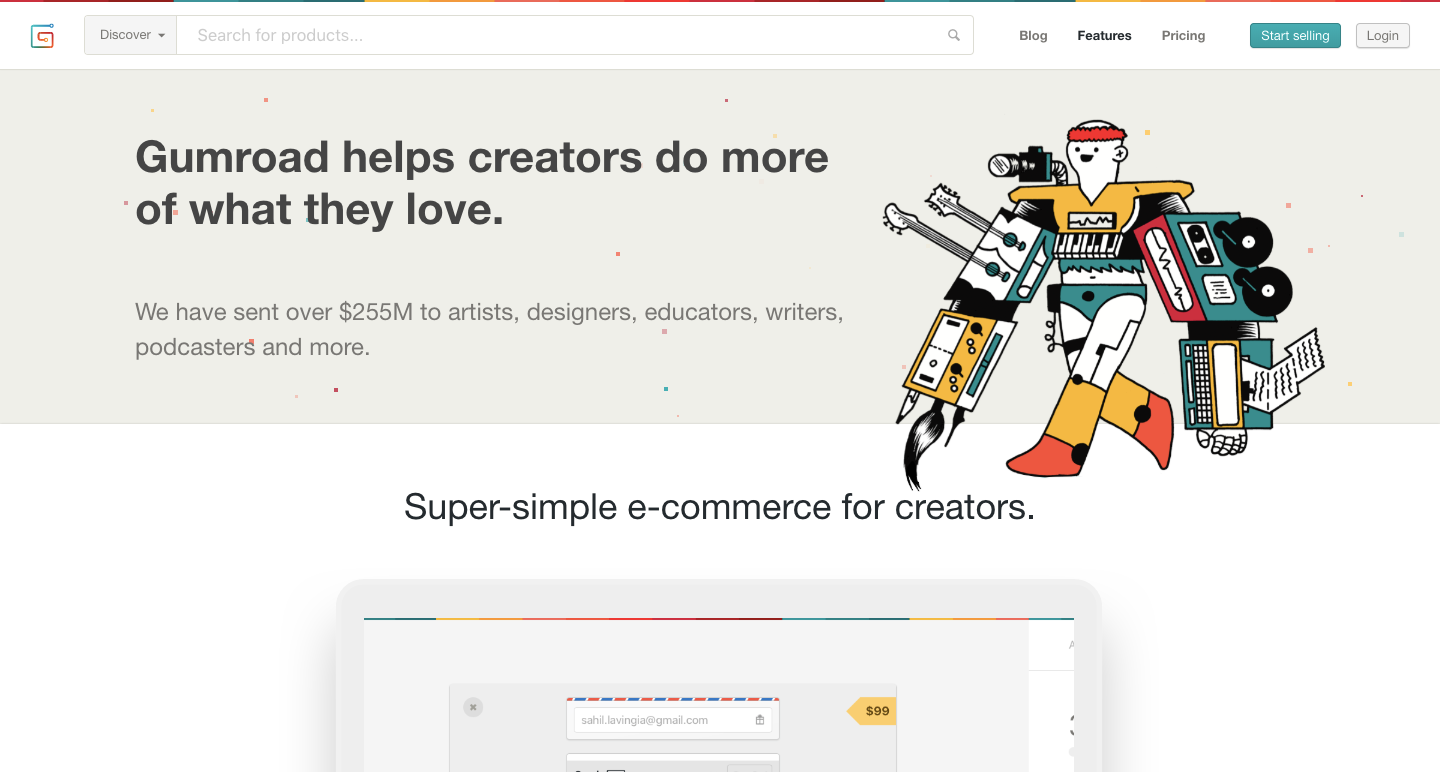 Gumroad is a tool that will help the companies to create their podcast, do illustrations, and many more new things.
The tool is specially designed for non-IT organizations where you need to make a digital presence for advertising purposes. However, Gumroad offers an eCommerce solution to sell online products.
You must try this tool for:
Creating an online store
Creating a workflow for your organization
Introducing promotional activities for branding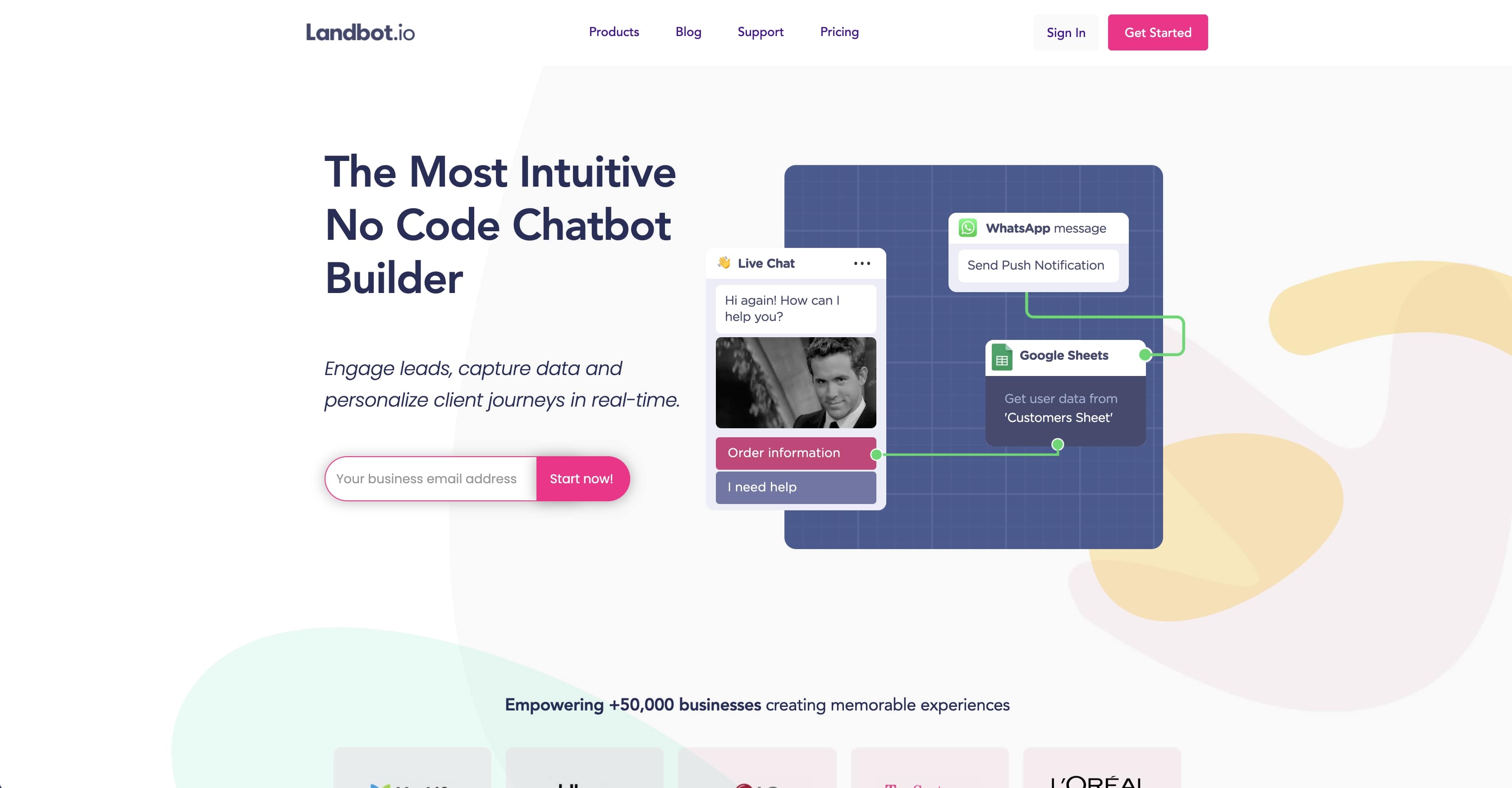 We all are familiar with the working of the Chatbots. Landbot tool allows you to combine chatbot application with your apps. It allows to magnificently.
You can now connect to the end users more conveniently by using this tool. Some of its features are:
Effective conversation without any hassle
Creates easy-to-follow workflow
Adding WhatsApp integration for effective conversation
Use this CRM tool for better communication with users.
Download it now!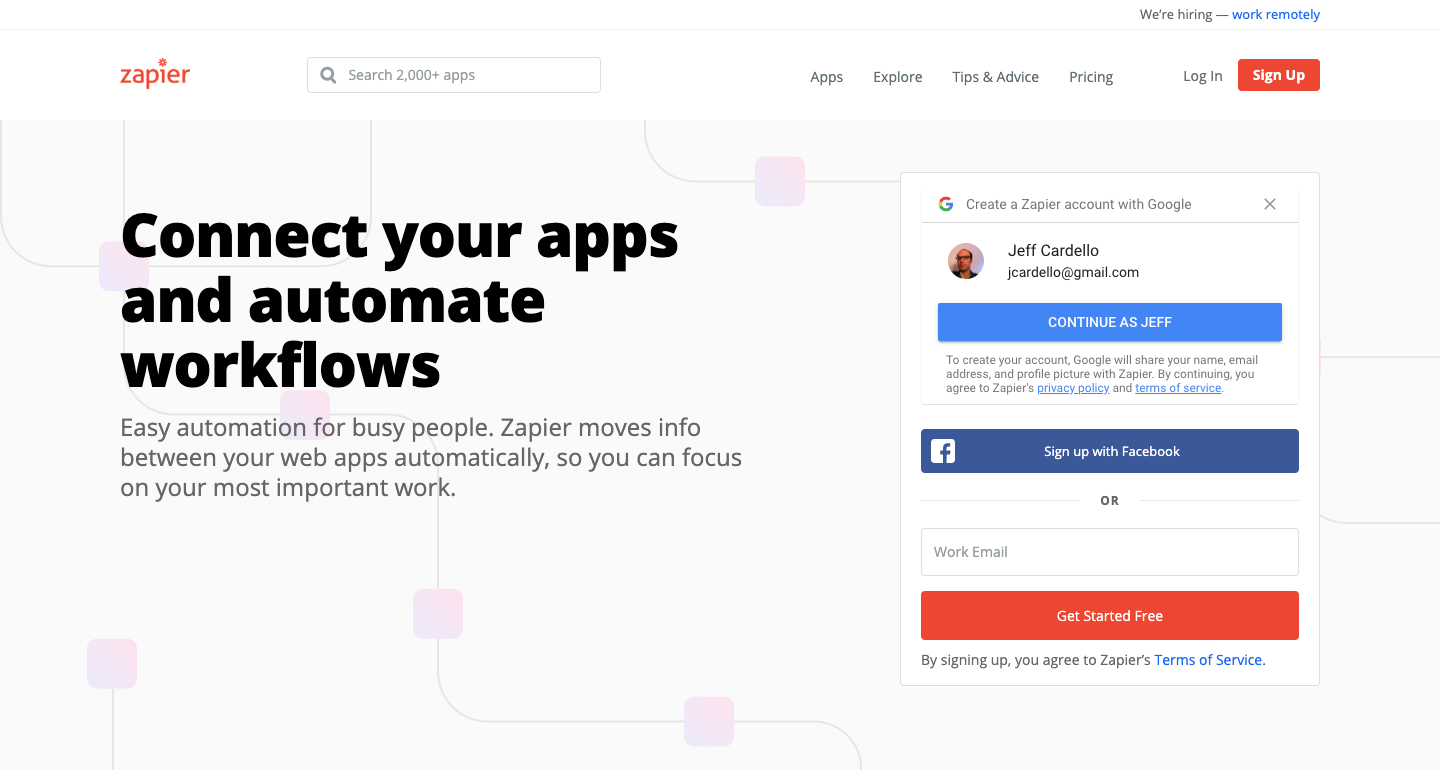 To run a smooth business, one must know to integrate the tools that they are running on a web or mobile app. It is the need of the hour. Zapier is a popular tool that combines all the apps like Twitter, Slack, Dropbox, and Shopify.
The effective workflow multiplies the speed of working. It is one of the top-rated no code tools. Some of its features include:
Helps in developing  automating tedious workflow tasks
Easy to set up and integrate
Great list of free options and cheap monthly fees for more advanced automation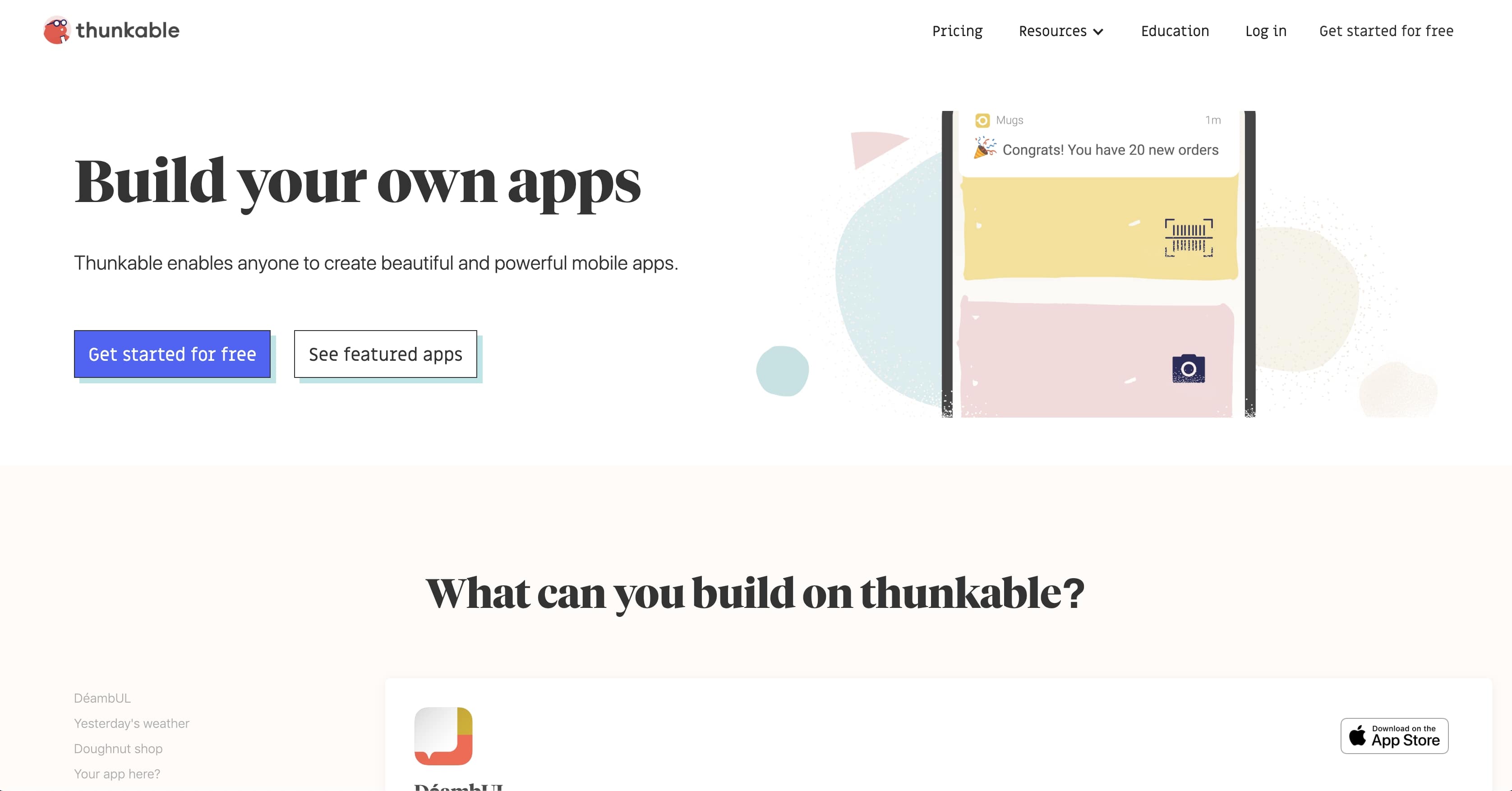 Ever since the trend of doing business with mobile apps is becoming trendy, people look for new ways to build apps. Here is a tool for people who are not aware of programming techniques.
It allows you to simply drag and drop elements and develop intricate features for your mobile app. Create a new app idea and go for creating it with thinkable. You would like to use this tool for:
Easy to use drag and drop feature
Providing a user-friendly interface
Allows you to add powerful features
Budgeted cost of premium features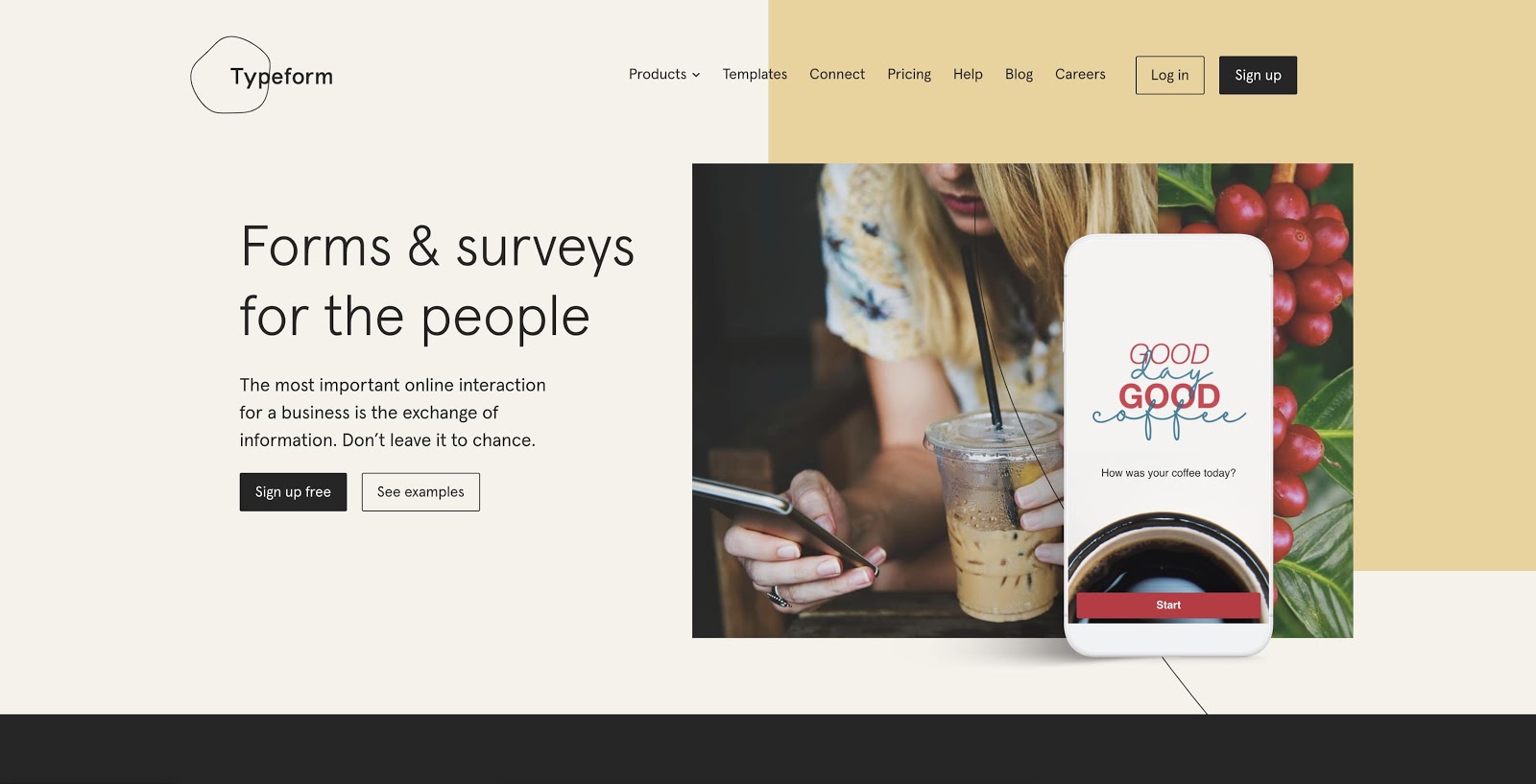 Typeform is a helpful tool for marketing people. The tool allows to build submission forms, surveys, or find ways to generate leads.
Built to have a rich user experience, the tool can collect and combine your data efficiently. You would like to work on this tool because:
Personalized question paths and logic can be created.
Helps in creating forms that are required in marketing
Collects and store information in a systematic way
The customer's personalized data can be separated that is the prime requirement now.
Millennium music lovers have got several applications. Universe is anew tool that will allow you to upload videos, create photo galleries, share music, etc.
The best thing is to have your customized web and mobile pages, you don't need to learn to code. Once you start working with the Universe, you can build your community of music lovers and share your stuff. You would like this tool for:
Building blocks for the web, there's no limit to what you can create.
Help in creating templates to develop a unique website
You can use it for web or mobile apps for which tutorials and demos are available
Keeping the need of the entrepreneurs in mind, Carrd is designed to develop one-page sites. The easy to use interface will help in making a customized page that an entrepreneur can do by himself.
The collection of templates suiting each product make this tool more popular. Initially, you have the leverage to create a free website, later on, you can choose the plan.Why you would like to work with Carrd:
Cost-effective
Exciting templates
Fast and easy to build sites
Now with Glide, you can build your mobile app directly getting data from the Google sheet. Is it not amazing!. So, if you have an idea, try this tool. It's free and persons with no coding experience can also work in it.
Developing an app for your business use by customizing data from docs /spreadsheets is exciting. You can refer to some of the examples given o guide you. Some of the features of this tool include:
A free mobile app building tool that can help add customized features
Saves a lot of time and money to build
Beautiful apps, powered by data, can be created
Every spreadsheet is an amazing app waiting to happen.
Add your data to the sheet and share your custom app!
Publish your app to App Store & Google Play if you desire.
Sheet2site is another tool that you should check out. like the above-mentioned tools, this tool allows you to directly pick the google sheet and develop a responsive site.
The app will have a GUI  with pictures, text, and filters all from a google sheet. The attraction of the tool is that to the end-user, it will look like an ordinary web or mobile app. The entire process is carried out in google docs. Some of the other features include:
You can develop grid style sites, for example, a list of cities, events, tools, equipment, etc.
The showcase section is quite impressive
Allows sharing apps with other users.
Demo videos and tutorials are also available
Umso is a perfect no code tool for building web and mobile applications. Keeping the urgent need of businesses in mind, it offers ready-to-use customize templates to design afresh website in no time.
It gives you suggestions to choose the appropriate and most suitable template as per your business needs. Also,  there is a simple way to update the app later on which is increasing its popularity. Most attractive features include:
Quick Development
Easy to navigate and provides drag and drop components
Cost-effective no code tool
Provides add on functionality to apps
Squarespace is another effective no code tool allowing you to build web and mobile apps. The huge collection of inbuilt libraries and beautifully designed templates are simple to use.
The editing is done to add more functionality. The apps created are compatible with all platforms. Some of the reasons to opt for Squarespace are:
Countless services/integrations
Affordable pricing
Beautiful library of templates
Secure and unique apps are created
Our Favourite No-code Mobile App and Website Builder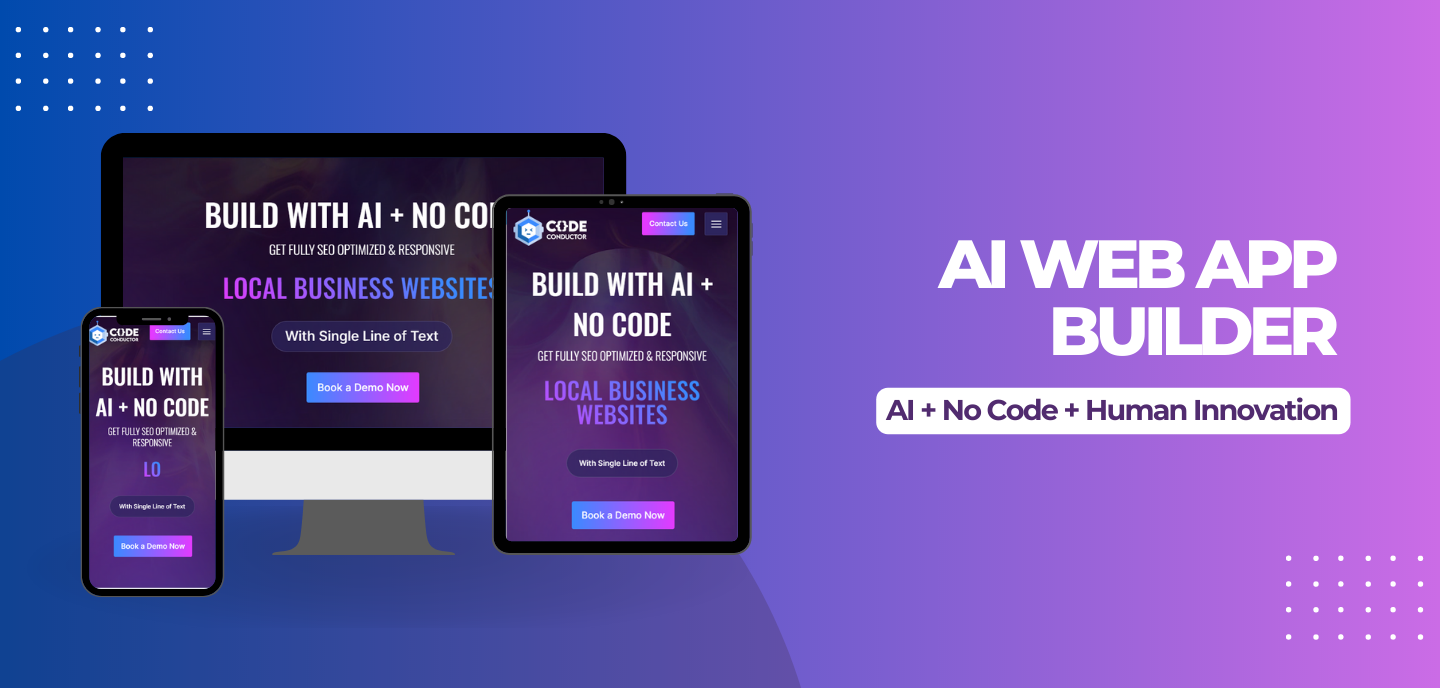 When it comes to harnessing the true potential of no-code development, one platform stands out in the crowd – Code Conductor. With its user-friendly interface and powerful features, Code Conductor empowers users to build applications without writing a single line of code.
Code Conductor provides a vast array of pre-built templates and components, making it easy to create web and mobile applications with just a few clicks. Whether you're a seasoned developer or a non-technical enthusiast, this platform enables you to bring your ideas to life swiftly and efficiently.
For a seamless no-code experience with robust capabilities, visit Code Conductor and bring your ideas into life.
Be a Creator without Knowing Coding…….
Let's not create any misconception in our minds. No code doesn't mean anti-code. The expertise of the developers will always be required for integration and creation. But no code provides an easy way to develop apps without bothering about the hassles of hardcore coding.
Most of the tools discussed above provide ready –to –use drag and drop components. It's exciting to see so many no-code development platforms out there opening up the gateways to make the app creation simple and relaxed.
Try out these tools and keep launching new apps for your business promotion. At any point in time, if you are looking for help in no coding or wish to launch your web or mobile app on this platform, you can approach Red Blink Technologies. We have built no code apps with the market niche within your limited budget.
---
Also Read –