Importance of Good Web Design

When you're designing or redesigning your business website, take the time to understand what makes a good website attractive and useful to your target audience.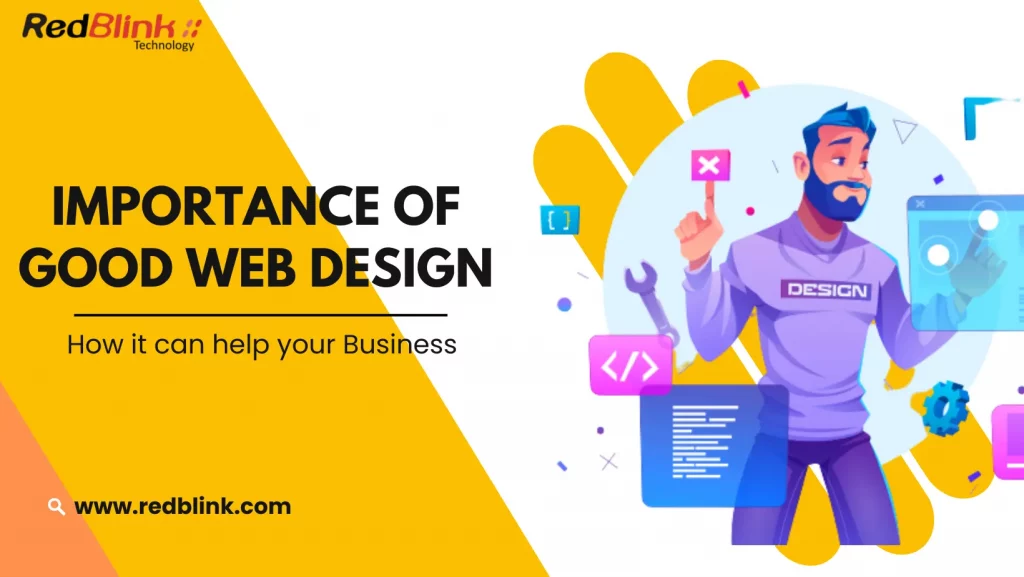 Here are some things to think about when building a website:
What elements should be included? How does it impact your audience and your business? Does your design compliment your business?
A good website design communicates a professional, confident brand image and will help you increase profit. Moreover, a professional website design will help you reach new customers and stand out from competitors.
Imagine, you are searching for a business partner online or you are providing some services through your website for a startup or small business. If you are given 15 minutes to search, you would open websites having simple and functional designs. 
In fact, the UX/UI of the website plays a vital role to create a marketplace for your business. Simple put, a good website design is essential from a business as well as from the customer point of view.
Creating a good website design is essential for driving more business, as we discuss in this post.
Benefits of Web Design for your Business Website
The design of your website can influence how users perceive and interact with your business. Design plays an important role in the success of any marketing campaign. The design of your website has a significant impact on user behavior.
Here are some facts to justify the importance of a good design that a professional web designer must consider.
75% of users make judgments about a company's credibility based on visual design alone

94% of users' first impressions of websites are having alluring designs 

It only takes visitors 50 milliseconds to form a first impression of your website design therefore for a good business , user-friendly design is must. 

38% of people will stop engaging with your website if your content and layout are unattractive
[source: https://credibility.stanford.edu/guidelines/index.html#chi00 ]
A good website uses standard elements like color, shape, and size. Good website designs apply important elements to create a consistent visual language. Good design from a designer's perspective is a responsive design which looks the same with every screen size.
Good designs communicate effectively with customers and prospects through well-designed websites for a search-engine-optimized site.
As you look into designing your website, you may wonder the importance of website design. How does it impact your audience and your business? Let's look at the reasons web design is important.
It sets the first impression

It aids your search engine optimization (SEO) strategy

It sets the impression of customer service

It builds trust and show how competitors are doing it

It creates consistency

It attracts website traffic
Essential Elements Of High-Quality Web Design
Today, many businesses focus on website design and user experience. However, few consider the conversion of those visitors into customers.
In many instances, your business website will be a potential customer's first impression of your business. This is an opportunity to describe your business goals , conveying target audiences – who you are, and build trust for your brand..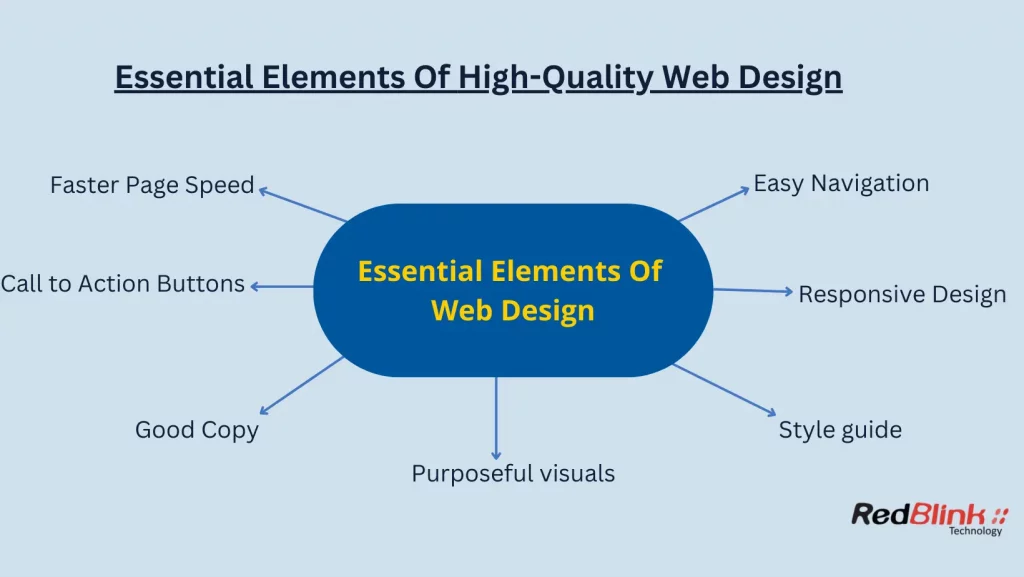 In addition, an effectively designed website will attract visitors interested in doing business with you. An optimized web design will help generate leads to grow your business outreach. Here are a few essential elements to build a quality website.
Navigation is important for a great website. If you want leads to stay on your site, you must have navigation that's easy for them to use. For good navigation, a website design company must focus on the search intent. If the website is not satisfying the user's query , it is considered as the " Bad Website Design". 
Above all, Google recognizes UX/ UI as one of the top criteria for search engine ranking of websites. Additionally, activities like social media marketing, SEO, PPC, and other marketing ways will produce great business benefits with an easily navigated website.
Responsive Web design is the best way to ensure that your site's pages look good on all devices. Your audiences will be able to access your site and browse easily, regardless of device. 
The responsive nature of the website will give it a consistent look and feel with seamless user experience across devices. This is valuable for engaging visitors and encouraging them to stay on the site. Once they have a good experience going through your website, they are likely to become clients.
Responsive design helps you keep your site's visitors on it longer, which results in more leads and ultimately more sales.
Responsive design is a popular option in web design because it allows site visitors to view the website on any device. A responsive website is sure to convince business partners and potential clients.
Having a style guide forces you to create and define a cohesive, consistent brand image. A style guide helps your audience build brand recognition by creating consistency across your entire website. The top-ranking custom websites are built with a style guide as per the standard good website design practices.
Companies are quick to integrate visual elements because they help improve engagement on a website. Business partners are 10 times more likely to interact with a video than text. The images on your website must be used appropriately. Balance is key. If you have too many images, it can make your page look cluttered and unorganized.
Be careful not to sacrifice readability on the web. You can see this in eCommerce sites where product descriptions are too long and the product images are larger than reasonable.
Visual elements are great for engagement and breaking up text. Photo-heavy, overly-crowded pages are a turnoff, so don't make this mistake.
Copywriting is as essential to your website as the overall design. Good copy will keep your audience engaged on the page longer. They'll read all your information and learn about your business. Your style of writing should align with the style of your website for consistency. Graphic design in sync with content is quite helpful even for the digital marketing point of view.
A website builder can help you create a responsive design , fully optimized for content and images thus creating a quality website.
A good copy will have a better engagement and online presence. An effective website will have higher-than-average conversion rates to increase your sales and boost your ROI.
Apart from the aesthetic visual appeal, a well-designed Call to action (CTA) button for Good Website Design, Responsive design will get your audience to proceed to the next step. These buttons not only fit into your design but stand out on the page and improve bounce rate. Your audience's eye immediately goes to these buttons.
You'll guide leads to your site and convert them into customers when you utilize site design, copy, and layout to sell. Examples of calls to action you can use on your site include: "Buy Now", "Place an order", "Add to cart", or simply "Add".
You can have an awesome website design and responsive pages, but it won't matter if your audience never gets to see it. Page loading speed is an important element of web design. It ensures that your page loads quickly, so your audience can access information fast.
Web design holds an essential role in how you are perceived in the digital world. Page speed is a key element of effective web design.
Load speed is an important element of web design. It ensures that your audience can access information fast. Also, it helps the website cater to marketing needs.
Mistakes to Avoid When Designing a Website
Your website is the first step a customer takes when looking for your business. In a competitive world, you must accept that if a person is opening your website for a service or search engines like Google are considering your website to rank on top then it must have a one-click solution to the user's query. So, what should you do to spread the goodwill of your website among the visitors even before they browse your website?
Here are some common mistakes which you can avoid while designing a website:
Confusing structure misleads visitors
A confusing website can discourage visitors from becoming customers. A simple, easy-to-navigate layout will help you create brand competency.
Cluttered Design is a big 'NO'
It's important to optimize your website for long-term success. Long web pages can be hard on your audience's eyes, so try to keep things short and sweet.
SEO- friendly Design is a must
Ignoring the importance of Search Engine Optimisation is one of the worst website mistakes. Google and other search engines take into consideration the following things when ranking websites:
Use of keywords

Duplicated copy

Missing or weak calls to action (CTA) means loss of business
One of the worst mistakes a website owner can make is overlooking a call to action or including one that is ineffective. A good call to action drives sales and builds customer databases, and it provides referral opportunities.
Mobile Optimization is a priority
We must consider the fact that more than half of our visitors use mobile devices to access our site. Responsive and mobile-optimized design is an absolute must for us; we should not delay it any longer.
Why Choose A Creative Web Designing Company?
Your business's website design is one of the most powerful tools you have to make a good first impression. An attractive visual layout and an engaging website design will help you attract more business owners, interested in building innovative websites for their businesses. Here are some qualities to check while negotiating with a company for hiring them for a new website design
A good skilled team is a must.

Company should provide a cost-effective website design packages.

The Company must offer a dedicated web designing, web development and digital marketing team to handle your project from start to finish. If they are providing web-hosting service then that is a plus.

The company must have a  support and maintenance team. 

The designing team must understand your business needs.

The web designing team must offer all-in-one development with an open mindset.
Take Your Business To The Next Level By Building A Functional Website
Growing companies need to invest in a well-designed website. It is an aggregation of a company's most valuable assets. A WELL-DESIGNED website will communicate a company's unique USP, process, clients, employees, and business success stories. It creates a connection with clients and builds confidence for potential clients.
 A poorly designed website can undermine a company's credibility because it will cause doubt and uncertainty. Furthermore, an out-of-date website is actually a liability to any company today. It will hurt the brand, and will cost a company business.
For a good web design business, it is must to pay attention to the designing part to maintain the good will of the company. For your next website design and development, you can approach RedBlink's team !