The UI designer must maintain a vigilant eye when updating the website interface. An iconic design must follow the latest trends in user interface design. But it is difficult for a product manager to keep track of all projects especially when he is handling multiple projects.
A UI UX designer must have a thorough understanding of user behavior. UI designers must have an understanding of how users interact with your website.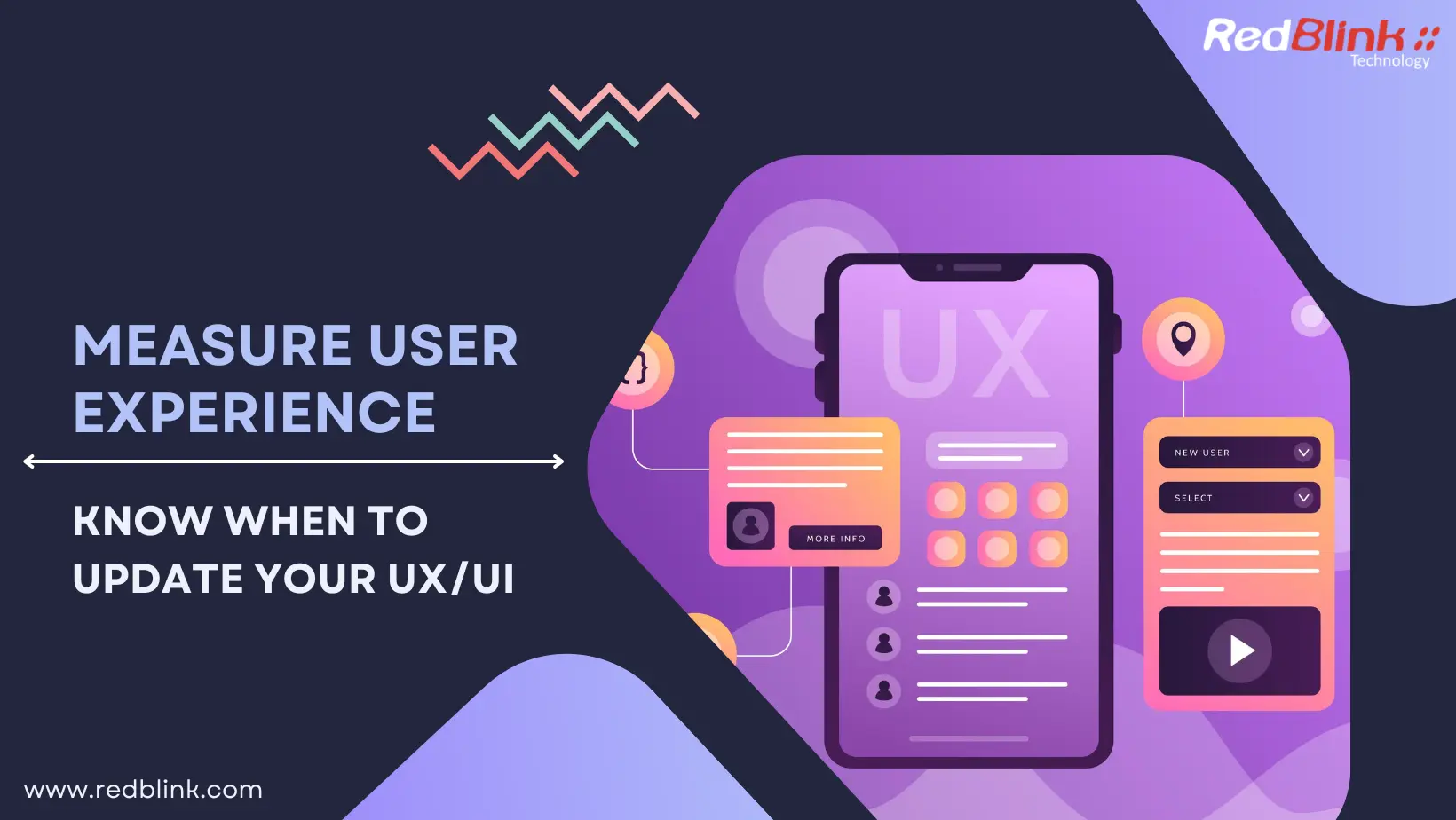 When updating your website, it's important to have a clear understanding of the UI/UX design process and take the time to decide on any updates to the website's UI/UX design. Be sure to thoroughly check everything.
If you are considering implementing a new UX design, you should take into account the following factors:
User research

Industry standards and best practices

User engagement and satisfaction

Technology advancements

Your competitors

Business goals and objectives

Technical constraints
Based on the results obtained, you can identify mistakes in your UI/UX and make decisions to revamp your current website. Let's take a look at the blog to see when your website needs a user interface update.
Signs that it's time for a UX and UI update
It is a fact that your website starts showing the need to update the user interface. User experience design requirements change as the website becomes popular.
Do your valuable clients visit your website every day and walk away? Are you losing leads to competitors, and revenue is getting down? Does your web application take time to load?
It's high time folks! Check your website if it is showing signs to update UI for the following reasons;
Brand Understanding is Continuously Decreasing
One of the biggest signs you're ready to switch UX/UI design is when your brand popularity decreases. Maybe the graphic design of your website is not attracting the target audiences or your competitor may have an updated UX design.
If any such situation arises, you should think of redesigning the website. In such a case, seek a creative UI UX Design Agency to update your UX/UI design or update and improve your brand.
UI Design is not functional
If the UI design is good but not functional then the website will fail to attract visitors. A UX researcher should employ the best UX practices to revamp websites and improve user retention.  A good UX design is always responsive to the needs of mobile users. As a website owner, you must keep a check on your website design. You can go for a UX audit once in six months and can update the design.
However, to start with, you'll get up-to-date designs for your website, which will make it more likely to stand out online.
UX UI design is not supporting
If the website traffic is continuously going down, this means that frequent tweaks, research into the demographics of visitors, and even testing things like security need to happen.
At the same time, you need to check the mobile-friendliness and site loading time.  Websites with a poor design never get traffic. Moreover, the website ranking of poorly designed websites can never go up. In such cases, moving for a better UI UX design should be a priority.
Another reason why now is probably the time to update your UX UI design. Because you've noticed that the design of your website looks suspiciously like the rest of the websites.
Or even worse, the website looks exactly like a WordPress theme you've seen on various websites. Only the logo is yours, the rest of the design is the same.
Website Redesign or Refresh 
It is always difficult to decide whether to redesign or refresh your website. By adding UI/UX elements, you can provide a fresh look to the website. However, if you want to add new features or functionality to the present design, it is recommended to go for a fresh website or app design.
To know in detail whether to refresh or redesign your website, go through our post on "Website Redesign or Refresh"
You're Not Seeing Any Results
When it comes to your business, you need results, and you need them now. If search engine Optimisation (SEO) and other activities are doing well. Visitors are coming to the website but there are no leads. Probably, the pop up UX design is not working well or the user flow is missing. 
In this case, you need to update the visual design by consulting a top-rated web design company for creating a better iconic web design.
Benefits of updating UX and UI
UX and UI are both simple tools. They make sure you're interacting with technology in a way that will create a positive user experience helpful in branding. Through the use of design elements, your application will be able to function in a way that keeps pace with new technology.
As with any business decision, updating your UI and UX interface requires careful consideration of the costs, benefits, and opportunities involved in doing so.
Some of the benefits that are sure to come after updating the UIUX design include:
Implementing the latest design trends and catering to changing needs of end-user

UI interfaces empower the front end of the website.

Building logical and intuitive iconic designs for the users

Smooth user experience ensures, your web/mobile application is cohesive yet more powerful

Increased customer satisfaction with user security especially on an eCommerce website

Adding CTA and other forms for increasing sales

You can create a human-centered design using UI patterns

A clean user interface is a gateway to rank on search engines

Engaging user experience is a must to improve website traffic
Forrester Research shows that, on average, every dollar invested in UX brings 100 dollars in return. That's an ROI of a whopping 9,900 percent.
How to go about updating your UX and UI
Updating the User Experience (UX) and User Interface (UI) of your website or application is a great way to create a user-centered design. Also it will improve the overall satisfaction of your users and increase conversions.
However, it can be difficult to know where to start. In this section, we'll go over some best practices for updating your UX and UI, so you can make the most of your redesign.
Before you begin any redesign, it's important to understand the needs and pain points of your users. Conduct user research by interviewing users, observing them using your product, and analyzing usage data. This will give you a better understanding of how your users interact with your product, and what areas need improvement.
Once you have a good understanding of your users, you can start defining your business website goals for the redesign. These goals should be specific, measurable, and aligned with the needs of your users. For example, you might want to increase conversions by 20% or reduce the number of steps required to complete a task by 50%.
After defining your goals, it's time to start sketching and wireframing the new design. Sketching is a great way to quickly explore different design concepts, while wireframing allows you to create detailed layouts of your design. Keep in mind that the goal at this stage is to create a rough prototype, so don't worry about making it perfect.
Before finalizing the design, it's important to test it with real users. This will help you identify any usability issues and make any necessary changes. There are a variety of user testing methods you can use, such as A/B testing, usability testing, and user surveys.
Finally, don't forget that design is an iterative process. Even after launching the redesign, you should continue to monitor usage data and user feedback, and make updates as needed.
By following these steps, you'll be able to update your UX and UI in a way that will improve the overall satisfaction of your users, and help you achieve your business goals. However, keep in mind that redesigning your UX and UI is a continuous process, so make sure to keep an open mind and continue to test and improve over time.
Case studies of successful UX and UI update content for this section
There are many examples of successful updates to user experience (UX) and user interface (UI) design. Some of the case studies that have received benefits of good UX design are discussed below:
In 2014, Airbnb redesigned its website and mobile app to focus more on imagery and less on text. This change helped users more easily envision themselves staying in the properties listed on the platform, and ultimately led to an increase in bookings. The new design also featured a streamlined booking process, which made it easier for users to complete their reservations.
Check out full information: https://www.creativebloq.com/branding/how-airbnb-rebranded-its-website-and-app-121413771
In 2013, Dropbox updated its iOS app with a new design that focused on simplicity and usability. The company simplified the navigation and made it easier for users to access their files, which helped to increase engagement and improve the overall user experience. 
Check out full information: https://techcrunch.com/2013/11/22/dropbox-3-0-hits-ios-with-airdrop-support-redesigned-icon/
In 2016, Starbucks revamped its mobile app, which included several changes to the UI and UX. One of the key changes was the introduction of a "My Starbucks Rewards" program, which made it easier for customers to earn and redeem rewards. As a result, the app became more popular and increased engagement among Starbucks' customers.
Check out full information: https://stories.starbucks.com/stories/2016/the-starbucks-app-gets-more-rewarding-with-redesign/
In 2019, InVision redesigned its UI, the changes were made to the UI to make it more minimalistic, clean, and easy to use. It aimed to streamline the design process and allow designers to work more efficiently. The new design also made it easier for users to collaborate and share their work with others.
Check out full information: https://support.invisionapp.com/hc/en-us/articles/360022943371-Release-Notes-January-2019
In 2020, Google maps redesign its app, with a focus on more personalization and recommendations, Google incorporated more personalized recommendations and information about local businesses, making it more helpful for users to explore and discover new places. The redesign also focused on providing more detailed information about transportation options, such as real-time traffic data and live transit updates.
Check out full information: https://edition.cnn.com/2020/02/06/tech/google-maps-update-redesign/index.html
These are just a few examples of successful UX and UI updates, but many other companies have made similar changes to improve their products and achieve better business results. The key takeaway from these case studies is that small changes to the design of a product can have a big impact on the user experience and ultimately on the success of the product
Conclusion
Regularly updating user experience (UX) and user interface (UI) can have a significant impact on the success of a product. Small changes to a product's design can lead to increased engagement and bookings, higher customer satisfaction, fixing UI UX mistakes and ultimately, better business results.
UX and UI updates can not only make your product more visually appealing and user-friendly, but they also help keep it relevant and in line with the latest industry standards and user expectations. This is particularly important in today's fast-paced digital landscape, where user needs and technology are constantly evolving.
If you are a project manager or website owner, check your website, if it needs UI UX updates. If yes, you can consult a leading web design and development agency like RedBlink.
We are a web design & development company based in silicon valley, which can help you evaluate your existing product and identify areas for improvement. We conduct user research to gather insight into your target audience's needs, and implement design changes to enhance the user experience and achieve your business goals.
With our expert knowledge and experience, we can help you stay ahead of the curve and ensure that your product remains competitive in today's digital marketplace.