B2B SEO Strategy For 2023
SEO is an important customer acquisition channel for B2B companies. The best way to accelerate growth is to have strong organic visibility throughout the buying cycle.
The B2B marketing has specific areas and businesses are trying to identify their potential marketplace. Hence they are willing to improve their search visibility on a global scale.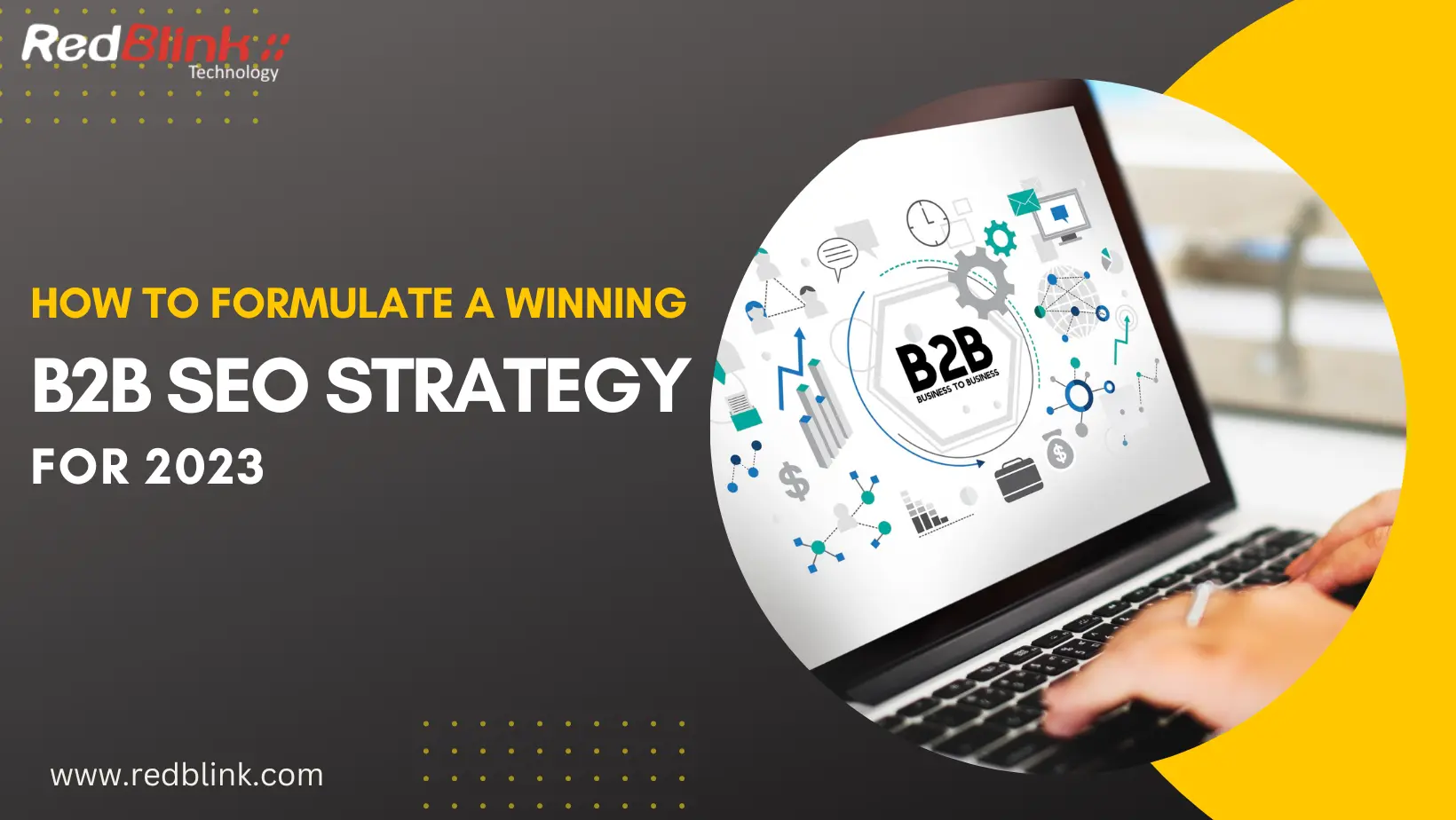 Search engine rankings are more challenging for B2B companies. SEO (Search Engine Optimization) strategy for 2023 will need to change if you want to attract more organic traffic from search engines.
The urge to do effective B2B SEO is easy to understand by considering the following data:
More than 81% of B2B companies expect to pay at least $7,500 / month for SEO.

61% of B2B marketers say SEO and organic traffic are their top inbound marketing priority and they have a specific SEO budget

68% of B2B marketers say that they would be happy to redirect a mid-level marketing position's salary to an outsourced SEO campaign.
8 out of 10 B2B executives feel that SEO directly improves ROI.
[Source: https://firstpagesage.com/seo-blog/b2b-seo-statistics/ ]
Keeping the following facts in mind, let's get to know more about B2B SEO, its benefits, the latest trends and strategies
What is B2B SEO?
B2B SEO focuses on ensuring a functional website with rich content to engage new and existing business partners. An SEO-friendly website will pitch directly to find out business partners by offering services and products.
In business-to-business SEO, you want traffic from your business segment and similar businesses to collaborate with  your business services.
B2B SEO is based on keyword research and a page's metadata – to reach the decision-makers of a company. B2B SEO is for strategy makers who are aware of the basic practices. The company website has to add additional elements to target the businesses. The four key elements to add value to B2B SEO are
Technical SEO: The SEO strengthens the backend activities for your website. It will include activities like XML sitemap, load speed, and a responsive design.
Content SEO:

Optimized content for the business partners about the products and services will help the businesses understand your business. The focus is on intent not on adding promotional content from the consumer's point of view.

On-page SEO: Creating meta tags, heading tags, optimizing images are some of the on-page activities that will add value to B2B SEO. Also, creating backlinks, good site navigation, and blog posting will improve the relevance of the site making it a brand.
Off-page SEO: Some of the activities on which B2B SEO is focusing on include backlinking, Local citation, Guest blogging, broken link building, quora answering  and many others. 
What is the difference between B2B & B2C SEO?
On a wider outlook, B2B and B2C SEO activities look alike but on a broader perspective, both differ from each other. Here are some major differences between both:
The B2B sales funnel activities from the business owner's perspective are entirely different from the consumer's view. If the SEO guys understand the exact needs, their actions will be different. That's why hiring a B2B SEO company is profitable for enterprises having business-oriented goals.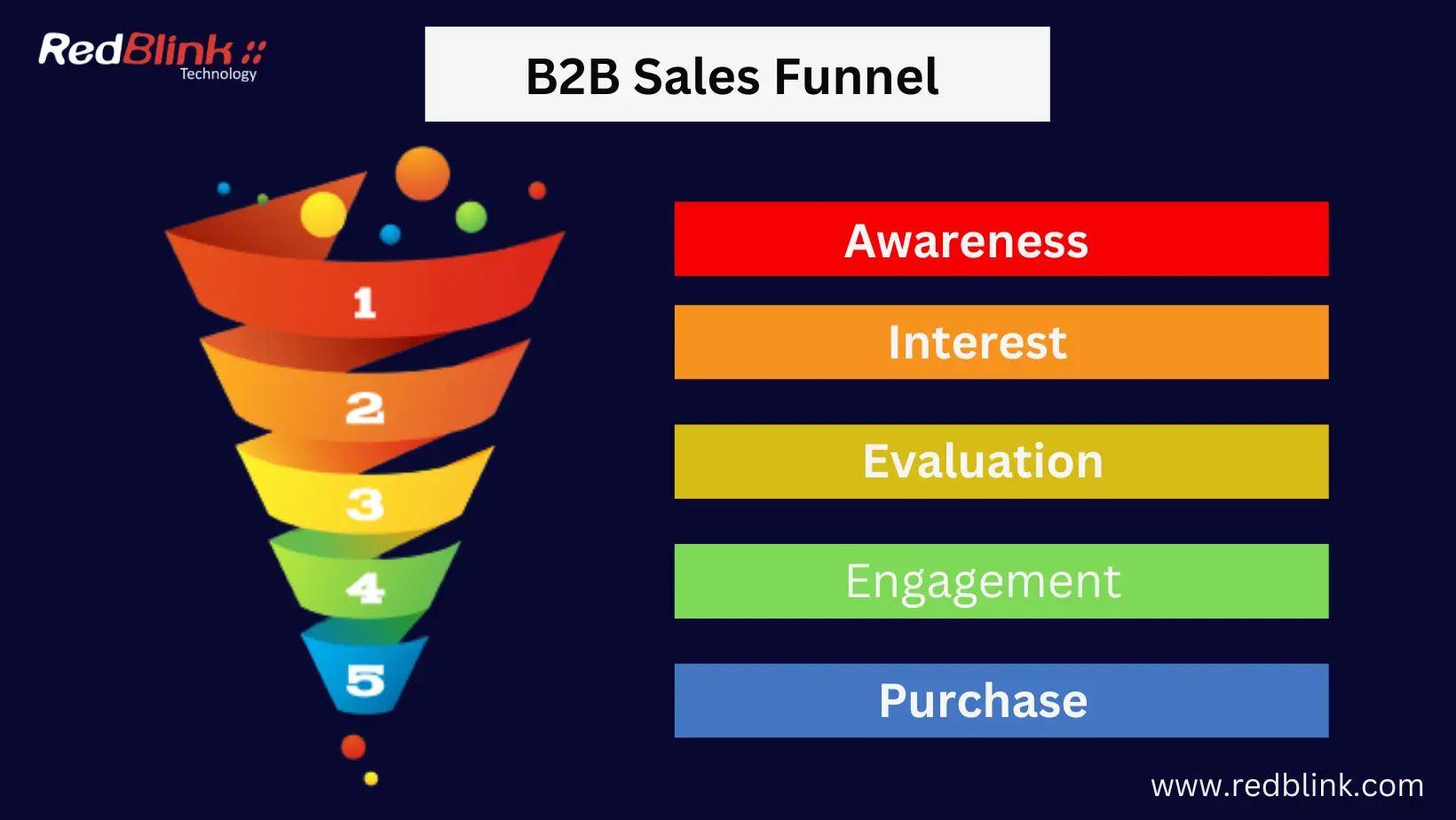 To get a clear picture, consider a consumer looking for a pair of shoes and compare it with the search that a person is doing to buy a shoe company or offering a shoe packaging or transporting service to the shoe company.
With this example, you must have understood the complexity involved in B2B SEO. Thorough audience research is required whereas B2C trends are short-term and aim for a one-time purchase.
B2B SEO differs to get SERPs considering the close sales funnel. Call to action, brand awareness and profile building are some important things to consider.
B2B sales funnel searches are for suppliers and business owners. In most cases, lower-volume or zero volume keywords are more useful than what a B2C marketer would expect.
B2B SEO is all about finding specific keywords that allow you to target a specific audience with content that pushes them through to the next stage of the funnel.
The long tail keywords like for a service provider- What are the web hosting packages?  -these types of long-tail phrases will also help in building an effective strategy.
The other unique challenge of B2B SEO is low conversion rates, in comparison to B2C.
Note: Here, we're talking click-to-sale conversion rates, not click-to-inquiry.
But those sales that do close are typically of far higher value than what B2C marketers are used to. A successful B2B strategy focuses on attracting the right traffic that is specifically looking for the products or services on offer. Go for a niche, know your audience, and demonstrate why your business service  is the solution to their problem,.
Identifying your target market
The first step is to identify your target market and understand their needs and wants. This will help you determine the keywords and phrases that are most relevant to your business and make it easier to create content that appeals to your target audience.
Conducting keyword research
Once you know who your target market is, you need to conduct keyword research to find out what they're searching for online. This will help you identify which keywords and phrases you should be targeting in your SEO campaign.
One of the most important aspects of any SEO campaign is creating quality content that's relevant to your target keywords and phrases. This content needs to be well-written, informative, and engaging to rank well in the search engines and attract leads from your target market.
Effective B2B SEO Strategies
As the name suggests, a B2B SEO strategy is designed for businesses that operate in a business-to-business environment. If your company sells products or services to other businesses, then a B2B SEO strategy can help you improve your online visibility. 
There are several different factors to consider when developing a B2B SEO strategy, but some of the most important include:
A business purchase decision involves multiple searchers. For this reason, SEOs must understand each of these personas. For this reason, building a persona based on user queries will increase the outreach. Also, you can reach the target audiences as your profile defines all qualities. The target persona will cover all the required keywords, on-site page optimizations, and new content development for a more advanced SEO campaign.
Focus on Social Customer Service
There is no doubt about the fact that social media marketing helps in brand building. Also, satisfied business partners can recommend your name to others. Social media marketing has helped many businesses in building their brands.
However, social media marketing campaigns must support SEO efforts. B2B marketers can run content-based social media campaigns to increase brand visibility.
Display Thought Leadership
When it comes to B2B, there are regular inquiries regarding the latest product announcements, hours of operation, company updates, or other news. An SEO strategy will focus your company to stay on the top of the sales funnel. For this using meta tags in the right way will help in gaining organic visibility
Create and Optimize Product or Service Landing Pages
Creating an optimized landing page is the first step to taking your business online. A landing page is a web page designed to convert visitors  into customers. Website is the first impression that most people have of your product or service.
A landing page can be as simple as a text-only page with an image of your product or service, but it should also include features that will help you convert visitors into customers:

A clear call-to-action button that tells visitors what they need to do next (e.g., Buy Now).

An opt-in form that helps visitors sign up for your e-newsletter or purchase a product.

A preview image of the product or service so visitors can get a sense of what they're buying before they commit to buying anything else.

Build A Scalable Content Strategy
A content strategy is a foundation for a successful digital marketing campaign. It includes your overall goals for each channel. In addition, it should include how your content will be distributed across channels and when it will be published.
The goal of a content strategy is to create a consistent message across all your channels by sharing the same thought leadership pieces from one channel to another.
Promote Your Content To Earn Backlinks
Backlinks are the lifeblood of SEO. They are the links that can help you rank higher in search results and give you an advantage over competitors.
A backlink is a link from a high authority website to yours. When a user clicks on a link, they are taken to your website and also adds link juice or authority to your website. The more backlinks you have, the higher will be domain authority and  rankings of the website in search engine results pages (SERPs).
The best way to get backlinks is by sharing content on social media and other websites. The more people share your content, the more likely it is that someone will click on that link and visit your site.
Promoting B2B SEO-Friendly content
Once you have high-quality content on your website, it's important to share it with people through different channels like search engines, social media, and email marketing. The B2B world is comparable, with larger sales. This means their content must serve multiple purposes, such as brand awareness, education, demand generation, and more.
The great thing about content marketing is that it can help your business rank well in search results. But just getting a high ranking isn't enough—your content needs to provide value for searchers and buyers, too. That way, you'll win the trust of more people who are searching for solutions to their problems and drive a lot of conversions at the same time.
Goals And Key Performance Indicators
B2B companies will primarily focus on metrics such as lead quantity and lead quality, while B2C companies are judged solely on sales generated from organic traffic.
Is your conversion happening too late in the customer journey? It's important to find that key moment where a conversion or email might happen. Some conversions happen after a conversation with a sales rep or a demo of the product, while others happen right on a company's website.
B2B SEO can be more challenging than B2C because the conversion happens during a sales conversation, not just from having high rankings. The first step is determining what constitutes a high-quality lead – meaning one that's sales-ready for you. It's also important to determine how many of these leads you produce as a result of organic searches. Afterward, your goal should be to increase this number over time by improving your rankings on high-intent keywords.
The B2B buyer is a careful research-driven decision maker, and your keyword strategy must be comprehensive. To show up when they're searching for solutions, you'll need to make sure you show up in search results when they're searching for related keywords. But that's not all! When they've identified the right product, you'll also need to show up in search when they're trying to buy it.

Challenges of a B2B SEO Strategy
There are a few challenges that come with developing and implementing a B2B SEO strategy.
Firstly, it can be difficult to identify the right keywords to target. This is because you need to balance keywords that are relevant to your business and those that are being searched for by potential customers.

Secondly, you need to make sure that your website is optimized for search engines so that potential customers can easily find it. This includes making sure that your website architecture is effective and that your website content is keyword-rich.
Finally, you need to monitor your SEO progress so that you can make adjustments to your strategy as needed.
B2B SEO trends for 2023
The SEO landscape is constantly changing, and it can be difficult to keep up with the latest trends. However, if you want to stay ahead of the curve and make sure your B2B SEO strategy is effective, it's important to be aware of the latest trends.
Here are some of the most important trends to watch out for in 2023:
Voice search will become more important. With the rise of voice-activated devices like Amazon Echo and Google Home, voice search is becoming more popular. This means that businesses need to optimize their content for voice search queries. This involves using long-tail keywords and natural language.
User experience will be key as always, Google will be prioritizing user experience when it comes to ranking websites. This means that businesses need to focus on creating a smooth and enjoyable user experience, both on their website and on their mobile site. This includes things like page load speed, easy navigation, and mobile-friendliness.
Visual search will grow in popularity in the coming future. Businesses want to look at the actual products before they approach a company from the B2B sales perspective. The platforms like Google Maps, Instagram , Pinterest are becoming famous. This means including keywords in image file names and alt text, as well as making sure images are of high quality and relevant to the topic at hand.
Apart from these trends , you can consider the following trends to rank higher in 2023:
Get started with B2B SEO today!
B2B SEO agencies have always been a common bridge in small to mid-sized businesses and online marketing. But, it has a lot to offer even for big enterprises.
Going with professional SEO agencies will serve the need of companies looking for B2B businesses. Make an effort to take your business to the next level by hiring a professional B2B SEO agency.