The main difference between Outsourcing SEO & DIY SEO is that If you have the time and resources to invest in learning and implementing SEO strategies yourself, DIY SEO can be a cost-effective option. On the other hand, if you don't have the expertise or resources to do SEO in-house, outsourcing to a professional agency can be a more efficient and effective option.
Outsourcing SEO can be a good option for businesses that don't have the time, resources, or expertise to do SEO in-house. A professional SEO agency can help that has a team of SEO experts who are up-to-date on the latest SEO strategies and best practices. They can tailor their approach to your specific business and industry needs. Such SEO professionals always have the endless tools and resources to track and measure the effectiveness of their SEO efforts, which can be difficult for DIY SEO.
On the other hand, DIY SEO can be a good option for businesses that have the time and resources to invest in learning and implementing SEO strategies themselves. It can also be a more cost-effective option, as you won't have to pay for hiring an SEO agency. However, it's important to note that SEO is a constantly evolving field, and it can be challenging to stay up-to-date on the latest strategies and best practices without dedicated training and resources. Ultimately, the decision to outsource SEO or go for DIY SEO will depend on your specific business needs and goals.
Outsourcing an SEO project is a big decision and even bigger is hiring the best SEO agency that can produce favorable results.
At the same time, DIY SEO is easy to start but gets tougher as time passes. Sometimes a bad SEO strategy spoils the brand image and all the efforts and money invested go in vain.
It is observed in 90% of cases that the in-house team gets exhausted with time. Doing by yourself is not the long-term solution as the business starts growing. Also, if you are spending too much time yourself then it is clear that you will cut things out of your business.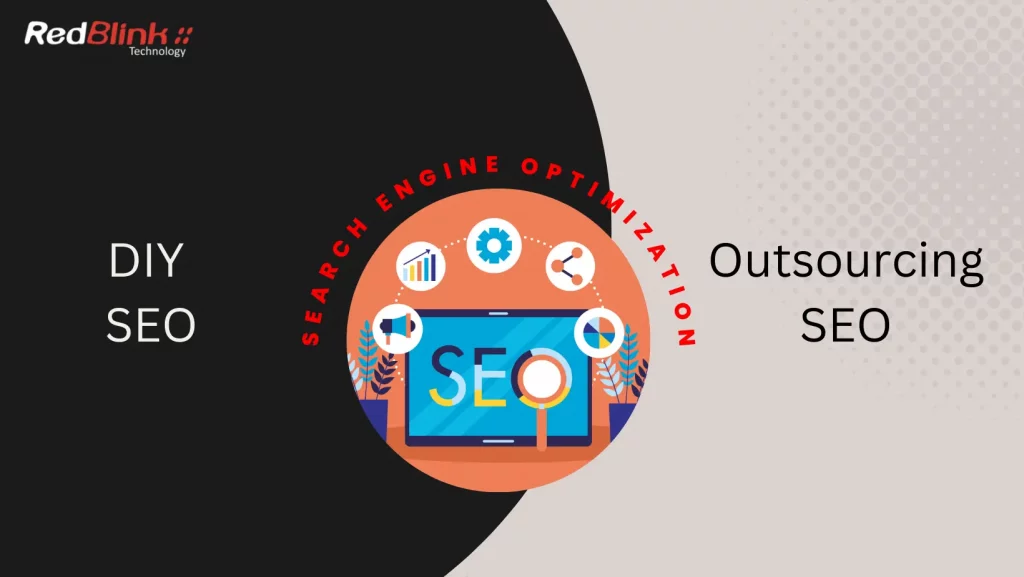 As SEO needs vary from company to company, the nature of the business, manpower required, budget and so many other factors are involved in the SEO tasks.
However, the final decision to outsource an SEO project or DIY SEO – is your personal choice. So, what's the best approach when it comes to SEO services in your business- when should you do it yourself, and when to outsource the SEO project?
In this post, we are discussing the topic to find out the best way to handle SEO project as per the client's needs in detail.
What do you mean by Outsourcing SEO?
Outsourcing SEO Services is a complete & expertly-managed solution offered by a digital marketing agency. It saves the hassles and a focused approach to improve search engine ranking. The SEO company can dedicatedly focus on developing a brand by applying advanced-level SEO techniques.
Some of the activities which the top-rated SEO agencies conduct are- On-page SEO , Off-Page SEO, technical SEO ,  Local SEO, and so on.
Reasons to Choose an SEO Agency for your Business
Get Budget- Friendly Improved ROI
By outsourcing your SEO services to a team of experts, your agency saves money on salaries and tools while saving time and effort.
Outsourcing will allow you to take help from the SEO specialists who are dividing their tasks as per expertise and producing the results more efficiently and quickly. If you want to achieve your SEO goals quickly , you can try outsourcing your SEO campaign to a digital marketing agency.
With the help of a digital marketing company, the SEO campaigns are likely to produce outstanding and productive results. It is much quicker than accomplishing the task alone. Looking from the point, you should hire an SEO company.
Focus on Business by Rely on Complete SEO Solutions
The agencies provide comprehensive SEO services  beyond on-page and link-building. They do deep technical SEO audits, conversion optimization, content marketing, and more.
An SEO project also focuses on activities like content marketing and social media. Fortunately, outsourcing the SEO service can give you more freedom to focus on other tasks.
An SEO specialist along with a dedicated team will monitor and handle your campaigns while you will be able to evaluate the results and be able to come up with better strategies for the future. The weekly and monthly reporting will keep you updated with SEO activities. Above all, you can check the improvement of keyword rankings on Google SERPs.
Streamlined Project Management
A trustworthy SEO agency will  ensure you stay up to date on all campaigns. Whether communicating with your Project Manager or via your dashboard, the data is readily available.
In an agency, the SEO project is managed systematically and the team is assigned to their respective jobs. Here, you are not dependent on a person rather entire team is handling a project. So, if one person leaves the job , it will not have any effect on your project. This is a common issue of DIY SEO. 
Cons of Hiring an SEO Agency
Costly and Creates a hype
Normally, small companies and startups find it difficult to outsource SEO tasks as they have a small marketing budget. At the same time, companies are afraid of paying so high for SEO.
Although SEO agencies are offering different prices the cost of outsourcing is still costly. Therefore setting an SEO budget with a mindset to give time to obtain the results will be the best strategy.
 When the company is clear about what they want to achieve through SEO- outsourcing becomes easy.
 

No Guarantee
Outsourcing SEO is always good and improves your SERP results. But the main problem is that it might take time to show the results. Companies lose patience and stop the campaigns in between which adversely affects their search ranking.
As a business owner, you must ensure that you choose the top-rated SEO company and have trust in them.
Also, only an agency indeed has a dedicated team of professionals to optimize content, ensuring UI/UX development, site mapping, and proper link building for SEO.
What is DIY SEO?
Are you a startup and can't afford to have an SEO budget for marketing? Or you are aware of the SEO techniques and confident in doing it yourself? Don't worry, DIY SEO is possible and in the initial stage you can choose this option.
Also, some mid-sized companies like to hire an in-house SEO team with one or two people. In such cases, the professional SEO person is responsible for all the tasks. The SEO manager is aware of the business goals and objectives and works to build a long-term strategy for the company to succeed.
Reasons to choose DIY SEO
Money Saving Option
Some owners or project managers try to save money and learn to do SEO themselves. If you are confident and can do SEO from scratch for your website then going for the DIY option will prove the best decision.
It will save the SEO cost. You can spend this budget on building a functional website. Later, as the business grows, you can outsource SEO to an agency.
Dedicated SEO Resource
Initially, you might find the concepts of SEO to be a bit complicated, but once you get in the flow then you can understand the techniques of SEO quite simply. The more you work on your digital marketing campaigns, the more you can implement them for the benefit of your business.
Cons of Choosing DIY SEO
Time-consuming
SEO is no doubt a time-consuming process and a full-time job. If you don't have an in-house team to manage SEO tasks then obtaining favorable results is difficult. Hiring an SEO specialist is beneficial but the overall cost of outsourcing and hiring an in-house professional is almost the same. In this case, outsourcing is a better way. Moreover, by outsourcing, you can relax and focus on other business tasks.
A steep curve of learning
Many times business owners and managers don't trust SEO agencies for allocating their projects to expert-level people or teams. Therefore they opt to hire an SEO professional by themselves for SEO.
But, we should consider the fact that one person can not do all the work. Moreover, starting an SEO project is easy but continuing and bringing constant results is a challenge. In most DIY SEO, people get frustrated with the time and repent on their decisions.
How does Outsourcing SEO make a difference?
After seeing the scope of both types of SEO, it is obvious to say that hiring an agency is a better option for expecting better SEO results. DIY SEO works well but in the long run, it becomes a tedious task. By looking at the affecting factors, an SEO reputed agency will justify the SEO job in a more streamlined way.
However, it is always wise to utilize individual SEO skills and suggest the hired SEO company as no one can know your business more than you. The ultimate alternative is to do your research well and outsource your SEO work to a reputed agency that fits your budget.
It is a fact that one person can not handle business activities from start to finish. So, preparing a mindset to hire an SEO agency will help you and your organization to grow.
But if you decide to opt for DIY SEO, you must consult a digital marketing agency to know better techniques and learn the professional way of conducting SEO activities.
Before deciding on a DIY mode, you should ensure that you can spare a lot of time as nowadays, a lot of effort is required to get SEO results. You should be ready to give numerous hours to learn and stay updated about SEO, PPC, web design, and similar stuff while you are doing SEO on your own.
DIY SEO requires excellent SEO skills to handle things from creating an optimal design to creating meta tags, links, and so on. Only an SEO specialist can do DIY SEO.
Before plunging into any decision, you must search for the right SEO agency that can cater to your SEO requirements. You can search for the top 5 SEO agencies nearby you and can go through their services.
It will help to choose the best outsourcing SEO agency. It is for sure that to achieve the best results, outsourcing is a result-driven approach that will streamline the website.
As Google keeps changing its algorithms and criteria to rank, SEO is an ongoing project. Instead of just sticking to one option, many companies are trying a hybrid SEO model.
Of course, the company owners and managers have to take the final decision but we will suggest you go for an SEO audit. Top-level SEO companies like RedBlink provide free consultation and SEO audits. You can schedule a meeting anytime with them.
How to choose the best agency for outsourcing SEO projects?
SEO is pretty straightforward and a necessity for every business. It's about understanding what your target customers are searching for; creating content and optimizing the website and many other things.
But SEO advanced techniques make use of NLP-based tools that require training. Moreover, there are continuous changes in SEO strategies. For acquiring the best results, outsourcing to a digital market agency providing a full range of services is a need not the choice.
Here are some key points for your reference while choosing a company for outsourcing SEO project:
Taking a review of the SEO company and checking their portfolio and case studies will help you make the best decision.

Choose an SEO company that has the vision to rank on the search engine as well as creativity for the users to introduce the businesses in the best way.

Hire an SEO agency by checking their previous progress reports.

Take a free audit report, and discuss your project goal. If you feel satisfied then only outsource your SEO campaign.

Avoid guarantees and think of a practical and feasible solution.

Check their cost and discuss the overall project.
Finally remember, it's not about finding the best SEO company but it's all about choosing a company that can bring the best SEO results for your website within your budget and as per your needs!
Outsourcing SEO vs DIY SEO FAQs
1. What are white-label SEO services?
It is the combination of white label( SEO reselling) or private labeling SEO. White labeling allows a company to avail of SEO services from an SEO agency for your website. The SEO agency will be responsible for building your brand, search engine ranking, and higher SERP results for your website.
Choosing a top brand SEO agency will reap many benefits with white-label SEO services and within 2-6 months you will be able to generate improved ROI in terms of getting organic traffic and lead generation.
2. What is Offshore SEO?
OffshoreSEO is the perfect choice for companies looking for result driven SEO services. An offshore SEO company will provide the following services:
Website Review

Exclusive & Original Content Development

Keyword Analysis and Link Building

Competitive Investigation & Research of Website

Traffic Analytics

Keywords Mapping

Reporting/KPIs-Page Optimization
Offshore SEO means hiring an SEO agency remotely and getting the SEO work done by them saving the cost and resources of an in-house team.
3. Who are the best white-label SEO providers?
There are so many companies that are known as the best SEO companies. Which one to choose? It is a tricky question. To make it simpler here are some key points that you must consider while choosing the best white-label SEO provider:
White-Label SEO providers are experts in keyword research and link building

Provide a complete website audit before taking the project

They have long-term planning with an on-site optimization plan.
However, there is no strict definition of the best white-label SEO provider but these companies work in showing results in terms of gaining quick search engine ranking results rather than making false promises.