Local SEO Services for Small Businesses
Local search engine optimization (SEO) refers to specific optimization and marketing tactics for getting a high search engine ranking for a website in local online searches. The best local SEO services know how to successfully execute and capture more leads and customers for your small business.
Are you a small business owner who made the switch recently by starting a website or eCommerce store?
Then you need to understand the benefits of local SEO that will make you stand apart from the competitors. Getting top ranking on Google is not rocket science rather it is a well-thought step-by-step procedure to reach on top.
Though paid marketing, the most effective being PPC, is an option to gain quick results, sustained results can be achieved only through an affordable local SEO services for your business.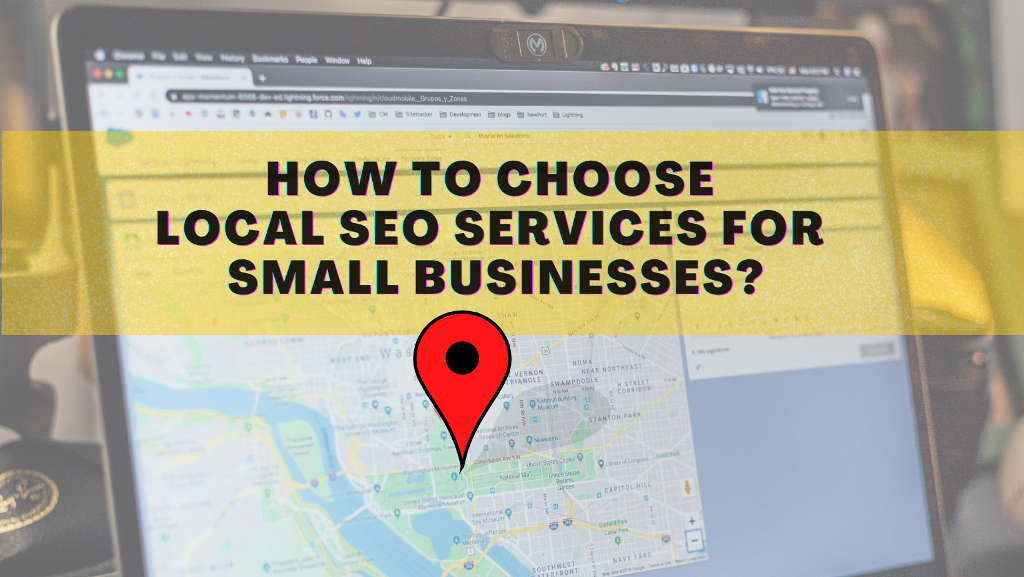 When it comes to small businesses or newly established businesses, the major obstacle is the limited budget. Looking for an agency in that budget for online marketing and search engine optimization makes it an extra burden for a small setup.
Moreover, an effective marketing campaign is a combination of many time-consuming factors. So, the expert's suggestion to small business owners is to set up the right strategy for your website on a budget of your choice.
How can one know the right local SEO strategy for your business? Well, this post covers the details about Local SEO so that small business owners gain knowledge to negotiate in a better way with agencies.
Why is Local SEO Important for Small Businesses?
The main focus during the local search is to discover the right keywords relating to Geography, especially areas closest to the user.
'Near me' queries increase in Local SEO, according to Google. For example, 'digital marketing agency near me' is considered a local search phrase. The best part is, that Google recognizes local searches and changes the results accordingly.
In addition, companies are listed with profiles for specific searches with Google Business Profile complete with contact details and photos.
All these marketing methods push your website to reach #1 on Search engine result pages. Well, the discussion so far tells us that SEO is important for all types of setups (small to big).
Now the question is – why local SEO services are so important for small businesses? Despite continuous changes in search engine optimization, it remains an important factor.
The answer is the exposure and visibility that directly increases CTR.
Local SEO vs Organic SEO: What's the difference?

The main difference between Local SEO and Organic SEO is their focus and scope. Local SEO is targeted towards optimizing a business's online presence for location-specific searches, while Organic SEO is focused on improving a website's overall ranking in search engine results pages (SERPs) for specific keywords and phrases, regardless of the location of the searcher
Local SEO and Organic SEO are two different types of search engine optimization strategies that businesses use to improve their online visibility and attract more potential customers, Some key differences between Local SEO and Organic SEO include:
Focus: Local SEO focuses on attracting local customers, while Organic SEO aims to attract customers from anywhere.
Search engine results pages (SERPs): Local SEO is mainly focused on improving a business's ranking in the local pack (also known as the "map pack") and Google Maps. Organic SEO focuses on improving the website's overall ranking in the organic search results.
Keyword targeting: Local SEO targets keywords that include a location (e.g., "best pizza in New York City"), while Organic SEO targets keywords that may or may not include a location.
Content: Local SEO requires creating content that is specific to a business's local area, while Organic SEO requires creating high-quality content that appeals to a broader audience.
Some of the results of an effective local search include:
How is Local SEO done?
SEO Agencies are mushrooming in every sphere and making the changes as per the search engine algorithms. This might confuse a small business owner.
As a result, one might be left thinking about which one is the best local SEO company for your businesses? How will the Local SEO strategy make a difference? The below-mentioned points will clear the doubts, so let's take an insight:
Conducting Keyword Research
Well-researched keywords are the backbone of optimization campaigns. Google Keyword Planner Tool and other SEO tools help you search local keywords that generate results.  Whenever possible, try to choose key phrases that have high search volume, low competition, and high relevance.
Local search optimization strategies require that local businesses claim and verify their Google Business Profiles. Local Finder, Google Maps, Google's Local Pack, and your organic ranking will be enhanced as a result of Google Business Profile.
Search Engine Optimization For Maps
Optimizing Google Map Listings can help your business appear in the local searches. Thus enhancing its visibility on Google Maps. With strategies based on the latest search trends, maximize the search exposure of your business in Google Maps.
Listings in Local Directories
Local listings allow business owners to claim their listings in several local directories. It is advantageous to use Local Directory & Listing services because they allow fast loading of information like addresses, phone numbers, or web addresses.
Research For Competitive Advantage
Competitive research plays a crucial role. Through reverse engineering, we determine what's working for your competitors, so you can use that information to improve your business. In addition to keyword research, backlink research, and content analysis are also included in our competitive analysis.
Link Building & Citation Submission
Citations are located and monitored over thousands of sites as part of our local SEO services. In addition to spying on competitors, we provide detailed NAP audits on crucial citation sites to help you get listed on new sites. To increase your local ranking, we strive to deliver you consistent citations on websites like.
Using Local Landing pages
Landing page optimization can be an effective part of a local SEO strategy for small businesses. A local landing page is a standalone web page, created specifically for the purpose of a marketing or advertising campaign in a specific area. It is designed to promote some specific service or direct the visitor to take a specific action, such as making a purchase or filling out a form for more information.
Here are some ways that landing pages & service pages can be used in local SEO:
Targeting specific locations: Landing pages can be created to target specific locations or regions. For example, a small business with multiple locations could create a landing page for each location, with information about the specific products or services offered at that location.
Optimizing for local keywords: Landing pages can be optimized for local keywords, such as the name of the city or region, to improve their visibility in local search results.
Providing information about local events: Landing pages can be used to promote local events, such as sales or workshops, and provide information about the location and details of the event.
Capturing leads: Landing pages can be used to capture leads, such as email addresses or phone numbers, from visitors interested in the products or services offered by the small business. This information can be used to follow up with potential customers and drive sales.
There are free resources on the web where you can market your small business. Podcasts, listing in common books such as local listing books and social posts help you connect with the local community. Doing so will give you a better idea of the target customer's needs.
Also Read: 15+ Best AI Marketing Tools To Use in 2023
The geographic location is important for any small business to grow. The relevant information and the intent behind it are considered. Instead of focusing on broader and large audiences, local search serves the informational searcher, there is a heightened sense of purchasing intent within a user's local search query.
The persons searching have local search queries for a business or place they can visit in person or a service that comes to their home. Think local doctors, in-home healthcare, real-estate, plumbers, lawyers, and restaurants. But what exactly makes the search intent local for users?
Typical search queries with local intent include the following modifiers:
[search term] + city
[search term] + near me
[search term] + closest to me
These modifiers act as a filter for users' search based on their location, how far they're willing to go, and the urgency behind the search.
Google recently stated that they've implemented neural matching for local searches. This means their search engine can better understand the meaning behind keywords that may imply local intent and match them with the most relevant local search results. A business name or specific location is not mandatory for local search now.
Neural matching in local search — which we call the Nov. 2019 Local Search Update — has now fully rolled out. However, as with web search, results can change as there are smaller updates that happen all the time, as well as content itself that constantly changes…

— Google SearchLiaison (@searchliaison) December 2, 2019
How does it make a difference? Instead of using long-tail keywords, you can now merely enter a single keyword and your intent is understood.
A Local SEO strategy for a small business should involve:
Create & optimize Google Business Profile
Build online presence through business directories & local listings
Generate content of all kinds (social media, blog, customer photos)
Tracking visitor & customer data through Google Analytics
Reputation management
Having a mobile-friendly site
Having a dedicated location-specific about us page
Google 3-pack optimization
Benefits of Local SEO
The latest trend noticed in developing SEO strategies is a shift from Internet searches that are heavily skewed toward local businesses. The most cost-effective and affordable method of getting new customers is to have them search for local services. Some of the benefits of applying local SEO techniques are:
Online searches are popular among people to find better choices
Conversion rates are high for local SEO
Branding Your Business With Local SEO
Business Extension Through Local SEO
Building long-term networks with local SEO
Also Read: Linkedin Marketing Tips For Getting 10X higher traction
5 Best Local SEO Tools to Boost your Local Keyword Rankings

Another technique used for Local search is tracking the user behavior using tools such as Google Analytics. They help to determine whether you need to put more work into your local SEO strategy to boost your ranking in localized SERPs.
Online reviews also provide actionable insights that can help you determine where your site visitors are from. As per the 2023 ranking, the five tools used to boost traffic for small setups are:
Best overall, and best local SEO company for small businesses needing an all-in-one solution from a search-optimized website to reputation management.
Best local SEO platform for managing your company's SEO efforts and online reputation in one place.
One of the affordable choices for comprehensive local SEO services.
Best for businesses looking to boost organic traffic using SEO content marketing.
Best for those wanting a free, thorough local SEO audit as part of the consultation and proposal process
Also, you can find local traffic from a few different tools- all within the google family: Google Analytics, Google Search Console, and Google Business Profile Insights.
How do local SEO and organic SEO affect each other?
Local search is part of the main SEO service that is done to improve local visibility and immediate traffic. The increased visibility helps in direct sales. That is the target of a small businessman.
When we talk about SEO as a whole then the factors are the quantity and quality of links (from external sources) pointing to your site. When you run a great business, people will talk about it. This kind of recognition, especially in the form of linking to your website will grow your overall search value to a search engine.
This works both ways, so if you already have a successful SEO program with links and great rankings globally, then it's going to be easy to translate that into success in the local market. For small setups, it is highly tedious.
After the overall SEO knowledge, local SEO is the better choice for small businesses. Once the local business is set up and you become a brand, going for SEO with a big budget will make sense.
Now, Let's Understand What Is A '3 Map Pack'
Importance of Google 3-Pack in Local SEO

The 3-Pack is the method used by Google to display the top 3 results for local results pages. It references the user's location to make the search more relevant.
For example, if a user searched for "restaurants near me", Google 3-Pack would show three restaurants near the user's current location.
Google 3-Pack has undergone some major changes, first in August 2015 when the Google 7-Pack was reduced to three, creating the 3-Pack.
At the time, the update placed more emphasis on linking to the brand's business websites. The way information was displayed has also changed, making it easier for mobile users to navigate 3-Pack by displaying addresses and hours of operation, rather than phone numbers.
In December 2021, Google 3-Pack saw another major update. Google described the update as a re-balancing of its three key ranking factors for 3-Pack results: relevance, distance and prominence.
The fairly rapid impacts on local results made it clear that the re-balancing needed to place more emphasis on proximity as a factor. The 2021 update also integrated the results into a map.
Also Read: What Is SEO & How Do Search Engines Work [ A 2023 Guide ]
How the Knowledge Graph can help local SEO
The Knowledge Graph allows local users to obtain the answer to their search instantly, without having to go to a website. This Google local feature is based on millions of data relating to different keywords, which include:
Customer reviews.
Directions.
A link to your website.
Reservation options.
Phone numbers.
Daily hours.
Popular times.
Critic reviews.
And more.
Giving people the ability to reserve a table or book an appointment directly from the SERPs means searchers easily find what they really want and you win new business with less effort.
Examples of Local SEO Success
A small, family-owned restaurant was finding it difficult to compete with other local restaurants that had better online visibility and online order-placing facilities. Then, they came across RedBlink, who helped the owner by setting up a Google Business Profile and guided the restaurant on how to get positive reviews from customers. Web traffic increased by 30%, resulting in a 10% increase in revenue in just 4 months.
Similarly, a charming boutique clothing store in Los Angeles was struggling to keep up with the competition from neighboring stores. Our SEO team worked closely with the store to overhaul their website for local search terms, create a strong Google Business Profile, and promote their services using social media platforms. As a result of these efforts, the store experienced a 25% rise in foot traffic and a 20% increase in revenue within only three months.
How to Hire the Affordable SEO Services for Small Businesses?
The SEO industry has crossed leaps and bounds and there are record-breaking benefits. However,  top-notch SEO agency services are costly. To come in the top 5 searches, agencies charge a heavy price.
This is surely not the option for small setups. Thus, finding an agency that can rank your website better by opting for local search methods is a better option.
Before you finalize any agency, you have the option to evaluate the agency on the following parameters so that you can make a better decision.
Check whether the agency has remarkable merits in local SEO ranking projects
Does the company have the resources to do an in-depth analysis of your website or do they have generalized methods for every project.
Do they apply appropriate tools and can concretely drive local SEO to generate qualified leads.
Almost all agencies boast about how they help websites to rank higher. However, get to know SEO companies' credibility.
Check the SEO case studies previously done by the company.
Ensure they have a content development strategy. Also, the agency clearly understands the importance of developing quality content as per local SEO goals.
Check Online Reviews Online reviews are a great way to judge the competency of an SEO agency.
 You can ask the shortlisted agencies to do an SEO audit. This way, you can assess how the agency strategized your campaign and analyzes the data before coming up with suggestions and conclusions.
Go through the agency's website thoroughly and find the people behind the scene who are implementing SEO for you.
Now you are equipped with the vital knowledge to choose the best affordable SEO services for your small business. In the end, you can choose a company like RedBlink Technologies as your SEO partner that clearly understands the goals of a small business.
If you are looking for a local SEO partner for your next project, just book an appointment with us and our team will walk through the whole process we follow to rank business websites above their competitors.
OUR DIY strategy for Local SEO starts by finding the answers to these questions:
Who is your target audience (buyer persona)?
Where are they from (geographic location)?
Which social media sites or online platforms do they use (Internet habits)?
What do you want to get from your SEO campaign (SMART goals)?
Apart from this, we believe in the fact that online domination for small businesses is not always getting the top rank. If local customers click on a business regardless of its position on the SERPs, that business will have a cutting edge and that's what you would like to achieve through Local SEO.
When you change your perspective from competitor-focused to customer-centric, your strategy will follow. Here's where Local SEO comes in.
Finally, you can summarize by saying – local SEO is an advantageous move for small businesses.
FAQs- Local SEO for small Businesses
How much does SEO cost for a small business?
The cost of SEO depends on various factors like the present status of the website (link building status), analysis of the website as per the optimized content, and use of keywords in website content. A complete SEO audit will help in evaluating your website. However, the basic SEO package varies from $500- $ 5000.
How local SEO helps small businesses?
‌Local SEO is all about building and maintaining an online presence to gain a higher search engine ranking. Local SEO for small businesses is significant, as it involves tactics designed specifically to work for search queries in a local area. However, the main focus of Local SEO Services is Lead Generation.
The activities like creating and optimizing Google Business Profile, local citations, reviews and ratings, mobile-optimization etc help in achieving local SEO goals.
Why are reviews and ratings important for Local SEO?
In the latest search trends, it is visible that more than 85% of people like to perform a search and read reviews and ratings before hiring any local service. Getting positive reviews from clients will surely add advantage  to your website. 
As the GBP starts becoming stronger the more people will start trusting your firm. Every small business has  their personal success stories which can add value from the marketing point of view to your website. 
Therefore, always ask your clients to post positive reviews and rating for your services.
Why Google Business Profile (GBP) Is a Big Part of Local SEO?
Google Business Profile is a tool for managers to add their business information with a focus on the services offered. In the case of websites targeting local customers, it can add a great value. A listing on Google Business Profile includes important business information consumers require to make the purchase decisions, including:
Business name

Description

Street address

Business hours

Website

Photos

Reviews
Small businesses who have created their GBP following the Google guidelines can add great value in reaching customers. These businesses are likely to become more popular. Try adding a phone number and website to your GBP  to boost the visibility of your website.
About Author: 
The author of this post is Mr. Loveneet Singh, who is a Director of Digital Marketing in RedBlink with over a decade of experience in helping small businesses improve their online presence and increase their visibility in local search results.  He has worked with numerous clients across various industries and geographies to develop and implement effective local SEO strategies.