Tips to Improve Your Sales with Geofencing Strategy
Do you face challenges in reaching targeted customers despite applying the latest digital marketing tools and techniques? Are you wondering why the mobile generated leads are not leading to sales?
Don't be surprised? Your competitor might be using the geofencing technology to target the location based customers.
In this post, let's know about geofencing in detail, a few of its key benefits, and how marketers can begin to leverage this technology in new and innovative ways.
What is Geofencing Marketing?
Geofencing is a form of location-based marketing where a geographic boundary is placed around a point of interest. Serving mobile customers is a real-time need and geofencing marketing is the ultimate tactic to engage local customers.
Geofencing is the use of GPS or RFID technology to create a virtual geographic boundary, enabling software to trigger a response when a mobile device enters or leaves a particular area. This allows businesses to reach a hyper-specific audience.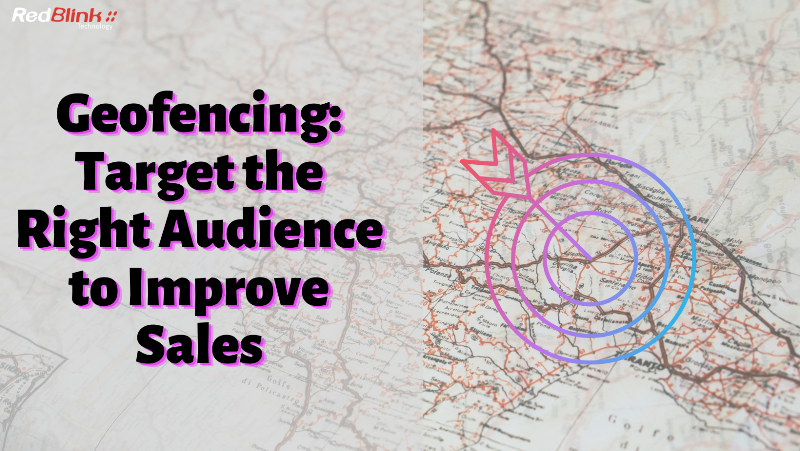 The following are some of the most interesting stats and data about geofencing marketing for 2023:
Mobile ads with geofencing produce nearly double the click-through rate. (Source: mobilemarketer.com)
Geofencing is compatible with 92% of smartphones (Source: https://workology.com)
55% of shoppers visited a retailer after receiving a location-based message. (Source: https://www.salesforce.com)
90% of SMS are read within 3 minutes so this marketing method works. (Source: https://www.sitepoint.com/)
Benefits of Geofencing Marketing 2023
Geo-targeting is an excellent marketing method, especially for a local or eCommerce business. The monthly deals and festive offers can instantly boost sales. It can gain instant recognition for a startup business.
Marketers and Advertisers can set up a fence anywhere, including:
A store location or entrance
Streets surrounding an area or store
A competitor's business
Live trade shows, events, and conventions
Colleges and universities
Referral sources such as stores or companies that often refer customers to you
Individual households needing personalized services
Geo-fences can be highly targeted and can produce an improved ROI.
Better Targeting with cost-effective Solutions
You can create a hyped target for clients' business based on their location and products. If you send a message or ad at the right time and place, your chances of converting are much higher than the average. Moreover, this is done in a cost-saving mode.
Some of the additional benefits are:
Improved Data Collection with Personalized Customer Experience
The marketing methods adopted can let your offline customers get online shopping benefits. This will most likely lead to an improvement in the way you both collect and use data. Depending on the location that your geofence is set on, you can customize your messaging as per the customer's needs.
Enhanced Local Sales with increased Customers Loyalty
By keeping the interests and needs of local customers in mind, you can generate coupons and promotions for locals. This will help you greatly improve your conversion rates from your geographical area. With the personalized approach, you will increase the chances for new customers to become repeat business.
As a result of setting fencing-based campaigns, you will witness an improved engagement rate. You will be able to maintain a target-based database that is staying nearby and interested in buying your products/Service
Now that you know the benefits, you should approach a leading digital marketing company that can set a profitable geofencing marketing campaign for you.
How to Integrate Geofencing into Your Marketing Strategy
Geofencing provides an optimal way to make the most out of your content, campaigns, and promotions. Making it one of the overall marketing strategies can help to grow your customer base and strengthen your brand identity over time.  To integrate, do the following tasks:
Step 1 – Define the Geo-fence Perimeter
A geo-fence is a simple polygon defining an area, perimeter, or entry/exit point. Using certain tools, a web developer will draw the borders at a specific location on a map. Map providers that support geo-fencing. Google Maps or any other map apps help you do this.
Step 2 – Configure the Trigger
A trigger or event is when a person or a vehicle passes a specific location in the geo-fence. When someone passes the region or point, it triggers an automatic push notice. Marketers can specify when the message gets sent upon entry, exit, or both.
Step 3 – Define the Actions for Events
Setting up a marketing geo-fence can get quite technical. There are many options and parameters to consider. For example, you must assign a thing to happen for a specific event within a particular geofence. Otherwise, the shopper won't be notified or may receive irrelevant messages.
Step 4- Adopt a catchy mobile advertising design
Mobile advertising aspects are quite limited, so you need to focus on attention to detail. Minimalistic designs and contrast of colors are essential. If the mobile ad does not draw the user's attention or send a clear message, the user will scroll past it and not pay attention to it. So, creation and layout are critical things to consider.
Step 5- Integrate a clear call to action
Integrate a clear call to action triggers immediate action. Since you are targeting small distance customers, give them an immediate reason to walk into your store through a clear call to action. Geofencing works if you create more urgency in your advertising message like 70% till 5 PM today.
How Does Geofencing Marketing Campaigns Work?
It's not rocket science. With 3 simple steps any top-rated PPC agency can set up geofencing marketing campaigns:
Set up your physical places using Geofences.
Deliver contextualized notifications when users enter, leave or dwell in specific locations.
Use location analytics reports to measure campaign effectiveness and improve performance.
Geofencing Advertising on Google Ads
To improve sales, geofencing advertising with Google Ads serves a great purpose. The Google Ads platform allows you to do geofencing on search, display, and YouTube campaigns. You can easily set up geofencing advertising on Google Ads.
To start with, choose a campaign and then go to its Settings page. You can choose from a number of geo-targeting options such as Country, State, Zip Code, Radius, DMA, City, and Metro. To more specifically target a location, manually enter the location.
You can choose from 'Location' or 'Radius' options as well. The Radius option lets you target an audience within a more customized and specific area that you define. You can choose mile-radius or kilometer-radius to target a pinpointed location. This gives you the ability to target your paid Google Ads campaigns on the relevant audience within a very specific area.
The tight geolocation fencing increases local business opportunities. The push notifications help in creating more focused campaign analytics leading to direct sales.
Geofencing Advertising on Facebook and Instagram
Facebook offers a straight-forward interface for ad campaigns. To set up geofencing on your Facebook ads, first create a standard marketing campaign. Then browse to the 'Audiences' section of the campaign. In the Audiences section, you can use different factors to accurately define your audience. One of these factors is 'Locations.'
In the Locations section, specify a particular location for your target users. You can also provide the locations that should be excluded from the location you have selected. For instance, you can select a particular neighborhood, and then exclude some of the areas of that neighborhood that you don't want to target. This creates a more effective and specific geofence for your Facebook advertising campaigns.
Use-cases of Geofencing Marketing
Geofencing marketing is done using the technologies such as beacons, GPS, or even IP addresses to build a fence. When the people having the relevant mobile app related to the business or key enter a specified area, they can receive special ads, messages, or notifications. This leads to higher quality clicks and a better ROI (return on investment) and ROAS (return on ad spend).
Search analytics and demographics play a critical role in ensuring success for this type of campaign.
Some use cases for geofencing marketing include:
Drive visitors to your locations by adding geofences in POIs (Points of Interest) like airports, hotels, or touristic locations and send them engaging notifications. It will serve the need and create urgency to visit your nearby store.
Customers help you improve your strategies by giving feedback. Know their in-store experiences. In return, provide rewards, offers, and better deals to purchase from your store. This will spread your goodwill in the local market.
Use location trends and treat customer behavior as the point of target marketing.. Using this tactic, you can also know what segment of your customers frequent your competitors' businesses.
Here , we are mentioning the success stories of popular brands that have gained rapid increase in sales using geofencing techniques:
How did Burger King troll McDonalds?

One inspiring example of geofencing is- the "Burger King's Whopper Detour campaign". In this campaign, Burger King offered burgers to its customers for 1 cent while they give the order sitting at McDonald's café. This not only improved the sales but also trolled the competitor.
A BK app was designed for running the campaign and placing the order. The great business planning was done at the backend. Thousands of McDonald's restaurant locations were captured to create geofences around every single one.
App's success set a benchmark for geo-conquesting examples. Burger King captured McDonald's business by scoring free publicity with the help of an app.
How did Amazon became No.1 Retailer Worldwide?

Amazon's launched the location facility to promote local businesses. By entering the location details, customers can embed the features using high-quality data from top providers. They can access links shown on the basis of maps, points of interest, geocoding, route planning, geofencing, and asset tracking
The supply time is reduces as the tracking is done locally. The service providers can add map to their website so that the amazon app can trace the exact location. Importantly, businesses have used  the geofencing features to reach out to customers with timely offers when they're close to a retail location. This has helped Amazon to become No. 1 retailer worldwide.
How Starbucks segregate their customers?

Starbucks is a chain coffee cafes who have used geofencing technology to send push notifications to interested customers nearby. One such example is their happy hour special, when certain drinks are half price, users nearby get special push notifications and this notification methods helps in promotion of brand.
They are using geofencing marketing to segregate customers into different categories, for example, whether the user is a cappuccino drinker or a frappuccino drinker, in order to deliver an appropriate push notification.
What technologies/platforms does geofencing marketing use?
The use of the right technology ensures the success of any campaign. You can mix geofencing mobile advertising with display marketing, video advertising, content marketing,  etc., to target many specific audiences.
Apart from the google and facebook there are some apps and software that you can use for your geofencing marketing campaigns are (similar types of tools apps and software can be used):
Geofencing vs Geo Targeting vs Geolocation
Geofencing, geo-targeting, and geolocation are powerful location-based marketing techniques that you might want to include in your programmatic campaigns. However, their purpose, mechanism of work, and use cases are distinct. Let's see the summary of the differences in the table below.
| | | | |
| --- | --- | --- | --- |
|   | Geofencing | Geotargeting | Geolocation |
| Purpose | Provide a hyper-relevant ad experience for quick conversions of leads in a specific location. | Geotargeting provide a personalized ad experience and raise brand awareness for better conversions in a wider geographical location. | Provides reach to target consumers at a granular, personal level with online or offline messaging based on their physical location. |
| How Does it Work? | Sets a fence around a specific geolocation, which is quite narrow. | Sets a wider geographical location such as a district, city, or country | Sets limits customers within the specific location for specific products |
| Targeting Parameters | All leads entering the virtual fence can be targeted. Once they come in, they see an ad in the mobile browser, mobile app, or receive a push notification. | Only leads that belong to a specific category are targeted. Geos are wider and may include leads from a specific district, city, or even a country. | Special devices like Bluetooth and beacons are used to recognize customers within reach. Using Push notifications, customers are reached |
| Who Needs It | Brick and mortar business owners, event advertisers | Almost every business, regardless of its type | All users –online, offline, and mobile can be reached |
Geofencing Marketing tips
Below you can find a list of tips that you can use for including geofencing marketing in your digital strategy.
Choose the Right Size
Starting geofencing in a narrowed fence is a better idea . The aim is to keep your geofencing to a four- or five-minute travel radius (walking or driving).
In your messaging, you want to make sure that:
You include a clear call to action
Your call to action needs to require immediate action
Use Multiple Marketing Techniques
Make sure you combine geofencing marketing with other marketing strategies for best results:
Because it's all about offering a personalized experience, you should make sure to research and know your audience extremely well.
Respect Privacy
Last but not least, don't be spammy and respect your audience's privacy. Whether you are targeting for one-time or having long-term plans, ensuring the privacy and security of customers' data is mandatory.
The future of geofencing marketing
Personalized marketing has become an integral part of marketing with the rapid increase of online competition. 80% of consumers are more likely to purchase a brand that provides personalized experiences. To set the right time, pace, and budget, geofencing is one of the trendy methods. (Source: https://increasily.com)
Despite some concerns regarding privacy implications, the geofencing industry is expected to grow by over 27 percent by 2022. The highly targeted marketing technique is used to send personalized messages at an appropriate time. (Source: https://increasily.com)
In the recent successful campaigns , 51% used geofencing techniques. The trend is going to continue in 2023 . It will serve as a great way to beat the competition in your local market. (Source: https://increasily.com)
Would you like to discover how location-based marketing plans can boost your sales and brand awareness? Although implementing a location-based advertising campaign can be complex, it's well worth the investment.
The top-rated Digital Marketing agencies such as RedBlink Technologies help you boost your business targeting to new heights and run hyper-relevant geofencing ads. Thinking to implement geofencing marketing is surely a forward-thinking approach that will take your business to new heights!