The cost of creating a mobile app can vary widely depending on the complexity of the app, the number of features it includes, the design and user experience, and the platform it is being developed for (e.g. iOS, Android, or both).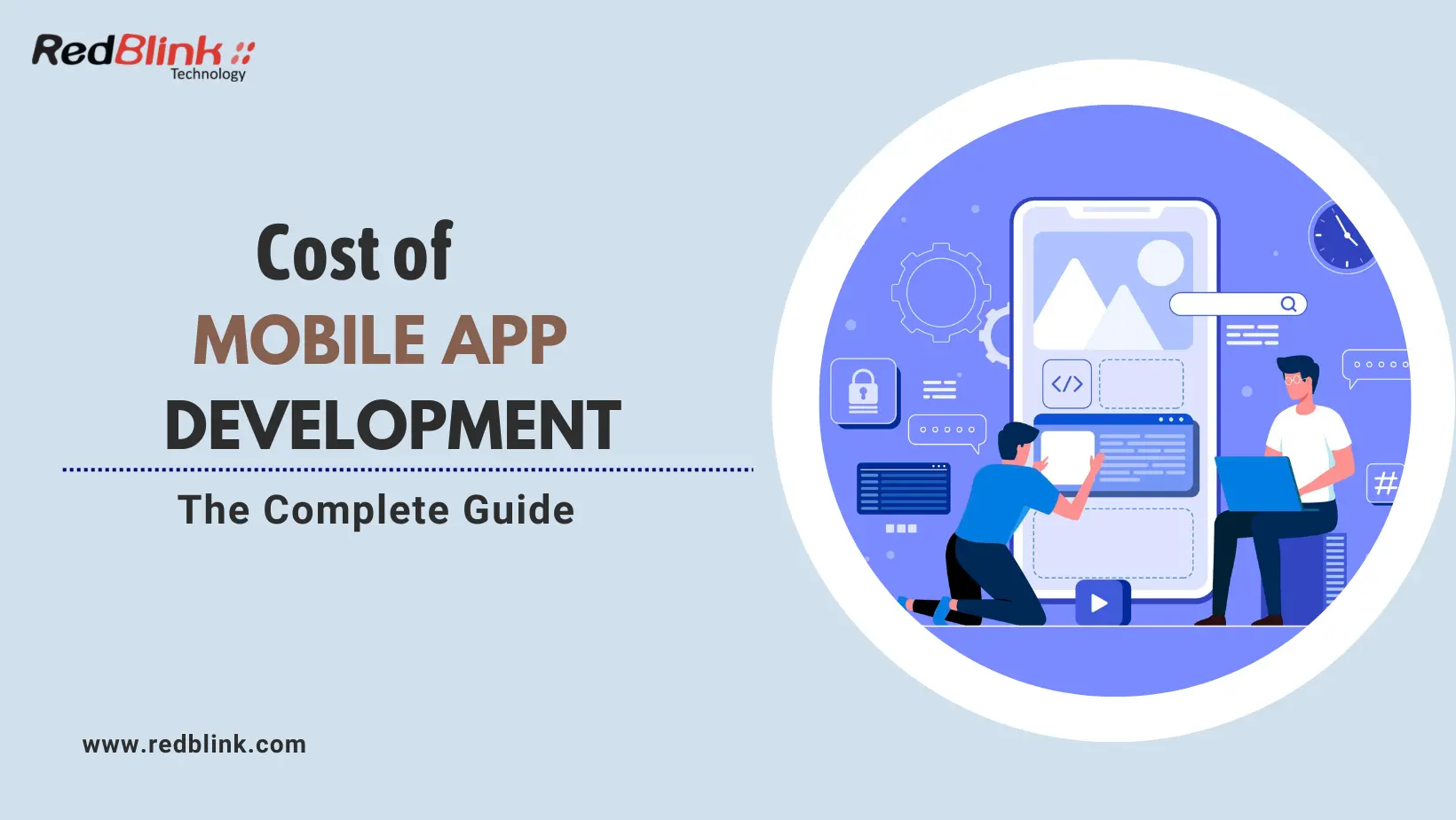 In addition, there are a number of factors that can impact the cost of developing a mobile app, including the development process, the size and experience of the mobile app development team, and the design of the app. It is important to carefully consider these factors and work with a trusted development team to create a budget and plan that meets your needs and goals. Other costs, such as marketing and ongoing maintenance, should also be taken into account. 
Overall, the total cost of developing and maintaining a mobile app can range from tens of thousands of dollars to millions of dollars, depending on the app and the resources required. 
In this article, we will discuss every factor step by step to estimate the mobile app development cost.
How Much Does it Cost to Build an App: The Facts
The cost of developing a mobile app can vary widely, but according to several surveys, it typically ranges from $100,000 to $500,000 or more. Building a fully custom, the feature-rich app can be especially expensive, potentially costing over $500,000.
It is important to carefully consider the specific requirements and resources needed for a mobile app project in order to develop a budget and plan that meets your needs and goals.
Before starting, let's check out some key statistics that estimate the average mobile app development cost.
According to a survey by

Clutch

, the average minimum cost for an app development project is between $5,000 and $10,000. Still, it's important to note that these estimates only cover the discovery phase. The actual cost of developing an app is typically much higher, with a median total cost of $171,450. 

GoodFirms estimates

that the cost of a basic app is between $40,000 and $60,000, while the cost of a medium-complexity app ranges from $61,000 to $69,000. The cost of a feature-rich app is estimated to be between $70,000 and $100,000.

According to a survey of enterprise app developers by VDC, the average cost of mobile app development is $140,000. 

Another survey of CIOs conducted by Kinvey estimated the average cost to be $270,000. 
These figures illustrate the significant range in the cost of developing a mobile app, which can be influenced by a variety of factors such as the complexity of the app, the number of features it includes, and the design and user experience.
It is important to carefully consider these factors and work with a trusted mobile app development team to create a budget and plan that meets your needs and goals.
App Development Budget Per Phase
It can be challenging to determine the cost of developing a mobile app as it depends on several factors such as the app's features, design, complexity, and the location of the development team. It is difficult to provide an accurate price estimate without understanding your business app's specific needs and requirements.
If you would like to learn more about these factors and how they can affect the cost of app development, please continue reading.
It is important to choose the right development partner when building a mobile app. You can hire freelance developers or a development agency (In house team, a local agency, or an outsourcing partner) to help you with the project. But both options have their pros and cons.
Here we define the cost of mobile app development of a local agency, an in-house team, freelancers, and an outsourcing partner in the table form. Take a look!
Development Approach

Description

Cost

In-house Team

An in-house team is a team of employees who work full-time for a company and are responsible for developing and maintaining mobile apps or other products.

Cost is higher than hiring a local agency.

Mobile app development team members' salaries:

Full stack developer: 

$80,379

per year

Designer:

$40,181 to $80,132

per year

iOS or Android Developer: $125,767 per year.

Don't forget to consider operational and maintenance costs.

Local Agency

A local agency is a company that provides professional services, such as marketing, advertising, or software development, to clients in a specific geographic area.

Hourly rates of the Development & Design Team: $110 – $220

If the total development time is 300 hours, the development cost will be:

$110 * 300 = $30,000

Let's not forget the maintenance and operational costs.

Outsourcing Partner

An outsourcing partner is a company or individual that is hired to perform specific tasks or projects for another company. 

It is accessing specialized expertise or to take advantage of lower labor costs in other countries.

Hourly Outsourcing Rates:

America: $35 – $70

Europe: £23 – £53

Africa: $20 – $50

Asia: $15 – $45

If the total development time is 300 hours, the development cost will be:

America: $10,500 – $21,000

Europe: £6,900 – £15,900

Africa: $6,000 – $15,000

Asia: $4500 – $13,500

Freelancers

Freelancers are self-employed individuals who work on a project-by-project basis, rather than as a full-time employees of a company.

Average hourly price of a freelancer depends on the country you're hiring from

US: $82/hour

Ukraine: $80/hour

Latin America: $53/hour

Asia: $56/hour

If the total development time is 300 hours, the development cost will be:

US: $24600

Ukraine: $24,000

Latin America: $15,900

Asia: $16,800
Hence, if you need high-quality services, you must go with a development agency. But, if cost is the major concern for you, a freelancer is the right choice.
Ready to build your own mobile app? Let us know! Our mobile app developers of RedBlink will take care of everything, from the planning to the maintenance stage. 
Also Read: Importance of Good Web Design : How it can help your Business
Mobile app complexity refers to the level of difficulty and the amount of work required to develop a mobile app. It can be influenced by a variety of factors, including the app's features, functionality, and design. A more complex app (full custom) may require more time and resources to develop, and may also be more expensive to build than to simple, moderate, and mid-level app.
Complexity

Benefits You'll Get
Estimated Time
Local Development Agency Cost

Freelance Cost

Simple App 

(Basic MVP, 1 Platform)

Standard UI elements, and simple backend

2 to 4 Months

$10,000 – $60,000

$15,000 – 25,000

Moderate App 

(Medium Size, 1-2 Platforms)

API integration, custom UI features, simple design

3 to 5 Months

$60,000- $125,000

$30,000 – 40,000

Mid-Level App

(Large size, 2 Platforms)

Professional design, pro features, high-quality animation

6 to 9 Months

$125,000 – $150,000

$50,000 – $70,000

Full Custom App 

(Enterprise, Very Large, 2 Platforms, Fully Custom Native)

Custom and professional front-end design, robust back-end features, and integrations

9+ Months

 $150,000 and more

$80,000+

App Development Technologies
As you begin the process of developing a mobile app, it is important to decide which platform(s) or technologies you want to select. You can either choose iOS App Development or Android App development to build an app for your business. You can also choose a combination of these techniques. If you have a limited budget, it may be more cost-effective to focus on one platform initially and then expand to others later on.
Here are some of the most popular options for app development technologies/platforms:
Native Apps (iOS & Android):
Native apps are mobile applications that are designed to run on a specific platform, such as iOS or Android. These apps are developed using native programming languages and tools, such as Swift or Objective-C for iOS, and Java for Android.
Native apps offer several benefits compared to other types of mobile applications. They are able to utilize all of the features and capabilities of the platform, which can result in a faster and more responsive app.
Progressive web apps are web apps that are mobile applications, accessed through a web browser. These apps are typically built using HTML, CSS, and JavaScript. Progressive web apps have several advantages compared to other types of mobile applications. One advantage is that they can be more affordable to develop, as they do not require specialized tools or platforms. They can also be updated more quickly, as they do not have to go through a lengthy app store approval process.
Native apps offer a more seamless and personalized user experience, while web apps are accessible on any device with a web browser.
Developing an app for both iOS and Android simultaneously has become a cost-effective trend due to the benefits it offers, such as the ability to use a single codebase and reduced development effort. The cross-platform industry is currently split between the Flutter and React Native platforms.
Hybrid apps are a combination of native and web apps. They can be installed like a native app, but they run within a web view component.
| | | | |
| --- | --- | --- | --- |
| | Native | Progressive Web Apps (PWA) | Hybrid |
| Cost | $10,000-$150,000 | $40,000-$150,000 | $60,000-$200,000 |
| Performance | Ability to access native device features makes them highly efficient | Depending on internet connectivity and browser performance. | Poor performance due to limited access to native device features |
| Code Maintenance | High: All devices cannot use the same code. | Low: All platforms use the same code | Moderate: Multiplatform portability with one code structure. |
| Distribution Channel | Available in the app store of the OS. | Directly available on the web | Available in the app store of the OS. |
| Required Skills | Objective-C, iOS SDK, Java, Android SDK | HTML, CSS, JavaScript | HTML, CSS, JavaScript, Mobile Development Framework |
| Best For | Games or consumer-focused apps that require high levels of performance, graphics, and overall user experience | Don't have high-performance requirements and have limited resources and funds | High-performance apps that require full device access but do not have high-performance requirements. |
App Features & Functionalities
The cost of creating an app varies greatly depending on the features and functions you include in it. The base cost for developing the type of app you have in mind will increase as you add more features. It is generally a good idea to focus on the core features in the initial version of the app to provide a great customer experience at a more affordable cost. 
One option is to create an MVP (Minimum Viable Product), which is the first version of a product with a basic set of features. This can save time and money and provide valuable user feedback. 
Also Read: 10 ChatGPT AI Tools & Products Built Using OpenAI ChatGPT
Let's examine the average cost and time required for basic features, then discuss more complex features. Here we are showing the cost that is estimated by GoodFirms.
Complexities

Features
Development Time

Development  Costs

Simple User Features

Login (Email/Social Media)

User Profile (Make & Edit)

Chat/Messaging

File uploading

Dashboard

Search

Native Device Features

70 to 105 Hrs

$4,200 to $6,300

Complex User Features

User Engagement (Social Media, Email, SMS, etc)

Activity feed

Camera/Gallery

E-commerce – Catalogs, Ordering, Shopping Carts, etc.

Geo-Location

One-click contacting

Payment Integration

QR/Barcode Scanner Integration

Stream Audio/Video

Sync across all devices

User Privacy Setting

100 to 304 Hrs

$6,000 to $18,240

Advance User Features

Augmented Reality

Customization

Multi-language support

198 to 390 Hrs

$11,880 to $23,400
App design is another factor that can affect the cost of creating an app. Good app design is crucial to keeping users engaged with your app. When it comes to app design, there are generally two options: custom and standard UI.
Customized UI is more difficult to design and implement than standard UI and therefore tends to be more expensive. 
Here is the mobile application development cost breakdown based on its app design:
App Process

Design Tasks
Average Development Time

Average Development Cost (Approx)

App design planning 

Market 

Competitor research and planning

20-40hrs

$200-$600

App design analysis

Market trend analysis

Selecting ideal solutions

20-40hrs

$200-$800

UX design

Rough sketches

Wireframes

Sketches – 10-20hrs

Wireframe – 5-30hrs

$900-$2000

UI design (visuals)

Mood boards

UI mockup samples

Final UI mockups

Mood boards – 5-10hrs

UI mockup samples – 5-30hrs

Final UI mockups – 150-300hrs

$50-$5,000

Branding

Creating brand identity

Logos, icons and social media

$2,500-$5,000

Animations and illustrations

Visualizing user and on-screen content

Direct manipulation

User action visualization

Based on level of animations

$10,000-$25,000
Mobile App Maintenance Cost
It is a fact that expenses do not stop after the mobile app development process is completed. Businesses must continuously update their apps to keep up with changing market trends and new device and operating system versions, which can be costly. What factors impact your budget after the app development process is finished?
App Bug Fixes:

It is rare for a mobile app to be completely free of bugs. Often, bugs are not discovered until the app is published and used. It is important to continuously monitor the app for bug fixes and address any issues that arise.

Design Changes:

The design of a mobile app can quickly become outdated and lose its appeal to users. To keep users engaged, it is crucial for a brand to regularly update the design of its app to ensure it remains fresh and attractive.
The upkeep expense of a mobile app is determined yearly and equates to 20% of the overall cost incurred during its creation.
Development Region
The cost of mobile app development can vary significantly based on the team or individual you choose to develop the app. Options include hiring a mobile app development company, assembling a local team, creating an in-house development team, or working with a freelance developer.
Here's how much programmers from different regions charge on an hourly basis:
| | |
| --- | --- |
| Region | Hourly Rate (In $) |
| United States of America | $100 to $180 |
| Europe | $100–$150 |
| Australia | $35-$120 |
| India | $20-$45 |
As demonstrated, the cost of app development is generally higher in the USA as compared to other countries. You can potentially save a significant amount by developing your app in these regions, as the hourly rate is often around one-fifth of the cost ($120-150/hour) compared to the aforementioned countries.
How Much Time Does it Take to Develop an App?
The duration of app development can have a major impact on the budget, so it is common for clients to ask "How long does it take to build an app?" 
As expected, the duration of app development depends on the type of app being developed and the resources available. How long will it take to develop an app if the app development team consists of two developers? 
Two times faster than with a single app developer, right? While this may be true for some projects, it is not always the case. Factors such as the complexity of the app and the efficiency of the development team can also impact the amount of time required.
Type of An App Project

Time to Develop an App

MVP

2-3 weeks

Simple app

1-month

Enterprise apps,

consumer apps

with advanced features

like maps, etc.

2-3 months

On-demand scalable mobile apps

4 months and up
So, if someone asks – "How long does it take to develop an app?", the expected duration is typically between one and four months. The longer the development process takes, the higher the cost of the app will be. To reduce the cost, it is important to consider ways to streamline the development process.
Also Read: How To Formulate A Winning B2B SEO Strategy For 2023
Wrapping Up!
At RedBlink, we believe that cost should not prevent you from achieving your app development goals. That's why we offer a free, no-obligation consultation to discuss your mobile app development needs and help you establish a budget that suits your needs. You can even schedule a call to make things more comfortable.
Our team has experience developing apps for a range of budgets, so we can provide an accurate estimate for the cost of building your specific app. If you would like to learn more about our mobile app development cost estimation services, please don't hesitate to contact us. We are happy to answer any questions you have and create a personalized quote for your project.