The healthcare industry is heavily regulated, and for that reason, healthcare websites are designed as per HIPAA compliance. Healthcare Insurance Portability and Accountability Act (HIPAA) compliance is a US federal law enacted in 1996 to establish national standards for the protection of individuals' medical records and personal health information.
According to the Department of Health and Human Services (US), as of January 2022, there have been over 3,400 reported HIPAA breaches affecting 500 or more individuals since 2009. The fact highlights the critical importance of HIPAA-compliant website design to protect sensitive patient information.
As a healthcare service provider, you would like to design a website to deliver the best service. To make this process easier for you, we've put together a comprehensive HIPAA compliance checklist that will help you design a user-friendly and HIPAA-compliant website.
 How to Develop a HIPAA-Compliant Healthcare Website?
So, if you are planning to launch or design  a HIPAA-compliant website, the first step is to choose a  web hosting company that specializes in HIPAA-Compliant web hosting. The hosting service provider must have web server must comply with the physical, technical, and administrative safeguards of HIPAA 
 Before you plan further, let's learn more about the technical specifications and Data related policies to design a HIPAA website.   
Technical Specifications to Design HIPAA websites
A robust HIPAA-compliant website is a highly secured website. Here are specific technical specifications for designing websites following HIPAA rules:
Use Secure Socket Layer (SSL)-Encryption/decryption techniques

Password-protected login form with authority restrictions

Secure database software for data management

Maintain audit logs to track access to PHI

Implementing the latest website development techniques to handle data integration
Above all, include the HIPAA entities in web pages like: 
A Health Care Provider
A Health Plan
A Health Care Clearinghouse

This includes providers such as:

Doctors

Clinics

Psychologists

Dentists

Chiropractors

Nursing Homes

Pharmacies

…but only if they transmit any information in an electronic form in connection with a transaction for which HHS has adopted a standard.

This includes:

Health insurance companies

HMOs

Company health plans

Government programs that pay for health care, such as Medicare, Medicaid, and the military and veterans health care programs

This includes entities that process nonstandard health information they receive from another entity into a standard (i.e., standard electronic format or data content), or vice versa.
By following these technical specifications, you can design a HIPAA-compliant website that protects patients' confidential health information and maintains the highest standards of security and care.
Data Usage, Sharing, and Storage Policy
You can take several steps to ensure that your website is HIPAA compliant. And all the efforts stem from data security. If your data isn't secure, it doesn't matter if you comply with every other guideline in HIPAA. So, you must take decisive steps to guard PHI against accidental breaches.
Protected health information (PHI) and electronically protected health information (ePHI) refer to any identifiable data about the patient, including :
name, 

address, 

date of birth, 

SSN (social security number), 

device identifiers, 

email addresses, 

biometrics, 

lab or imaging results, 

medical history, 

payment information.
So, the data displayed through web pages must be in accord with PHI.
HIPAA Compliance Rules
HIPAA Compliance Rules are a set of regulations for healthcare organizations and their business associates. The compliance rules are to protect the privacy, security, and confidentiality of patients' health information following PHI rules.
HIPAA Privacy Rule
The Privacy Rule sets standards for protecting PHI, including who can access it, how it can be used, and when it can be disclosed. It also gives patients the right to access and control their PHI. Privacy rule is the specific standard within HIPAA Law to establish national standards on how covered entities, health care clearinghouses, and business associates share and store PHI. The established privacy rules protect patients' information used during health care services.
HIPAA Security Rule
The Security Rule under HIPAA outlines the standards, procedures, and methods for safeguarding electronic PHI during storage, accessibility, and transmission. It comprises three levels of safeguarding: 
Administrative: Administrative safeguards involve appointing a HIPAA security compliance team., 
Technical:, Technical safeguards include encryption and authentication methods to control data access, and 
Physical. Physical safeguards ensure the protection of electronic systems, data, and equipment in your facility.
Administrative safeguards involve appointing a HIPAA security compliance team. Technical safeguards include encryption and authentication methods to control data access, while Physical safeguards ensure the protection of electronic systems, data, and equipment in your facility. 
Additionally, this rule also includes risk analysis and management protocols for hardware, software, and transmission.
 HIPAA Enforcement Rule
The HIPAA enforcement rules cover the consequences of violations committed by business associates or covered entities, focusing on five key areas. These areas include enforcing HIPAA privacy and security rules, mandating security breach reporting, accounting disclosure requirements, restrictions on marketing and sales, and limitations on business associate or covered entity contracts. The rule was derived from the ARRA HITECH ACT provision and applies to violations before or after the February 18, 2015 compliance date, expanding the scope of HIPAA Privacy and Security rules and imposing higher penalties for any violations.
Breach Notification Rule
The Breach Notification Rule requires covered entities to notify patients and the Department of Health and Human Services (HHS) of any breach of unsecured PHI that compromises the privacy or security of patients' information.
Omnibus Rule
The Omnibus Rule updated HIPAA regulations to include business associates and subcontractors who handle PHI on behalf of covered entities. It also strengthened patients' rights to access and control their PHI.
Failure to comply with HIPAA regulations can result in significant financial penalties, legal liability, and damage to an organization's reputation. Therefore, it is essential for healthcare organizations and website development companies to understand and follow these rules.
10 Step checklist for designing a HIPAA-compliant healthcare website
Now that you understand the importance of designing a HIPAA-compliant healthcare website, let's take a look at a 10-step checklist to ensure that your website meets all the requirements.
1️⃣ Determine if HIPAA Is Necessary
HIPAA-compliant website design can be a costly affair, but it is necessary for any website that collects and uses patients' personal health information, such as an online patient portal.
For example, a telemedicine platform that allows patients to consult with doctors online and provides them access to their medical records would require HIPAA compliance.
However, if you are a general health care service provider that only uses third-party compiled data and does not collect patients' personal health information directly on your website, then you may not need your website to be HIPAA-compliant.
2️⃣ Research Healthcare Industry Needs
HIPAA regulations go beyond safeguarding patient data; it also mandates monitoring access to information. Covered entities must keep a record of who has viewed PHI, the reason for accessing it, what information was accessed, and if any data was transferred. It's essential to partner with a healthcare website design company having complete knowledge of  designing  medical service based websites with HIPAA integration.
For example, suppose a healthcare organization uses an eCommerce platform to sell medical devices to patients. In that case, they must ensure that the platform complies with HIPAA regulations to protect confidential information during transactions. The eCommerce platform must have proper access controls, audit trails, and secure data transfer mechanisms to provide secure transactions.
3️⃣ Learn HIPAA Website Basics
To ensure your healthcare website complies with HIPAA regulations, you must adhere to the following requirements:
Implement appropriate safeguards and rules to protect patient health information from unauthorized access or disclosure.

Restrict the sharing of confidential data to authorized stakeholders who are directly involved in patient care.

Ensure any third-party business associates or corporate partners who handle PHI follow HIPAA regulations and only share information in the patient's best interests.

Control access to PHI and train employees on security and confidentiality best practices to maintain privacy and prevent data breaches.
For example, a hospital website must ensure that patient information is safeguarded and only accessible to people who need it. The website should also ensure that any third-party service providers, such as IT companies, comply with HIPAA regulations and handle the data following PHI rules. Additionally, the website should have access controls, audit trails, and regular employee training on data security and confidentiality best practices.
4️⃣ Encrypt HIPAA Compliant Patient Intake Forms
Web forms are used to collect various types of information from patients or clients, including medical and health insurance data. To ensure the security of this sensitive information, it's crucial to use HIPAA-compliant web forms that encrypt the connection between the browser and the website. This prevents unauthorized access to the data entered on the website or forms.
It's essential to choose a reliable hosting provider with experience in transferring forms to the HIPAA web server to ensure compliance with the regulations.
For instance, a healthcare provider's website can use HIPAA-compliant web forms to collect patient information such as medical history, allergies, and medications. This information is then stored securely and used to create centralized and long-term medical records. This info can be misused by corporates 
Checkout list of best HIPAA Compliant Form Builders for Customized Online Forms
5️⃣ Use HIPAA Compliant Contact Forms
A contact form on a healthcare website can be any page that enables patients to submit information, such as pre-visit health surveys, patient portals, and live chat facilities. It's crucial to ensure the security of these forms, as patients may provide sensitive information related to their health conditions.
For example, a patient portal allows patients to communicate with their doctors allowing them to share their medical records. Here a contact form is used to share information that encrypt the data entered by patients and restrict access to authorized personnel only. 
6️⃣ HIPAA Compliant Web Servers
HIPAA regulations require that PHI be protected at every step. This includes secure protection for PHI when stored in the Cloud and during any internet transfer. To ensure HIPAA compliance, follow these steps:
Collecting PHI: If your website collects any individually identifiable medical information, such as symptoms, conditions, or requested healthcare services, you are collecting PHI. That information must be securely transmitted to the web server.
Storing PHI: Whether you store the PHI on your own server or on a third-party server, you must ensure that the security of the information is HIPAA compliant and that regular maintenance is done to keep it secure.
Transmitting PHI: PHI must be secure and encrypted when it is transferred in any way. This includes direct transfer between servers, via email, or any other digital transference. End-to-end encryption must be used for any information sent back and forth between healthcare providers.
7️⃣ Install a Robust SSL Certificate
SSL protection is a networking protocol that provides client and server authentication and encrypted communication between the two. It ensures that all information entered or managed on a website, including login credentials and account details, is safely encrypted at all times. This means that if any unauthorized access or interception of information occurs, the information will be unreadable and unusable. Installing SSL on a website allows your website to be in HIPAA compliance.
Checkout the best SSL Certificate Services To Buy From In 2023
8️⃣ Finding a Hosting Provider aware of HIPAA restrictions
HIPAA-compliant hosting is essential to protect personal health information (PHI) and is the first line of defense against data breaches. A reputable HIPAA-compliant host offers several security measures to ensure that the data is safe and secure. This includes periodic vulnerability scans of servers, encryption of data in transit and storage, server hardening, offsite backups, and log retention for a minimum of six years.
All as a healthcare business owner , you need to book your website domain with a hosting service provider working with HIPAA compliance.
9️⃣ The website must follow Business Associate Agreement
If your vendors have access to your PHI, it is essential to have a signed Business Associate Agreement (BAA) to comply with HIPAA guidelines and protect your business from liability. However, you are still responsible for ensuring your business associates have the necessary safeguards to protect PHI.
 It's best to conduct a website audit and request risk assessments, and evidence to ensure the security of your PHI. The following vendors will require a BAA.
Hosting providers

cloud storage providers

IT vendors

digital marketing firms

e-prescribing software vendors

billing software vendors

 file sharing vendors

medical answering services

email encryption services

 translator services
🔟 Choosing The right HIPAA Compliant Solution
Choosing the right HIPAA-compliant solution for your business requires careful consideration of several factors. Look for a healthcare website design agency like RedBlink Technologies which offers offering secure hosting, regular vulnerability scans, and data encryption in transit and at rest. Also, ensure that  website designers have prior experience in designing healthcare websites.
Consider the specific needs, such as the need for electronic medical record (EMR) integration, secure messaging, or patient portal access. 
Choosing custom website design services with experience in developing a HIPAA-compliant website will save you time and money. You won't need to spend time explaining HIPAA compliance to the agency
RedBlink – Your One-Stop Solution for HIPAA Compliant Website Development   
In conclusion,designing a HIPAA-compliant website is not just about meeting regulatory requirements, it's about protecting your patients' sensitive information and maintaining their trust in your organization.  With secure technology solutions, proper training for staff, and regular risk assessments, healthcare organizations can minimize the risk of data breaches and avoid potential legal and financial consequences.
If you're looking to design a website that is compliant with HIPAA regulations, you can trust RedBlink's HIPAA Compliant Website Design and Development Services!
Our team of experts is dedicated to ensuring your website is secure, up-to-date, and fully compliant with HIPAA regulations. By following the comprehensive HIPAA Compaince checklist for 2023, we can design a website that meets all of your needs while prioritizing the privacy and security of your patients' data.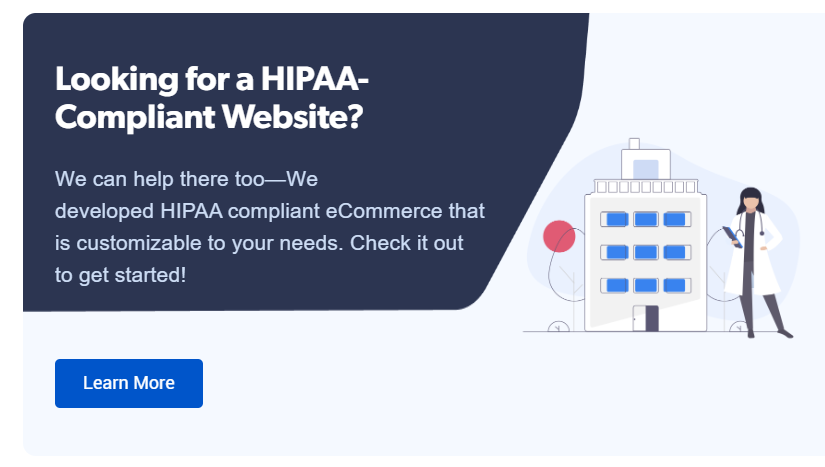 Contact us today to learn more about how we can help you create a website that is both user-friendly and HIPAA-compliant. Trust us to help you build patient trust and avoid potential legal and financial consequences.
Redblink is a leading healthcare website design agency that specializes in developing HIPAA-compliant mobile apps and websites for dermatologists, veterinary, orthopedists, and other healthcare professionals.