94% of patients rely on online reviews to evaluate the services of healthcare providers.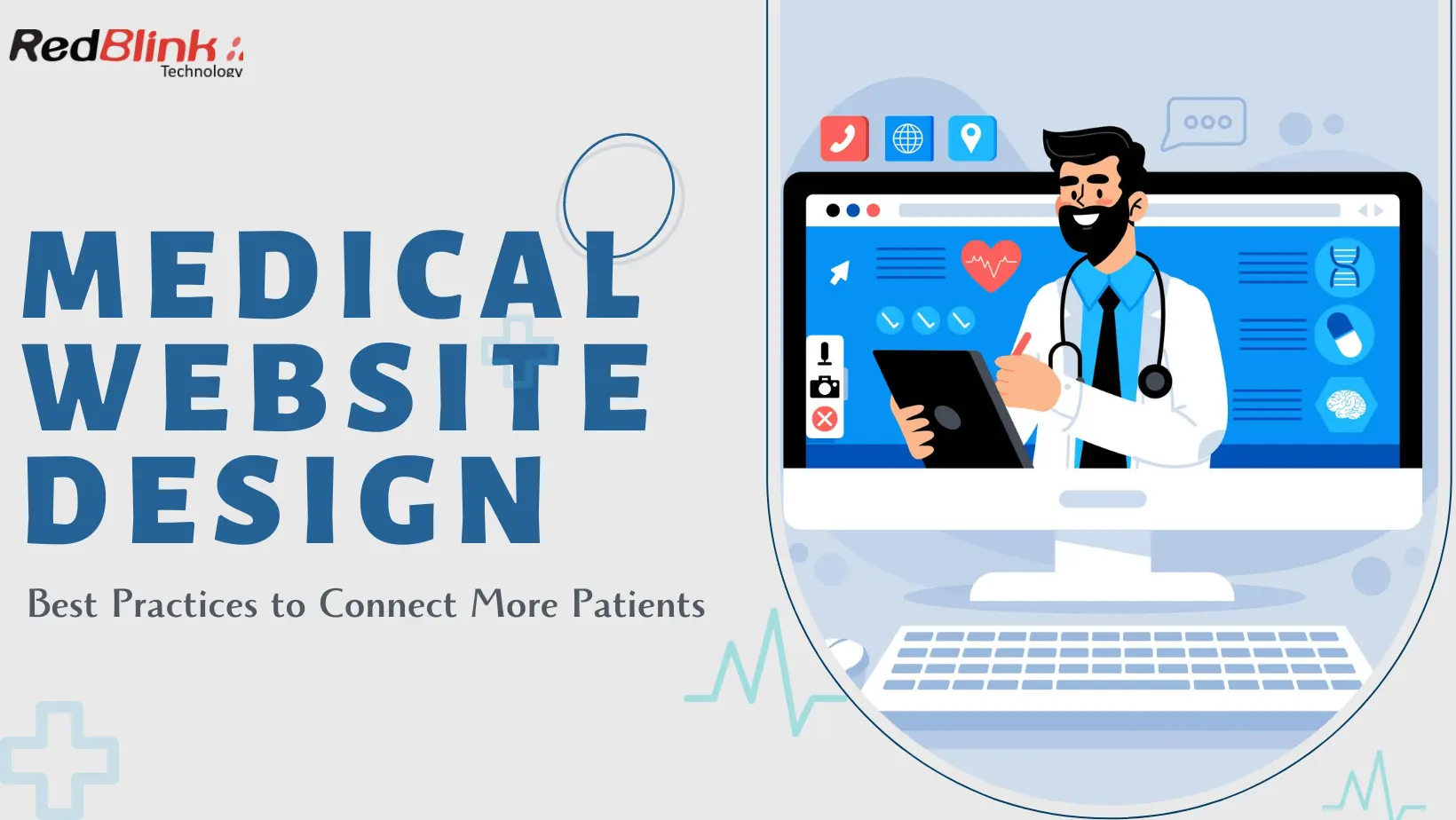 The first step towards running a successful medical business is by developing a website that is accessible to patients 24/7.
Ranking high on search engines enables hospitals, clinics, and doctors to showcase their services and grab the attention of new patients. With the rise of telemedicine, many healthcare service providers are designing their websites to offer online consultations and more, making it easier than ever to connect with patients.
While word-of-mouth referrals are certainly valuable, having a robust medical website ensuring a solid digital presence allows health service providers to establish virtual doctor-patient relationships by building trust with patients.
"From Search to Scheduling an appointment: The Role of Doctor's Website in Delivering Best Healthcare Services has become the norm for most patients. Creating an online platform with accurate medical information can significantly impact potential patients."
That's why, here in this article, we are outlining key tips that must be considered while redesigning /designing medical websites.
Revamp Your Medical Website Design : Why It's Crucial for Attracting and Retaining Patients
Looking at the facts, according to Moz, the first page of Google captures 71% of search traffic clicks, with the first five results accounting for 67% of all clicks. This highlights the importance of having a high ranking on search engine results pages (SERPs) to drive traffic to a website and reach the target audience effectively.
For developing medical websites, the best practice is to hire a leading healthcare website design agency to improve user-friendliness and productivity.  However, redesigning a traditional website with the latest trends will not only improve the patient experience but also enhance the online presence of their practice. 
A well-designed medical website can provide patients with easily accessible call-to-actions to important information and drive leads, such as appointment scheduling, office locations, and medical services. An engaging website serves as a virtual assistant for patient engagement, through features such as secure messaging, chatbots, and patient portals.
For a  profitable medical business, a  redesign of a website by adding more features is like a makeover to attract more visitors and improve search engine rankings.
Let's explore some factors to consider while redesigning a medical website for better customer engagement: 
Unable to reach your target Audience/ low website traffic
If a medical website is not receiving a significant amount of traffic, it could mean that they are not reaching its target audience effectively. This could be due to a variety of factors, such as website design having long content which is unable to attract the target audiences, unoptimized images, etc.  
A redesign of the website could help address these issues and improve the website's ability to attract and engage with the target audience.
Branding is missing or outdated
Are you concerned that your current website is not effectively showcasing your doctor's business or building your service brand? If so, it may be time to consider a redesign. To ensure your website stays up-to-date, make sure to regularly evaluate design elements such as the logo, color scheme, and typography. 
If any of these elements are missing or outdated, it's definitely time for a redesign. A functional website is essential in building a brand that accurately reflects your business's values and services. 
By maintaining consistent branding across all marketing materials, you can create a recognizable image for your business. Prioritizing branding during website redesign can help you create an effective and memorable online presence.
The website design is outdated
A healthcare website has to be updated due to several reasons such as cluttered design, no call-to-actions, unresponsive design, layout, the design being too old, content not informative, and so on. Due to these reasons, you lose your business to your competitors. In such cases, you should consider redesigning your website. 
If you don't decide to revamp an old website at the right time, it will discourage potential patients. A redesign will improve website engagement, credibility, and trust of potential clients. 
No or Low Search Engine Rankings 
Search engine rankings play a crucial role in how patients find healthcare providers online. If a healthcare website is not ranking well in search engine results, it can be challenging to attract new patients. 
A redesign of the website can incorporate best practices for search engine optimization (SEO) to improve SERP results, making it easier for potential patients to find the website and the practice.
Key Considerations for Medical Website Design: Best Practices for Redesigning
A medical website should be designed as per HIPAA regulations. Whether you are a solo practitioner or a hospital, having a UX/UI website can improve your image and potentially draw in new patients.
Here are 10 tips to keep in mind when redesigning or designing your medical website. Incorporating these key considerations can result in a website that effectively meets the needs of your patients and potential patients.
1. Develop a HIPAA Compliant Website
Healthcare service providers should ensure that their website complies with HIPAA regulations to protect the privacy and security of (PHI) patient health information. As a website owner, the doctor or hospital can choose a secure hosting service with SSL certification. This can protect the data and help a doctor's website in compliance with HIPAA.
According to a survey conducted by the American Medical Association (AMA), 83% of physicians reported experiencing a cyber attack in their practice, with 55% experiencing multiple attacks. Additionally, 28% of physicians reported that their practice had experienced a data breach. 
2. Design a website with Mobile- First Approach
Mobile phone users worldwide are expected to reach 7.33 billion by 2023 (source: Statista).
With an increasing number of people using their mobile devices to access the internet, it's important to design a responsive website to connect mobile users to your heal services.
In fact, a study conducted by Google found that 61% of users are unlikely to return to a mobile site they had trouble accessing, and 40% will visit a competitor's site instead. 
Designing a mobile-friendly website will improve user experience and potentially prevent patients from going to a competitor's website.
3. Include SEO Optimized Content
In addition to improving search engine rankings and attracting more visitors, SEO-optimized content can also increase patient engagement and trust. 
According to a survey conducted by Software Advice, over 60% of patients said that online reviews and ratings influenced their decisions when choosing a healthcare provider.
By providing informative and engaging content on their websites, healthcare service providers can establish themselves as thought leaders in their respective fields, building trust and credibility with potential patients. 
Simply put, having a strong online presence and optimized content can lead to higher patient retention rates and more referrals, ultimately resulting in a more successful medical practice. 
By prioritizing SEO-friendly content on their websites, hospital owners can not only improve their online visibility but also build a stronger connection with their patients and community.
4. Simple Navigation of the Website
A website's navigation plays a crucial role in user engagement and retention.
According to a report by Nielsen Norman Group, a leading user experience research firm, users tend to leave websites within 10 to 20 seconds if they can't find what they're looking for.
Therefore, it's essential to design a  website with a simple navigation system, allowing patients to quickly and easily find the information they need. 
The web design must have clear and concise menus, logical grouping of information, and intuitive labeling of links and buttons. A simple and easy-to-use website can also improve patient satisfaction and loyalty.
5. Identify and Convey Your Brand Messaging
A doctor's website should portray the expertise area and specialization of the doctors. While you hire a website development company make sure the content to highlight your services is written in an engaging form.
For example, a cardiologist can advertise their experience by using real-time case studies of treating patients. A pediatrician can highlight unique approaches to treating children.
Additionally, hospitals and clinics can use their website to communicate their brand messaging by showcasing patient testimonials and sharing their success stories to build trust and credibility with potential patients.
6. Focus on UX/UI Design
A medical website should have a visually appealing UI/UX. This can be achieved by using a clean, modern design that incorporates white space and high-quality images. To enhance UX, website developers must incorporate intuitive navigation menus and features, such as appointment scheduling tools and patient portals.
Additionally, optimizing healthcare websites for fast loading speeds on the web and different devices is crucial in today's mobile-first era, where more than 50% of website traffic comes from mobile devices.
7. Use Lead Generation Forms for Appointment Requests
Lead generation forms serve as a bridge between potential patients and healthcare providers by enabling patients to submit their contact information and appointment preferences. This simplifies the appointment scheduling process and can lead to improved lead generation for doctors. 
Lead generation forms help in creating a customer database that reduces the chances of missed appointments.
As an example, consider a dermatology clinic in a busy urban area that wants to increase patient bookings and reduce the rate of missed appointments. They decide to implement lead forms on their website, social media, and other marketing channels.
Within 2-3 months, they witness an increase in bookings by 25-30%.
8. Feature Patient Testimonials
Patient testimonials are an effective way for doctors to build trust and credibility with potential patients. By featuring patient reviews and ratings on their website, doctors can demonstrate their expertise and showcase their ability to provide quality care.
A website providing medical services can also use patient testimonials to highlight successful case studies, such as stories of patients who have achieved successful outcomes after receiving treatment.
The survey conducted by Software Advice, (a healthcare technology research firm)- 72% of patients use online reviews as their first step in finding a new doctor. 
Approximately, 84% of patients trust online reviews as much as personal recommendations from friends or family. This means adding testimonials to your website will give more credibility to the website.
9. Tell About the Services
The health-related services and area of expertise should be clearly visible on the website. This will help boost the business. When choosing a website development agency, make sure they have previously worked in the healthcare domain.
The specific approach can lead to a better design as per the requirement. Additionally, providing comprehensive information about services on their website can help doctors stand out in a competitive market and differentiate themselves from other healthcare providers.
For example, a dermatologist can provide detailed information about the various skin conditions they treat, while a fertility specialist can explain their approach to fertility treatment and the range of services they offer.
10. Opt for Local SEO
Optimizing a medical website for local search is important for improving local outreach. As an owner, you must ensure that your website is optimized by implementing local SEO strategies. It is possible to improve a doctor's service in nearby areas by using local keywords.
For example, a pediatrician in New York City can include location-specific keywords like "pediatrician in NYC" or "pediatric care in New York" to rank higher in local search results.
Additionally, medical business owners can use Google Business Profile (GBP) along with their website to manage their online presence and provide up-to-date information about their practice, including their location, hours of operation, and services offered.
Conclusion- Grow your Practice with Medical web design 👨‍⚕️!
In conclusion, a UX/UI website will help a medical website reach target audiences. As a doctor, you can ensure that effective local SEO practices are implemented on the website.
To ensure compliance with HIPAA regulations, it is important to select a full-stack development agency with a proven track record in designing UX websites that meet these standards. With RedBlink's HIPAA-compliant UX/UI design services, doctors can rest assured that their websites will be designed with the highest level of security and privacy in mind.
Trust RedBlink to deliver a website that not only looks great but also protects patient data and confidentiality.
Redblink is a leading healthcare website design agency that specializes in developing HIPAA-compliant mobile apps and websites for veterinarians, dentists, orthopedists, and other healthcare professionals.