Designing a Veterinary Website
As a compassionate and dedicated veterinarian, your top priority is to provide unparalleled care to your patients and express your love for pet care and veterinary practice. However, in today's fast-paced digital age, having a website is just as indispensable to your success as having the necessary medical equipment and expertise.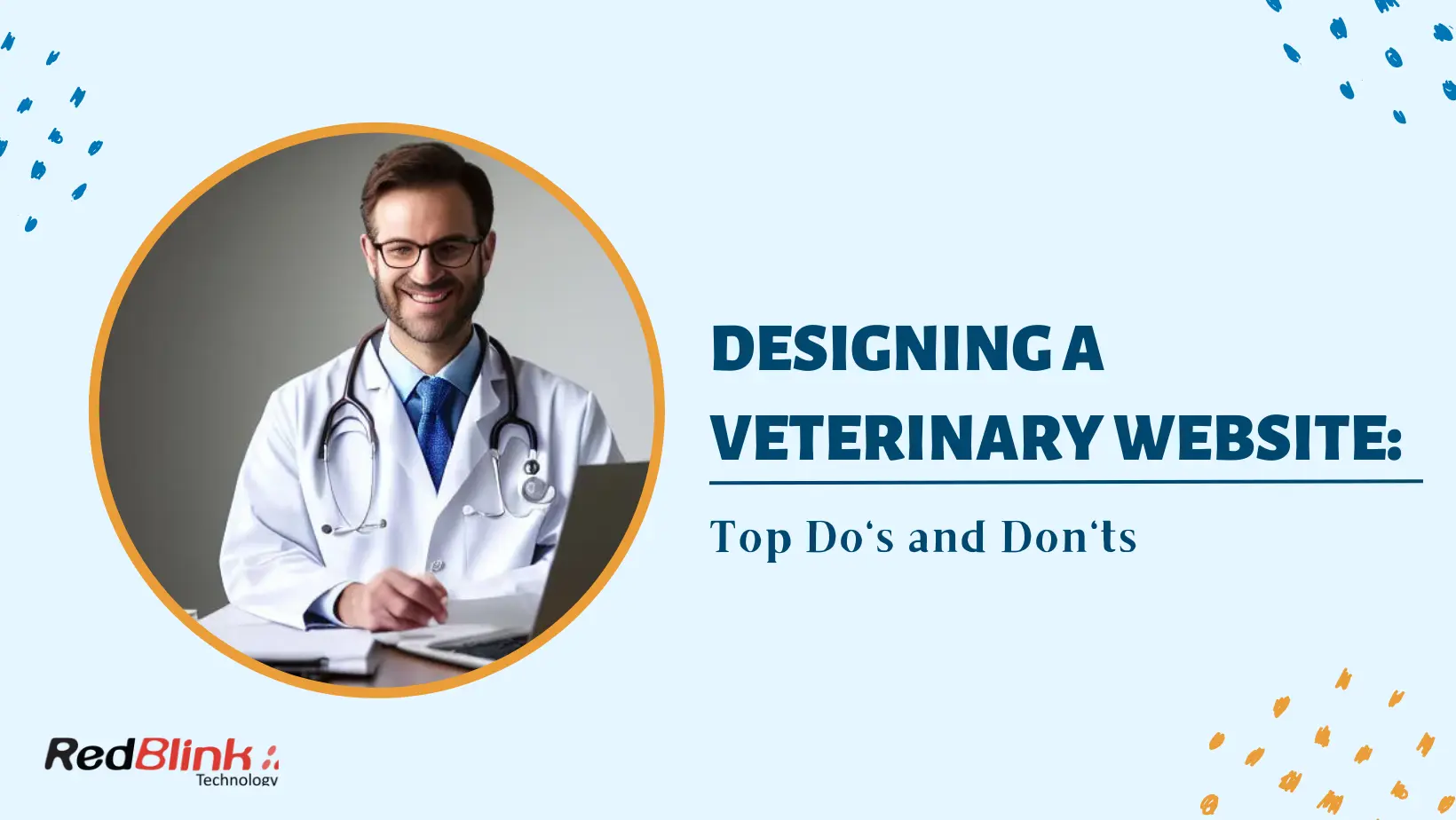 A survey by the American Veterinary Medical Association states that "80% of pet owners use the internet to search for pet health information and veterinary services"
It highlights that a well-designed website can serve as an all-encompassing online hub for your vet practice. A veterinary website can speak about the high-quality service offered, location, visiting hours, and so on. Also, all the information for the users to reach the doctor easily is provided. An interface that will directly answer patients' queries can be added.
Further optimizing a vet website for SEO can help in increasing online visibility and attract pet owners to reach the best veterinary doctor nearby.
What's more, the website will help to collect vital client information and offer online appointment scheduling. To help you get started with your veterinary website, let's discuss the dos and don'ts for designing a scalable website meeting business objectives.
Dos and Don'ts of Veterinary Website Design


Dos of a Veterinary Website Design
A website not only serves as an online platform for your vet business, but it also helps you connect with your customers by building a brand. Here is a list of must-dos that will help in designing a functional website.
Identify Your Target Audience
Understanding your target audience will help you create a resonating website. Answering people's queries and providing informative content will help in reaching your potential customers. For example, if your practice primarily serves elderly pet owners, your website design should include larger font sizes and simplified navigation.
Make Your Website Mobile-Friendly
Having a mobile-friendly website is no longer an option, but a necessity especially for essential services like vet service. Services like allowing patients to schedule appointments through their mobile phones will improve your popularity in the local area.
Ensure Your Website is Easy to Navigate
Veterinary Website Design should be intuitive and easy to use. A clear and organized menu structure can help visitors quickly know a doctor's services. A navigated site allows a satisfying browsing experience.
 

Use High-Quality Images and Videos
Images and videos can also help communicate your brand's message more effectively than text alone. You can add real-time images and videos to the way you treat patients. A preview of services will help people trust your veterinary services.
Use Calls-to-Action to Encourage Engagement
CTAs encourage visitors to take specific actions, such as scheduling an appointment or contacting your practice. Including clear and prominent CTAs on your website can help increase user engagement and conversions.
Incorporate Social Media Links
Social media can advertise your veterinary practices. Rather than creating hype about your service, you can post useful tips for pet care. It will help people and also increase their interest in taking consultations from your pet care clinic.
Keep Your Website Up-to-Date
A pet clinic or veterinary hospital is a place where the patient regularly visits for regular checkups and vaccinations. If the necessary tips are provided on the website, people having pets will visit your website. This will result in increasing website traffic. Regular updates will further increase the traffic on your website.
Including testimonials and reviews from satisfied customers will help you beat the market competition. After all, word of mouth is most important for a doctor's practice.  However, Positive reviews will convince potential customers to choose your practice.
Consistent branding is essential for building brand recognition and trust with customers. Your website's design should be consistent with your practice's branding, including colors, logos, and messaging.
Don'ts for Designing Veterinary Website
Your website's design can impact your search engine rankings and can boost your practice. Therefore, it is important to design a website that is essential for your veterinary practice. So, here we are listing some don'ts that will help you design a better website:
While stock photos may seem like an easy way to add visual appeal to your website. Stock photos can appear generic and irrelevant for new patients to visit your clinic. Instead, use high-quality, original images that showcase your vet practice.
Don't overload your website with information
It's essential to provide valuable information about your practice and services. But too much information can confuse visitors. Ensure your website is concise, clear, and easy to understand for a common user.
Don't use small or hard-to-read fonts
Font size and readability are critical factors for developing a UX UI website. Avoid using small, hard-to-read fonts to avoid difficulty in reading. Opt for clean, easy-to-read fonts that are at least 16px in size with a clear font face.
Don't use too many colors or fonts
Overuse of colors and fonts can distract visitors. Stick to a consistent color palette and font scheme throughout the website. Maintain a consistent and cohesive look and feel.
Don't neglect the importance of SEO
Search engine optimization (SEO) is important to reach the maximum number of visitors. Optimize your website with relevant keywords, meta tags, heading tags, and alt tags to improve the search engine visibility of a website.
Don't forget to install SSL
A website providing medical services must add security features. Don't forget to install an SSL certificate, firewall, and two-factor authentication. Ensure your website's software is up-to-date. You need to check the website for security threats.
Don't forget to check the website loading Speed
If your website takes too long to load, it can result in a negative user experience, causing frustration and impatience. This may prompt users to abandon your website and seek alternatives. 
Research indicates that even minor delays of a few seconds can significantly decrease conversions. To avoid this, focus on improving your website's loading speed by reducing image size and minimizing the number of requests made. Implementing caching mechanisms can also enhance page load times.
Don't Ignore Accessibility
Accessibility will help users to interact with your website, including those with disabilities. Ensure your website meets accessibility standards by using descriptive alt tags and providing captioning for videos. Choosing a layout as per services will help in designing an accessible website.
Cluttered and confusing layouts
A cluttered and confusing website layout can create difficulty to navigate for visitors. Keep your website's design clean, simple, and consistent to improve UX UI.
Additional Tips for Veterinary Websites
Here are a few more pointers to assist you in developing your veterinary website that accomplishes your business goals. Now that we've covered the most crucial do's and don'ts for your website, here are some additional tips:
Don't overlook the value of images for your website. Enhancing both the aesthetic and user experience of your website with high-quality real-time images will provide more authenticity to your website.

In the header or footer, provide your contact details to schedule an appointment.

Use simple language in CTAs so that people find form filling convenient. Also, responding to queries will help you build trust with visitors approaching you

Make sure your website is responsive. Also, check all the links, buttons, and submit are working. A flawless UX UI will surely make a difference in delivering the best veterinary service.
Conclusion
In conclusion, you can create a website that is user-friendly, engaging, and accessible to visitors by following the dos and don'ts of a veterinary website design. Above all, design a website that is for patients looking for veterinary services. To design an engaging website, you need to hire a professional veterinary website design agency.
Choosing a leading agency that has experience in designing and developing medical websites can help your veterinary business grow. Schedule an appointment to take our expert advice and design a pro veterinary website!