?

 Dental Web Design Trends
Are you a dental professional looking to enhance your online presence? ? Do you want to update your site with the latest dental web design trends for the upcoming year? ?? Or maybe you want to know how to create a website that not only attracts new patients but also retains existing ones. ?
If so, then you've come to the right place. In this post, we'll explore the top dental web design trends for 2023 and provide insights into how you can leverage them to make your website stand out in a crowded digital landscape.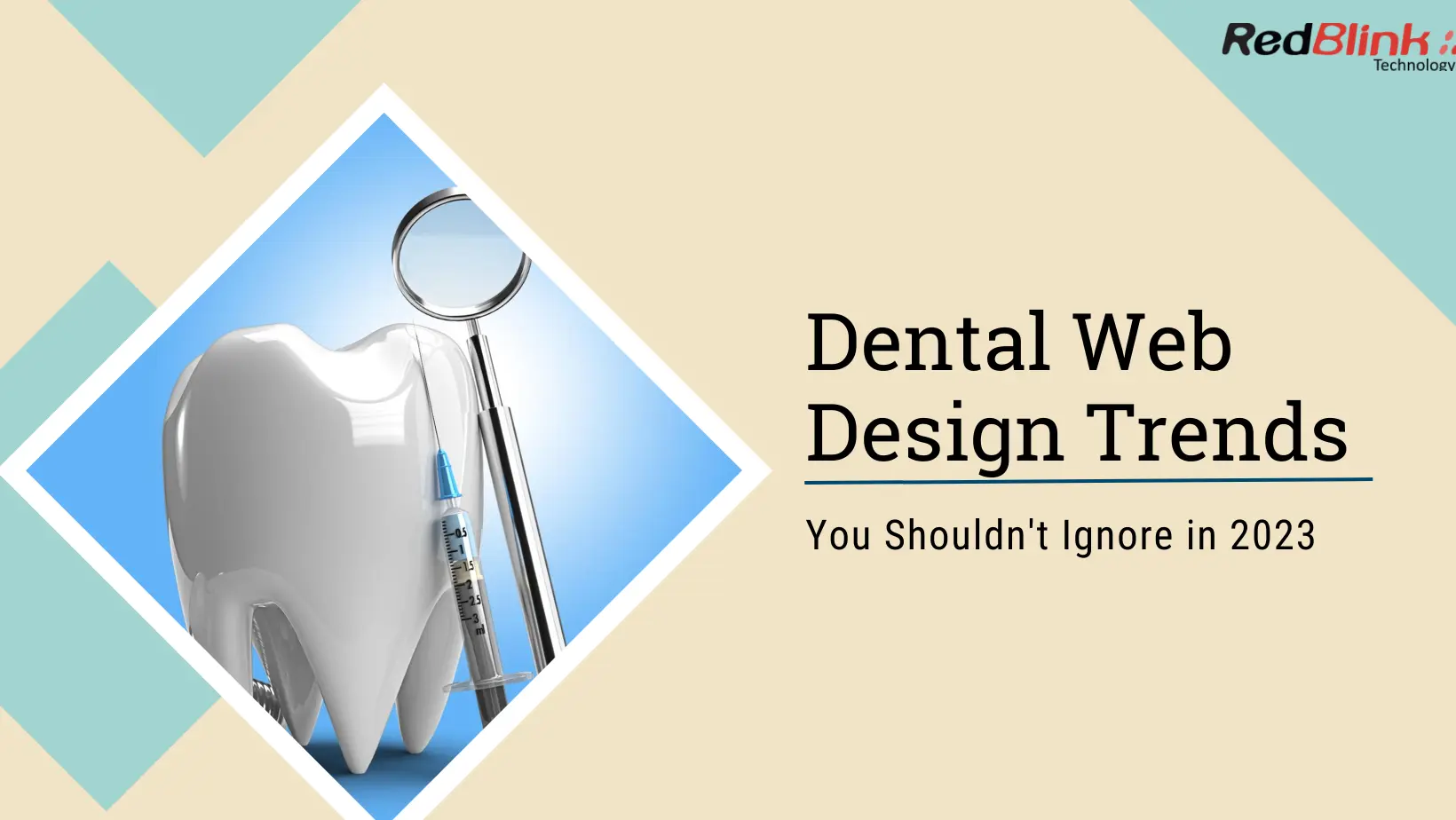 So, get ready to take your dental practice to the next level with these cutting-edge web design trends.
Requirements of a Dental Web Design in 2023
The design trends of dental websites are rapidly changing. Building a fresh or redesigning dental website in 2023 focuses on creating a strong digital presence for your dental practice. A custom dental website must represent dental practices to capture the attention of people looking for dental services. The website must include-
? Your Brand Identity
Your dental website design plays a critical role in establishing your brand identity and reflecting your dental practice. It's essential to use relevant colors, fonts, and overall style that align with your brand identity including images of the actual dental clinics.
? Your Professionalism
The healthcare website design can effectively communicate your values and what sets your dental practice apart from others. Instead of choosing a fancy design, you can opt for a simple and realistic design that reflects your business.
? Your Services
Apart from this, your website design must mention your services and how you can facilitate patients. You can mention – how to book an appointment, a list of specializations doctors have and clinic timings, and so on. 
Also using clear and concise headings and visual elements can effectively communicate your services to visitors.
? Your Digital Presence
A visually appealing website alone is insufficient if it can't be found by search engines. Optimizing the website for searchability is crucial for dental clinics. Relevant keywords must be included in the meta tags, URL, and content of the website. Mentioning the location of the office can also help in reaching patients.
However, search trends and popular keywords change over time, making it necessary for dental practices to update their website. Keeping this in mind, let's explore some of the dental website design trends in 2023.
Tech and Marketing Trends ? to Watch Out For Dental Industry in 2023
Before we know the dental website trends, it is important to first know the dental industry's latest statistics about the dental industry. 
The dental market in 2022, was valued at $179.1 billion (USD), including dental surgery, orthodontics, periodontics, and cosmetic dentistry.
The latest areas of growth are – cosmetic surgery, dental implants, and new dental technology.
Add on to the fact that the dental industry in the US is set to continue its growth trajectory in 2023 and beyond, indicating that there is still plenty of room for dental practices to thrive.
With this information, dental website developers can focus on the tech trends that can highlight a dental practice catering to the needs of dentists. 
Here are some of the key factors to design a patient-friendly dental website:
✅ Mobile responsiveness
Refers to the ability of a website or application to adjust its layout and design to fit different screen sizes and devices, such as smartphones and tablets. This ensures that the content is easily accessible and readable on any device.
✅ Minimalistic design
Refers to a design approach that prioritizes simplicity and minimalism, by using only the necessary elements and removing any unnecessary clutter. This can improve the user experience by making it easier to navigate and find relevant information.
✅ Video and animation
Refer to the use of video and animation in the design of a website or application. This can help to engage and entertain users, while also providing information or demonstrating a product or service.
✅ Personalization
Refers to the ability of a website or application to tailor the content and user experience to the individual user's preferences and needs. This can be achieved through various methods, such as personalized recommendations, customized user interfaces, and targeted advertising. 
The goal is to provide a more relevant and personalized experience for each user.
✅ Adopt Scalable Web Platforms for DSOs
According to a study by the American Dental Association, over 50% of patients search for dentists online before making an appointment. 
This highlights the importance of a strong online presence for dental service organizations, particularly for small dental clinics looking to expand their business. 
By adopting scalable web platforms, Dental support organizations (DSOs) can increase their online visibility and reach a wider audience, ultimately attracting more potential customers.
✅ Need to write Patient-centric Content
For a dental service, writing patient-centric content is essential. This means providing content that is relevant and informative to patients, addressing their questions and concerns, and helping them make informed decisions about their dental care. 
DSOs need to prioritize patient-focused content to establish trust and credibility with their audience.
✅ UX/UI is a priority
User experience (UX) is another critical factor in developing a successful web platform. Patients expect easy navigation, fast load times, and an intuitive design. A poor UX can negatively impact a DSO's reputation and ultimately drive patients away. DSOs need to invest in high-quality UX design to create a seamless patient experience.
ADA compliance requirements ? for your dental website
A dental website should be ADA-compliant. ADA (Americans with Disabilities Act.) in 1990 aimed to prevent discrimination against individuals with disabilities. A crucial aspect of the law is to ensure that websites are accessible to people with visual, hearing, or physical impairments.
To ensure that a dental care website is ADA-compliant, it must adhere to specific guidelines, including :
?
Captions on Videos or Sound Files
To cater to individuals with hearing impairments, audio content on the website should have a transcript available, while videos must be played with captions turned on by default.
⚡
Alternatives to Flash
If your website uses Flash, it must have an alternative that is accessible. The website must be visually appealing even for people having visibility problems.
?
Navigation
The website's main page must follow web standards for keyboard and screen reader navigation, including backward and forward browser functionality.
✍️
Content
The dental website's content, including links, images, and forms, should be accessible through assistive technologies such as screen readers. Alt text should accompany all images to describe visually impaired users.
HIPAA Compliance Requirements For Your Dental Website ?‍⚕️
For a dental website development company, it is essential to have an understanding of HIPAA-compliant website design. According to regulations, compliance is not just a matter of adding a lock icon to the website, but federal law also requires safeguarding the privacy of patient's medical information.
The scope of HIPAA extends to various entities that deal with sensitive medical information, such as healthcare providers, health plans, health claim companies, and even health devices selling companies.
As a dentist, if you are hiring a web design agency to design and develop a website for your dental practice, you should ensure that the agency's website designers and developers are aware of HIPAA regulations.
Some of the HIPAA requirements include:
✔️ 
Disclosures on Forms
HIPAA-compliant website forms should be designed with a link at the top or bottom with detailed information about how data will be used.
✔️ 
Privacy policy
The website must display the privacy policy prominently so that users can access it quickly at any time and encourage them to read it before committing to using your product or service. The policy must specify the way user information can be used.
✔️ 
Accessibility
While some of these requirements are included in ADA compliance, HIPAA also mandates certain requirements for ensuring that your website is accessible to all individuals with disabilities.
✔️ 
Business Associates
If you delegate any work that involves Protected Health Information (PHI), this aspect of HIPAA applies to you. In such a case, it is essential to have a business associate agreement in place that clearly outlines what the business associate can and cannot do with the data they access from your site.
✔️ 
Security
Developing a website for dental practices must follow the PHI guidelines related to patient data security. For acquiring a HIPAA certification, a federal officer will audit the website.
Additional Dental Web Design Practices to Boost Sales ? ?
This section delves into the top dental website design practices to elevate your dental business. From incorporating user-friendly navigation to highlighting patient reviews and creating a mobile-responsive website, we'll explore the strategies that can make your website stand out and attract more patients. Let's take a look.
?
Online Appointment Booking
Many patients today prefer to book appointments online rather than calling the dental practice. By offering an easy-to-use online booking system, patients can book appointments at their convenience, even outside of business hours.
For example, a dental practice may use booking software such as Zocdoc or MyPractice24/7, which allows patients to book appointments directly from the practice's website.
⭐
Testimonials and Reviews
Including patient testimonials and reviews on the website can help build trust and credibility for the practice. Positive reviews and testimonials from satisfied patients can help prospective patients feel more comfortable and confident in choosing a dental practice. Adding video testimonials to websites builds a high level of trust among users.  
For example, a dental practice may feature patient testimonials on its website, social media platforms, and third-party review sites such as Google Reviews, Yelp, or Healthgrades.
?
Integration with Social Media
According to a study by the American Dental Association, dental practices that use social media platforms such as Facebook, Twitter, and Instagram to engage with patients report higher patient satisfaction and retention rates. 
Social media integration can help the dental practice connect with patients, build an online community, and drive traffic to the website.
?
Economic Uncertainty Impacts Marketing Strategy & Investments
The COVID-19 pandemic has created economic uncertainty across all industries, including dentistry. DSOs (dental support organizations) need to be mindful of their marketing investments and adapt their strategies to the changing landscape. This may mean reallocating resources to online channels or experimenting with new forms of advertising.
? 
Dental's Digital Transformation Continues
The dental industry's digital transformation shows no signs of slowing down. With advances in technology and changing patient expectations, DSOs need to stay ahead of the curve to remain competitive. This means investing in the latest digital tools and platforms to provide patients with the best possible experience.
?
AI Investments Increase and Strengthen Market Position/USP
Artificial intelligence (AI) is another key trend that DSOs need to be aware of. AI can help DSOs automate routine tasks, streamline workflows, and provide more personalized experiences. As AI becomes more accessible, DSOs that invest in this technology can gain a significant competitive advantage.
Trust RedBlink for HIPAA-Compliant Website Development
In today's digital age, a strong web platform is essential for DSOs to stay competitive and continue growing. By prioritizing patient-centric content, UX design, personalization, and the latest digital tools, DSOs can create an exceptional online experience for their patients.
Ready to Grow?
We hope you got an idea of what can set your dental practice apart from the rest. Look no further than RedBlink! Book an appointment for a free consultation with our web designing team specializes in creating websites specifically for dentists and DSOs. 
We can incorporate the latest trends and features like simple navigation, service-based content, and location-based dental care to make your website stand out. So, let us know what you need. We are here to assist you.