Common HIPAA Violations to Avoid in 2023

HIPAA compliance is a critical aspect of protecting patients' sensitive health information as per PHI (protected health information) and Electronic Protected Health Information (ePHI).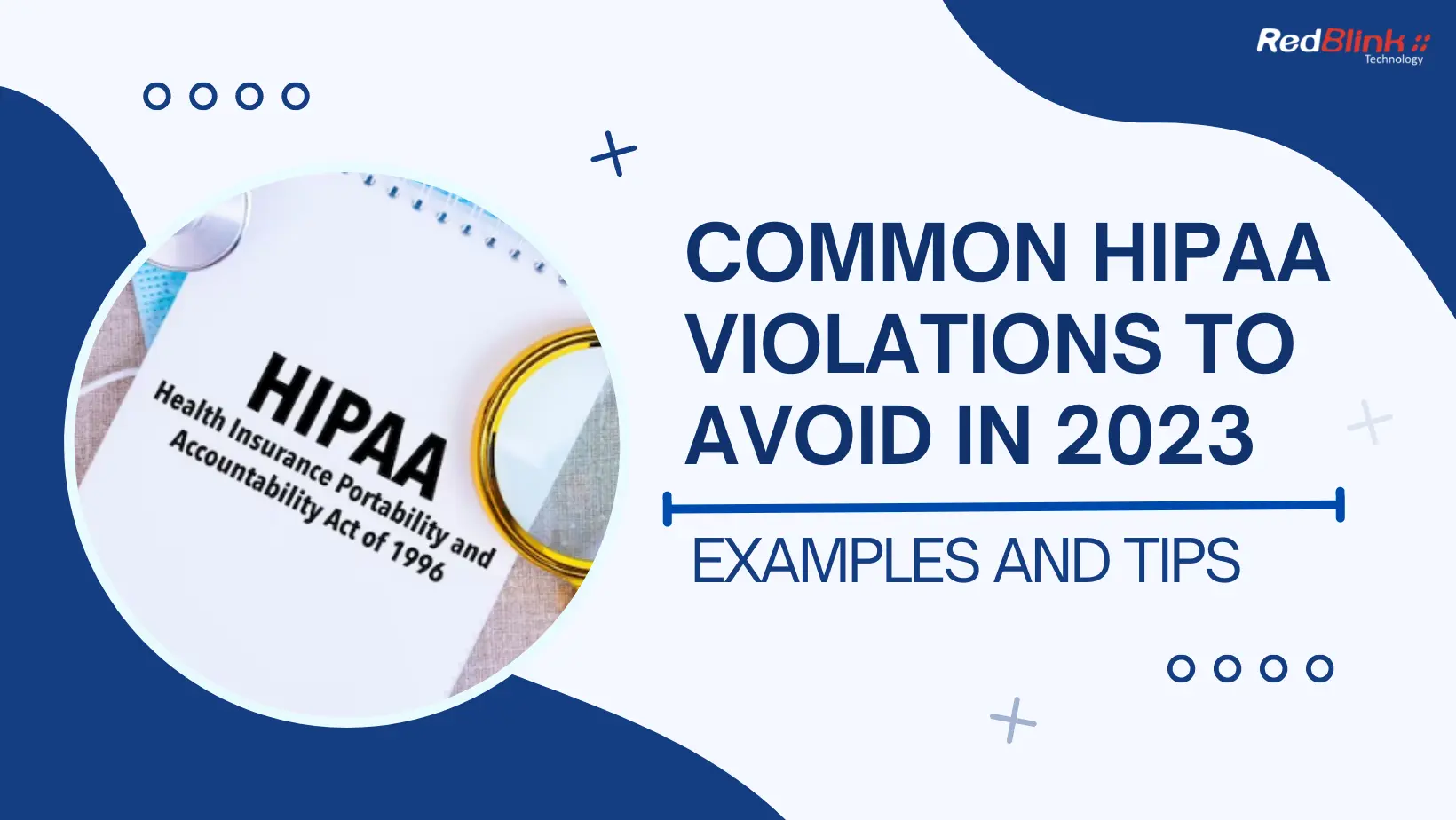 The Department of Health and Human Services Office for Civil Rights (OCR) pursues settlements with covered entities and business associates to highlight common HIPAA violations and emphasize the need for compliance.
 According to HIPAA breach report for February 2023, protected health information (PHI) breaches affecting 500 or more people as reported to the Department of Health and Human Services (HHS) in January 2023.
With the increasing number of data breaches, it is more important than ever for covered entities to ensure their compliance with HIPAA regulations and protect their patients' privacy.
This article will provide valuable insights into the most common HIPAA violations and how to avoid them, helping healthcare organizations reduce the risk of costly settlements and damage to their reputation.

10 Common HIPAA Violations to Avoid in 2023
It's essential to follow the HIPAA Privacy Rule to prevent violations. Whether you are a healthcare service provider, or doctor, or own a clinic, ensure a regular review of your medical website design. This will provide patients' data and records security.
To help you stay on top of HIPAA compliance and avoid costly mistakes, we've compiled a list of common violations to watch out for when designing a website or mobile app.
VIOLATION #1 – A Non-Encrypted Lost or Stolen Device
One of the most common HIPAA violations is the loss or theft of an unencrypted device that contains protected health information (PHI). If your healthcare organization is not properly encrypting devices that store PHI, you're putting your patients' sensitive data at risk.
For example, in 2019, the healthcare provider Bayfront Health St. Petersburg was fined $85,000 after a laptop containing the PHI of over 6,000 patients was stolen from an employee's car. The laptop was not encrypted, making it easy for the thief to access the sensitive information. This incident highlights the importance of encrypting devices to protect patient information and avoid costly HIPAA violations.
VIOLATION #2 – Failure to conduct a risk analysis
When the websites are using third-party software, it has to be a risk-free integration. Prior check and risk analysis is required, The authorization to avoid violation of HIPAA rules is a must.
As an example of HIPAA violation, the Department of Health and Human Services (HHS)(2019)- a nurse accessing a celebrity's medical records out of curiosity, without any medical reason or proper authorization, resulted in a $1.2 million settlement with the Department of Health and Human Services (HHS). This incident highlights the importance of proper authorization to avoid consequences.
VIOLATION #3 – Failure to Provide Patient's Medical Records
Patients can view their medical records as per regulations. If any website is violating this rule, a patient can take action and can file a complaint against it. At the same time, if any registered record is found missing then also, it is a violation of the rules.
As per records of the U.S. Department of Health and Human Services, a Florida healthcare provider was fined $85,000. The provider failed to provide a patient with access to their medical records within the required 30-day timeframe. This case clearly states the importance of maintaining the records. 
VIOLATION #4 – Inadequate Physical or Technological Security Measures
HIPAA-compliant websites are required to follow adequate physical and technological security measures. It is necessary to preserve the patient's information online and offline. Having a secure physical (hardware security) setup as well as web security is vital. Any security compromise for websites like not checking security threats or malware is a violation of HIPAA rules. 
To know more about HIPAA Compliance, follow our HIPAA-compliant Checklist for Website Development
According to the HIPAA Journal, in 2021, the healthcare industry experienced a surge in cyberattacks, with a 37% increase in reported data breaches. These breaches included incidents where healthcare organizations failed to implement proper technical security measures, such as using weak passwords or failing to install necessary software updates.
These incidents demonstrate the critical importance of implementing adequate technological security measures to prevent data breaches and HIPAA violations.
VIOLATION #5 – Improper Disposal of Patient Records
 Improperly disposing of patient records, such as throwing them in the trash instead of shredding them, is a common HIPAA violation that can result in a data breach. Make sure your healthcare organization has proper protocols in place for the secure disposal of patient records.
According to the Department of Health and Human Services (HHS), improper disposal of patient records was one of the top five causes of HIPAA violations in 2020. In one notable case, a provider paid $100,000 in fines after leaving 3,200 patient records in an unlocked truck that was stolen. This incident highlights the importance of proper disposal methods to prevent unauthorized access to patient information.
VIOLATION #6 – Lack of Employment Training
The website development team must be trained to avoid HIPAA violations. Failure to provide adequate training can lead to mistakes. The users will not be able to trust the healthcare service.
As mentioned in one of the reports published by the US Department of Health and Human Services. A healthcare provider in California was fined $3 million for multiple HIPAA violations. He hired an untrained team without knowledge of PHI regulations. As a result, the patient's data was hacked.
VIOLATION #7 – Failure to Conduct Regular Risk Assessments
Conducting regular risk assessments is necessary to identify potential vulnerabilities in your healthcare organization's security systems. Failure to do so can lead to undetected security threats and HIPAA violations.
For instance, in a recent case, a healthcare provider in Texas was fined $1.6 million for multiple HIPAA violations, including failure to conduct regular risk assessments. The Office for Civil Rights found that the provider had not conducted an enterprise-wide risk analysis to identify potential risks and vulnerabilities to the confidentiality, integrity, and availability of electronically protected health information.
This case underscores the importance of regular risk assessments to prevent potential security breaches and HIPAA violations.
 

VIOLATION #8 – Gossiping/Sharing PHI
As per the PHI guidelines, any website or app is not allowed to share the patient's information without taking their consent. The web developers developing the HIPAA websites, website owners and project managers must understand these restrictions obeying the confidentiality rules. There can be severe consequences if any data breach occurs.
For example, a healthcare employee in New York was terminated and fined $15,000 for sharing the personal health information of a patient with unauthorized individuals. The employee accessed the patient's medical record without authorization and then shared the information with friends and family members.
The Office for Civil Rights found that the healthcare provider did not adequately train its employees on HIPAA regulations and the importance of maintaining patient confidentiality. This case demonstrates the importance of proper training and monitoring of employees to prevent unauthorized access and disclosure of protected health information.
VIOLATION #9 – 3rd Party Disclosure for Payments
Healthcare websites are connected with third-party vendors for eCommerce transactions. For that users are required to provide their personal information. The third-party gateway must sign a disclosure agreement ensuring the security of personal records while making transactions as per HIPAA. 
Check out our HIPAA compliance checklist for Mobile App Development to get more details. 
For instance, a health insurance provider in California was fined $2.5 million for sharing the protected health information of more than 1 million patients with a third-party vendor without proper authorization. The vendor was not authorized to receive the information and did not have appropriate safeguards in place to protect the data.
The Office for Civil Rights found that the health insurance provider did not have appropriate agreements in place with the third-party vendor to ensure compliance with HIPAA regulations. This case emphasizes the importance of carefully vetting third-party vendors and establishing proper agreements to protect patient privacy and comply with HIPAA regulations. 
VIOLATION #10 – Preservation of Records as per PHI
Under HIPAA regulations, healthcare organizations must maintain a database of old records for a given time. The healthcare website has to pay heavy fines or penalties if records are found missing.
For example, a healthcare provider was fined $111,400 for failure to maintain the privacy and security of patient records. The provider had disposed of paper records containing personal information. It resulted in a breach of patient privacy.
The Office for Civil Rights found that the healthcare provider did not obey policies and procedures to ensure the proper disposal of patient records. This case highlights the importance of proper record retention policies.
Consequences of HIPAA Violations
HIPAA violations can lead to severe consequences for healthcare organizations and individuals. Monetary penalties for HIPAA violations can range from thousands to millions of dollars depending on the severity of the breach. Healthcare organizations must take HIPAA violation lawsuits seriously and prioritize compliance, including in their healthcare website design, to avoid these consequences.
HIPAA violations can result in significant monetary penalties for healthcare organizations and individuals. The Office for Civil Rights can impose fines ranging from $100 to $50,000 per violation, up to a maximum of $1.5 million per year for each violation type. These penalties can have a severe impact on the financial health of healthcare organizations.
 In severe cases, criminal charges can be imposed for violating HIPAA regulations. The individual information sharing/copying and selling under PHI provisions comes under criminal charges.
Patients whose privacy rights have been violated due to HIPAA violations may file civil lawsuits seeking damages. These lawsuits can result in significant financial losses for healthcare organizations, including damages for emotional distress, loss of reputation, and loss of income.
Damage to Reputation and Business Operations
HIPAA violations can result in significant damage to the reputation and business operations of healthcare organizations. Patients may lose trust in the organization, and the resulting negative publicity can lead to a decrease in patient volume and revenue. Moreover, healthcare organizations can also face legal action, regulatory scrutiny, and loss of business opportunities due to a breach of HIPAA regulations.
Tips to Avoid HIPAA Violations
Healthcare organizations and individuals need to prioritize compliance with HIPAA regulations to protect patient's privacy and avoid the severe consequences of violations
To avoid HIPAA violations, healthcare organizations should consider the following tips:
Employee Training and Education
Proper training and education of employees is essential to prevent HIPAA violations. Workforce training should include employees' responsibilities. Formal training regarding the HIPAA Privacy Rule, HIPAA Security Rule, and Business Associate Agreement (BAA) must be provided to employees to avoid the consequences of violating HIPAA regulations.
Regular Risk Assessments and Security Audits
Conducting regular risk assessments and security audits can help healthcare organizations identify potential vulnerabilities. In case there are threats, you can take action to resolve them. For healthcare website development, the developers must follow a defined policy with an authentic system to implement password management and mobile device management. Also, social media policies must be defined according to permissions to avoid the violation of HIPAA rules.
Implementation of Secure Technological Measures
Implementation of secure technological measures, such as encryption, firewalls, and access controls, can help protect patient data from unauthorized access and disclosure. Including security to check records with high-end techniques such as data encryption will help in developing a secure website. With time, the database is likely to increase, the website must have a data backup and recovery plan.
Proper Disposal of Patient Records
Healthcare organizations should establish policies and procedures for the disposal of paper and electronic records on their website taking the patient's consent. you can remove a record after a fixed time. In case you are updating the database software, you can take a backup of old records. This way you can maintain a smooth and speedy service.
Establishment of a Clear Privacy Policy
A clear privacy policy should be established, communicated to employees, and made available to patients. The policy should outline how patient information is collected, used, disclosed, and protected, as well as the rights of patients to access and amend their information. Notice of Privacy Practices must be clearly displayed on the website to avoid confusion about the privacy policy. The data breach consequences must be clearly defined in the privacy rules.
Partner with a HIPAA-compliant web development agency to avoid violations and consequences
In conclusion, protecting patient privacy is also a key responsibility of any healthcare organization. Don't wait until a data breach occurs to prioritize patient privacy. Take action now and partner with a HIPAA-compliant website development agency to safeguard your patients' sensitive information.
By doing so, you'll not only protect your patients, but you'll also protect your organization's reputation and avoid costly fines. One such reputed organization is RedBlink which has prior experience in developing HIPAA-compliant websites and taking the first step toward secure and compliant online systems. Book an appointment to get started!
Redblink is a leading healthcare website design agency that specializes in developing HIPAA-compliant mobile apps and websites for dermatology, pediatrics, pharmacy, and other healthcare professionals.