According to Forbes, BuzzFeed's stock surged to a seven-month high as the online media company vowed to invest heavily in artificial intelligence-driven content.
As the above stat says, in the world of digital content creation, quality content is crucial for standing out from the crowd and attracting a loyal audience. With the ever-increasing volume of content being created, it can be challenging to ensure that your content is original, high-quality, and free from plagiarism.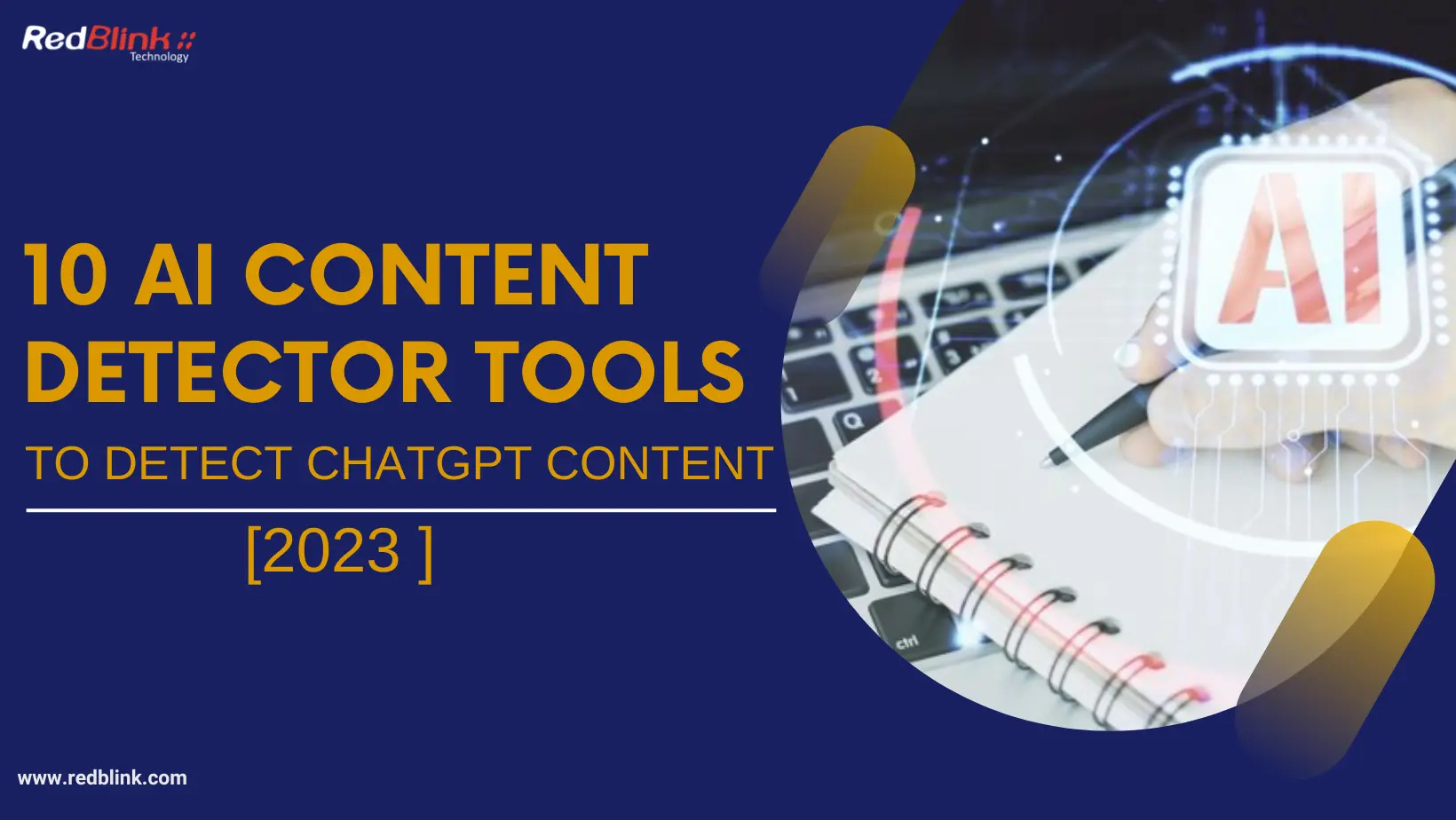 That's where AI content detection tools come into play. These tools use machine learning algorithms to analyze text and identify instances of plagiarism or duplicate content, thereby helping to improve the overall quality of your work.

As we move into 2023, the importance of AI content detection tools has increased. According to Google Trends, the term "AI content detector" has seen a breakout in searches in recent years, indicating a growing interest in these tools. 
Some popular keywords related to AI content detector tools that have become popular since the launch of Open AI ChatGPT include GPT-3 Detector, AI Text Detector, AI Writing Detector, GPT Detector, Chat GPT Detector, and AI Content Checker.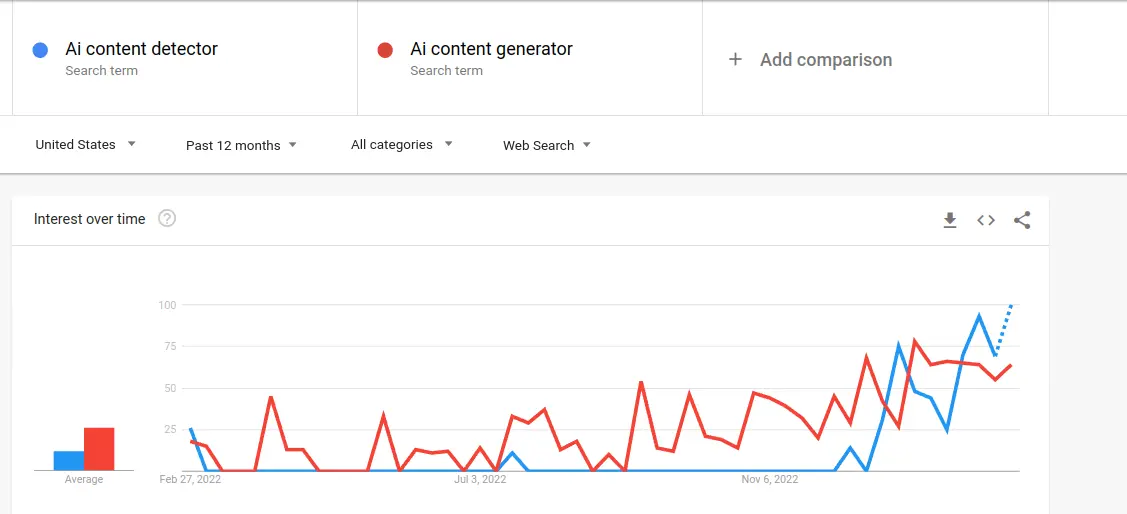 The above graph from Google Trends clearly shows that "AI Content Detector" is getting more concerned than "AI Content generator" tools.  
With so many options available, it can be difficult to know which tools to choose. That's why we've compiled a list of the top 10 AI content detector tools to help you detect AI content and content monitoring.
From advanced plagiarism checkers to content optimization tools, these tools are designed to streamline your content creation process and ensure that your content provides relevant information 
Let's dive into our list of top 10 AI Content detection tools.
What are the AI Content Detector Tools?
AI content detector tools refer to software applications that use artificial intelligence (AI) algorithms to analyze written text and detect potential issues such as plagiarism, grammar errors, or inappropriate content. 
These tools use various AI techniques, including natural language processing (NLP), machine learning, and deep learning. They help to understand the meaning and context of written content and identify any potential issues.
If you're curious about the incredible capabilities of ChatGPT and the benefits it brings, you should definitely check out this informative post on "What is ChatGPT and Its Benefits"?
Once you've grasped the potential of AI in content creation, you might be interested in discovering the top AI content detector tools available. Look no further than this handy article on RedBlink: "Top AI Content Detector Tools: Ensuring Authenticity and Accuracy" (link: https://redblink.com/top-ai-content-detector-tools/).
Why are AI Content Detectors important for Business Websites?
AI content detector tools are important for business websites for several reasons:
Ensuring quality and accuracy of content:

AI content detector tools can help businesses ensure that their written content is free from errors and meets high standards of quality. This can be particularly important for businesses that rely on written communication to convey important information to customers or stakeholders.

Protecting intellectual property:

AI content detector tools can help businesses detect instances of plagiarism or copyright infringement, which can be detrimental to their reputation and legal standing.

Saving time and resources:

Manually checking written content for errors and issues can be time-consuming and labor-intensive. AI content detector tools can automate this process, saving businesses time and resources that can be used for other tasks.

Improving search engine optimization (SEO):

AI content detector tools can help businesses optimize their written content for search engines, ensuring that it appears higher in search results and reaches a wider audience.

Maintaining brand image and reputation:

Inappropriate or offensive language in written content can damage a business's brand image and reputation. AI content detector tools can help businesses identify and remove such language, ensuring that their written content is suitable for all audiences. 
Overall, AI content detector tools can help businesses improve the quality and effectiveness of their written communication, protect their intellectual property, and maintain a positive brand image and reputation.
---
NOTE – Dont miss out our own AI tools created using chatgpt4 API –
 Bypass AI detection – FREE Tool to Convert AI Content To Human Written
---
Top AI Content Detectors Compared & Tested
1. GPTZero – Efficient detection of AI-generated text
Here is an example of A Princeton student created GPTZero for teachers to detect AI plagiarism
( Efficient detection of AI-generated text )
It measures total text perplexity: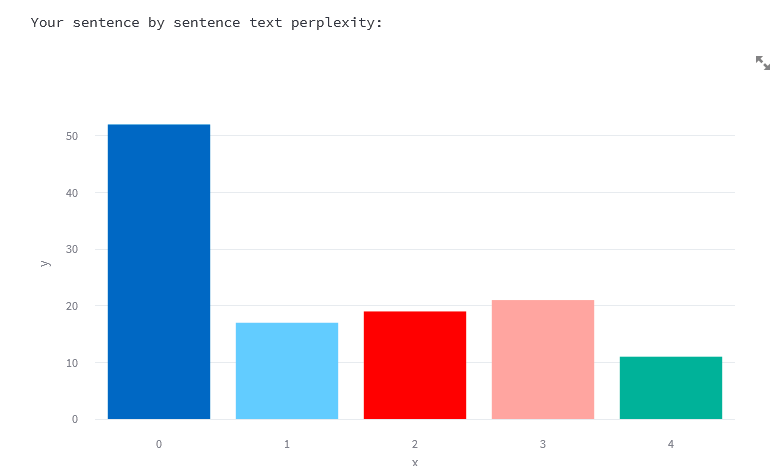 Perplexity — ie. the randomness of the text is — a measurement of how well a language model like ChatGPT can predict a sample text.
simply put, it measures how much the computer model likes the text.
your text perplexity evaluated on gpt2 (345M parameters) is 10 which is comparatively low. texts with lower perplexities are more likely to be generated by language models
Measures average sentence perplexity: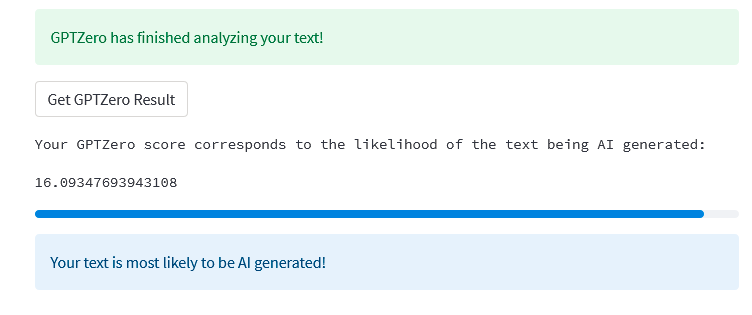 Perplexity itself is an incomplete indicator that misses many factors including
text length. longer texts are less random and generally have lower perplexities
Your average perplexity (across sentences), a better indicator that considers text length, is 24.0
Hey there, are you a serious web publisher looking for a top-notch plagiarism-checking and AI detection tool? Look no further than Originality.AI! Unlike other tools that are built for academia, Originality.AI is specifically designed with your needs in mind.
Our team of content marketing and GPT-3 AI experts understand that you need more than just a basic plagiarism checker. That's why we offer unique features like Team Management, Full Site Scan (coming soon), Auto-Billing, Scan History by User, and most importantly, an AI Writing Detection tool.

Using our state-of-the-art AI Content Detector and modern Plagiarism Checker, you can be sure that your content is 100% original. Our tool is capable of detecting even GPT-3 and ChatGPT-generated content, making it the most accurate AI Detector on the market.
If you're using AI Content, Originality.AI is a game-changer for your business. Don't settle for less – try Originality.AI today and see the difference it can make for your website!
Key Features:
Identifies plagiarism quickly and efficiently
Ensures originality in academic and professional settings
Uses advanced NLP algorithms to analyze text
Cross-checks text with a user-defined database of sources
Helps users learn proper citation and referencing practices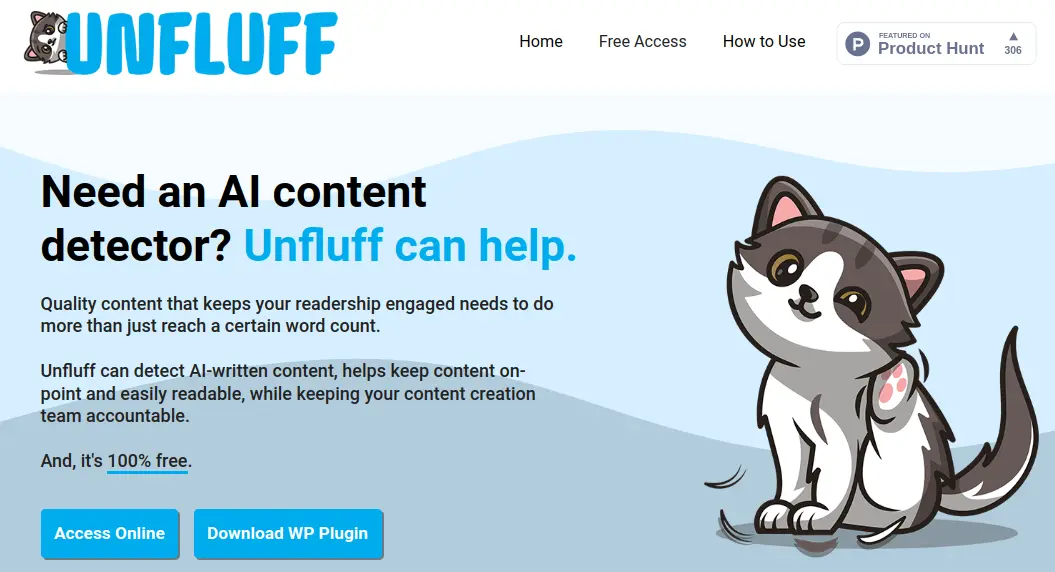 You don't want useless information on your website, especially if you want it to rank on Google. Fluff, or filler content, is bad for readership and can ruin your search rankings.
Some content writers use AI tools to add unnecessary content just to increase word count. But Google knows better and is fighting against these tools. AI content can harm readability and bounce rates, which can hurt search engine rankings.
Want to detect AI content? Unfluff can help. It detects filler and AI-written content, and helps keep your content on-point and easy to read. It's also free!
Unfluff is a free tool that works with WordPress. It detects filler and AI-written content, and helps keep your content team accountable.
Key Features:
Fast and Efficient: Unfluff AI can quickly detect fluff content, saving valuable time for content creators and editors.
Customizable Settings: The tool allows users to set their own parameters for what constitutes fluff content, tailoring the detector to their specific needs.
Multiple File Formats: Unfluff AI can analyze various file formats, including HTML, PDF, and plain text.
Multi-language Support: The content detector can analyze content written in different languages, making it useful for international users.
API Access: Unfluff AI also provides API access, allowing developers to integrate the content detector into their own applications.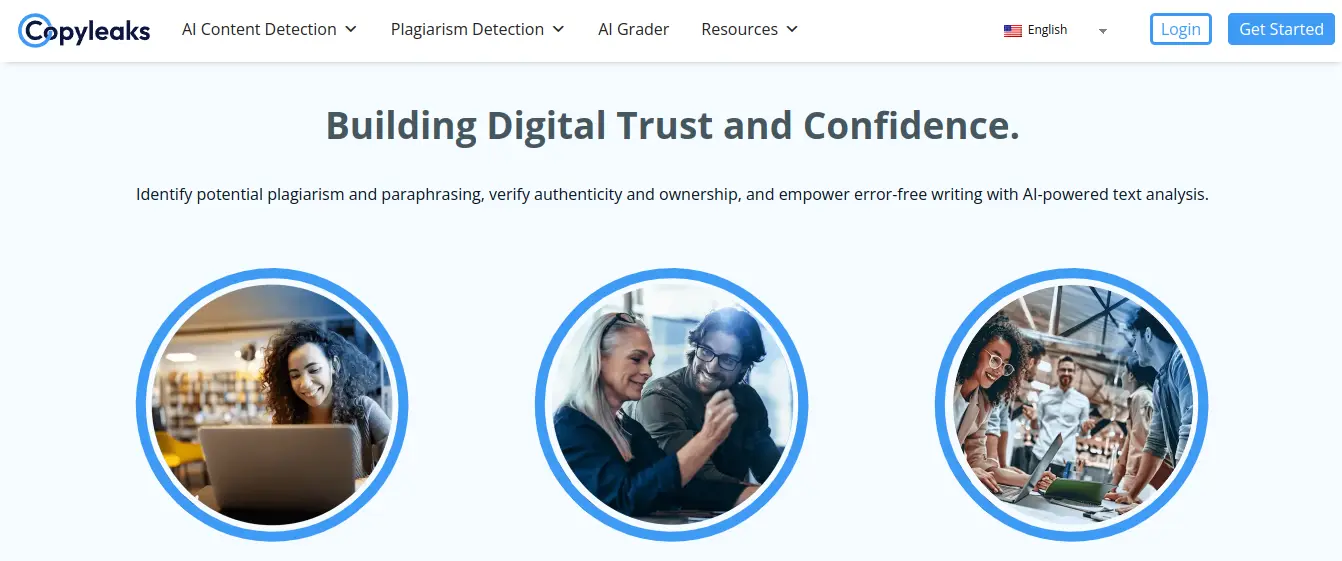 In today's world, it's more important than ever to know if content is real or created by AI. Whether you're browsing the internet, creating content, or grading papers, you need to be sure of what you're reading.
Enter AI Content Detector, the only enterprise AI-content detection solution available! With 99% accuracy and the ability to integrate with LMS and API, this is the most comprehensive and accurate AI text detection solution available anywhere!
Want to take it to the next level? Check out Copyleaks AI Content Detector API! With an incredible 99.12% accuracy, it's the only enterprise platform designed to detect whether content was written by a human or AI, including ChatGPT, in multiple languages such as English, French, Spanish, German, and Portuguese. Plus, it's fully customizable to meet the needs of your team and organization.
Developers, listen up! The AI Content Detector API was created with you in mind. It supports most programming languages, including C#, Node.JS, PHP, Java, Ruby, Python, and more. So, what are you waiting for? Start exploring AI Content Detector API today and add a new level of content protection and verification to your work!
Key Features:
Multiple File Formats: Copyleaks supports various file formats, including Word, PDF, TXT, HTML, and more, making it easy to scan and detect copied content from different file types.
Multilingual Support: Copyleaks supports over 100 languages, making it easy for users to detect plagiarism in different languages
API Integration: Copyleaks offers an API that allows developers to integrate Copyleaks' plagiarism detection capabilities into their own applications and workflows.
User-Friendly Interface: Copyleaks' user-friendly interface makes it easy to upload and scan documents, view results, and generate reports.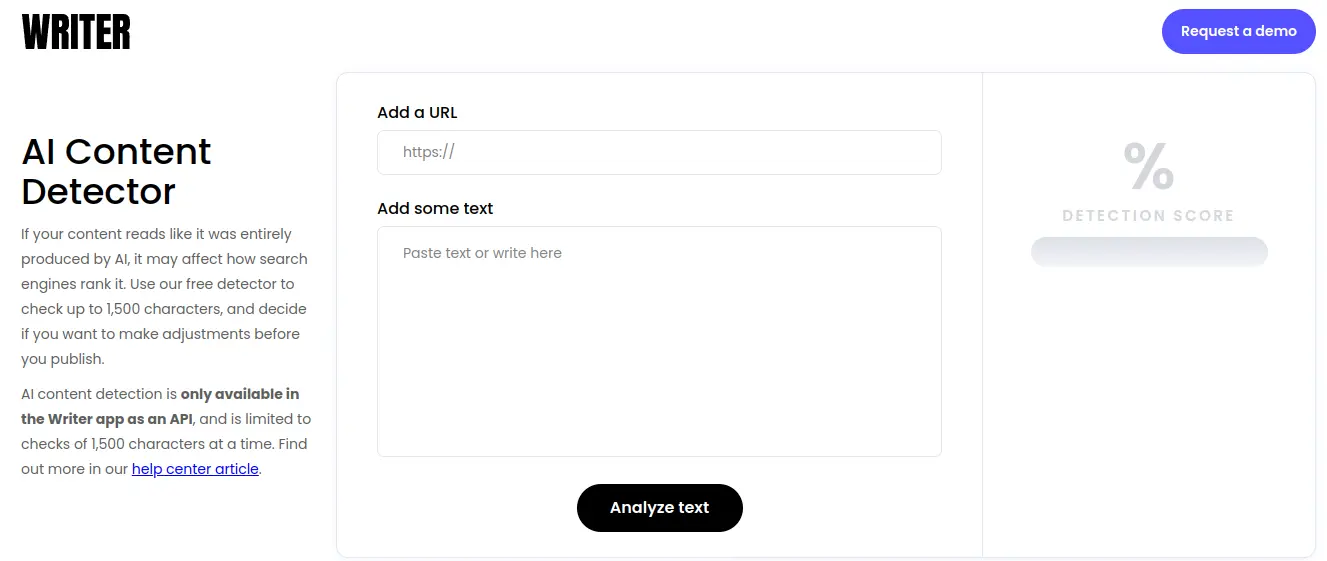 If your writing seems like it was entirely created by a machine, it could impact how search engines rate it. You can use our free detector to examine up to 1,500 characters of your content, and determine if you need to make modifications before publishing.
The AI content detector is accessible solely via the Writer app as an API, and it is restricted to inspecting 1,500 characters at a time.
If you're a developer seeking to incorporate the AI detector into an application, utilize the API. For Team plan members, the AI detector may inspect up to 500,000 words each month through the API. The AI content detector is the sole API endpoint accessible on a Team plan.
Enterprise plans have greater allowances and complete access to the API. If you're interested in detecting machine-generated content at scale, contact the sales team to learn more.
The AI content detector examines whether the supplied text is likely to follow the same word pattern as a big language model, given a query or input. Even if someone writes using very similar word sequences, their writing may activate the detector. The detector won't be completely precise, but it may help give an idea of the likelihood that something was generated by a machine.
Key Features:
NLP technology detects and creates unique content for brands
Free up to 1500 characters
Creates different types of content quickly such as social media copy, articles, emails, etc.
Efficiently checks large amounts of text for plagiarism
Provides suggestions for citations and referencing
Available as an extension for Chrome, Word, Edge, Docs, etc.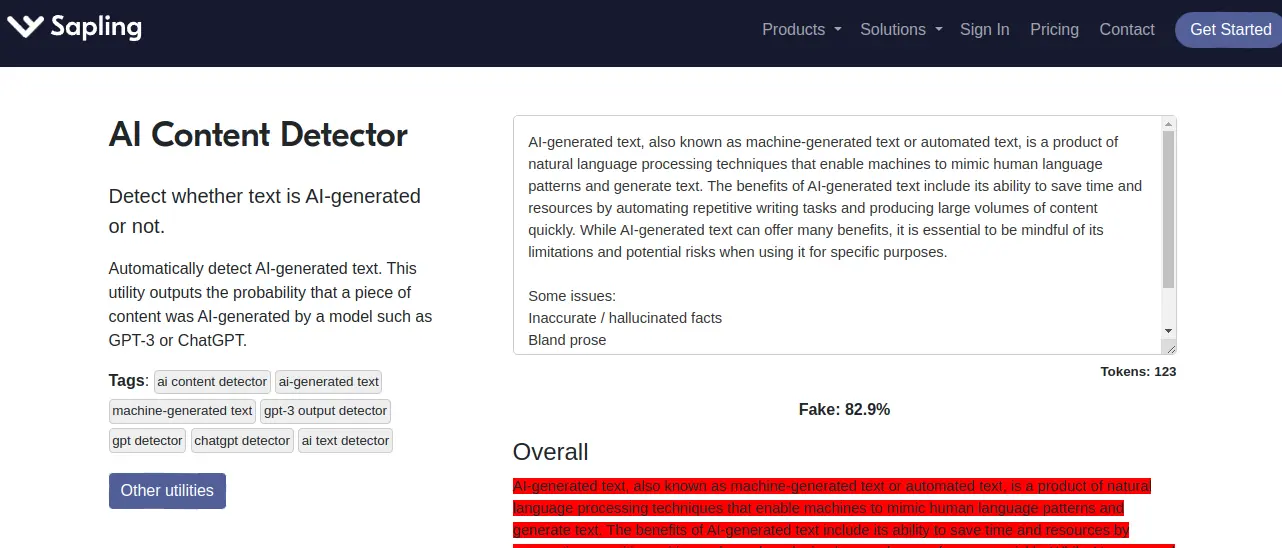 AI-generated text, also known as machine-generated text or automated text, is a product of natural language processing techniques that enable machines to mimic human language patterns and generate text. The benefits of AI-generated text include its ability to save time and resources by automating repetitive writing tasks and producing large volumes of content quickly. 
While AI-generated text can offer many benefits, it is essential to be mindful of its limitations and potential risks when using it for specific purposes.
This tool automatically detects AI-generated text. This utility outputs the probability that a piece of content was AI-generated by a model such as GPT-3 or Chat GPT.
No current AI content detector (including Sapling's) should be used as a standalone check to determine whether text is AI-generated or written by a human. False positives and false negatives will regularly occur.
Coming Soon Features :  Increased text length limit. Improved accuracy for shorter texts.
Key Features:
Provides top-notch grammar and spell-checking capabilities
Chrome and Docs extensions and add-ons available
Uses natural language processing to create high-quality content such as emails and blogs
Offers fast and efficient messaging support
Can be integrated with more than 40 websites and applications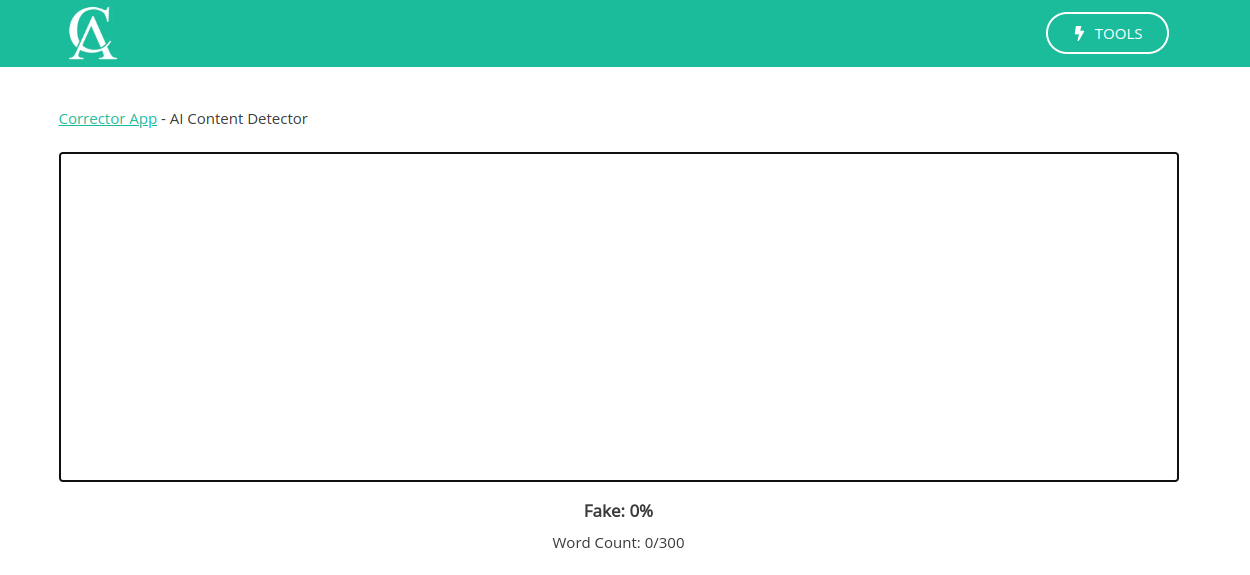 Our GPT text detector free tool is a powerful and intuitive way to detect fake news articles, homework, content, and web pages generated by ChatGPT. It is specifically designed to quickly identify if the text has been partially or completely created using a GPT-3 algorithm.
Our AI content detector can help determine if a text document contains any fake segments, allowing you to verify its authenticity and accuracy easily. The tool is extremely easy to use, providing real-time feedback on the level of fake percentages contained in a given text. You must paste the text into the tool, which will do the rest for you.
With this free tool, you can trust that your texts are of the highest quality and authenticity before sharing them with others. Furthermore, our GPT text detector can also identify fraudulent content in documents, giving you peace of mind when publishing them online or elsewhere.
Key Features:
Grammar and syntax checking: This feature analyzes the text for grammar and syntax errors such as incorrect verb forms, subject-verb agreement errors, missing commas, etc.
Contextual checking: This feature analyzes the text to identify errors in the use of words that do not fit the context. For example, it can detect if the wrong word is used in a sentence, or if a phrase is being used incorrectly.
Plagiarism detection: This feature can identify whether the content is original or copied from other sources.
Profanity filtering: This feature can identify and flag inappropriate or offensive language.
Sentiment analysis: This feature can detect the overall sentiment of the text, including whether it is positive, negative, or neutral.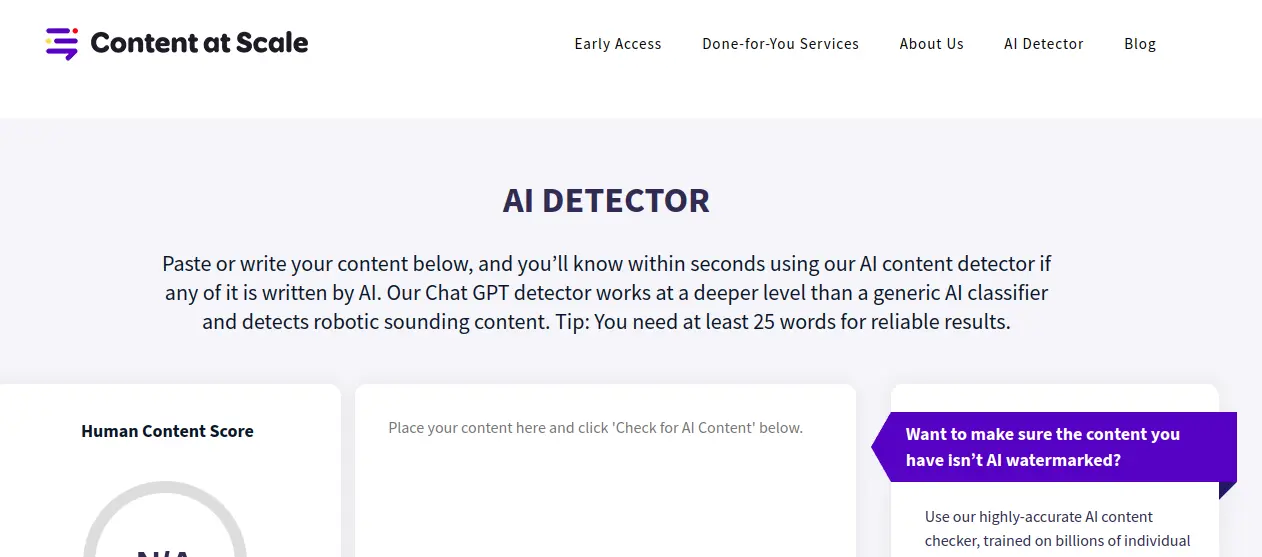 This proprietary content platform uses a mix of 3 AI engines, NLP and semantic analysis algorithms, crawls Google, and parses all the top ranking content to put entire long form SEO driven blog posts together.
This isn't an AI writing assistant, this is a human level, long-form, blog post producing machine!
Want to make sure the content you have isn't AI watermarked?
Use highly-accurate AI content checker, trained on billions of individual pages of data and words, to forecast if your content is AI generated, or humanly-optimized.
With AI watermarking coming on the scene and the need for a Chat GPT detector, you should be aware of AI detection scores for your content.
Know in seconds if the content you have reads like it is written by human's or if it comes from an AI writer like Chat GPT, GPT-3, etc.
Key Features:
Supports multiple languages
Created by SEO experts
Utilizes multiple NLP models to create or detect AI content
Tools are available for free use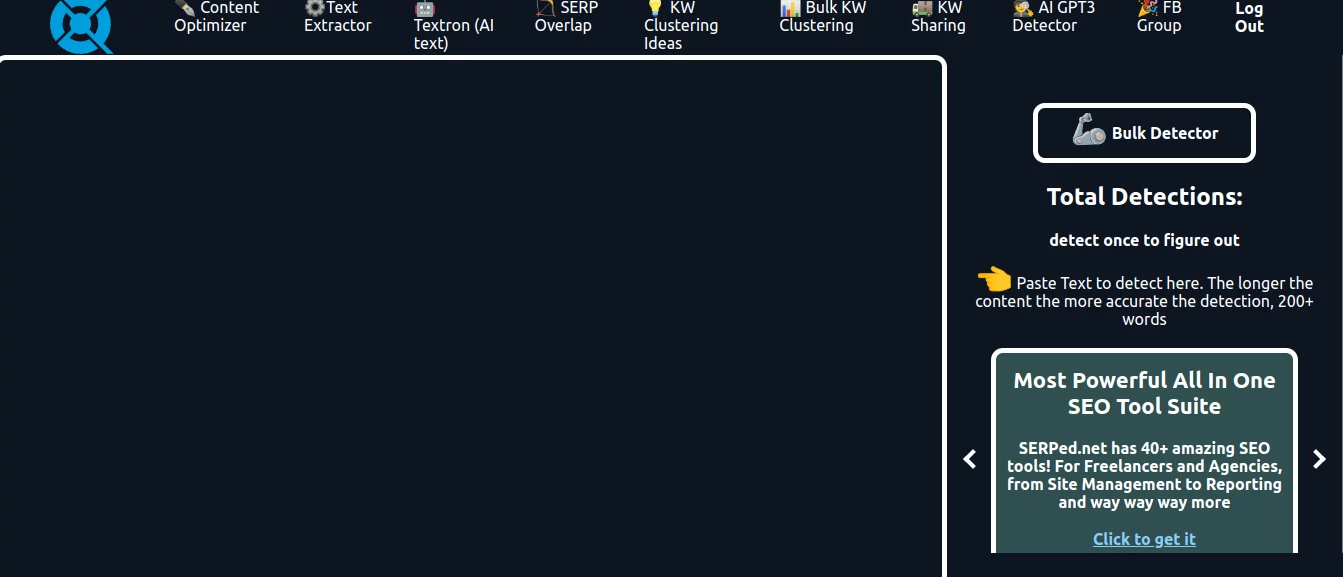 Considering companies' current focus on SEO, Kazan came up with its SEO-based content generation and optimization app. Apart from SEO, Kazan is capable of generating AI-based content too. It also uses the NLP model to generate and detect AI-based content.  
Key Features:
Can process GPT3 model

Simple interface

Far excels the other free tools out there

Can scan content in bulk

Free-to-use tool
WordAi works with every single AI content generator. WordAi currently works for English texts of any kind. Whether you are writing a blog post, an essay, a cover letter, a production description, a report, or anything in between, WordAi can humanize your text. WordAi currently does not support code or foreign languages. Generally, code and non-English text pass AI detection tools already.
WordAi makes your content indistinguishable from human content, so you can expect it to pass AI detection tools at the same rate human content passes.
Different tools are more sensitive and may sometimes incorrectly classify human content as machine-written. If, for instance, a detection tool identifies human content as human-written 95% of the time, it will generally also identify WordAi content as human-written 95% of the time.
Most AI-generated content is already unique. However, if you are finding your AI tool is giving back plagiarized content, you can use WordAi to avoid plagiarism detection. You should first take your text and put it in Text Rewriter and then take the outputs and put that into Avoid AI Detection tool. Both tools are included in your WordAi subscription, so you can ensure your content is considered both unique and human-written.
Key Features:
Plagiarism Checker: WordAi can detect plagiarism by comparing the input text with content on the web, making sure that the generated content is 100% original.
Grammar and Spelling Check: WordAi employs an advanced grammar and spelling checker to ensure that the content is grammatically correct and free of spelling errors.
Contextual Relevancy: WordAi understands the context of the content and generates text that is relevant to the topic at hand.
Sentence Structure Analysis: WordAi analyzes the sentence structure to make sure that the content flows well and makes sense.
Natural Language Processing: WordAi uses Natural Language Processing (NLP) to understand the meaning and context of the text, resulting in more human-like and engaging content.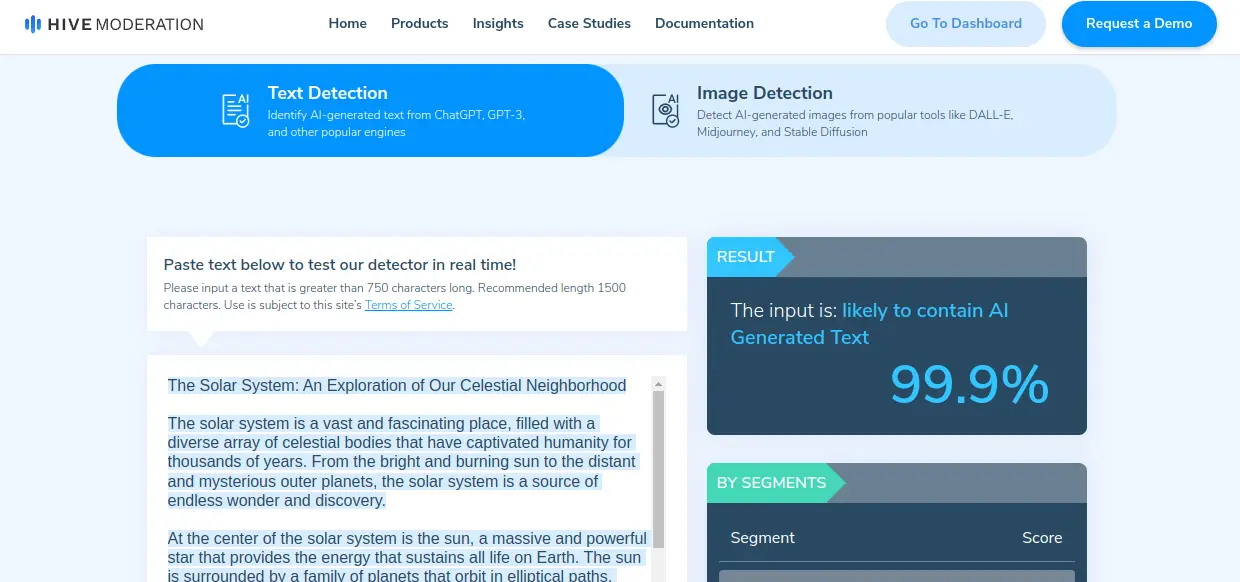 Machine learning models to detect AI-generated content. 
Key Features:
DETECT PLAGIARISM –Teachers, schools, and educational programs can easily flag when students use AI to cheat on assignments.
ENACT SITE-WIDE BANS – Digital platforms can screen content as it is posted to implement site wide bans of AI-generated media
CREATE NEW FILTERS – Social platforms can identify and tag AI-generated content, allowing users the choice to filter it out of their feeds
What's best about this AI-Generated Content Detection Model
Results are returned with a latency of <200ms

market-leading model accuracy is >99%

They've trained models on millions of examples across many content genres
ChatGPT SEO Prompts To Skyrocket Your Website Traffic
Criteria for selecting AI Content Detector Tools
When selecting AI Content Detector Tools, there are several criteria to consider, including:
Accuracy:

The most important factor in selecting an AI Content Detector Tool is its accuracy in detecting AI-generated content. Look for tools that have a high level of accuracy and can reliably distinguish between human-written and AI-generated content.

Compatibility

: Make sure that the tool is compatible with the type of AI-generated content you are trying to detect, such as AI content writing, detect AI writing, AI content generator, or Chat GPT output detector.

Ease of use: The tool should be easy to use and integrate into your workflow. It should provide clear and concise results that are easy to understand.
Customization: Look for tools that allow you to customize the detection criteria to match your specific needs. This can include setting thresholds for how much AI-generated content is acceptable, or defining specific types of AI-generated content to detect.
Reporting: The tool should provide clear and detailed reports that show the results of the detection process. This can include information such as the percentage of AI-generated content detected, the source of the content, and the specific sections of the content that were flagged as AI-generated.
Cost: Consider the cost of the tool, including any subscription or usage fees. Look for tools that provide good value for the price, and that fit within your budget.
Reputation: Look for tools that have a good reputation in the industry and have been tested and validated by reputable sources. Check user reviews and ratings to get an idea of how well the tool performs in real-world scenarios.
FAQs – Top AI Content Detectors tools 
Q: What is AI-generated content?
A: AI-generated content is any content that has been created by an artificial intelligence system, rather than a human being. This can include text, images, audio, and video.
Q: How do AI Content Detector tools work?
A: AI Content Detector tools use a range of algorithms and techniques to analyze content and identify patterns that are indicative of AI-generated content. These can include language patterns, syntax, and other markers that are characteristic of AI-generated content.
Q: How much do AI Content Detector tools cost?
A: The cost of AI Content Detector tools can vary depending on the specific tool and the pricing model used. Some tools may be available for free, while others may require a subscription or usage fee. It's important to research the pricing and features of each tool before making a decision.
Q: Can Chat GPT generated content be detected as plagiarism
Yes, Chat GPT-generated content can be detected as plagiarism using AI Content Detector tools such as Copyleaks. These tools are designed to analyze text and identify instances of plagiarism, whether the content has been generated by a human or an AI system. 
When analyzing Chat GPT-generated content, these tools can identify similarities between the generated text and other sources, including previously published articles, websites, and academic papers. By detecting instances of plagiarism, these tools can help ensure that the content being produced is original and not simply a copy of existing material.
Find the Right Balance Between an AI and Human Content
At RedBlink, we understand that creating compelling content is key to connecting with your audience. While AI-generated content can be efficient and accurate, it lacks the emotional nuance and cultural references that human content creators bring to the table.
By utilizing the unique perspectives and experiences of human writers and designers, companies can create content that resonates with their audience on a personal level. This fosters a sense of connection and trust, building long-term relationships with your customers.
But finding the right balance between AI and human content can be a challenge. That's where RedBlink can help.
Introducing RedBlink's AI consulting services, the game-changer in the world of artificial intelligence. With a team of expert consultants, our AI consulting firm provides tailored solutions to businesses, leveraging cutting-edge technology. Our expertise in Generative AI and related niches is unmatched. Discover the potential impact of our services and revolutionize your business strategy today.
Let us help you strike the right balance and deliver a personalized content experience that will connect with your audience and grow your business. Contact us today to learn more about our content marketing services.