Have you ever visited a website that enticed you to scroll through every page with its pleasing visuals and well-organized layout? The colors, layout, and overall user experience is so perfect and keep attracting you to scroll for more. Well, chances are, that website is designed by a Figma designer.
In that case, who is a Figma Designer? 
A Figma Designer is someone who specializes in using Figma, the popular design and prototyping tool. They are skilled at creating beautiful, functional, and user-friendly interfaces for websites, apps, and other digital products.
Figma Designers are not only proficient in website design, but they are also experts in collaboration. Figma is a cloud-based tool that allows multiple team members to work on the same design in real time, making it easy to share feedback and ideas. As a Figma Designer, you'll be working closely with other designers, developers, and stakeholders to bring your designs to life.
But what makes a Figma Designer truly special is their ability to think beyond the pixels. They understand the importance of user experience, and they know how to create designs that not only look great but are also intuitive and easy to use. They use their knowledge of design principles, user psychology, and industry best practices to create interfaces that meet the needs of both users and businesses.
So, how do you find the perfect Figma designer for your website project? 
In this complete guide, we'll take you through everything you need to know about hiring a Figma designer, from understanding their role in the design process to the key skills you should look for when selecting a designer, and how to work with them effectively to bring your vision to life.
So, let's get started and learn how to hire UI / UX designer?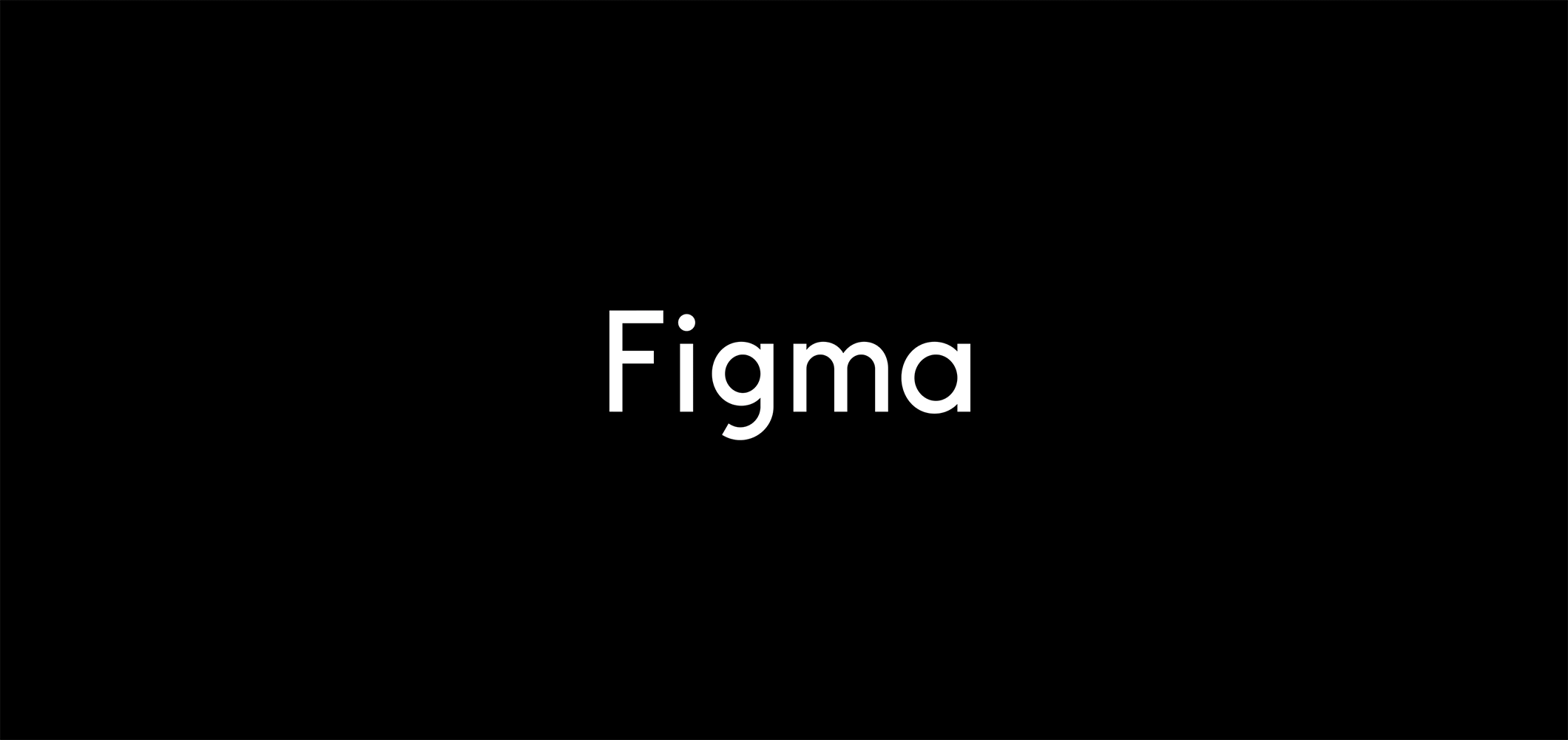 Figma, a widely used design tool, has gained significant traction in the design community. With over 7 million people utilizing Figma for designing, prototyping, and collaborating on projects, it has become a popular choice for design teams worldwide. Here are some of the true facts and stats about Figma:
According to a survey conducted by UX Tools in 2021, Figma is the most popular design tool among UX designers, with

53% of respondents

using it regularly.

Figma has gained significant popularity among designers and design teams since its launch in 2012. As of 2021, Figma reported having over 6 million registered users worldwide.

According to Figma's official website, as of September 2021, over 7 million people use Figma to design, prototype, and collaborate on various design projects.

According to a Figma survey of design teams, as of September 2021, 83% of teams reported that Figma has improved their design team collaboration, and 75% reported that it has increased their design team's productivity.
These statistics highlight the significant impact and widespread adoption of Figma in the design community.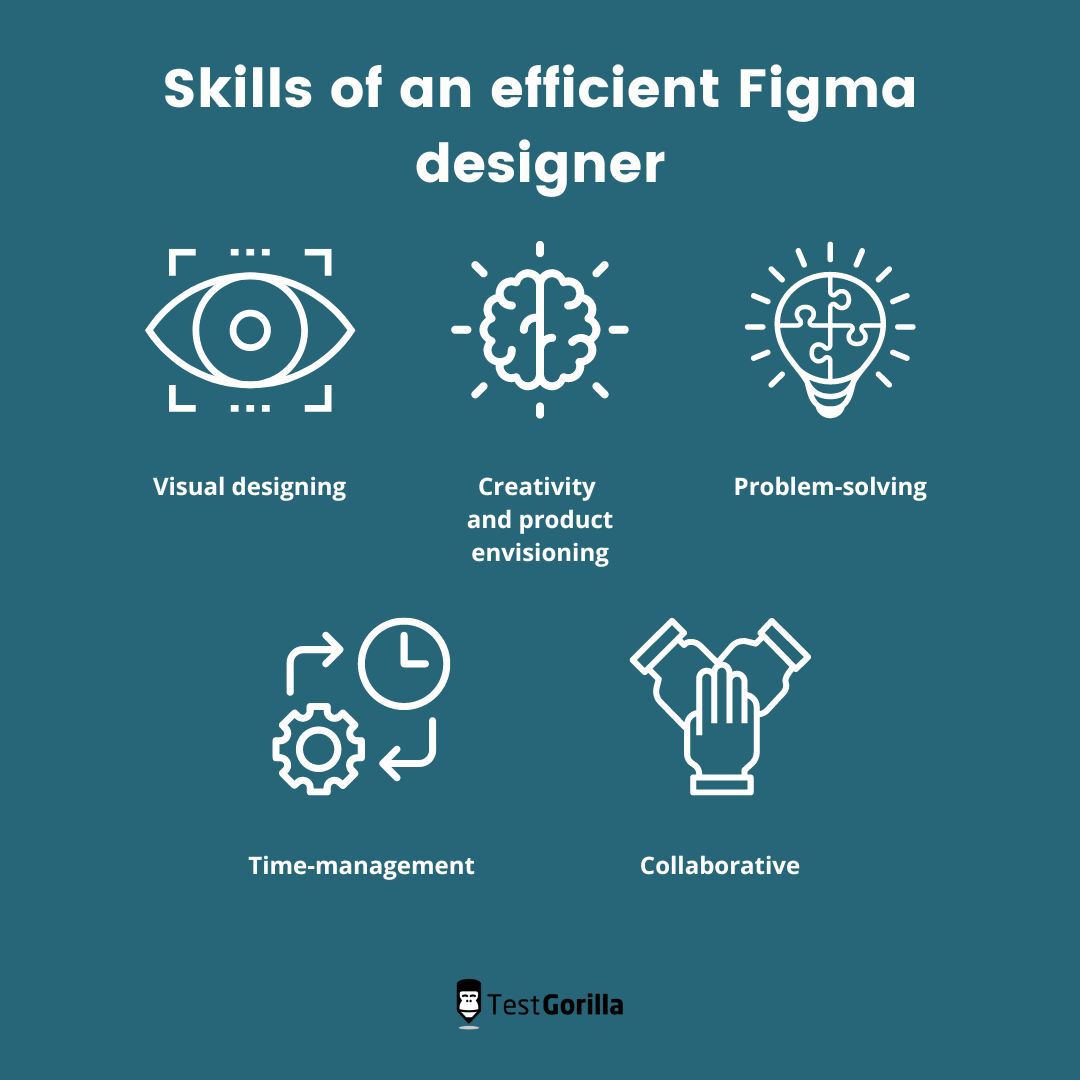 Source – testgorilla
The expertise of top-notch Figma professionals lies in their astute understanding of your company's expectations, and their unwavering commitment to meeting those standards. To achieve this, they wield a diverse set of skills that are essential to their roles:
Proficiency in Visual Designing – A mastery of visual design is indispensable for Figma designers. They possess in-depth knowledge of UI/UX design principles & Psychological Impact of UI/UX, enabling them to skillfully apply them within the platform. With finesse, they can bring your company's requirements to life, crafting captivating designs that resonate with your audience.
Creativity and Product Envisioning – In addition to their visual design acumen, Figma designers possess unparalleled creativity and the ability to envision projects from inception to fruition. They can conceive innovative ideas, and eloquently present them in the most compelling manner possible, elevating your designs to new heights.
Problem-Solving Skills – As they navigate through the design process, Figma designers inevitably encounter challenges. However, their adept problem-solving skills enable them to surmount these obstacles and deliver stellar results. They work collaboratively with their teams, brainstorming solutions, and implementing them with precision.
Time-Management Skills – The significance of effective time management cannot be overstated in the professional realm, and Figma designers are well-versed in this aspect. They adeptly juggle multiple projects, optimizing their time to deliver exceptional work without compromising quality, ensuring timely project completion.
Collaborative Skills – Figma is renowned for its collaborative features, and Figma designers thrive in team environments. They work seamlessly with their fellow team members, including Figma project managers, engineers, and fellow UX/UI designers. They proactively contribute, cooperate, and take the initiative, making necessary corrections to create cohesive and harmonious design projects.
To ensure seamless collaboration among team members, it is imperative for each individual to demonstrate a willingness to invest effort, foster cooperation, take proactive measures, and readily embrace the need for course corrections when required.
Looking to hire Figma designers? First, you need to know …..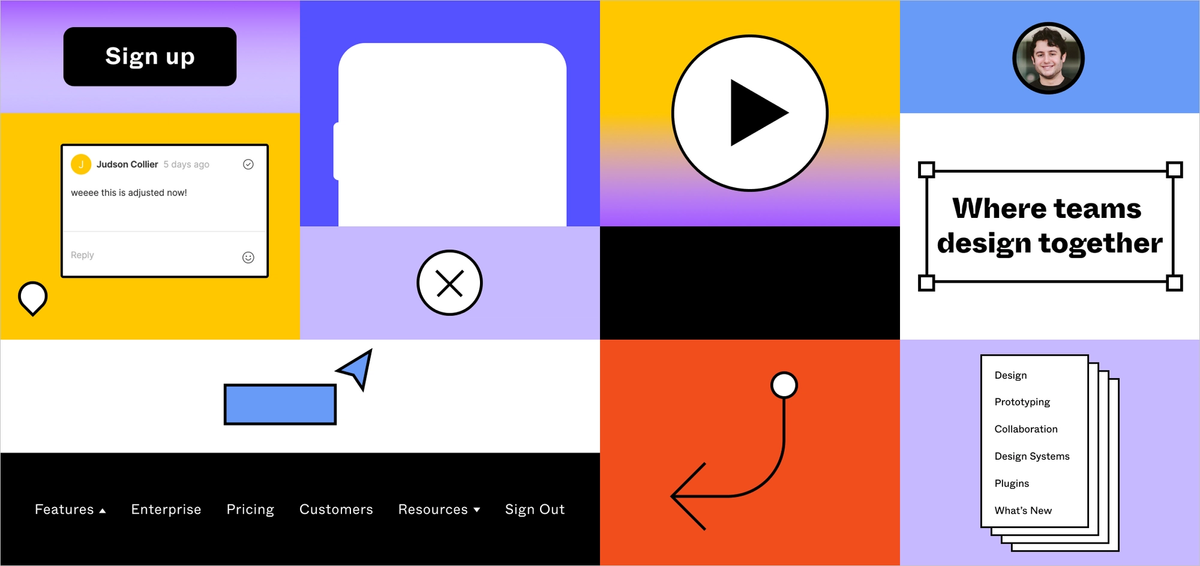 In today's digital age, having an online presence is crucial for any business or individual. However, with the abundance of websites out there, it's more important than ever to make sure your website stands out from the crowd. That's where a Figma designer comes in – someone who can turn your website vision into a stunning reality. 
Here are some examples of what a skilled Figma designer can proficiently build for you:
User Interface (UI) Design – Skilled Figma designers can create visually appealing and functionally robust UI designs for websites, web applications, mobile apps, and other digital platforms. These designs may encompass website wireframes, mockups, and interactive prototypes that adeptly showcase the layout, navigation, and visual elements of the user interface. 
They measure user experience and know when you need to update your website's UX/UI.
User Experience (UX) Design – A Figma designer can craft intuitive and seamless user experiences by skillfully designing user flows, adding interactions, and information architecture. They can expertly conduct user research, create user personas, and incorporate best practices of usability to ensure that the final product impeccably meets the needs and expectations of the discerning target audience.
Wireframe Creation and Prototypes – With the mighty design tools of Figma, a skilled Figma designer can fashion wireframes and prototypes that exude visual allure, functional prowess, and user-friendly interactivity. Through harnessing Figma's collaborative capabilities, designers can seamlessly collaborate with stakeholders and team members, iterating on the wireframes and prototypes to refine the design and functionality based on valuable feedback and user testing.
Conduct User Research and Testing – Figma designers have the power to conduct comprehensive user research utilizing diverse methods such as interviews, surveys, and rigorous usability testing. They can analyze the data and insights gathered from the research to inform the design process, making data-driven decisions to create a user-centric design. Furthermore, Figma designers can also conduct usability testing on wireframes and prototypes, gathering feedback on the user experience and identifying areas for improvement.
Branding and Identity Designs – These professionals can expertly develop brand identities that reflect professionalism and distinction, including logos, color palettes, typography, and other visual elements that authentically represent your brand's personality and values. These designs can diligently establish a consistent and lasting brand image across diverse touchpoints and marketing materials.
Illustrations and Graphics – Such Figma experts can skillfully create bespoke illustrations, icons, infographics, and other graphics that elevate the visual appeal and eloquently convey key messages of your designs. These visually-arresting elements can seamlessly bring creativity and uniqueness into your digital products, making them more captivating and memorable.
Design Systems and Style Guides – Figma designers are proficient in developing comprehensive design systems and style guides that document the visually appealing UI and web design." These comprehensive guides can serve as a reference for your team and ensure consistency in design across different screens and devices.
Collaborative Design Workflows  – These experts can set up and proficiently manage collaborative design workflows utilizing Figma's robust collaboration features. They can deftly create design libraries, design components, and design systems that empower team members to collaborate seamlessly and efficiently on design projects, elevating the overall productivity and effectiveness of the team.
Responsive Designs – Figma designers possess the expertise to create Responsive or Mobile First designs that adapt to different screen sizes and devices, ensuring that your digital product looks and functions optimally across various platforms, including desktop, mobile, and tablet. 
Presentations and Documentation – They can create visually-engaging presentations and comprehensive documentation that cogently showcase design concepts, expound on design decisions, and meticulously provide design specifications to esteemed stakeholders, clients, or development teams.
As a Figma designer, the possibilities are vast and varied. From UI and UX designs to branding, illustrations, design systems, and more, Figma designers are endowed with the expertise and acumen to proficiently create a wide array of digital design assets that deftly cater to your distinctive requirements and bring your visionary ideas to life.
When it comes to determining the budget for a Figma designer, several factors come into play, such as the designer's experience, skill level, location, and the specific project or role they will be undertaking.  Figma designer's annual salary with a few years of experience could be approximately $70,000 to $122,000.
However, a more seasoned designer with 5 or more years of experience could potentially earn anywhere from $120,000 to $189,000 per year.
For those considering hiring a freelancer or contract designer, the hourly rate can vary significantly, ranging from approximately $58.32 an hour. This is the equivalent of $2,332/week or $10,108/month. It's important to keep in mind that these figures are rough estimates and that the budget for a Figma designer may fluctuate depending on the complexity of the project and the level of experience required.
Additionally, it's crucial to remember that budgeting for a Figma designer isn't solely limited to salary costs. Other expenses, such as benefits, office space, equipment, and software, also need to be taken into consideration when determining the overall budget.
Having a clear understanding of your project requirements and budget, and being open to negotiation with the designer, is essential in order to ensure a successful collaboration and achieve the desired results.
How Do You Know If a Designer Is Good?
Are you looking to hire a talented Figma designer for your next project?
Evaluating the skill and expertise of a Figma designer is crucial when hiring or working with a Figma designer. To gauge their proficiency, here are some crucial indicators that can help you in making an informed decision:
Portfolio:

Proficient Figma designers must have a comprehensive portfolio that showcases their diverse range of previous work. Look for a variety of projects that exemplify their design skills, creativity, and ability to deliver visually captivating and functional designs.
Experience:

Look for designers who possess relevant experience in the specific type of design work you require. For instance, if you need a UI/UX designer, seek out someone with a proven track record in designing user interfaces and crafting seamless user experiences.

Design Skills:

A skilled Figma designer must have a strong grasp of design principles, typography, color theory, and layout. They should also be adept at utilizing Figma software and other relevant design tools to create stunning visuals.

Attention to Detail:

Thorough attention to detail is a hallmark of a good designer. Examine the precision of elements such as spacing, alignment, and consistency in their designs to determine their keen eye for detail.
Effective Communication:

A proficient designer can effectively communicate their ideas, concepts, and design decisions to clients or team members. They should also be open to feedback and able to incorporate it into their work seamlessly.
Creativity and Problem-Solving Skills: A top-notch designer possesses creative problem-solving skills and can come up with innovative solutions to design challenges. Look for evidence of creativity and unique approaches in their portfolio and past projects.
Client Testimonials and References:

Request client testimonials or references from previous clients or colleagues to gain insights into the designer's work ethic, professionalism, and ability to meet deadlines. This can provide valuable feedback on their performance.

Professionalism and Work Ethic:

A reliable and responsive designer with a strong work ethic is essential. Assess their professionalism, work ethic, and ability to work independently or as part of a team to ensure smooth collaboration.
Carefully evaluating these factors can assess the quality of a Figma designer and make an informed decision when hiring or collaborating with one. Remember, thoroughly evaluating their skills, experience, and portfolio is crucial to finding the perfect fit for your specific design needs.
What Type of Figma Designers Do You Need?
When seeking to employ a Figma designer, it is paramount to initially identify the specific skill set required for the role. However, it is also crucial to determine the type of employment arrangement that best suits your project. 
Options for hiring a Figma designer include an in-house designer, a freelancer, or a design agency. Each option has its own set of advantages and disadvantages, necessitating a thorough evaluation to determine the best fit for your needs.
Having a permanent Figma designer on your staff means they will become an integral part of your organization, fully understanding your goals and vision. They are likely to be more dedicated to the success of the company and take greater ownership of their work. 
This option is similar to having an in-house Figma team that assumes complete responsibility for the product from inception to completion. But, hiring a permanent Figma designer entails the traditional costs associated with employee compensation, such as a fixed salary, taxes, bonuses, and pension contributions. 
You may be wondering, Why should I hire a freelance Figma designer? Engaging a freelance Figma designer can be a good option if your project has a defined timeline. For instance, if you are building a prototype and need to test its viability before committing to permanent staff, hiring a ux designer can be ideal. It is also easier to hire freelancers with specific expertise for specific tasks within a set time frame, without the need for them to be as invested as a permanent employee. Figma designer hourly rate can be vary depending on the project requirements. 
But, there is a common challenge while working with Freelance designers that they may lack organizational skills and require more supervision to ensure they are working diligently on your project.
A reputable Figma design agency typically offers a wider range of skills and can be a valuable technical partner for larger projects. They provide a structured approach and are generally more reliable. 
If you select the right agency, they will provide designers with extensive experience and expertise, allowing for varying levels of collaboration depending on your project requirements. Additionally, as their success depends on their reputation, they tend to deliver higher quality results compared to freelancers.
However, choosing an incompetent agency may lead to delays and a waste of time and resources. This is particularly true when opting for cheaper agencies that may have a strong sales team but lack an efficient design process, quality assurance, junior team members, and work ethic. 
Therefore, it is essential to hire a reliable agency like RedBlink to get quality work and visual-appealing Figma designs for your website.
Are you looking to hire Figma Designer for product design? Look no further than RedBlink, your go-to destination for outsourced design solutions. Our team of talented and experienced Figma Designers is ready to help bring your website vision to life with their expertise in creating stunning and user-friendly designs.
At RedBlink, we understand the importance of a well-designed website in today's digital landscape. A visually appealing and user-friendly website can greatly impact your online presence and help you stand out from the competition. Our team of Figma Designers is skilled in creating modern, responsive, and intuitive designs that are tailored to your specific needs.
How hiring a Figma Designer through RedBlink works
Hiring a Figma Designer through RedBlink, A Step-by-Step Guide:
Post Your Project: To embark on your search of hiring figma designer, the first step is to submit your project requirements through our contact form. This entails providing intricate details about your project, including its scope, timeline, budget, and any other specific requirements you may have.
Receive Proposals: After your project goes live, a plethora of skilled Figma designers on RedBlink will start submitting proposals. You will have the luxury of examining each proposal and comparing the designer's portfolios, ratings, and reviews to make an informed decision.
Interview Designers: Once you have received proposals, you can conduct interviews with the Figma designers you find captivating. RedBlink's built-in messaging system allows you to communicate with designers and ask any questions that can help you determine the best designer for your project.
Hire a Designer: After finding the designer that meets your standards, you can officially hire them using RedBlink's secure payment system. This system ensures that you only release payment once you are satisfied with the work delivered.
Work Together: Once you have successfully hired a Figma designer, you'll collaborate with them to create your website design. RedBlink's platform facilitates effortless collaboration on design files and the provision of feedback.
Hence, RedBlink is the perfect platform to locate and hire an exceptional Figma designer for your website design project. With our exceptional pool of talented designers, a secure payment system, and an outstanding collaboration interface, RedBlink offers a streamlined process for hiring a Figma designer.
Get in touch with us to hire an outsourced Figma Designer for your website..
Additionally, we request you to check out our portfolio to see the kind of high-quality designs we've created for other clients. By browsing through our portfolio, you can get a better idea of the kind of work we do and the level of quality you can expect from us.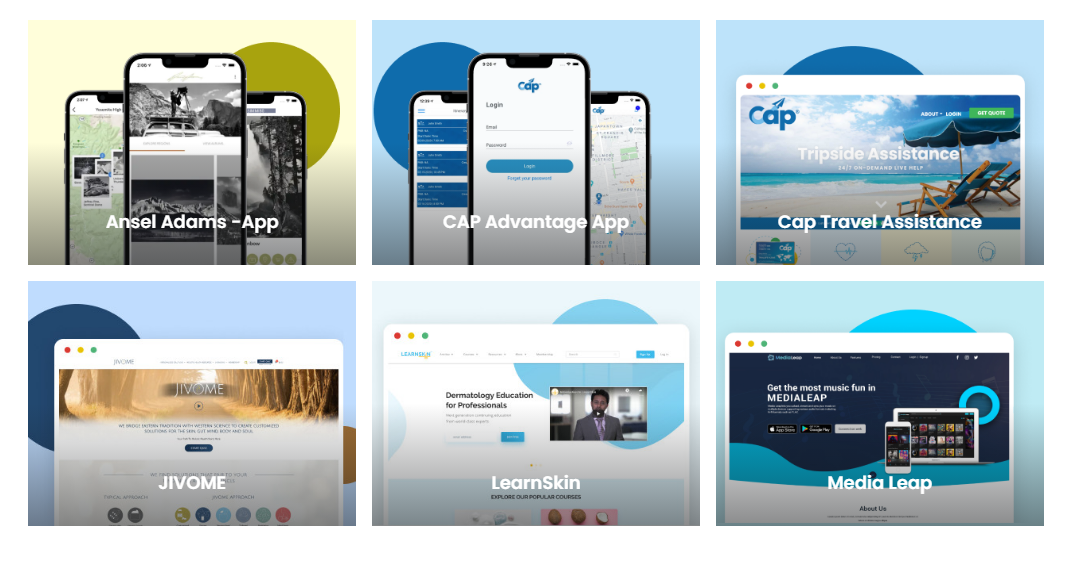 Take Your Website Design to the Next Level – Hire a Figma Expert
Our friendly team will be happy to discuss your design requirements, provide you with a quote, and help you get started on your website design project.
When you choose RedBlink for outsourced Figma design, you can expect:
Professional Expertise:

RedBlink boasts a team of highly skilled and experienced Figma designers who are well-versed in the latest design trends and techniques. We can create stunning designs that align with your brand image and business goals, ensuring your website stands out from the competition.

Customized Solutions:

Our Figma designers take a personalized approach to understand your specific needs and deliver tailor-made design solutions that cater to your website's purpose, target audience, and overall aesthetics.

Timely Delivery:

RedBlink values your time and understands the importance of meeting deadlines. We are committed to delivering projects on time, without compromising on quality. You can rely on RedBlink to keep your project on schedule and ensure a smooth design process.

Cost-effective:

Outsourcing your Figma design to RedBlink can save you time and money. This will avoid the overhead costs associated with hiring a full-time in-house designer, while still getting high-quality design services that meet your requirements.

Seamless Communication:

RedBlink ensures seamless communication throughout the design process. Their team maintains regular communication channels to keep you updated on the progress of your project, gather feedback, and make revisions as needed.
Don't let subpar website design hold you back from achieving online success. Contact RedBlink today to hire a skilled Figma Designer who can transform your website into a visually stunning and user-friendly online platform. Partner with RedBlink for all your Figma design needs and take your website to new heights!