The main difference between Shopify SEO and WooCommerce SEO is that Shopify is generally easier to use and set up for non-technical users, while WooCommerce offers more control over the technical aspects of your store for those with the technical expertise.
WooCommerce and Shopify, both are robust, power-packed platforms for the development of eCommerce sites. Choosing an SEO-friendly platform for your eCommerce store is a double win for you. Both the platforms provide apps and add-ons that boost your store's SEO performance. Honestly, you can take advantage of SEO right from the start by choosing a platform that is best suited for your store.
The website's functionality depends on the control you have on the site. To have full control and support of SEO activities, it is a must to choose a supportive eCommerce platform. The post compares the two frequently used eCommerce platforms – WooCommerce and Shopify to help you choose the best platform for launching your new store.
WooCommerce vs Shopify – Which one to Choose?
As of now, both are the most popular and easy-to-use eCommerce platforms available in the market. Since both the platforms are easily available, it is purely an individual's decision to fit your specific needs better, Shopify or WooCommerce (for creating a fantastic online shop)?
Which is more feature-rich? How much does each platform cost? Which is better-looking? Which is more flexible and provides more control over the website's functionality? Which is the easiest to work with? You must be having lots of similar questions before purchasing a new theme for your online store.
To start with, Woo-Commerce store offers an easy to use methods while launching an online store for small businesses. WooCommerce is easier as it is a free option for the starting. With time, you need to upgrade the theme and switch over to a higher version. However, to launch a Shopify store is comparatively difficult. You have to set the features and configure the product listing and prices.
Shopify vs WooCommerce – Key Comparison Factors
There are some significant SEO differences between WooCommerce and Shopify.  That's why you must examine SEO capabilities before choosing the platform that suits your needs. Here are some of the key considerations from an SEO point of view:
Speed & Uptime
We all are aware that a faster website and greater uptime are the two factors that have a big impact on the site's performance. A speedy website is quickly recognized by search engines and can significantly improve the end-user experience. On this parameter, Shopify wins by offering faster loading time, especially on advanced Shopify sites hosted on dedicated servers. The sites have almost 99% uptime.
On the other hand, WooCommerce sites also offer a variety of solutions to fix speed and uptime. For instance, one can change the web host provider or change the login page URL to enhance speed and uptime. Even simply purchasing a faster theme could also be a considerably effective method.
Also Read: 56 Marketing Tools + Resources To Increase Your Productivity
SSL Certificates
An SSL certificate plays an important role in eCommerce sites to secure the personal and credit card information of clients. Both the platforms provide SSL certificate authentication features but in quite different ways.
By default, SSL certificates are activated in Shopify, customers who access the original URL will be automatically redirected to the encrypted online store. However, for the WooCommerce stores, the SSL certificate is preferably taken from the free websites.. But the drawback is that if the SSL certificate is not verified and can breach the security. Enabling secure connections to your Shopify store is a must. 
Auto XML Sitemap
XML Sitemap helps the web server to index your content for SEO. A good eCommerce builder should automatically generate an XML sitemap whenever there's a data change done to your website. Shopify has many built-in generator features, WooCommerce relies on third-party plugins to automatically generate XML sitemaps. Some plugins used for Woocommerce sites are:
 As far as the compassion of the two platforms is concerned, WooCommerce requires a further minor act by adding the required plugins.
301 Redirects
301 Redirects are used to redirect users or search engines from one URL to another. The URL redirection is common while you are changing the site URL. Shopify has a simple procedure to redirect.
From the Shopify admin, go to Online Store > Navigation, then click URL Redirects. In Shopify , we need to discard old URLs, otherwise, the redirection won't work.
However, when it comes to WooCommerce redirection, it handles the process automatically. However, for a 301 redirect, a plugin is required. Also, you can make use of the .htaccess file. Without going into much detail, we can say that 301 redirection is much easier using Shopify than in WooCommerce.
Website Blog
The creation of a blog page is much simpler in Shopify as all the Shopify themes have by default blog page design. It is customized and edited as per the site's requirements. On the blog page, Shopify allows you to add apps that are available on the Shopify Apps Store.
However, adding blogs in WooCommerce is much simpler as it inherits features of WordPress. By making use of dashboards , you can easily add and edit blogs. There are eye-catching blogging themes to support blog pages on WooCommerce.
Best SEO Apps and Plugins for WooCommerce and Shopify
Both the platforms have diversified apps and plugins to boost SEO performance. Here are some of the best apps and plugins to support SEO:
Best SEO Plugins for WooCommerce in 2023
Best SEO Apps for Shopify in 2023
Which Platform Provides The Maximum Control Over The Website's Functionality?
A good functional website is easy to optimize for SEO. The loading time, backlinks creation, your social media footprint, and the design of the site add value to the SEO purposes. Many of those factors are outside the scope of an eCommerce platform but there are a few that come into play, including:
WooCommerce has the best CMS that directly supports SEO activities. The SEO plugins can help in optimizing your site's meta tags, content, URL structure, and other on-page factors. Being an open-source platform, WooCommerce opens more options for modifying page titles, image tags, and other factors that help with SEO.
However, the page load speed and performance is better in Shopify which are equally important factors to achieve SEO results.
Also Read: UX Best Practices For User Retention
Shopify vs WooCommerce SEO Features differences
Each platform offers the benefits to run the online eCommerce store smoothly. To compare both the option, here we are mentioning the pros and cons of WooCommerce and Shopify from an SEO perspective:
Shopify Pros for SEO

Fast load time – Shopify offers fast loading of websites to qualify as the first and foremost ranking factor on Google. This is achieved because of the two main reasons:
Shopify Architecture to support less resource-intensive applications.

Scalability of backend operations to deliver premium speed.
Includes SSL certificates – For security purposes, Shopify websites have their SSL certificate. So in a way, we can say that Shopify sites are more secure using top-level SSL encryption. This will ensure a greater possibility of achieving better SEO rankings.
Built-in mobile optimization – For achieving better SEO results, the response and mobile-optimized sites are the two major functionalities. Shopify sites are fully optimized with mobile making them more SEO-friendly. It supports mobile-friendly theme architecture. Therefore, doing mobile SEO is much easier on the Shopify websites
SEO-Friendly Websites with Apps – We can't say that Shopify websites are more customizable but they are good at customizing important SEO data like Meta Tags, URL structure, Image Alt Tags and many others.  Also, Shopify's app store offers a variety of SEO apps to boost your online store's SEO performance.
Shopify Cons for SEO
Site Control – Shopify provides centralized control of the store to the owner. The main features of the online stores are difficult to modify. If you have to customize the product list, prices, and other changes, you need to have admin access. This is a major disadvantage of SEO activities.
Shopify is Costly –When we compare the cost of developing a Shopify store, it is always more. As such for the small stores, it's not as feasible as the open-source WooCommerce is. If the development cost increases, it will affect the SEO budget
SEO-Optimized code –  Shopify is not designed to do SEO activities. However, the plugin support adds SEO features to the site but still it does not provide that much freedom to optimize the code.
WooCommerce Pros for SEO

Search engine-friendly URLs – With WordPress, you can easily change your URL permalink structure to add or fix the targeted keywords and improve SEO visibility. For example, where Shopify requires all second-level pages to fall under a Sitename/pages linking structure, WooCommerce stores can take advantage of clean, top-level domain structures.
Wide range of SEO plugins – WooCommerce is using powerful plugins like Yoast to optimize the website for SEO. Yoast is a powerful SEO optimization tool. With the ability to customize everything from Meta tag optimization, structured data, canonical URLs to content optimization, it is simply superb.
Rich snippet support – WordPress is well-known for its ability to offer structured data support. This can optimize the online store's content to appear as rich snippets in Google search results.
Robust blogging support – WordPress provides tremendous growth for launching optimized SEO-friendly blogs that can rank faster. This is an ultimate feature of a WooCommerce store that a Shopify site can never compete with.
Also Read: Understanding Keywords – Nature, Intent & General Perception in SEO
WooCommerce cons for SEO
More manual SEO configurations required – WooCommerce sites are easy to handle but to add the SEO –friendly options, you have to change the settings which are done manually. While moving from basic to advanced level, technical expertise is required to handle  WooCommerce stores.
Not automatically optimized for CSS and theme coding – The theme optimization is required to add CSS code that is not there in maximum WordPress themes. Sometimes, there are inbuilt limitations to the themes. In that case, theme selection becomes a major criterion
Slower site speed – A self-hosted WooCommerce store has a comparatively slower speed than a Shopify site. It is a disadvantage from the SEO point of view. Moreover, hosting server issues, site plugins, database optimization, and image compression are some of the added issues in a WooCommerce store.
WooCommerce Vs Shopify Cost Comparison
The cost factors come into the picture when you have to add advanced features to the store. If we consider the SEO side, for the Shopify site, you need to pay extra for adding SEO plugins whereas, it is free on the WooCommerce site.
Frankly speaking, both the platforms are offering feature-rich options to add on the online stores. The choice of choosing a favorable platform depends on many factors. However, the cost comparison is a must.
To put it in simple words, Shopify pricing is very clear and straightforward. WooCommerce isn't. WooCommerce plugins are free but there is an additional cost that goes along with making an online store. Shopify on the other hand, costs higher initially but there is no hidden cost.
A Shopify store costs $29-$50 per month (depending on store size) whereas a WooCommerce store costs $5- $10 per month.
When we sum things up, the overall cost of running a WooCommerce and Shopify store is almost the same.
Integrations And Add-Ons
 As the sales grow, you need to add more functionality to the website. Both the platforms are flexible to add-ons and integrations.
Add-ons and Integrations ( WooCommerce ) – Since WooCommerce is open source and a part of WordPress, the number of add-ons and plugins is considerably larger than Shopify. You can find many WooCommerce extensions and add-ons on the WordPress repository and can download them for free.
Apart from that, WooCommerce has its add-ons as well on WooCommerce.com. Some of them are free but the important ones have a one-time fee attached to them.
Add-ons and Integrations ( Shopify ) – Shopify has a huge library of add-ons on its app store. You can download some of these add-ons for free but others charge a premium one-time fee or a monthly subscription.
You can find an add-on for almost every function you need. For example, for email marketing, you can check out Privy Web Push and OptinMonster.
Also Read: Understanding the Evergreen 5 C's of the Social Web
Advanced Abandoned Cart Recovery Features
The latest SEO strategy to improve the shopping experience is to chase down those abandoning visitors. For this, eCommerce websites add shopping cart abandonment software. It reduces the number of abandoned carts and ultimately improves your sales.  You can contact the visitors by sending reminder emails or popups.
WooCommerce and Shopify have cart abandonment software integrated by default.
Best Abandoned Cart Recovery Plugins for WooCommerce
The following are the top WooCommerce abandoned cart recovery plugins that you should use:
Best Shopify Abandonment Cart Apps
Shopify, just like WooCommerce, is an eCommerce solution with over 3.6 million online stores running on it.
Like every other eCommerce site, Shopify stores also experience cart abandonment. If you're looking to recover your abandoned carts, this section contains a list of the best cart recovery apps.
Whether you are using WooCommerce or Shopify, the plugins are available. Now it's up to you to make the best and needful choice.
Takeaway: Shopify and WooCommerce are popular choices for ecommerce sites, but both have their pros and cons when it comes to SEO. If you are an eCommerce store owner and want to boost your sales then this article will definitely help you out. Regardless if you operate a large and established multi-million dollar business or a small niche ecommerce store, we understand both your needs and your budget, which makes us ideal partners. Contact us today to learn how we can help you reach your business goals.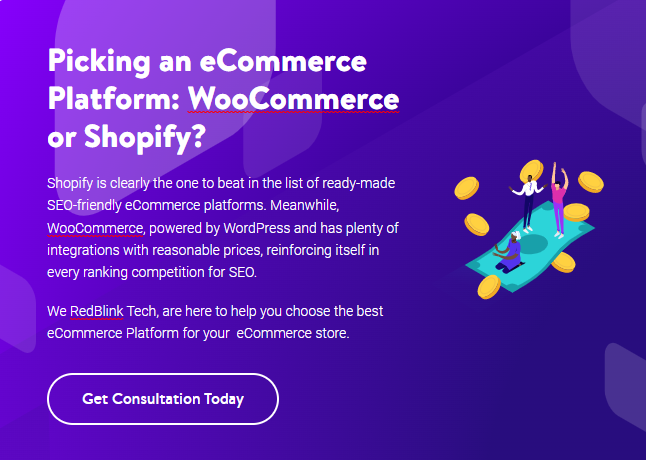 This article has been designed to help inspire you, giving you practical and helpful advice on WooCommerce vs Shopify – Who Comes Out On Top in 2023. If it has helped you in any way, please don't hesitate to share, retweet the article with others by following our social handle eg Facebook, Twitter or Linkedin.
We offer the following services Web App Development, Mobile App Development, Full Stack Development, Cloud Computing, Product Design (UI/UX) and so on.
Conclusion
So, Shopify and WooCommerce, which one would you like to opt for your online store? Choosing is tough. WooCommerce or Shopify- which one is the best? The answer to this question still depends on various factors such as business needs, scale, budget, and more. If you're planning to launch a big store or a start-up, Shopify is an ideal choice as it's simple and easy to use.
Meanwhile, WooCommerce gives you more SEO-specific options as the plugin is built on WordPress, which is useful for optimizing content. For content-rich sites where SEO is a must or large-scale enterprise stores, WooCommerce is a better option.
From the SEO point of view. WooCommerce has a narrow win. So, if you want a higher ranking and better SEO for your online store, you can choose Woocommerce!