Finding the right SEO company for a law firm can be challenging, especially in a highly competitive market. It is impossible for a legal firm to search for hours and days for the best law firm SEO company.
Making this your search easier is possible, if you set your goals. When you have defined your goals, choosing a digital marketing company will be easier. The most important aspect that a law firm expects from online marketing is branding for lawyers and lead generation.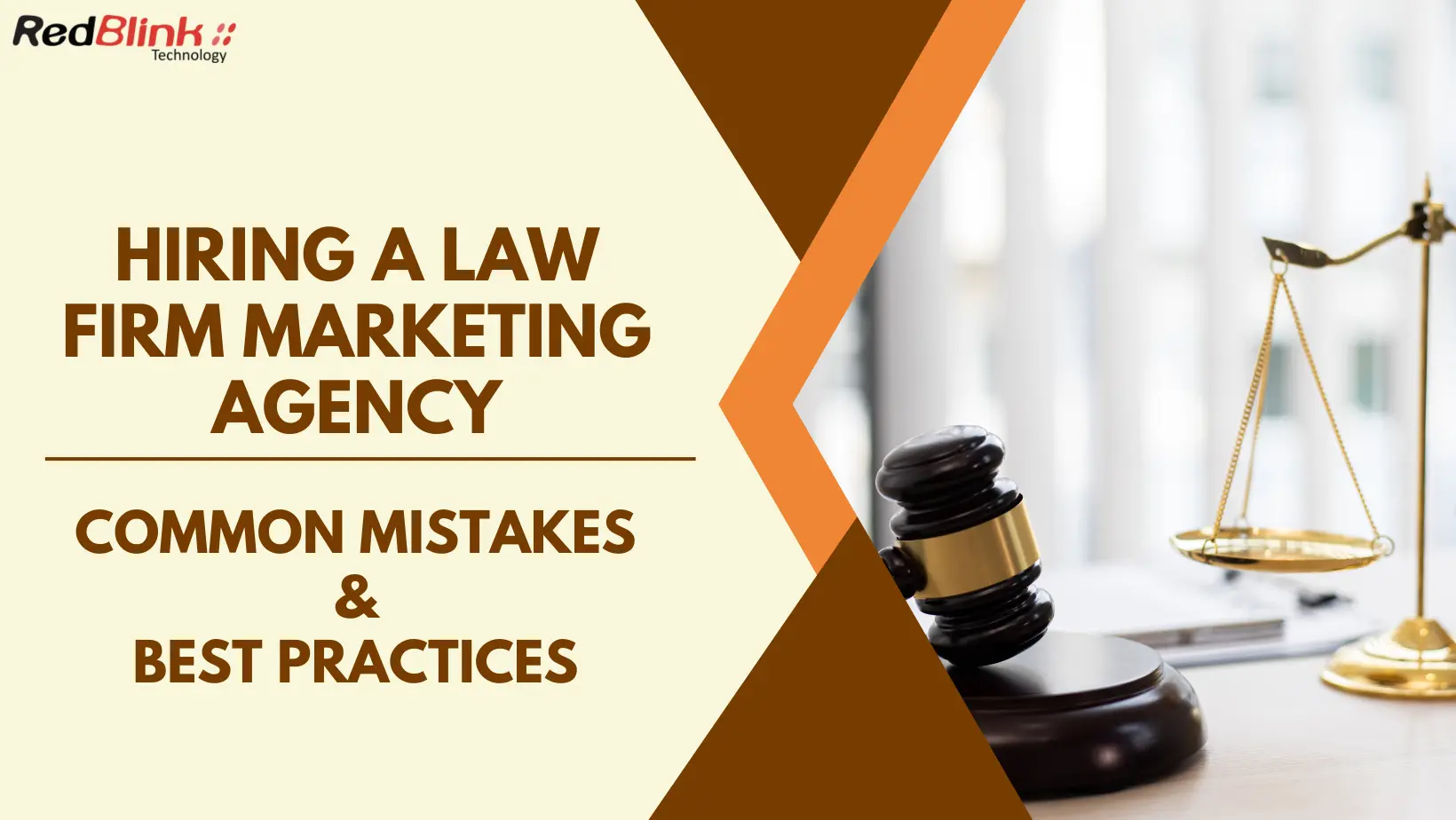 The best digital marketing agencies offer many ways to achieve this goal- Search Engine Optimization (SEO), Paid marketing (PPC), and Social Media Marketing (SMM).
Also, if website development or website designing is required, for a legal firm website , you search for a full range software development and digital marketing agency.  
The focus of this post is on explaining the best practices and common mistakes that we need to avoid while hiring a  digital marketing agency for your law firm.

Common Mistakes to Avoid While Hiring a Law Firm Marketing Agency
From Los Angeles to San Francisco, from small law firms to established legal agencies, the search for an SEO company must start with finding an expert-level company excelling in providing local SEO services.
The SEO company must have a proven law firm strategy to improve search engine ranking. Analysis of the present website, SEO audit, right keyword Research, optimized content generation, website navigation, and link building are some of the main activities of an effective SEO strategy.
Mistake 1 :  Research for the digital marketing agency
To successfully market your law firm online, you need a digital marketing agency that understands the lawyers' needs and is committed to achieving your goals. Lawyers are in a niche market, and one right decision can transform everything. 
While making a choice, as a legal firm owner, you must gain basic knowledge about the expertise of the company. Google will show you a list of top law firms when you search for one. According to experts, you should not simply pick the first company, but rather search for one that suits your needs.
You can consult the best SEO companies nearby. The exact location search like the top 5 SEO companies in Sacramento, CA will help you approach the right agency. Prior to making a decision, consult an SEO company.

Mistake 2 : Hiring an SEO provider solely based on cost:
Cost should be considered when hiring an SEO provider, but it should not be the only factor. Cheap providers may not have the necessary expertise or resources to provide effective SEO services.

Mistake 3 : Avoid Using Paralegals For SEO.
The digital marketing and SEO tasks of some law firms are delegated to paralegals to conserve resources. This approach might put your search engine ranking in vain. For the long run and to expect outstanding results in the form of lead generation this strategy does not work. It is guaranteed to miss the mark.
Mistake 4 : Ignoring the importance of on-page optimization:
On-page optimization, such as including targeted keywords in website content and meta tags, is crucial for improving a website's search engine rankings. Neglecting this aspect of SEO can lead to poor results.
Mistake 5 : Hire a Company not sure of results
As we know law firms have tough marketing competition. In such a case, hiring an agency working on a test and trying methods will not help you. You might lose your existing clients. 
Instead, hiring a local SEO company that is sure to get you ranking and can dedicatedly work on the SEO project is more helpful. Your legal firm might take time to get results but for sure the efforts will boost your SERP results.
Mistake 6 : Don't Be Afraid Of sharing your business details 
When you are negotiating with an SEO company then don't forget to share details of your legal business. This might include your attorney's vast experience, your firm's challenges, etc. Describe your SEO goals and expectations in detail to get faster  results. 
Tips for Hiring a Legal Marketing Agency
Attorneys deal with a lot daily, between client meetings and court appearances. It is simply impossible for them to create marketing plans for their firms. Also, negotiating with a company is a tough task for them.
Luckily, hiring a marketing agency that specializes in law firm digital marketing can handle your online marketing project.
These companies can handle your marketing needs (including strategy, execution, and reporting). Choosing a law firm SEO company, however, can be tricky, especially if you haven't done it before. Take note of the below-mentioned points.
Best Practices: Determine your SEO goals
Before you start your search, it's important to have a clear understanding of your SEO goals. Are you looking to improve your visibility in search results, drive more traffic to your website, or both? Your goals will help you find an SEO provider who can assist you in achieving them.
Best Practices: Invest in the best law firm SEO experts
It is generally a good idea to invest in the best SEO experts having experience in legal SEO. Ensure that you hire a company that can improve the visibility of a website on search engines such as Google. By hiring the best law firm SEO experts, you can help improve the ranking of your law firm's website on search engine result page, which can lead to more organic traffic and potential clients for your business.
You can create blogs and articles providing informative information regarding the law firm services. Creating a glossary including law terms and answering to user's question will also be a great help.
Best Practices: Check the legal portfolios, case studies, and positive reviews
Many experts claim to be the best SEO agencies for lawyers in your city. Using smart tactics, any SEO company can call itself the best SEO agency. However, it is important to make sure that their success is proven before hiring a legal marketing agency.
When interviewing potential agencies, ask for a track record of past success and how it translates to your current goals. Whether your goal is increasing website traffic, generating leads, or anything else, go through their legal case studies,and positive reviews to see evidences of how they accomplished similar tasks in the past. 
Outlining your specific goals beforehand can help you easily assess each agency's strengths and capabilities to reach them. Take the time to verify their success and get the most value from a legal marketing company.
Best Practices: Ask about specific services.
As a law firm, it is essential to comprehend the specialization of the digital agency you are working with for your marketing needs. Different digital agencies have their areas to work, including paid search campaigns, organic SEO, or a panoply of digital marketing services. 
While you may have identified some of the areas in which you need help, it can be beneficial to work with a full-service marketing agency, one that is capable of providing a comprehensive approach to your law firm's marketing plan.

Best Practices: Look for transparency and communication
An SEO provider should be transparent about their methods and be able to clearly communicate their strategies and progress. They should only follow white hat SEO techniques for your website. Make sure you feel comfortable with their communication and transparency.
Best Practices: Be wary of guarantees
While an SEO provider may promise certain results, it's important to remember that SEO is a complex and constantly-evolving field. It is important to watch out for providers who make guarantees or promise specific results in a short period of time as these may be black hat SEO tactics.
Having an agency with the expertise and resources to handle all aspects of your marketing strategy can help you to maximize your success and stay ahead of the competition.
Legal Digital Marketing FAQs
What are the benefits of hiring a legal marketing agency?
There are numerous benefits of hiring a legal marketing agency. Getting into the top searches, building a brand, and getting organic traffic are not easy. Only a professional agency has this kind of expertise especially when you are expecting tangible ROI. With the rapid growth of digital marketing practices, hiring a professional online marketing agency is a must, not a choice
What is the best marketing strategy, PPC or SEO? 
Mainly there are two types of marketing methods- SEO and PPC. For a long term strategy doing effective SEO is beneficial . However, for immediate lead generation and online visibility (PPC) paid marketing is done. For the legal firms, a hybrid approach can act as a good strategy.
The legal firm's marketing expectations and the present business position are also deciding factors.To find the right marketing strategy, you can consult RedBlink's digital marketing managers. They will guide you the best way to invest in online marketing.
Do law firms benefit more from hiring in-house marketing professionals?
For any business with legal needs, it can be beneficial to hire a qualified law firm marketing agency. With a team of highly skilled and experienced marketing professionals, you will have access to a wealth of resources and expertise to help you achieve your goals.
A digital marketing agency that specializes in legal services can develop a comprehensive top-to-bottom strategy while also providing targeted support in specific areas. This can be an invaluable asset for businesses seeking to maximize their legal marketing efforts.